Entry-Level IT CV with No Experience - Examples for 2023
Whether on stage with a dongle and Midas Touch or tending to a headless server stack behind the scenes, you want to choose your fate and an entry-level IT CV is how you do it.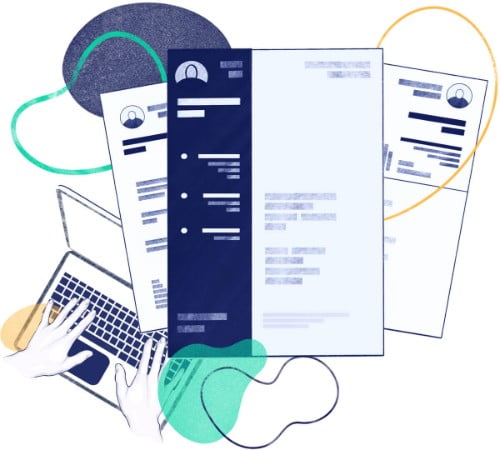 IT is more of a thing now than it's ever been—
The 8-bit daydream:
A great career path is guaranteed, all you need to do is apply to your dream entry-level IT job.
The 8K reality:
Too many people are after the same jobs as you.
Don't settle for what they leave behind. Write an entry-level IT CV that shows employers you've got the fundamentals down and are ready for career takeoff.
In this guide:
An entry-level IT CV sample that gets jobs.
How to upgrade your entry-level IT job description on a CV.
How to write a CV for an entry-level IT job that gets the interview.
Expert tips and examples to boost your chances of landing an entry-level IT job.
Save hours of work and get a CV like this. Pick a template, fill it in. Quick and easy. Choose from 21 CV templates and download your CV now.
What users say about ResumeLab:
I had an interview yesterday and the first thing they said on the phone was: "Wow! I love your CV."
Patrick

I love the variety of templates. Good job guys, keep up the good work!
Dylan

My previous CV was really weak and I used to spend hours adjusting it in Word. Now, I can introduce any changes within minutes. Absolutely wonderful!
George
Turns out you're less entry-level than you thought? Looking for a tech support CV guide instead? Need other entry-level options? We've got you covered:
Entry-Level IT CV Sample
John G. Tunstall
IT Specialist
Personal Info
Phone: 520-489-1354
E-mail: john.g.tunstall@reslab.com
linkedin.com/in/johntunstall
http://www.john-tunstall.online
Objective
Resourceful IT Specialist and University of Arizona graduate with 1+ years' experience in IT support. Set up, prepped, and retired a total of 500+ devices. Seeking to apply proven front-end and back-end IT support skills in helping Shilling Insurance thrive in Arizona.
Education
BA in Information Science & Arts, The University of Arizona
2015–2020
Developed big-picture awareness through Marketing & Business minor.
Founder of the Creative Coding student organisation.
Experience
Entry-Level IT Support
TygerBright Business Training
2020–present
Set up 240+ new user accounts, profiles, and passwords in the company software system.
Prepared IT equipment prior to user deployment, including over 100 laptops (running Windows, macOS, and Linux).
Assisted with the disposal coordination of 180+ cell phones, 140+ laptops, and 120+ failed HDD/SSDs.
Provided end-user hardware support, resolving 82% of issues and averaging 4.67/5.00 satisfaction.
Certifications
LPIC-2, Linux Professional Institute, 2020
Languages
BASH
HTML5
CSS
JavaScript
JSON
Key Skills
Hardware setup and prep
Software installation and maintenance
Operating system setup and maintenance
Teamwork
Troubleshooting
Problem solving
Critical thinking
Time management
Organisation
Customer service
Now here's how to make your entry-level IT CV at least as good as the one above:
1. Start With the Best Entry-Level IT CV Format
Formatting a lost-cause SSD to reinstall Windows (again): too easy.
Formatting your entry-level IT CV so that it stands out like an emoticon on a BSOD?
You're about to know how.
Don't worry, getting your CV format right isn't going to be like setting up your first server.
Fewer tears if nothing else.
Just follow these pointers:
Entry-Level IT CV Format
Always save/export your CV to PDF, unless you've been asked for a different format or like dealing with formatting issues.
Expert Hint: You could show off your skills by creating your entry-level IT CV in LaTeX. Or really shock and impress by typesetting solely in roff. OK, rather shock than impress.
2. Lead with an Attention-Grabbing CV Objective
What's the best way to start a CV with no experience?
With an entry-level IT CV objective—
Similar to a CV summary, an objective is how you introduce yourself and what you bring to the table.
Use:
One adjective (efficient, energetic, dedicated)
Job title (IT specialist, IT auditor, etc.)
Years or months of experience (1+, 5+) or education if inexperienced
How you'll help (maintain systems, support end users, etc.)
Your best 2–3 achievements (set up 9 LCD projectors and 6 smartboards)
These entry-level IT CV examples will show you how:
Entry-Level IT CV Objective—Example
Subtle at first glance, but—
One of these CV objectives just hit Ctrl-c on the recruiter's autopilot.
The first one quantifies achievements, the second rattles off duties.
Which gets your attention?
So what if this isn't your first entry-level IT rodeo? If you have the experience, always go with a CV summary:
Entry-Level IT CV Summary—Example
There's no contest:
One focuses on what they did for their previous employer and what they can do for this one.
And the other—
It's all about what the employer can do for them. Companies don't care what you need, they want to know what you can offer them.
Doesn't seem doable?
It'll be way easier once you've finished the rest of your entry-level IT CV—come back then.
Expert Hint: For a targeted CV, use the name of the company you're applying to in your CV profile.
3. Make Your Education Another Reason to Hire You
Someone had to sit you down and tell you about the bytes and the bits at some point—
Education is important in IT jobs. Especially those entry-level ones. Why? You probably have little or zero IT experience, so your degree is your biggest asset right now.
So get your education section in order:
Degree, school, and dates attended.
Put your expected graduation date down if you're still grinding for credits.
Entry-Level IT—Example Education Section
Note the bullet points that boost performance like freshly downloaded RAM.
Low on IT experience or writing a university graduate CV?
Overclock your education section with bullets on projects, classes, relevant coursework, and competitions that show your predilection for all things IT.
Expert Hint: A scholarship belongs on a CV, too. Simply create an extra "Awards" section and list it there. Mention it in your entry-level cover letter as well.
The ResumeLab builder is more than looks. Get specific content to boost your chances of getting the job. Add job descriptions, bullet points, and skills. Easy. Improve your CV in our CV builder now.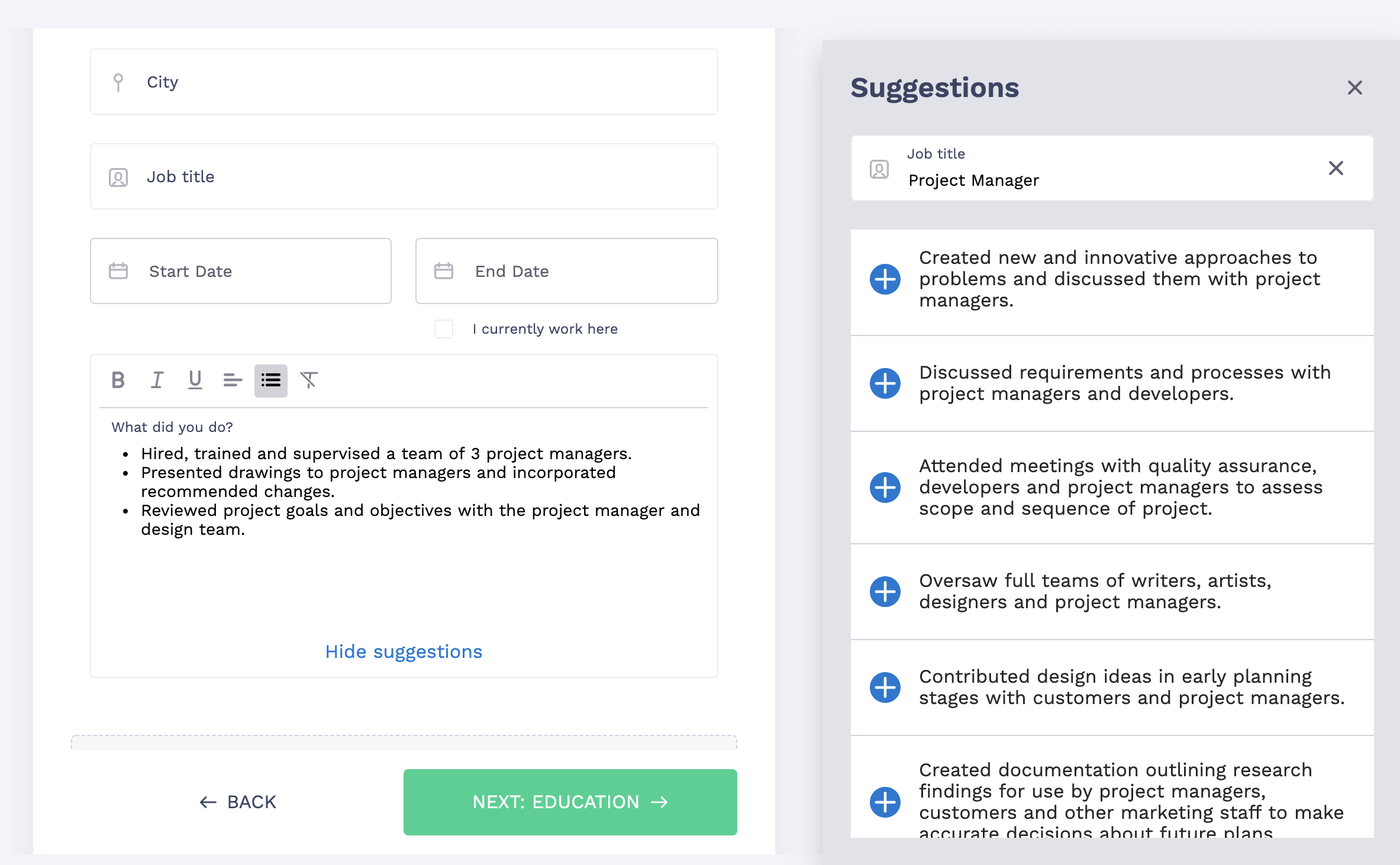 Nail it all with a splash of colour, choose a clean font, highlight your skills in just a few clicks. You're the perfect candidate and we'll prove it. Use the ResumeLab builder now.
4. Fullscreen Your Experience if You Have Any and Zoom in on Your Entry-Level IT Skills
Here's the score:
Work experience matters, maybe more than anything.
You're applying for an entry-level IT job, you're allowed not to have any experience.
But if you have some work experience, whether paid, volunteer, placement, or intern—
Here's how to write a job description for an entry-level IT CV:
Re-read the job ad like you were hunting for a missing semicolon.
Highlight all the entry-level IT skills and duties mentioned in it.
Think of times you've done those same things or used the same skills.
Write bullets that quantify these achievements, focusing on results.
The gold standard is showing—and quantifying—what benefits you brought to your employer, like saving time or money.
These entry-level IT CV examples will give you an idea:
Entry-Level IT CV Job Description—Examples
Which would you hire?
Fine, but—
What if you need an entry-level IT CV with no experience?
Easy as py:
Skip your work experience section If you can't come up with CV achievements.
Overclock your education section to take up the slack.
Take extra care with your CV skills section.
Don't use skills lists you find on the internet. Do aim for a mix of soft and hard skills as well as advanced computer skills in your CV.
Let the job ad guide what things you include in your CV, and don't be tempted to lie about your skills.
Skills for an Entry-Level IT CV
Hard skills:
AI
Big data and data analysis
Cloud computing
Cybersecurity
Debugging
Hardware setup and preparation
Office suites (LibreOffice, MS Office)
Operating system setup and maintenance
Programming languages
Software design
Software installation and maintenance
Systems architecture and administration
Troubleshooting
Web development
Soft skills:
Adaptability
Communication
Critical thinking
Customer service
Decision making
Interpersonal skills
Leadership
Organisation
Perceptiveness
Problem solving
Teamwork
Time management
Expert Hint: When adding programming languages to your CV, include a competency level between a beginner and an expert. Otherwise, the recruiter will think you know them all at the same level.
5. Customise Your Entry-Level IT CV with Added Sections
Make your entry-level IT CV uniquely yours:
Skills, education, and work experience aren't enough to show 'em what you've got?
Add your own, extra CV sections.
Check these out:
Entry-Level IT CV—Example Extra Sections
The difference?
There's nothing wrong with hobbies and interests in a CV, but—
A yoghourt collection, apart from being generally questionable, has nothing to do with IT.
Everything's fair game as long as it's relevant to the job ad.
Here are some options to get you thinking:
Non-academic courses
Conferences
Awards
One last thing—
You'll need an entry-level IT cover letter. Think of it as the CSS to your CV's HTML.
Double your impact with a matching CV and cover letter combo. Use our cover letter builder and make your application documents pop out.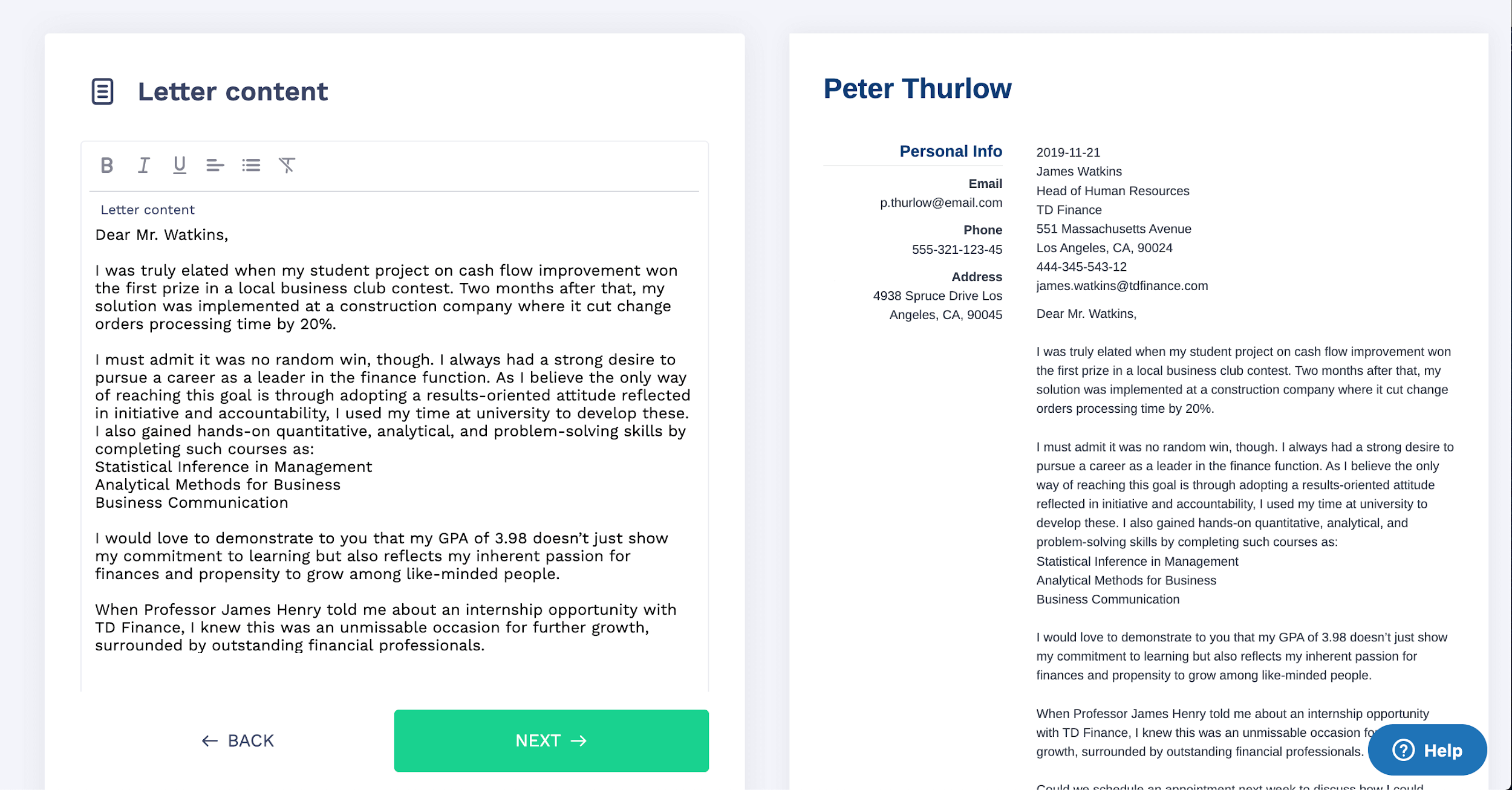 Want to try a different look? There's 18 more. A single click will give your document a total makeover. Pick a cover letter template here.
Key Points
For an entry-level IT CV that gets interviews:
Use the entry-level IT CV template given above. It does what you need without any bloat.
Put entry-level IT achievementsin your summary, work history, and education sections to show you've got what it takes.
Tailor your entry-level IT skills to match the job ad to which you're responding. Keep it real, though!
Include an entry-level IT cover letter and use it to show your passion for this particular job with this exact company.
Need more info on how to get your entry-level IT CV on the ticket list? Leave your questions and comments below. We'll be sure to get back to you.