Recent University Graduate CV—Examples and 25+ Tips
Your life has begun! It's exciting, but employers don't care about your schooling. Show them you're more than just another sheepskin with this sample university graduate CV.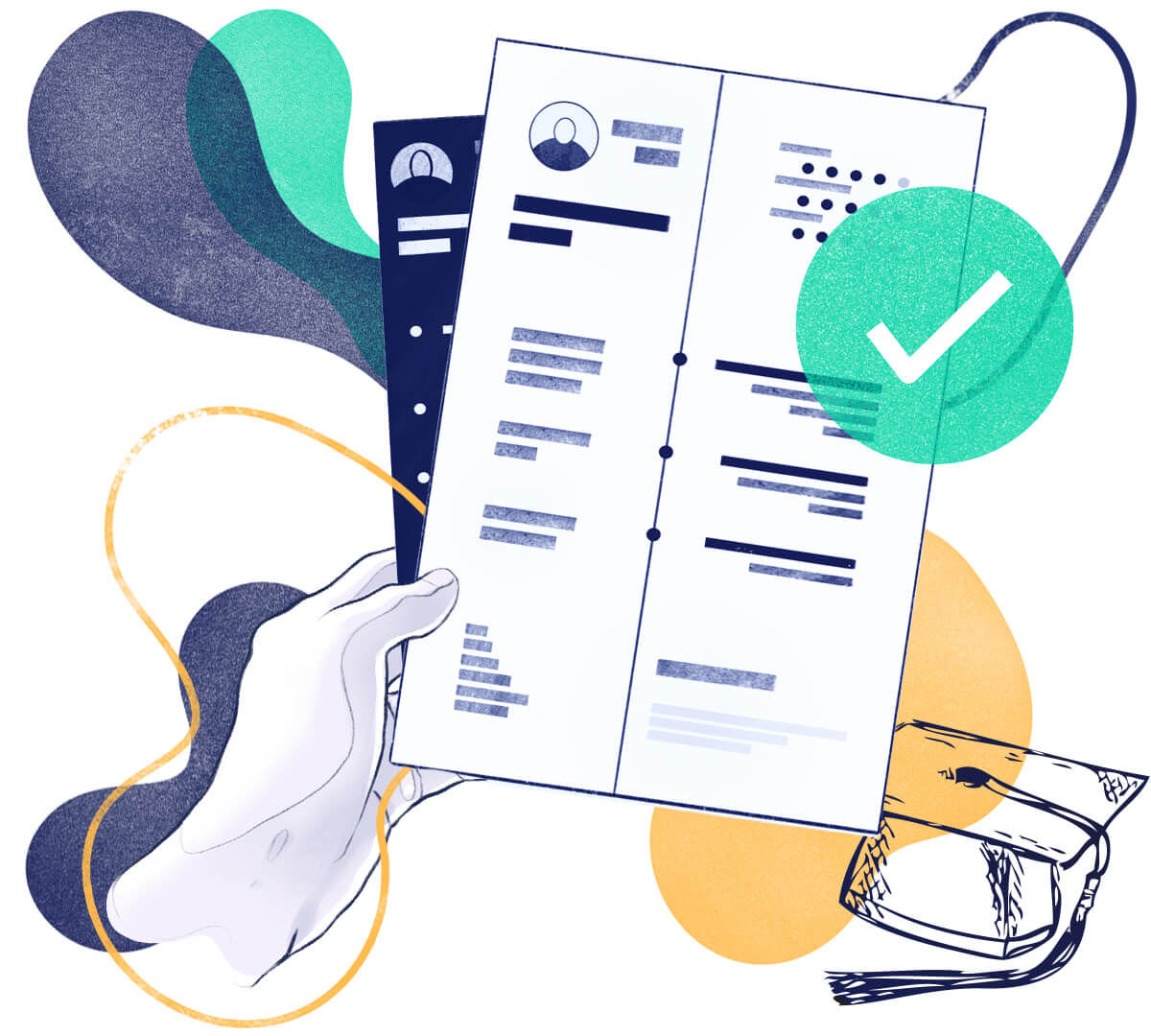 Congratulations. You earned your diploma.
Bad news.
That and £4 will buy you a latte.
You need experience. But you can't get it without a job.
Don't panic.
You know you've got the skills to change the world.
Your university graduate CV just needs to show achievement.
And you've got plenty of that.
In this guide:
A proven recent university graduate CV sample that gets jobs.
How to write a CV for university graduates that shows you're no mere newbie.
How to make your education section shine in a CV for university graduates.
Why you can't just list university graduate skills (and what to do instead).
Create a job-winning CV with little effort. Hack your way through ATS software with our 18 beautiful templates—give our builder a try!


Looking for a different kind of CV help? We've got you covered:
Haven't found what you're looking for? Check all our CV samples.
What is a University Graduate CV?
A university graduate CV is a document that presents your education, extracurricular activities, and skills. The university graduate CV should be short, to the point, and tailored to the job. Make sure to highlight any relevant work experience or internship as doing so will make you stand out from the crowd.
University Graduate CV Sample You Can Copy and Use
Sherry Dantas
Programmer
Personal Info
Phone: 218-395-4287
Email: sherryzdantas@gmail.com
Portfolio: www.sherrydantas.com
linkedin.com/in/sherryzdantas
twitter.com/sherryzdantas
Summary
Prolific programmer skilled in Python and Java. Seeking to exceed coding KPIs at Procore. Created data analytics app that tracks 10,000 sensors. Developed scalable business management app with MySQL database. 2nd place contestant, TopCoder contest intermediate division.
Education
BS Computer Science, Augsburg University
2015–2109
GPA 3.8
Data Science and Analytics
Created soil sensor analytics that can track 10,000 sensors.
Maintained 4.0 GPA in Data Analytics coursework.
Developed traffic optimization app that would cut traffic 20%.
Machine Learning
Developed "money ball" app to build more effective sports teams.
Wrote social media sentiment tracking app that won school fair.
Cloud Computing
Assisted with development of open source cloud app SaaS to create legal forms. Forms have 500+ users per month.
Created and managed 4 virtual machines.
Game Development & Design
Developed 2 single-player games with Android Studio.
Created models of 15+ 3D objects.
Projects
2015–2109
Created bank management system in C. Added scalable MySQL database to track customer accounts, profiles, and preferences.
Developed golf score tracking app with Android Studio that links to Google Sheets by API. Included data visualisation functionality.
Worked in team of 4 programmers to create RESTful API that works with Amazon to build store product databases.
Wrote Pacman game in Swift and Java that works on desktop, Android, and iPhone. Received 1,400 downloads and a 4-star rating average.
Portfolio Website
SherryDantas.com
Award
2018—2nd Place, TopCoder Intermediate Division
Additional Activities
Attended Global Game Jam Hackathon 2019.
President, TrogdorByterz Coding Club with 18 members.
Teach music therapy classes to at-risk high school students.
Avid road cyclist.
Publications
Why Big Data Needs Machine Learning, Visitor Panel
Pairs Programming Best Practises, HackSource
Hard Skills: Java, Python, C, PHP, app design, testing, debugging
Soft Skills: Teamwork, critical thinking, communication, problem solving
Here's how to write a university graduate CV that gets jobs:
1. Use a Professional University Graduate CV Format
Don't blow it.
If you don't look the part, they won't hire you.
That's why CV formatting makes a difference.
Begin with the reverse-chronological CV format.
Then build it out like this:
University Graduate CV Format
Expert Hint: More than 35% of recent university graduates work in low-paid jobs that don't need degrees. To avoid that group, start a robust networking effort now.
2. Write a Recent University Graduate CV Objective or Summary
You're not a clone. But—
You'd never know it once you're buried in a stack of university CVs.
Worse, you're up against people with years of experience.
You've got to show your value fast.
Do it with a solid CV objective.
That's a brief paragraph with a couple greatest hits.
Use:
An adjective (prolific, resourceful)
Your job title
How and where you'll help (exceed coding KPIs at Procore)
Best accomplishments (created own paid file clerk internship...)
Some key skills (2nd place, TopCoder contest...)
Here's a tip—
Make it last for easy writing.
See these university graduate CV examples:
Recent University Graduate CV Objective—Example
Worlds apart.
Both of those list app development and MySQL. But—
The first one adds created app that tracks 10,000 sensors and developed scalable MySQL database.
That's the difference between saying you can do something and showing you have.
Expert Hint: University graduates earn 38% more than high school graduates. But to make university pay for itself, show what you did in school. That's next.
The ResumeLab builder is more than looks. Get specific content to boost your chances of getting the job. Add job descriptions, bullet points, and skills. Easy. Improve your CV in our CV builder now.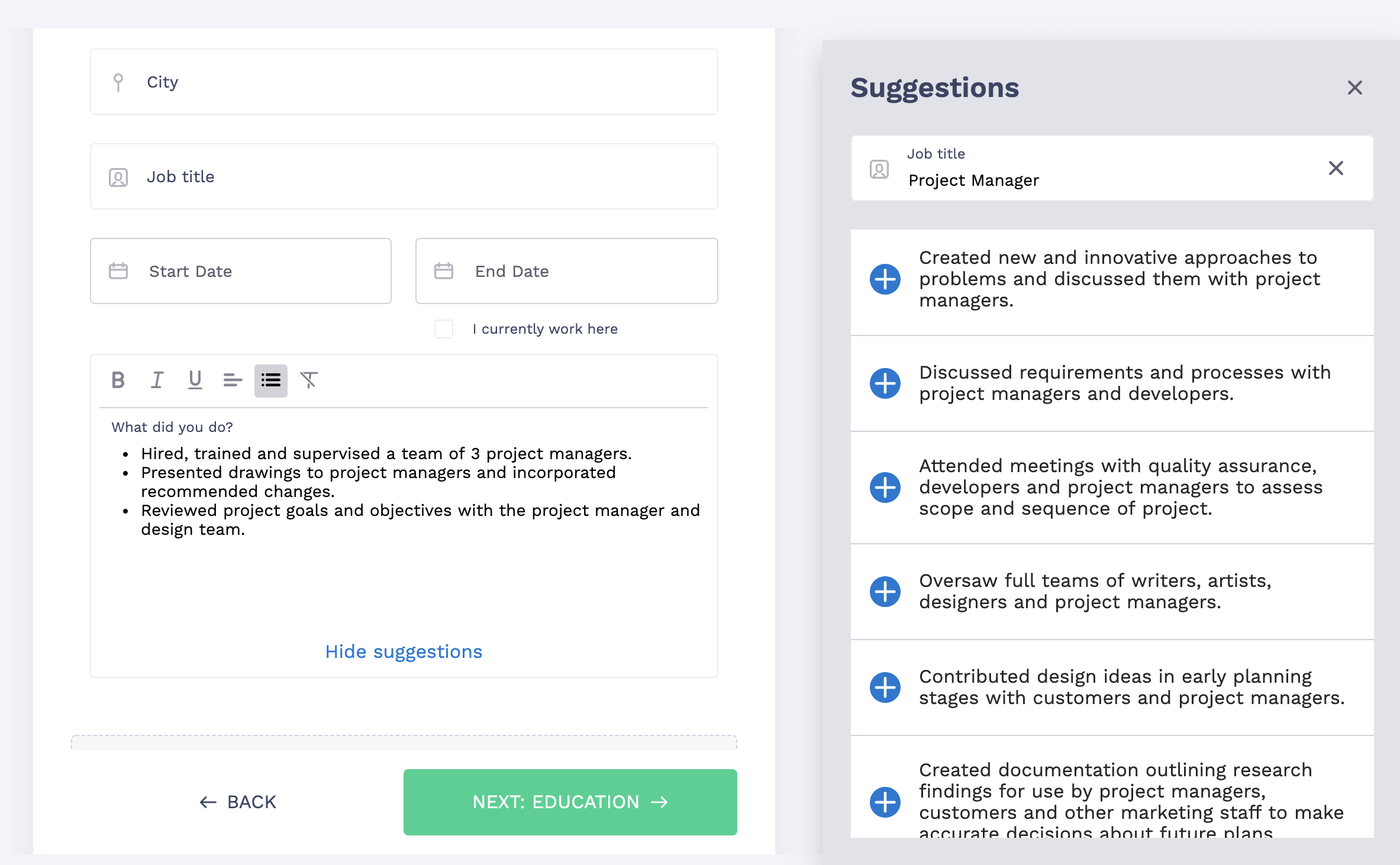 3. Make Your Education Section Count
You're in the top 36%.
That's how many in your age bracket have university degrees.
But there's a catch.
If you just list education, you'll look sophomoric.
So—
Make your CV education section count.
See this university graduate CV sample:
University Graduate CV Example—Education
That's Good Will-Hunting-level.
You showed school projects with skills that matter to employers.
You can stretch out your university CV education section into skills, classes, and projects like that.
4. Write a University Graduate Job Description and Skills Section
What skills go in a Recent university graduate CV?
Here's a list of the ones employers like:
University Graduate Skills for a CV
Interpersonal skills
Collaboration
Oral communication
Written communication
Work ethic
Research
Problem solving
Critical thinking
Active listening
Self motivation
Creativity
But those are just general skills.
You need technical skills too.
Which ones should you put on your university graduate CV?
That depends on the job ad. Read it, find the skills they want, and show how you've moved mountains with them.
That's called targeting your CV.
But—
Don't put too many skills in a CV for university graduates. That looks suspiciously like lying.
Look at these recent university graduate CV samples:
Say the job wants these skills: C, MySQL, Android Studio, collaboration, Java, sales, and problem solving.
University Graduate Job Description for a CV [Sample]
For contrast, here's a bad university graduate CV example:
Big difference.
The second of those university graduate CV examples lacks C, Android Studio, and all the other skills the job requires.
It's also missing numbers like 1,400 and 10%. That makes the claims look academic.
5. Add Bonus Material to Your University Graduate CV
To impress employers, first impress yourself.
Look back on your past. What have you achieved? What skills have you already used?
Add those things in a few "extra" CV sections.
Try a couple of the following:
Associations
Clubs/groups
School honour societies
Conferences
Freelancing
Publications
Additional activities
Languages
Hobbies
Sports teams or pursuits
These sample university graduate CVs show how:
University Graduate CV—Extra Sections
Answer this:
Which of those university graduate CV examples would convince you?
The first one works because it lists accomplishments.
Expert Hint: Don't forget to write a recent graduate cover letter with your CV. To wow recruiters, describe your passion for the company, and why you want to help.
Double your impact with a matching CV and cover letter combo. Use our cover letter builder and make your application documents pop out.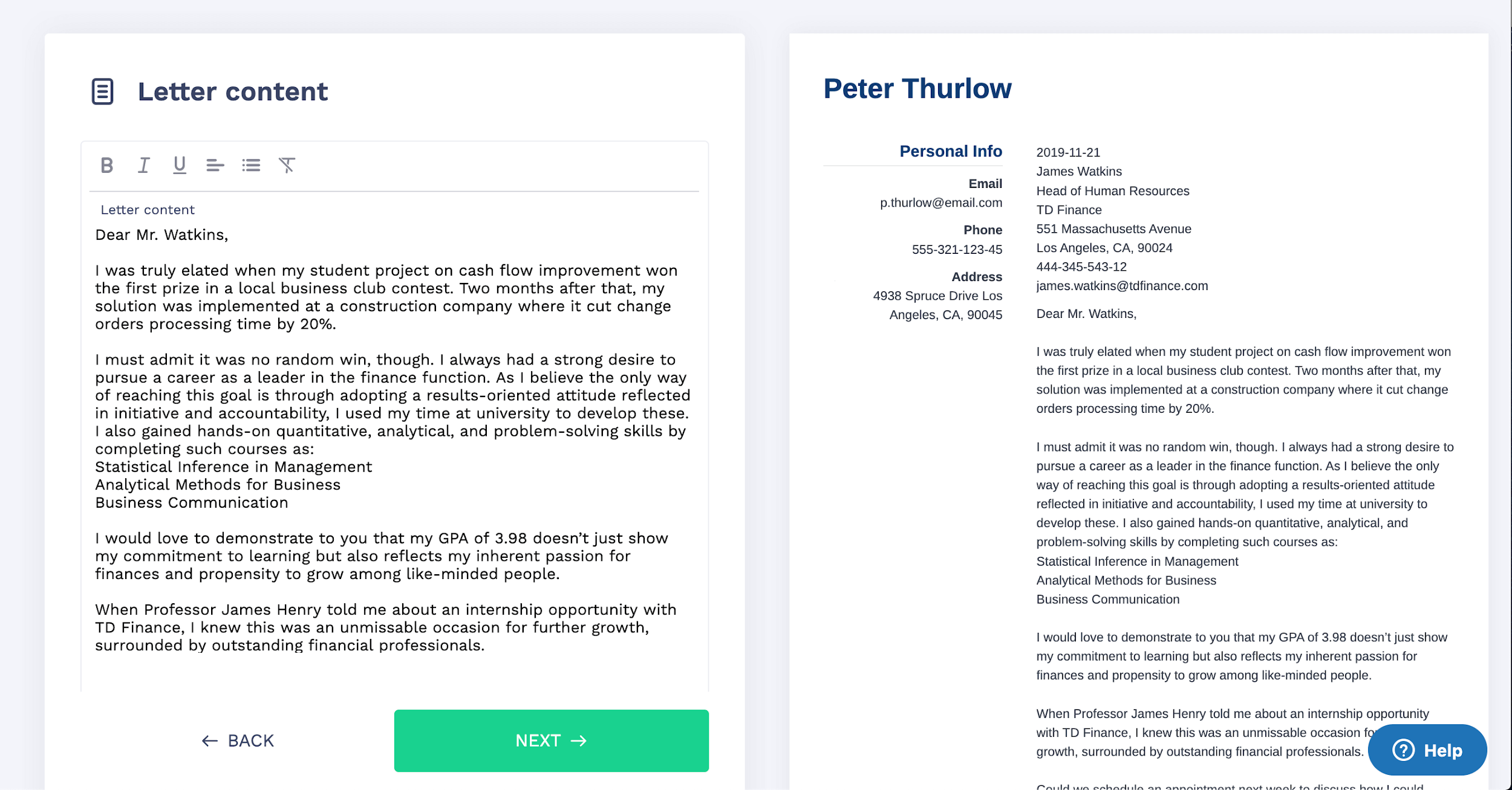 Key Points
How to write a recent graduate CV:
Use the university graduate CV template up top. It lets you show experience without a work history.
Don't just "list" your education. Show academic excellence and achievement based on skills.
In you CV experience section, add proof you've learned the skills recruiters want.
Communicate your character by adding CV sections like projects or volunteering.
Got questions on how to write a great university graduate CV? Having trouble getting a response to your recent graduate CV? Leave a comment. We'll be happy to reply!