Scrum Master CV—Examples and 25+ Writing Tips
You shield your team and zap impediments so they can get the job done. But the HR people at your dream company don't know that. Prove it with this Scrum Master CV sample.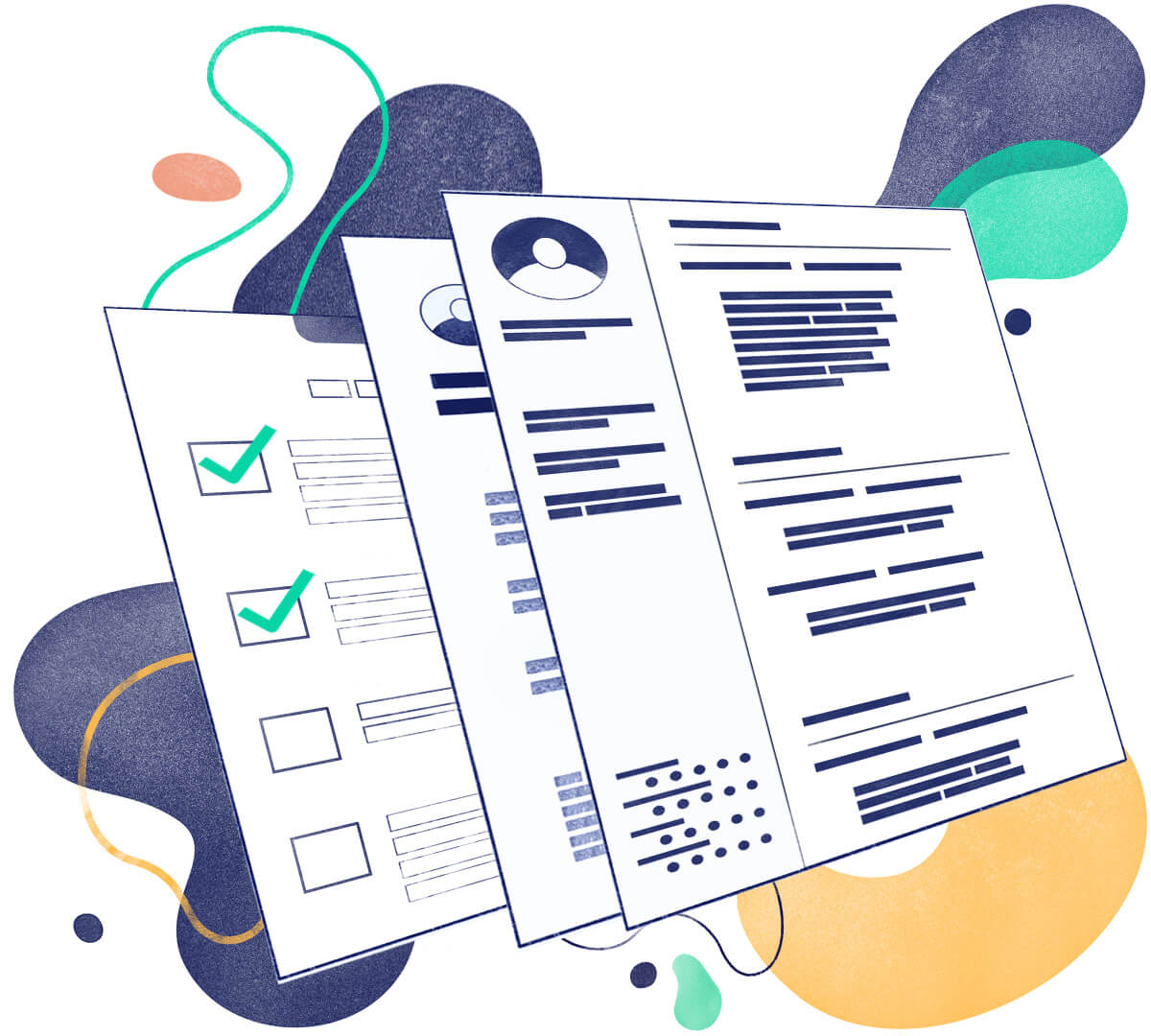 Here's the problem.
Your Scrum CV is not the only one they'll read.
In fact, they'll read dozens.
How can you make yours the right one?
By gathering their requirements, then using the right story points.
Don't worry. You'll soon be guiding standups like David Anderson.
In this guide:
A Scrum Master CV sample better than most.
How to write a CV for Scrum Master jobs.
How to meet acceptance criteria with a Scrum Master job description.
Why you can't just list Scrum Master skills (and what to do instead).
Save hours of work and get a CV like this. Pick a template, fill it in. Quick and easy. Choose from 21 CV templates and download your CV now.
What users say about ResumeLab:
I had an interview yesterday and the first thing they said on the phone was: "Wow! I love your CV."
Patrick

I love the variety of templates. Good job guys, keep up the good work!
Dylan

My previous CV was really weak and I used to spend hours adjusting it in Word. Now, I can introduce any changes within minutes. Absolutely wonderful!
George
Do you have other leadership talents? See our guides:
Haven't found what you're looking for? Check all our Professional CV Examples.
Scrum Master CV Sample You Can Copy and Use
Valerie Ayhan
Scrum Master
Personal Info
Phone: 336-301-2949
E-mail: valeriezayhan@gmail.com
linkedin.com/in/valeriezayhan
twitter.com/valeriezayhan
Summary
Certified Scrum Master with 3+ years of experience. Seeking to cut costs and raise efficiency at Sherwood-Brooks Tech. At Kolman Technology, managed 3 Scrum teams, raising revenue by £1.2M per year and increasing ROI by 25%. Beat delivery times by 15%. Cut supply costs 18%.
Certifications
Experience
Kolman Technology Inc.
Scrum Master
2017–2019
Managed 3 Scrum teams. Collaborated with cross-functional teams to raise ROI by 25% in 1.5 years, increasing revenue by £1.2M per year.
Trained 4 Scrum Masters in Agile best practises.
Scrum Master for 12 products. Beat delivery targets by 15%.
Worked with vendors to slash inventory costs by 18%.
Arendt Digital
Scrum Master
2016–2017
Led 8-person team through creation of 10 projects with budgets over £200,000.
Created automation program that saved £500,000.
Drove new Lean idea system that implemented 250+ employee ideas per year.
Boosted team velocity by 20%, slashing rework through Pokayoke.
Additional Scrum Experience
Various
2012–2016
Agile team software developer since 2013.
Led 2 cross functional teams in development of 4 products.
Assisted with logistics creation for 3 self-organising development teams.
Led 15 retrospective meetings that identified 5 recurring impediments.
Education
BS Computer Science ASU
2008–2012
Pursued a passion for Agile coursework.
Created a senior software project with a Scrum team of 5 developers.
Used Agile methodology to build a budgeting webapp.
Publications
Article on employee morale published in Agile for All
Spoke on making risks visible on the Agile in 3 Minutes podcast
Conferences
Agile 2019 -- Spoke on panel about active user involvement.
Deliver: Agile 2017
Additional Activities
Founder and leader of hiking group with 20+ members.
Volunteer to foster 3 dogs per month to increase adoptability.
Hard Skills: Agile planning, meeting facilitation, servant leadership, Agile coaching
Soft Skills: interpersonal skills, collaboration, communication, time management
Here's how to write a Scrum Master CV that meets the definition of done:
1. Select the Right Scrum Master CV Format
Picture this:
The hiring manager glances at your Scrum Master CV.
She tosses it.
You can't deny this happens.
The reason? Your CV formatting showed you aren't professional.
Here's how to do it right:
Scrum Master CV Format
Follow reverse-chronological CV formatting.
Use a 1-page CV length unless you're more experienced than Mary Poppendieck.
Set 1-inch margins and leave negative space between the words.
Choose a respected font for CVs like Cambria or Helvetica in 10–12pt.
Write these sections in your CV: Heading, Objective, Experience, Education, and Skills.
Save your CV as a PDF. They look the same on any device and ATS software can read them.
Expert Hint: Does your Scrum CV need more power? Consider getting a professional Scrum Master certification from Scrum.org.
2. Write a Scrum Master CV Objective or Summary
Here's a nightmare:
They'll spend six seconds reading your Scrum Master CV.
But that gives you a clue.
They're looking for something specific. If you show it to them—
They'll keep reading.
So, put it in the summary on your CV or the objective on your CV.
That's just a snappy paragraph right below your CV header.
Build your summary with:
An adjective (certified, engaging)
The words "Scrum Master"
Years of experience (2+, 4+)
Who & how you can help (cut costs at Sherwood-Brooks Tech)
Your best Scrum achievements (raised revenue £1.2M per year...)
These certified Scrum Master CV examples give the release plan:
Scrum Master CV Summary—Example
The difference?
The first of those Agile Scrum Master CV examples has details, numbers, and accomplishments.
But what if your Scrum experience is lacking?
Fall back on times you've used leadership and Agile in non-Scrum-Master jobs.
See this example:
Entry-Level Scrum Master CV Example—Objective
It's vital that you understand the difference.
The first of those Scrum Master CV samples says, "I've got the skills you want."
That's nice.
But the other proves it with details.
Expert Hint: Can't get in the door, even with a CSM certification? Look at product owner jobs. Then once you're part of the team, move up into a Scrum Master role.
3. Create a Winning Scrum Master Job Description and Skills Section
All the Scrum Master CVs in the stack will show experience.
But—
Most will do it wrong.
The trick?
Know the acceptance criteria.
Those are the CV skills in the job ad.
Look at these Scrum Master sample CVs:
The job ad wants these Scrum Master skills: working with cross-functional teams, Agile best practises, product development, and vendor management.
Scrum Master Job Description for CV [Sample]
Notice:
The first of those Scrum Master CV examples is Andrew Stellman-good.
It shows the right skills.
Then—
It adds numbers to prove competence. Employers love that.
Are you writing a CV with no experience for Scrum Master jobs?
You can still prove key skills.
Let's say the online ad wants these Scrum Master skills: leading cross-functional teams, working with self-organising teams, facilitating retrospective meetings.
Entry-Level Scrum Master CV Job Description [Sample]
Vastly different.
The second of those Scrum Master CV examples is tailored to the wrong job.
The first has the right CV keywords and some numbers.
But it's the same work history.
Need some skills to start? Use these:
Scrum Master CV Skills
| | |
| --- | --- |
| Hard Skills | Soft Skills |
| Agile Leadership | Interpersonal Skills |
| Agile Planning | Communication |
| Forecasting | Collaboration |
| Shielding Team Members | Time Management |
| Removing Impediments | Conflict Resolution |
| Servant Leadership | Empathy |
| Technical Skills | Adaptability |
| Meeting Facilitation | Detail Oriented |
| Agile Coaching | Customer Service |
| Enforcing Rules | Decision Making |
Expert Hint: There's no real "entry level" in the Scrum Master world. You need, need, need to show some leadership experience—even if you've never "been" a manager.
The ResumeLab builder is more than looks. Get specific content to boost your chances of getting the job. Add job descriptions, bullet points, and skills. Easy. Improve your CV in our CV builder now.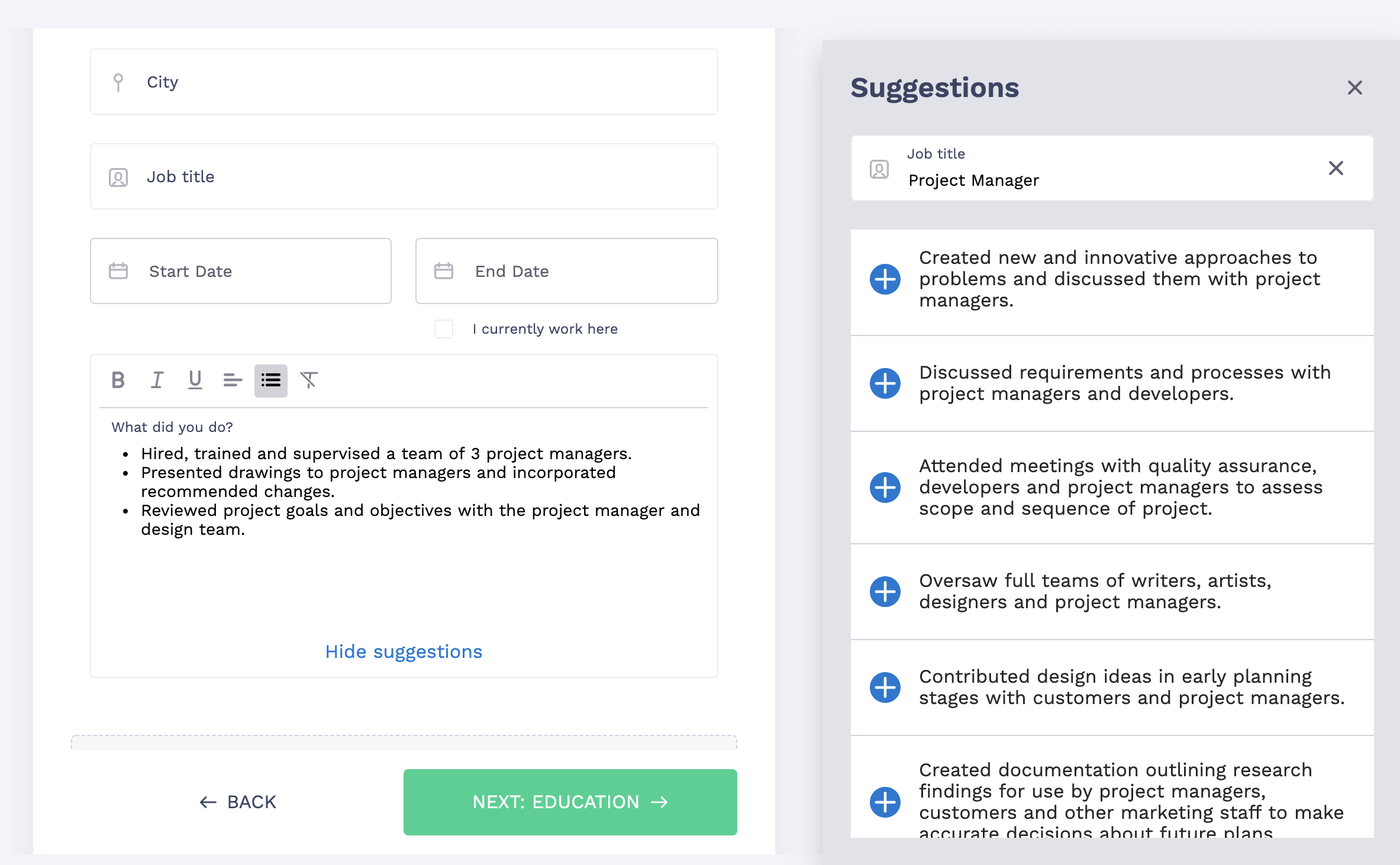 Nail it all with a splash of colour, choose a clean font, highlight your skills in just a few clicks. You're the perfect candidate and we'll prove it. Use the ResumeLab builder now.
4. Turn Boring Education to a Reason to Hire You
You must have education in a CV for Scrum Master jobs.
But did you know?
The education section of your CV should show more Agile skills.
See this Scrum Master CV sample:
Scrum Master CV Example—Education
Expert Hint: Really want the job? Get involved in an Agile community in your area. Agile Alliance has a great resource to find local Agile groups. Networking is job search magic!
5. Add "Extra" Sections to Your Scrum Master CV
"I think this applicant is going through the motions."
Don't let them think that.
Show drive and passion with "extra" sections in your Scrum Master CV.
Here are some suggested sections:
These Scrum Master CV examples show how:
Scrum Master CV—Extra Sections
Both seem like good people!
But that first Scrum Master CV example could be Jeff Sutherland in the rough.
Expert Hint: Write a cover letter for your Scrum CV. You can prove achievement in a CV. But a cover letter lets you show your excitement for the position.
Double your impact with a matching CV and cover letter combo. Use our cover letter builder and make your application documents pop out.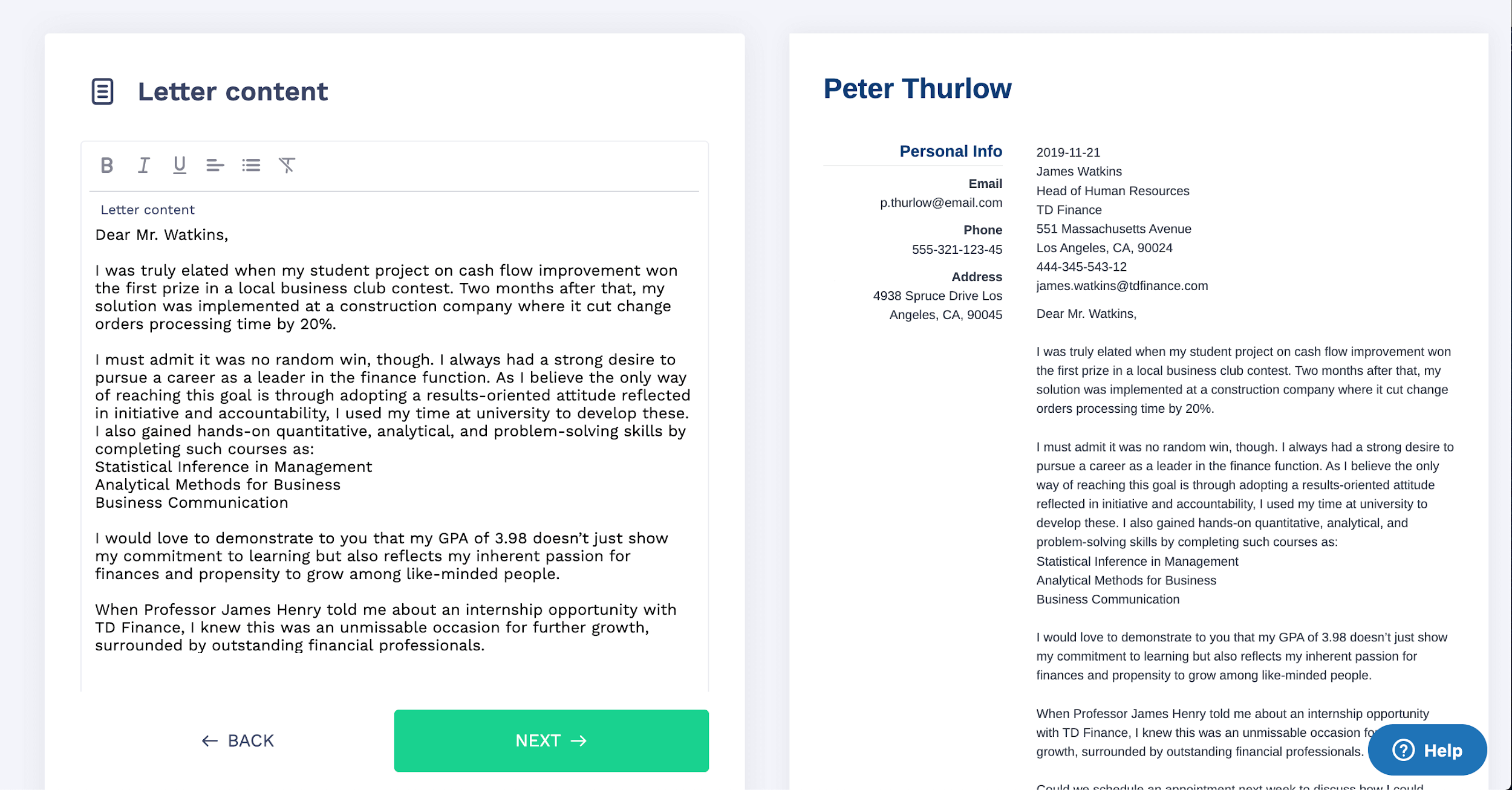 Want to try a different look? There's 18 more. A single click will give your document a total makeover. Pick a cover letter template here.
Key Points
For a Scrum Master CV that gets you in the daily standups:
Use the Scrum Master CV template up top. It has the right CV format for Scrum Master jobs.
Prove your Scrum skills with accomplishments. Show what you've done and how well you've done it.
Customise your CV by matching it to the job ad. If they mention an important skill, make sure to prove it in your CV sections.
Add "extra" sections to your CV. They're there to show you aren't just doing this for the paycheck.
Got questions on how to write great CVs for Scrum Master jobs? Not sure how to show Scrum Master on a CV? Leave a comment. We'll be happy to reply!