Nursing CV—Nurse CV Examples and 25+ Writing Tips
A nursing CV template that gets interviews. Write your nurse CV fast, with Expert Hints and good and bad nursing CV examples.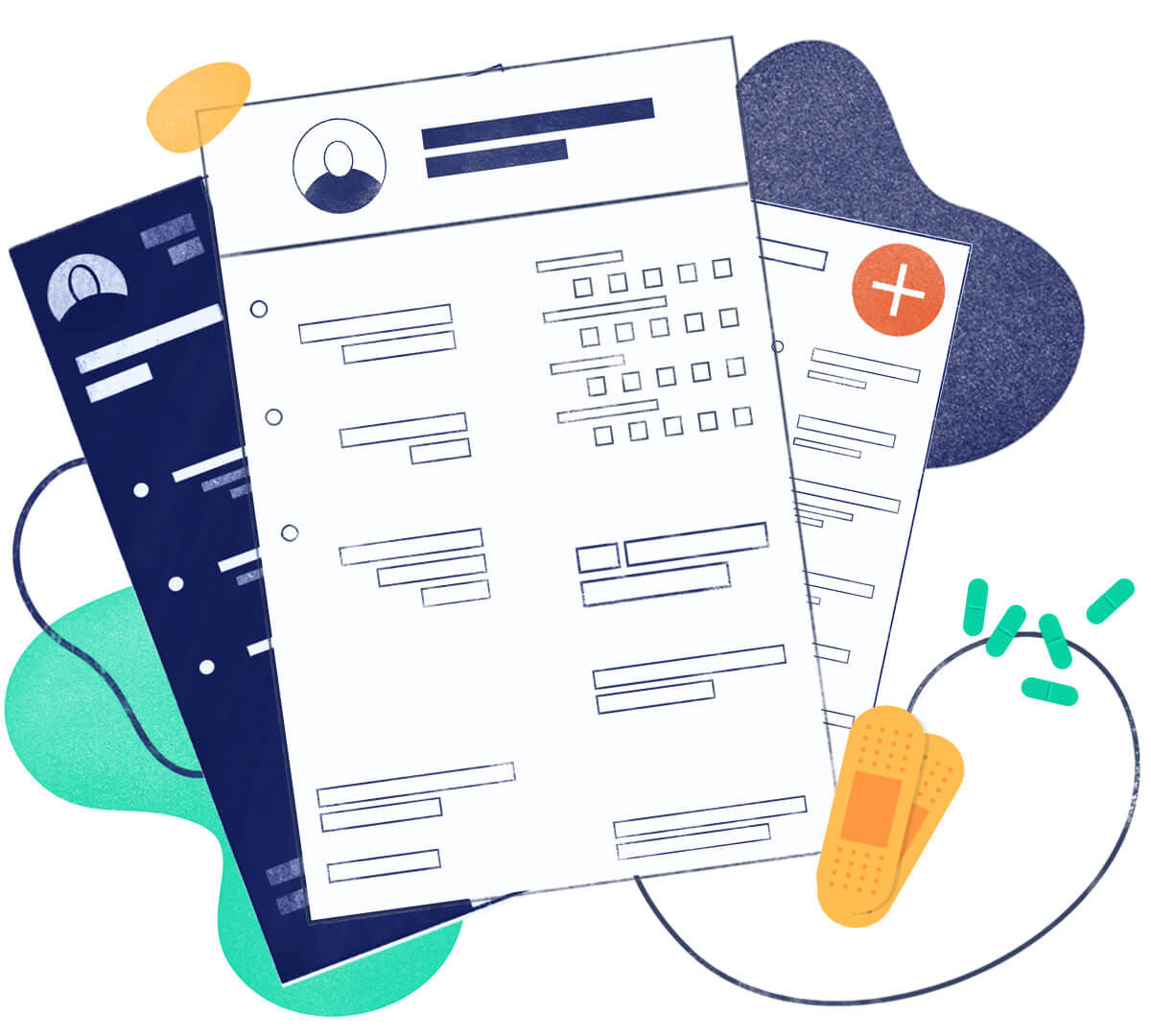 What makes this nursing CV template perfect?
Well—
It doesn't just show work history and education.
It spotlights achievements that make you irresistible.
That makes it stand out like Deborah Burger in neon scrubs.
Do it right, and the nurse hiring manager will spill her coffee reaching for the phone.
This guide will show you:
A nursing CV example better than most.
How to write a CV for nurse jobs that gets more interviews.
The key to a flawless registered nurse job description on a CV.
Why your choice of nurse CV accomplishments is life or death.
Save hours of work and get a CV like this. Pick a template, fill it in. Quick and easy. Choose from 21 CV templates and download your CV now.
What users say about ResumeLab:
I had an interview yesterday and the first thing they said on the phone was: "Wow! I love your CV."
Patrick

I love the variety of templates. Good job guys, keep up the good work!
Dylan

My previous CV was really weak and I used to spend hours adjusting it in Word. Now, I can introduce any changes within minutes. Absolutely wonderful!
George
Looking for other medical CV samples? Have a look at our dedicated guides:
Haven't found what you're looking for? Check all our CV samples.
Nursing CV Template
Lily Gerstaecker
Registered Nurse (RN): 0000000
Personal Info

Phone: 816-786-5158
Email: lilygerstaecker@gmail.com
linkedin.com/in/lilygerstaecker
twitter.com/lilygerstaecker
Summary
Licenced RN with 7+ years of experience and proven skills in wound dressing and patient education. Seeking to promote healthcare excellence at North Kansas City Hospital. Cut nurse turnover 20% at Saint Luke's through better work standards. Raised patient scores 22% by improving patient communication.
Licence
Registered Nurse, Missouri Board of Nursing, Licence # 0000000
Nursing Experience
Charge Nurse
Saint Luke's Hospital
2015–2019
In charge of team of 5 nurses in a busy hospital ward. Triaged patients, determined plan-of-care, managed unit's budget and revenue.
Trained 3 nurses in hospital policies and procedures.
Decreased RN turnover 20% through better training and work standards.
Increased patient review scores for all ward nurses 22% in HCAHPS surveys. Raised scores through better communication standards.
Slashed stockroom waste 30% with new just-in-time inventory system.
Nurse
North Kansas City Hospital
2013–2015
Managed care, goal attainment, and safety for 6 patients. Commended by charge nurse 7x for teamwork and efficiency.
Handled patient education and exam prep. Received 98% positive patient scores.
Maintained 100% HIPAA compliance at all times.
Assisted with relocation of stockroom. Cut wasted foot traffic by 70%.
Through better mobilisation, cut bedsores by 34%.
Precept Nurse
Kauffman Health
2013–2013
Recorded vital signs and patient histories for 10 patients per shift. Received 99% correct scores from preceptor for accuracy of data.
Maintained patient satisfaction scores 25% above average.
Through fall-prevention adherence, kept falls 20% below unit average.
Repeatedly evaluated at 99% for wound-dressing skills.
Education
Bachelor of Science in Nursing, St. Luke's University
2010–2013
Vice President, Student Nursing Association.
Pursued a passion for phlebotomy classes.
Teacher's assistant, patient education and wound dressing.
Certifications
Phlebotomy Certification
Patient Care Technician Certification
Volunteer Experience
2015 Volunteer nurse, Bourgmont Homeless Shelter, 1x per month.
2015 Volunteer educator, American Red Cross, 1x per month.
Additional Activities
Regular listener, Daily Nurse Podcast.
Teach weekly yoga classes for fun and self-care.
Hard Skills: Patient Education, Wound Dressing, Phlebotomy, Record Keeping, Medicine Administration
Soft Skills: Compassion, Teamwork, Problem Solving, Confidence, Stamina
Now here's how to make a nursing CV:
1. Start with the Best Nursing CV Format
So important:
Your CV format will make or break you.
It's got to show you know a canule from a cantaloupe.
Begin with the reverse-chronological CV format. It shows your latest, greatest nursing CV achievements first.
Use the best CV fonts in 10–14pt. Include 1-inch margins, clear headings, and lots of white space for ease-of-use.
Make a one-page CV unless you're more experienced than Clara Barton.
Lead with a CV header. In it, put your name, RN licence #, phone, and email. No street address or photo.
Next, add a registered nurse CV objective, work experience, and education.
Add CV extras like certifications, volunteer work, and additional activities. They'll invigorate your RN CV.
Expert Hint: Save your CV as a PDF unless the job offer contraindicates it. RN CV PDFs don't go critical when you click "send." Even better, they're machine-readable.
2. Write a Healthy Registered Nurse CV Objective or Summary
Sad but true:
Most nurse CVs are clones.
Employers skim through piles of them and barely see the words.
So—
Start with a pulse-pounding CV summary.
Use:
One adjective (compassionate, energetic, efficient)
Job title and licence (Registered Nurse (RN): 0000000)
Years of experience (2+, 7+)
How you'll help (promote healthcare excellence)
Best 2–3 achievements (cut nurse turnover 20%, saved 4 hours per week with better inventory management)
These charge nurse CV examples show how:
Nursing CV Summary—Examples
Full recovery.
The first of those nursing CV samples puts you in the Florence Blake zone.
It's chock-full of achievements that prove nurse CV skills.
What if You've Got No Experience?
How to write a CV with no experience?
In an entry-level RN CV or new graduate nurse practitioner CV, show achievements. Get them from your clinical experience or precept nurse experience.
This entry-level nursing CV example nails it:
Nursing CV Objective—Example
That's so much better than "I haven't had any nurse jobs yet." Even with no experience, you can have a CV for nursing jobs like that.
What about your goals in a CV objective? In 2023 you'll get more respect if you show how you can work toward the facility's targets instead.
Expert Hint: Write your nursing CV summary last. That'll give you plenty of great supplies to pull from.
3. Create a Vibrant Registered Nurse Job Description for CVs
Here's a relief:
Nurse CVs need just a few achievements.
But—
The best nursing CVs pick them carefully.
To do it right:
Dig through the job offer.
Highlight the nursing duties and responsibilities you see.
Stuff your CV bullets with accomplishments that fit like Danskos.
See these nursing CV examples:
Nurse Job Description for CV—Example
Job ad wants these RN CV skills: (1) triage (2) training (3) communication (4) inventory.
Eek!
The second of those RN CV examples is on life support. The first is Cleveland-Clinic-worthy.
The job-matching accomplishments make it thrive.
And—
The numbers show your skills are healthy.
Entry-Level Nursing CV Example—No Experience
No nurse CV experience? Don't panic.
Your entry-level RN CV can still pull through.
Fill it with accomplishments. This entry-level nurse CV example shows how:
Precept Nurse
Kauffman Health
2013–2013
Recorded vital signs and patient histories for 10 patients per shift. Received 99% correct scores from preceptor for accuracy of data.
Maintained patient satisfaction scores 25% above average.
Through fall-prevention adherence, kept falls 20% below unit average.
Repeatedly evaluated at 99% for wound-dressing skills.
Nurse CV Skills
Here's a CV skills list.
Don't copy-paste it to your CV for nurses.
Nurse hiring managers hate that more than needle sticks.
So, use the skills in the job offer.
Nursing Skills for CV

| | |
| --- | --- |
| Soft Skills | Hard Skills |
| Communication | Budgeting |
| Compassion | Patient Education |
| Critical Thinking | Wound Dressing |
| Problem Solving | Patient Transport |
| Confidence | Electronic Health Records (EHR) |
| Teamwork | Record Keeping |
| Stamina | Recording Patient Vitals |
| Ethics | Phlebotomy |
| Passion for Learning | Care and Discharge Planning |
| Attention to Detail | Medicine Administration |
Expert Hint: According to a Nursing Solutions survey, 45% of hospitals expect to hire more nurses soon. Make the best nurse CV you can to get the best hospital jobs.
The ResumeLab builder is more than looks. Get specific content to boost your chances of getting the job. Add job descriptions, bullet points, and skills. Easy. Improve your CV in our CV builder now.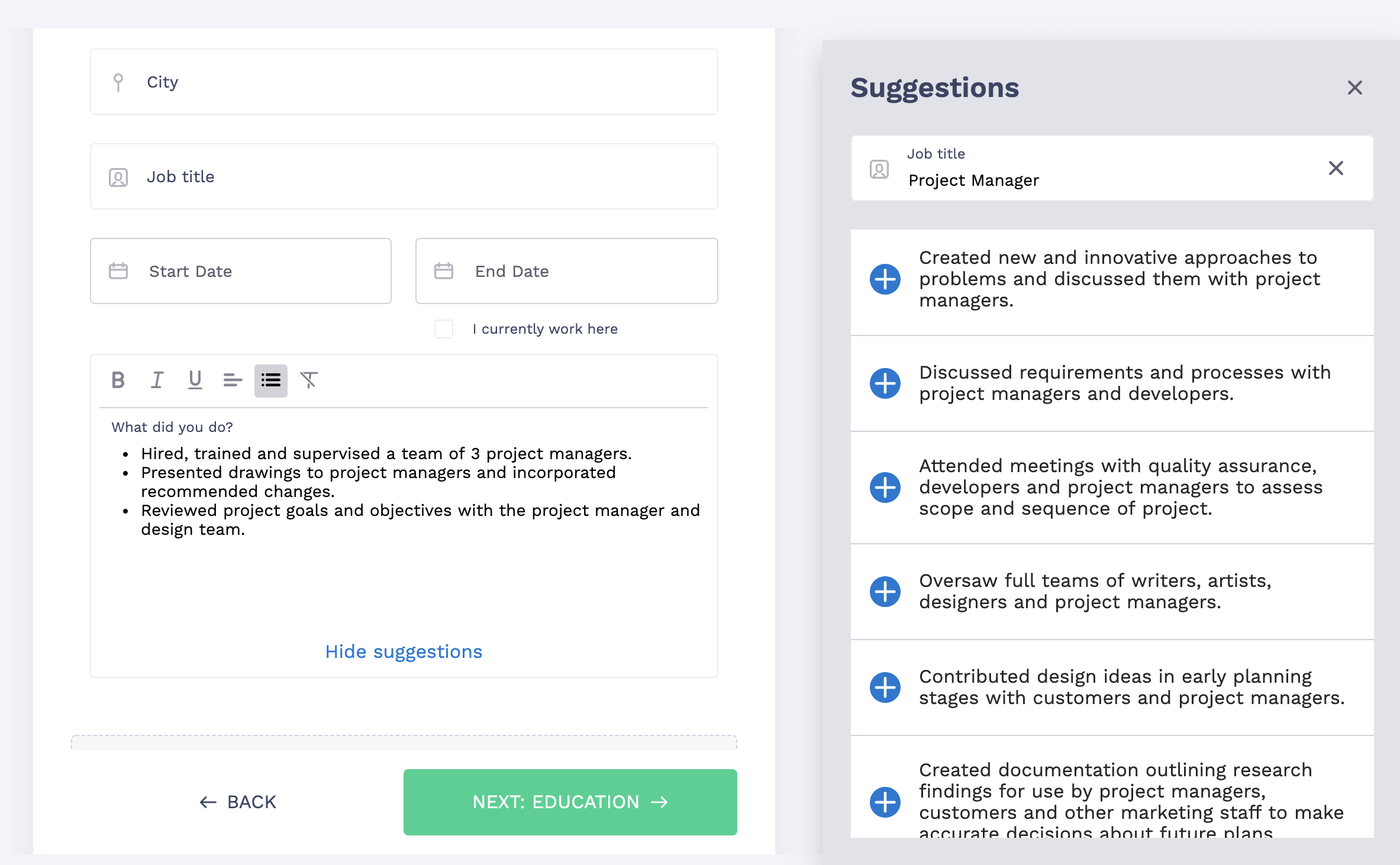 Nail it all with a splash of colour, choose a clean font, highlight your skills in just a few clicks. You're the perfect candidate and we'll prove it. Use the ResumeLab builder now.
4. Turn Boring Education to a Reason to Hire You
Here's a lifesaver:
On a great nurse CV, even your education section needs achievements.
Without them, it'll flatline.
These nursing CV examples show why:
Nursing CV Education—Example
Huge difference.
The first of those registered nurse CV samples is A&0x100.
It shows your RN CV skills weren't born yesterday.
Expert Hint: Is your nursing CV experience still bedridden? Segment your education into projects and positions. Then load each one with accomplishments.
5. Give Your Nursing CV a Shot with These
Here's where you get hired.
To show you're Mayo Clinic material—
List a few CV extra sections.
They'll make your CV for nursing jobs stand out like a limb signature.
These nurse CV examples show the way:
Additional Sections for Nursing CV—Example
A+.
Why does the first of those RN CV samples pass the assessment?
It shows your nursing skills are Jackson-Memorial-sized by adding wards full of achievements.
Expert Hint: Send a cover letter for RN positions. Make it passionate, but keep it focused on the employer's needs and how you'll fill them. You can get some inspiration from these nurse cover letter examples. You'll give your nursing CV a fighting chance.
6. Show Your Licences on a Nursing CV
How to list your licence on an RN CV?
Well—
You don't want the busy nurse manager to miss it.
Put it in two places:
By your name
In a special RN Licence section right below your summary.
This nursing CV example shows how:
Licenced Practical Nurse CV—Example
For placement, see the nurse CV template at the top.
Expert Hint: Worried about putting your RN licence number on a nursing CV? Don't be. They're public knowledge. Anyone can look them up.
Double your impact with a matching CV and cover letter combo. Use our cover letter builder and make your application documents pop out.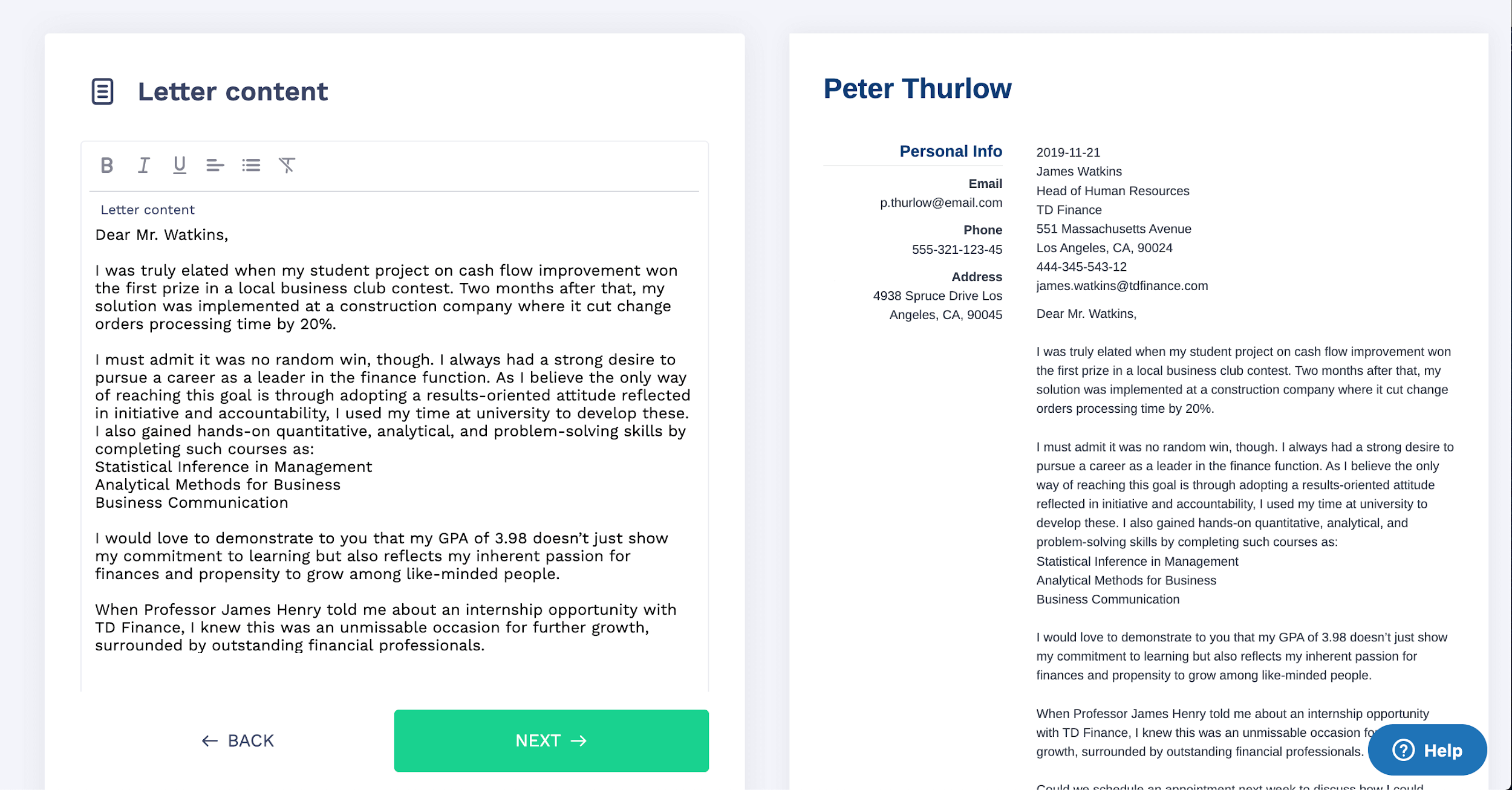 Want to try a different look? There's 18 more. A single click will give your document a total makeover. Pick a cover letter template here.
Key Points
For a nursing CV that raises heart rates:
Start with the nursing CV template up top.
Use accomplishments toinvigorate your RN CV. Fit them to the job like custom scrubs.
Add numbers to your achievements. Hours, money, and percents will add scale to your nurse CV skills.
Send a nursing cover letter. Make it passionate and pin it to the employer's needs. You can also check one of our more specific cover letter guides like the new grad RN cover letter, RN cover letter, or CNA cover letter.
Got questions on how to write a good nurse CV? Not sure how to pick achievements for your CV for nurses? Leave a comment. We'll be happy to reply.