Phlebotomist CV—Examples and 25+ Writing Tips
You can find a vein blindfolded and you've never mislabeled a vial. It's time to get you somewhere you can really make a difference.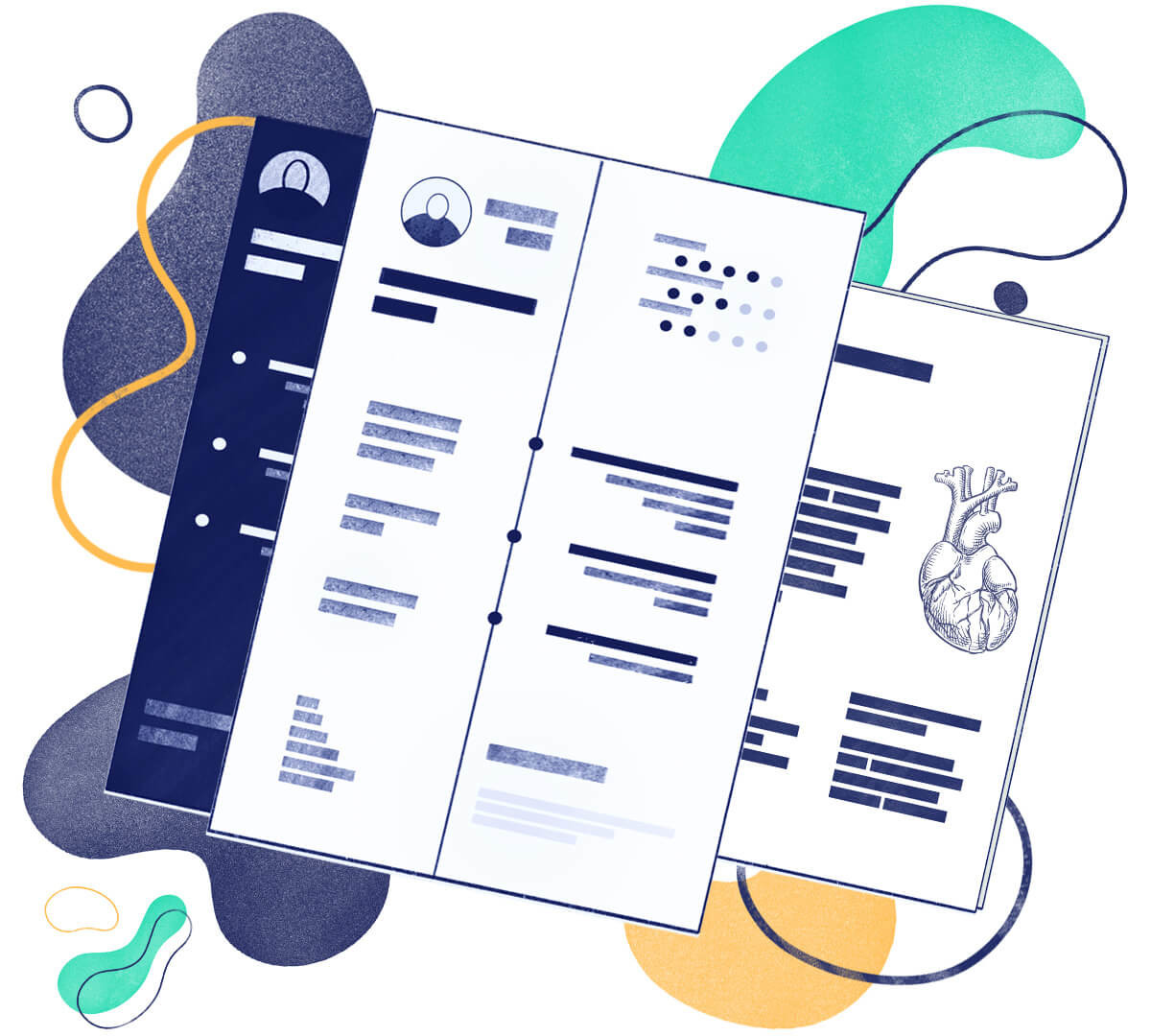 There is something mysterious about blood in how much it can tell about us, and how it powers us. Your phlebotomist CV must be the same. It must contain your essence, and show clearly what you're made of. You don't have long to capture the attention of the medical director.
The stack is tall, the emails are plentiful—and there's no time for centrifugal separation.
This phlebotomist CV guide will help you get there with:
A phlebotomist CV sample that will give you an unfair advantage.
A walkthrough on how to nail your phlebotomist CV objective.
How to write a phlebotomist CV with no experience.
Expert hints to tweak your phlebotomist job description.
First, let's see one of our phlebotomy CV examples.
Save hours of work and get a CV like this. Pick a template, fill it in. Quick and easy. Choose from 21 CV templates and download your CV now.
What users say about ResumeLab:
I had an interview yesterday and the first thing they said on the phone was: "Wow! I love your CV."
Patrick

I love the variety of templates. Good job guys, keep up the good work!
Dylan

My previous CV was really weak and I used to spend hours adjusting it in Word. Now, I can introduce any changes within minutes. Absolutely wonderful!
George
Considering a range of positions? See our CV and cover letter guides:
Haven't found what you're looking for? Check all our Professional CV Examples.
Phlebotomy CV Sample You Can Copy and Use
Celeste D. Cervantez
Certified Phlebotomy Technician
Personal Info
123 Black Stallion Road
Winchester, KY 40391
859-432-3843
cdcervantez@aol.com
Summary:
An energetic phlebotomist always on her feet the past 3+ years as a Certified Phlebotomist at Aurora Health, performed over 2,000 blood draws in the process, maintaining 100% sample labelling and documentation accuracy. Experienced in data entry through positions in the insurance industry, having entered over 40,000 records with perfect accuracy. Saved £45/week on rearranging laboratory pickup dates in line with weekly patient trends. Looking to be a dynamic addition to the team at Palm Tree Clinic.
Experience
Certified Phlebotomist
Aurora Health
2016–2019
Performed over 2,000 blood draws, maintained 100% labelling accuracy.
Excellent at building rapport with patients, especially good at calming children.
100% documentation accuracy, effective storage of samples.
Redesigned laboratory pickup schedule to align with peak times, saving £45/week in the process.
100% infection control, no recorded incidents.
Consistently performing venipunctures, finger sticks, heel sticks, and arterial blood collections.
Data Entry Clerk
AXA Remote
2014-2016
Accurate data entry at 80+ words/minute.
Using a variety of systems to document injury, accident and incident reports.
Maintained 100% accuracy. Incompatibilities detected in 20+ cases, one of which led to a fraud investigation.
Education
Winchester East High School
High School Diploma
GPA: 3.6
2009–2013
Certifications
First Aid, CPR—American Red Cross
Certified Phlebotomy Technician Certification (National Healthcareer Association)
Languages
Key Skills
Data Entry
Patient Rapport Building
Controlling Vitals
Infection Control
Time Management
Let's make sure your phlebotomist CV gets drawn:
1. Choose The Right Phlebotomy CV Format
Ensure that your phlebotomist CV format is clean and readable—make sure everything is there like in the Basic Metabolic Panel. The Ladders study found that an average CV is scanned for 7.4 seconds. Nothing can be hidden. So follow these CV tips:
Phlebotomy CV Format
Now let's get the vitals.
2. Write A Phlebotomy CV Objective or Summary
Just like a blood panel, someone experienced should be able to look at your phlebotomist CV and establish the key metrics immediately. As central as the Red Blood Cell Count, has to be a phlebotomist CV objective or summary.
The medical director doesn't want a phlebotomist. They want a Robocop. They want someone who can draw blood with one hand, do data entry with the other, spin down another specimen with their foot, while calming down the anxious patient.
So highlight your experience and strong achievements.
If you're writing an entry-level phlebotomy CV, you should opt to set out your ambitions in a CV objective.
Phlebotomist CV Objective—Example
Get your phlebotomist CV objective right:
Use strong, active power words like energetic, efficient.
Refer to yourself by your job title, even if you don't have it yet. Your certification (if you have it) makes you a CPT.
List your years of experience, if you have them.
Explain how you will contribute to your new employer—what you bring to the table (even though that's the server's job).
Back up whatever you can with achievements and numbers.
But what if you're more experienced than Dracula? Use a CV summary.
Phlebotomy CV Summary—Example
See the difference? The bad example is just a list of duties and responsibilities. The good one on the other hand show expertise and passion. How? By using numbers and percentages.
Expert Hint: Still need to get certified? Check out this site for a list of certifying bodies that will allow you to become a Certified Phlebotomy Technician. The biggest are ASCP, ASPT, NPA, NHA and NCCT. Most of them require at least 100 classroom hours and around a 100 documented venipunctures. That should give you something for your qualifications summary.
3. Focus Your Job Description For Phlebotomy CVs
Every phlebotomist draws blood. Your personal flair, the way you pierce the skin, or your catchphrase won't set you apart here. Focus on the stuff that not everyone can say about themselves. How many times they have performed the procedures. How accurate they are at keeping records.
The simple fact that you know the number shows you care. So focus on the tangible numbers.
This phlebotomist job description nails it:
Phlebotomy Job Description for a CV
Night and day.
The good work experience example tries to estimate the effectiveness and quality of your actions, instead of telling the reader what they already know a phlebotomist does already.
What if you're writing a CV with no experience? Use accomplishments from non-phlebotomy jobs or volunteering. Think about the common ground between your past and the future you are planning as a phlebotomist. What is there you already know?
Adding a CV skills section can help.
Beware:
Pick approximately five key skills that are most related to target position. Don't just write anything down. With phlebotomists, they can all take blood. It's what they bring that's extra.
What do you have that's extra?
Phlebotomy Skills for CV
Soft Skills
Interpersonal Skills
Communication
Attention to Detail
Empathy
Customer Service
Listening
Perceptiveness
Persuasion
Compassion
Hard Skills
Data Entry
Instructing Patients
HIPAA Compliance
Inventory Management
Documentation
Sterilisation
Taking Vitals
Workplace Safety
Infection Control
4. Make Your Education a Reason to Hire You
Phlebotomists usually all have a similar state certification, so focus on the stuff that sets you apart—clerically and organizationally.
Once you have some experience, limit the education section to school name, diploma type, and graduation date. If it has been less than 2 years since you graduated, feel free to highlight your achievements in bullet points under this example.
This phlebotomy CV example shows how:
Phlebotomist CV Sample—Education
If this your first job out of school, you can find more guidance in our high school CV guide.
The ResumeLab builder is more than looks. Get specific content to boost your chances of getting the job. Add job descriptions, bullet points, and skills. Easy. Improve your CV in our CV builder now.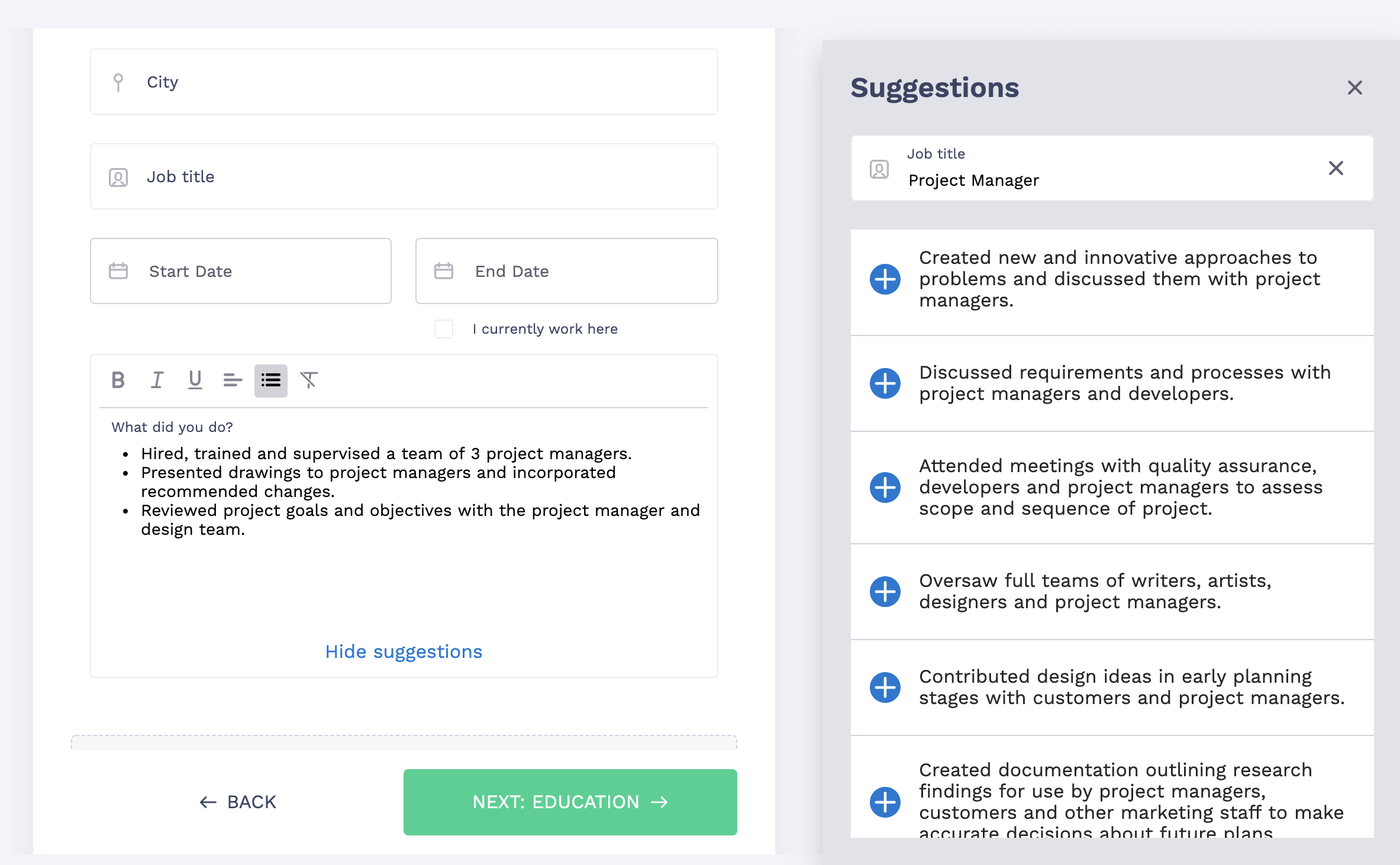 Nail it all with a splash of colour, choose a clean font, highlight your skills in just a few clicks. You're the perfect candidate and we'll prove it. Use the ResumeLab builder now.
5. Inject Your Phlebotomy CV With Added Sections
Education is not necessarily the section you should devote most space to. Phlebotomists are generally more often certified rather than conventionally educated through a degree programme, so the certification section, and other added section can take priority over education on a phlebotomist CV.
Try a few bonus CV sections such as:
Awards
Additional Activities
Foreign Languages
Volunteering
Certifications
Skills—if you haven't included them as part of your other sections
These two phlebotomist CV examples show you clearly the difference it can make:
Phlebotomy CV—Extra Sections
Keep it relevant.
The good phlebotomist CV sample proves your versatility and readiness for the job.
One last thing—
You need a phlebotomy cover letter. About half of hiring managers won't read your CV without a cover letter attached.
Double your impact with a matching CV and cover letter combo. Use our cover letter builder and make your application documents pop out.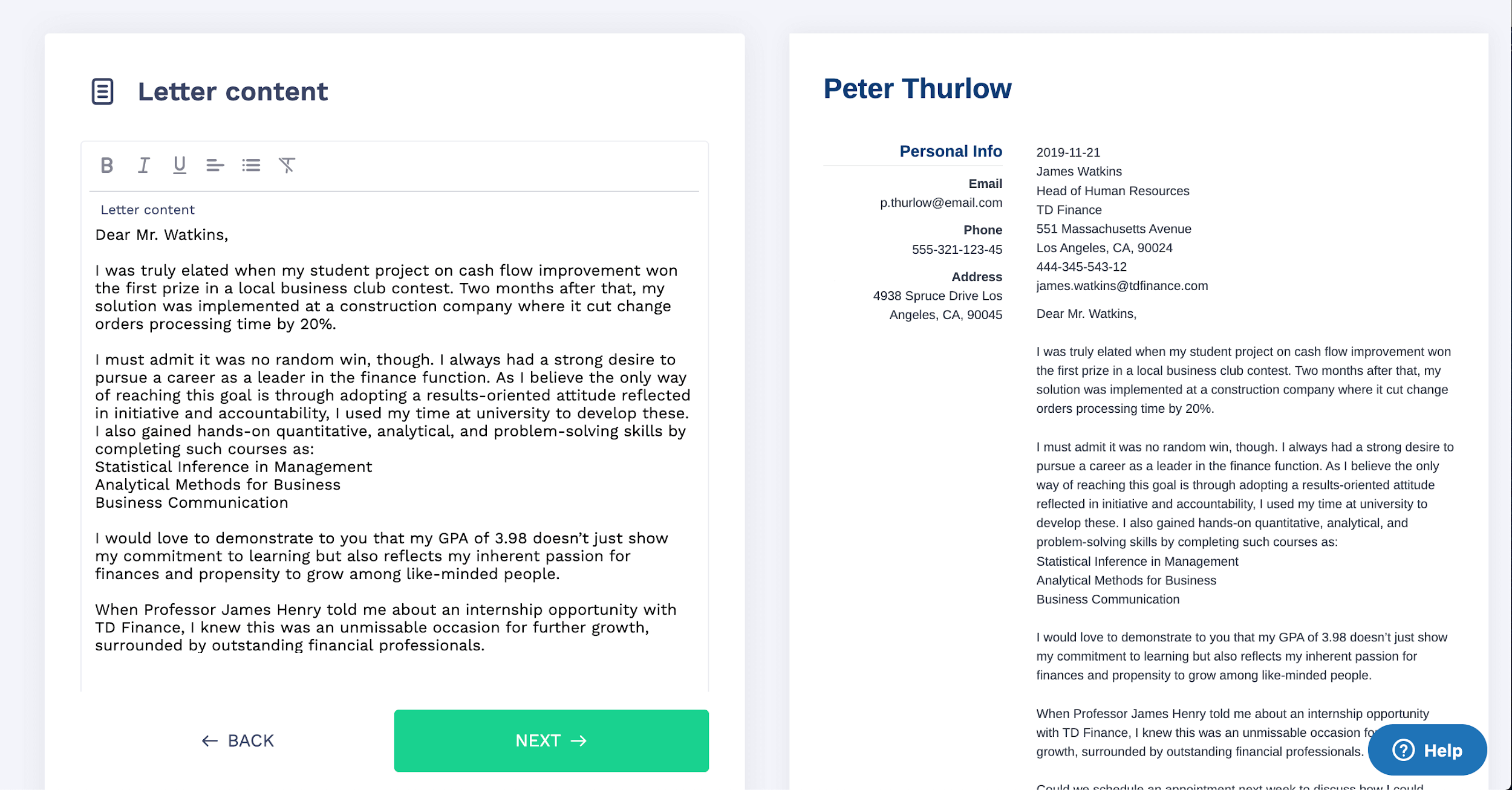 Want to try a different look? There's 18 more. A single click will give your document a total makeover. Pick a cover letter template here.
Key Points
To make sure your phlebotomist CV gets examined under a microscope:
Adhere to the CV format guidelines—margins, fonts, 1 page, reverse chronological.
Use our phlebotomist CV sample as a specimen for your own. It contains all the key elements, without crowding the reader.
Inject your phlebotomist job description with metrics and estimations of the volume and accuracy of operations that you run.
Display your versatility and flexibility with the right phlebotomist skills. Make sure they know you are ready for whatever they at you.
Write a solid phlebotomist cover letter. It must accompany your CV.
Got questions on how to write a great CV for phlebotomist jobs? Did we help you get your phlebotomist CV right? Leave a comment. We'll be happy to reply.