ICU (Critical Care) Nurse CV—Examples & 25 Writing Tips
You're right in the thick of it, taking patients that come in from EMS and patching them together. Show your trauma, surgery, and disease skills with your ICU nurse CV.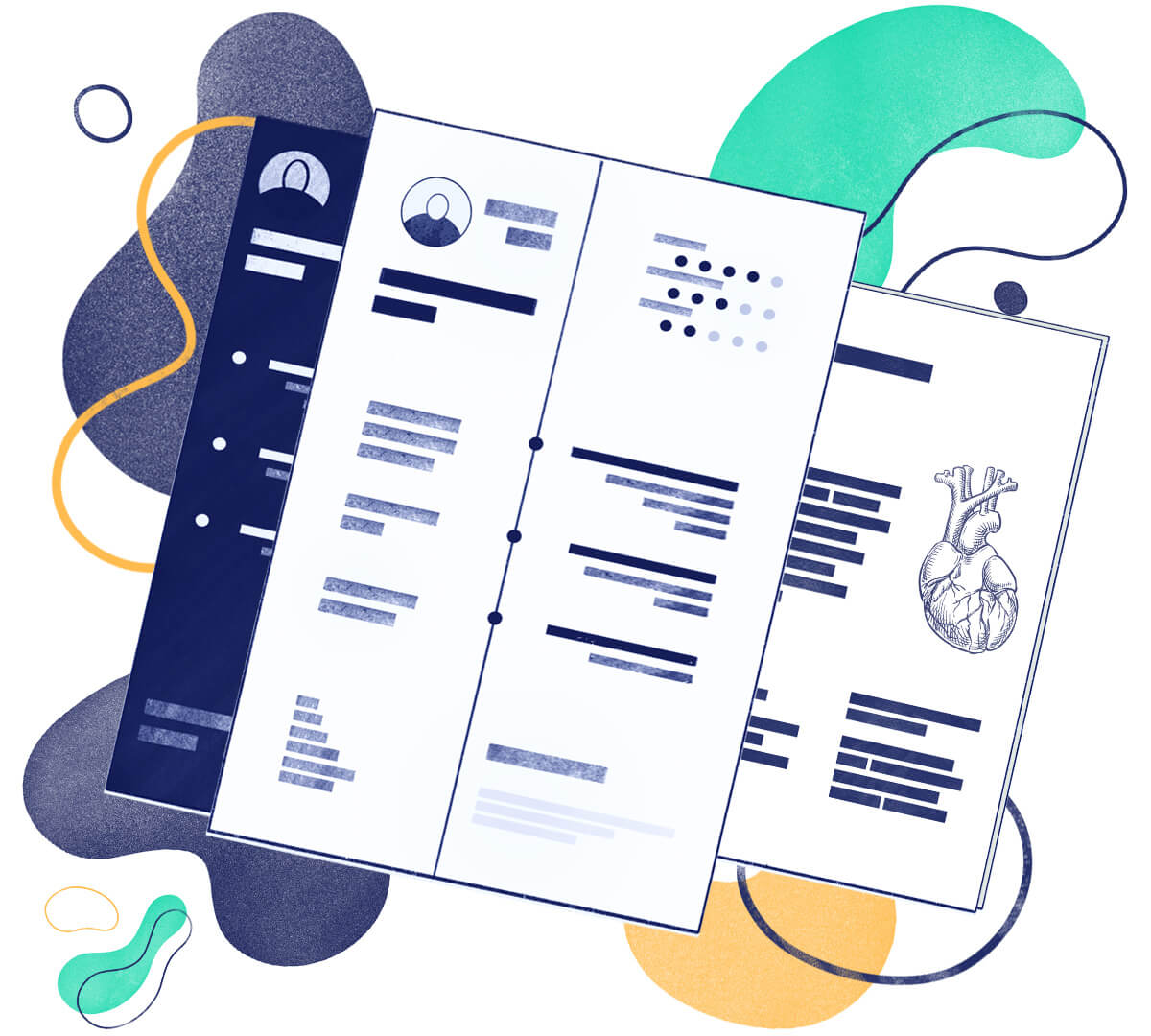 This ICU nurse CV sample works like an AED for your career.
But—
The ICU nurse job market is competitive. Every RN wants in.
To get hired, your critical care nurse CV has to assess at 100%.
You've got this. Show the right ICU accomplishments in the right format, and you'll turn heads like Elizabeth Bridges in the break room.
In this guide:
An ICU nurse CV sample better than most.
How to write job-ready critical care nurse CVs.
How to tailor your ICU nurse job description to the position you want.
Why you can't just list ICU nurse skills (and what to do instead).
Save hours of work and get a CV like this. Pick a template, fill it in. Quick and easy. Choose from 21 CV templates and download your CV now.
What users say about ResumeLab:
I had an interview yesterday and the first thing they said on the phone was: "Wow! I love your CV."
Patrick

I love the variety of templates. Good job guys, keep up the good work!
Dylan

My previous CV was really weak and I used to spend hours adjusting it in Word. Now, I can introduce any changes within minutes. Absolutely wonderful!
George
Do you need an ICU nursing CV or something else? See our guides:
Haven't found what you're looking for? Check all our CV examples.
ICU Nurse CV Sample You Can Copy and Use
JoBeth Zerkle
ICU Nurse
Personal Info
Phone: 918-698-6232
Email: jobethzerkle@gmail.com
linkedin.com/in/jobethzerkle
twitter.com/jobethzerkle
Summary
Energetic ICU nurse with 4+ years of experience in a high-volume trauma ward. Seeking to deliver excellent care at LVMC. At SRMC Oklahoma, was rated at 95%+ by trauma surgeons for problem-solving, patient interaction, and attention to detail.
Experience
ICU Nurse
Stephen Reed Medical Centre, Oklahoma
2016–2020
Provided patient care in a busy 12-bed ICU unit serving trauma patients and inpatient surgeries.
Monitored patient vital signs and notified attending physicians of changes. Assisted physicians with emergent situations.
Administered IV, oral, and injections of medications as directed.
Educated family members on patient conditions in a compassionate way. Assisted with conflict resolution in tense situations.
Documented procedures, patient conditions, and medication administration with 100% accuracy.
Participated in team project to review and improve ICU process guidelines. Result: 25% drop in medical errors.
Received Nurse of the Year award as voted by peers.
Key Achievement
Rated 95%+ by trauma surgeons on measures of efficiency, patient interaction, attention to detail, and problem-solving.
CNA
Stephen Reed Medical Centre, Oklahoma
2014–2016
Consistently scored at 98%+ by charge nurse for efficiency, collaboration, communication, and interpersonal skills.
Assisted with inventory management project that cut costs 10%.
Education
Bachelor of Science, Nursing
Oklahoma Baptist University
2012–2016
Excelled in patient assessment and record keeping.
Pursued a passion for continuous improvement coursework.
Certifications
Registered Nurse—Licence #00000000
BT-C, American Burn Association
Additional Activities
Appear on SAGE nursing podcast monthly to discuss patient care.
Walk dogs 3x per month at Pontotoc County Animal Shelter.
Weekly yoga sessions as self-care.
Hard Skills: chest tubes, ventricular assist patient care, pain management, burn patient care
Soft Skills: interpersonal skills, collaboration, communication, time management
Here's how to write a robust ICU nurse CV:
1. Select the Best ICU Nurse CV Format
Which ICU nurse CV format should you choose?
That's simple.
Pick the reverse-chronological CV format.
It puts your most Johns-Hopkins-worthy accomplishments up top.
Follow these CV format tips to do it right:
ICU Nurse CV Format
Make a 1–page CV for ICU nursing jobs. Add one-inch margins.
Use a professional CV font like 11–14pt Didot or Arial.
To make it eye-friendly, include some white space.
Write CV sections for Heading, Summary, History, Education, and Skills.
Expert Hint: Make yourself clear on all devices by sending a PDF CV. An ICU nursing CV sent as a PDF is readable by the ATS software used by hiring teams.
2. Write a Critical Care Nurse CV Objective or Summary
Here's a dose of reality:
The hospital's HR staff won't read your ICU nurse CV.
They'll triage it.
That is—they'll skim the top, then come back later if they don't find something better.
So—
Make the top of your CV shine like Theresa Brown.
Do that with a career objective or career summary.
Add:
An adjective (energetic, enthusiastic)
"ICU nurse"
Years of experience (3+, 5+)
What you'll do and who you'll do it for (deliver excellent care at LVMC)
Best CV achievements(rated at 95%+ by trauma surgeons...)
See these ICU nurse CV examples:
ICU Nurse CV Summary—Example
Neither is in distress.
But look closer.
The second of those ICU nurse CVs samples is tooting its own catheter.
The first dishes out external proof. Plus it mentions the hospital by name.
"Hey, wait! I just got my bachelor's in nursing! I can't say anything like that!"
Easy-peasy. See these entry-level CV samples for ICU nurse jobs:
Entry-Level Critical Care Nurse CV Objective
Those both get passing marks.
But the first of our entry-level ICU nurse CV examples is worth a second look. The medical accomplishments and other details make it healthy.
Expert Hint: Write your ICU nursing CV summary last. Why? It's hard to write a CV summary or objective when you're not sure what you're summarising.
3. Prescribe the Right ICU Nurse Job Description and Skills
What skills work best in an ICU nursing CV?
See this CV skills list:
ICU Nurse CV Skills
| | |
| --- | --- |
| Hard Skills | Soft Skills |
| Chest Tubes (Pleur-Evac) | Interpersonal Skills |
| Treating Wounds | Collaboration |
| Advanced Life Support | Communication |
| Recording Vital Signs | Time Management |
| Ventilator & Monitor Operation | Efficiency |
| IV Application | Attention to Detail |
| Ordering Diagnostic Tests | Problem Solving |
| Patient Advocacy | Active Listening |
| Feeding Tubes | Compassion |
| Catheterization | Physical Stamina |
But those are just examples—
It's a fatal mistake to put all those in an ICU CV.
Tailor your CV instead, with the exact CV keywords in the nursing job ad.
These cardiac ICU nurse CV samples show how:
The job wants skills in monitoring vital signs, IVs, documentation, and efficiency.
ICU Nurse Job Description for a CV [Sample]
Wow.
The second of those ICU nursing CV examples is DNR. But—
We made it from the first by slicing out the keywords from the job ad.
Next, are you an entry-level critical care nurse?
A no experience CV can still pull through.
See these entry-level ICU nurse CVs examples. They're for a job that wants efficiency, teamwork, and inventory management.
Entry-Level ICU Nurse CV Job Description [Sample]
The difference?
The second of those entry-level ICU nurse CV samples only works to get a CNA job.
The first connects you to the position like a Newport ventilator.
Expert Hint: A study in Dimensions in Critical Care Nursing reveals that medication errors cost £3.5 billion every year. They also cause 10% of all death and serious injury in hospitals. Can you point to numbers, achievements, or commendations that show attention to detail? Facts like that can fast-track your critical care nurse CV.
The ResumeLab builder is more than looks. Get specific content to boost your chances of getting the job. Add job descriptions, bullet points, and skills. Easy. Improve your CV in our CV builder now.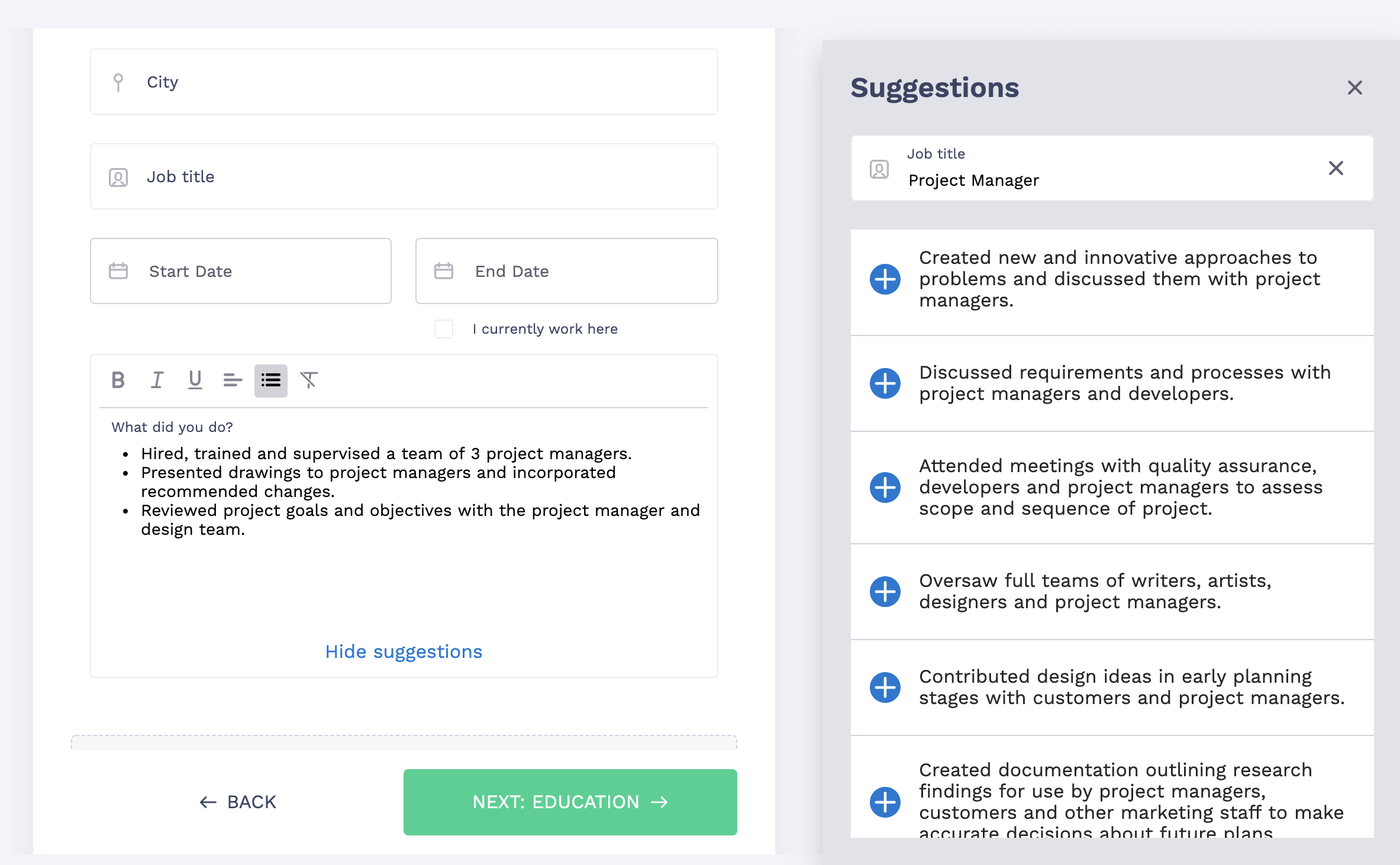 Nail it all with a splash of colour, choose a clean font, highlight your skills in just a few clicks. You're the perfect candidate and we'll prove it. Use the ResumeLab builder now.
4. Enliven Your Education Section
Wondering how to show education in a critical care nurse CV?
Simple.
List your school's name and degree. But—
Take your CV education section to the next level with critical care skills.
See this cardiac ICU nurse CV sample:
ICU Nurse CV Example—Education
Perfect.
That puts documentation and assessment in your ICU nursing CV.
Expert Hint: Was your schooling a long time ago? Make your education CV section shorter. If you just graduated, stretch it out to make it pop like a defibrillator.
5. Add More to Your ICU Nurse CV
So many good RNs want this ICU nursing job.
Your critical care nurse CV has to outperform them all.
So—add bonus material to your ICU CV.
Choose from:
Certifications (RN, CCRN, ACLS, etc.)
Associations (AACN, etc.)
Freelance work
Honours and awards
Publications
Conferences
Languages
Additional activities
Hobbies
Sports
See these ICU nurse CV examples:
ICU Nurse CV—Other Sections
Notice—
The first of those ICU nurse CV samples has Cedars-Sinai-level details.
Expert Hint: Write a cover letter for your ICU nursing CV. Communicate your passion for critical care nursing, and the top 2–3 facts that make you hirable.
Double your impact with a matching CV and cover letter combo. Use our cover letter builder and make your application documents pop out.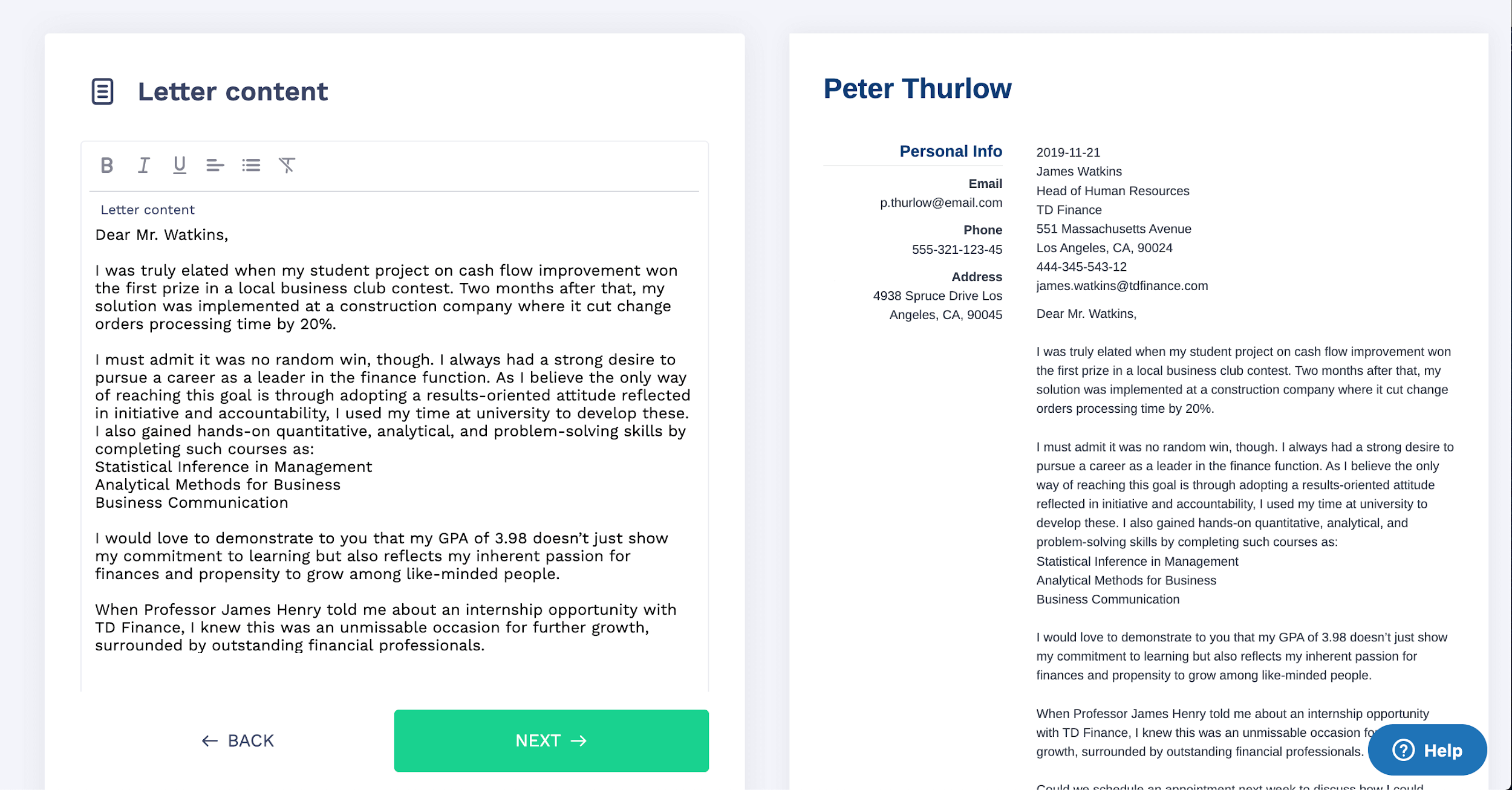 Want to try a different look? There's 18 more. A single click will give your document a total makeover. Pick a cover letter template here.
Key Points
Here's how to write an ICU nurse CV:
Start with an ICU nurse CV template. Inject it with your best ICU nurse attributes.
Include ICU nurse skills like endotracheal tube management or documentation. Add numbers to energise the hiring team.
Write a critical care nurse CV objective with a cocktail of your best healthcare moments.
Add bonus material like an AACN membership, fitness pursuits, or certifications.
Got questions on how to write good CVs for ICU nurse jobs? Wondering how to put ICU nurse on a CV? Leave a comment. We'll be happy to reply!