Caregiver CV Example—Guide and 20+ Writing Tips
Your clients love you. You're caring, efficient, and thorough. But to get the job, you need to prove it to families & hiring teams. This caregiver CV sample will show you how.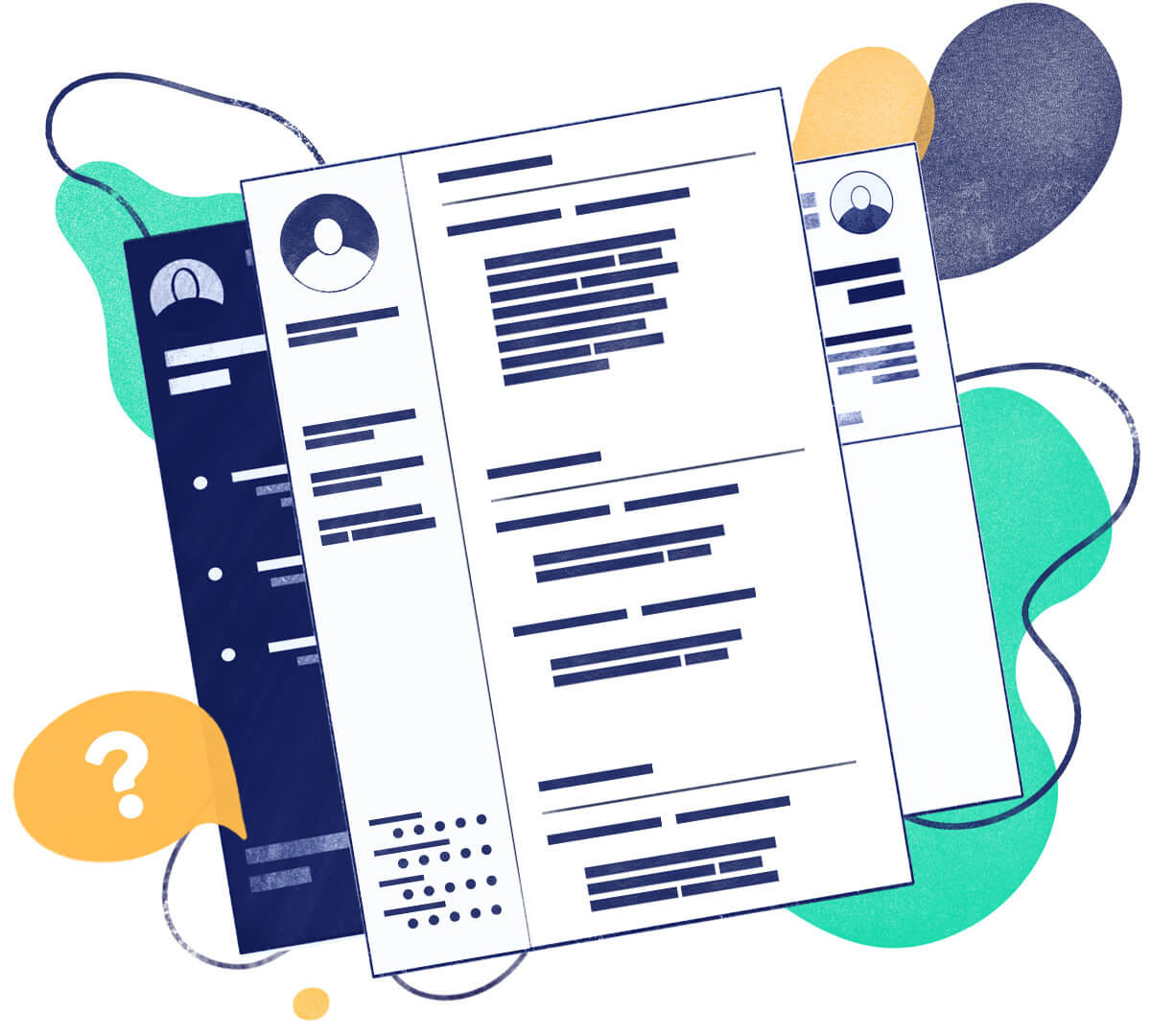 Being a caregiver is so rewarding.
Searching for caregiver jobs isn't.
You can apply to 50 jobs and get zero response.
Let's end that.
The secret? Showing the right parts of your past.
This guide will show you:
A caregiver CV sample better than most.
How to make a good caregiver job description for CVs.
How to write a CV for caregiver jobs that gets interviews.
Why you can't just list caregiver skills (and what to do instead).
Save hours of work and get a CV like this. Pick a template, fill it in. Quick and easy. Choose from 21 CV templates and download your CV now.
What users say about ResumeLab:
I had an interview yesterday and the first thing they said on the phone was: "Wow! I love your CV."
Patrick

I love the variety of templates. Good job guys, keep up the good work!
Dylan

My previous CV was really weak and I used to spend hours adjusting it in Word. Now, I can introduce any changes within minutes. Absolutely wonderful!
George
Got other health care skills? See our guides:
Haven't found what you're looking for? Check all our CV Examples for Any Job.
Caregiver CV Sample You Can Copy and Use
Catherine Devisovna
Caregiver, CNA
Personal Info
Phone: 252-966-4313
Email: catherinezdevisovna@gmail.com
linkedin.com/in/catherinezdevisovna
twitter.com/catherinezdevisovna
facebook.com/LaFayetteFundraiser
Summary
Helpful caregiver & CNA with 5+ years of experience. Seeking to provide excellent care for clients of Better Tomorrows In-Home Care. At "There for You," received 6 personal praise letters from clients. Maintained 97% review score. Compassionate & efficient.
Certifications
CNA
CPR & First Aid, American Red Cross
Experience
Caregiver
There for You In-Home Care
2016–2019
Provided in-home care to elderly and disabled patients, including companionship, personal care, transport, and homemaking.
Maintained 97% client reviews for efficiency and compassion.
Transported clients to shopping, appointments, movies, and other outings while preserving 100% clean driving record.
Received 6 personal letters from clients and family members praising my meal preparation for quality and nutrition.
Caregiver
Doane Senior Living
2014–2016
Provided daily care to 40+ residents in upscale senior-living facility.
Used time-management to handle 15% more clients than average.
Commended 3x by manager for good patient handling skills.
Promoted 4 months after hiring for efficiency and dedication.
Freelance Caregiver
2013–2014
Provided living assistance for two elderly clients.
Commended 3x by family members and clients for communication and compassion. Recognised by family members for dependability.
Education
Sampson Medical Centre CNA Training Program, 2013
Excelled in patient care coursework.
Scored high marks in clinical practise work.
Black Mountain High School, NC
2009–2013
Facilitated 11 fundraisers as Girl Scout leader.
Member, women's track team.
Volunteer Work
Volunteer 2x per month as caregiver for elderly neighbour.
Work as volunteer Goodwill cashier 2x per month.
Hard Skills: safe patient handling, following plan of care, clean driving record, CPR and First Aid
Soft Skills: compassion, communication, time management
Now here's how to write a caregiver CV that puts you in charge:
1. Start With the Best Caregiver CV Format
Caregivers provide assistance to the sick, elderly, disabled, or injured. Also known as personal care aides or home health aides, they may help with homemaking, meal preparation, transportation, and keeping appointments. Caregiver CVs must show experience in those areas, plus compassion and competence.
Heads up:
A well-formatted CV for caregiver jobs will stand above the rest.
So—
Use these formatting tips:
Caregiver CV Format
Expert Hint: Save your caregiver duties CV as a PDF file. PDFs look the same on all devices, and ATS software has no trouble reading them.
2. Write a Caregiver CV Objective or Summary
This is vital:
Hiring teams spend 7 seconds with each CV.
So—
Give them a sneak peak that makes them want more.
Write a caregiver CV objective (or CV summary) with:
The words "Caregiver"
Years of experience (3+, 7+)
How you'll help (provide excellent care...)
The name of the company (Better Tomorrows In-Home Care, etc.)
Best achievement or two (Maintained 97% review score...)
These caregiver CV examples show the plan:
Caregiver CV Summary—Example
See the difference?
The first of those caregiver CV samples has details. It shows snapshots of your past that make you look good.
The second is hollow chest-pounding.
Caregiver CV Objective—Example
Writing an entry-level caregiver CV?
You have enough experience.
It's in the volunteering and freelancing you've done, or caring for parents. You can even get it from non-caregiver jobs.
Expert Hint: Write your caregiver duties CV summary or objective when you finish the rest of your CV. That way you'll have all the building blocks in hand.
3. Write an Attractive Caregiver Job Description & List Your Skills
Here's the deal:
They won't hire the caregiver with the most experience.
They'll hire the one who shows it best.
Your work history has to prove caregiver skills.
How to write a caregiver job description for CVs
Sift through the job ad to find the right skills.
Think of past moments when you exemplified them.
Use those times as your CV keywords in your caregiver experience bullet points.
Include numbers to avoid empty bragging.
These private caregiver CV examples show how:
Caregiver Job Description for CV [Sample]
Let's break that down.
The first of those elderly caregiver CV examples shows efficiency, compassion, and more—just what the job needs!
The second isn't horrible! But it'll blend into the wallpaper.
Writing an entry-level CV for caregiver jobs? See below.
Entry-Level Caregiver CV Job Description [Sample]
Those in-home caregiver CV examples are so different. But—
They're the same person. One shows the right caregiver skills, with numbers for scale.
Another tip:
Show a mix of hard and soft skills on your CV. Use these suggestions:
Caregiver CV Skills List
Caregiver CV Skills

| | |
| --- | --- |
| Hard Skills | Soft Skills |
| Safe Patient Handling | Compassion |
| First Aid | Observation |
| CPR | Communication |
| Housekeeping | Time Management |
| Sanitation Standards | Following Plan of Care |
| Meal Preparation/Cooking | Organisation |
| Clean Driving Record | Patience |
| Emergency Response | Positive Outlook |
| Alzheimer's Care | Problem Solving |
| Documenting Daily Activities | Physical Stamina |
Expert Hint: Your caregiver CV achievements need numbers, but vary them. Add some percents, some numbers of patients, and some other metrics for diversity.
The ResumeLab builder is more than looks. Get specific content to boost your chances of getting the job. Add job descriptions, bullet points, and skills. Easy. Improve your CV in our CV builder now.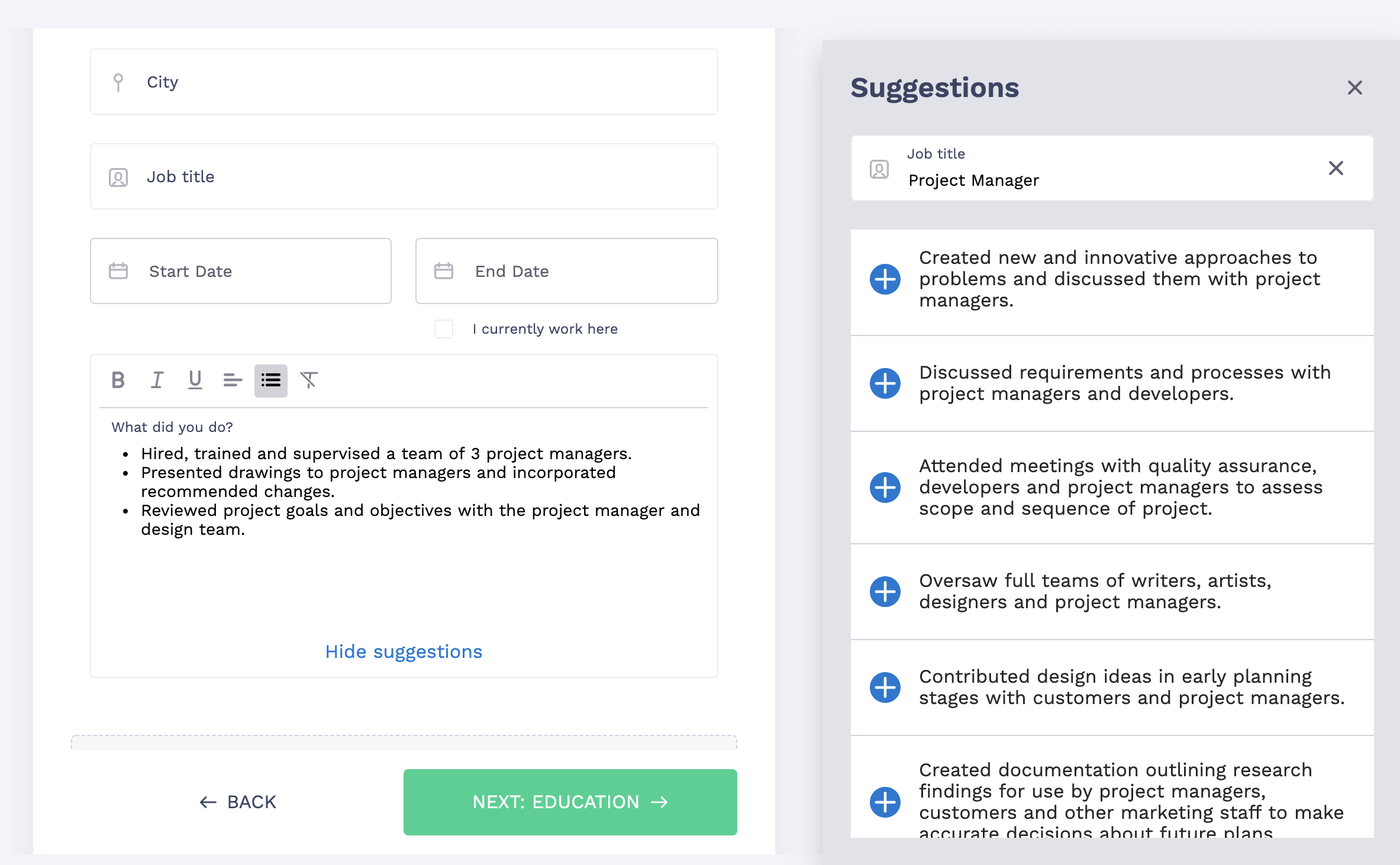 Nail it all with a splash of colour, choose a clean font, highlight your skills in just a few clicks. You're the perfect candidate and we'll prove it. Use the ResumeLab builder now.
4. Turn Boring Education to a Reason to Hire You
Good news:
A CV for caregiver jobs doesn't need a master's degree.
But—
Use the education section of your CV to prove caregiver skills.
This child caregiver CV example does it comfortably:
Caregiver Education—Example
That's magic.
It shows competence and physical fitness—both needed for caregiver jobs.
Expert Hint: Do you have a CNA certification? Add it to a separate section under education. Include other bonus CV sections too. (More on those below.)
5. Invigorate Your Caregiver CV With Bonus Sections
Picture this:
The caregiver hiring team calls you.
They were impressed with your family caregiver CV.
But it wasn't just your work history.
They loved the extra CV items you listed.
Add one or two of these:
Foreign Languages
Additional Activities
Volunteer Work
Freelancing
Conferences
Continuing Education
Honours
These personal caregiver CV examples lay it out:
Caregiver CV—Extra Sections
Nice, right?
Use "bonus" sections like that to add more skills examples.
The first caregiver CV sample above shows you live and breathe service.
Expert Hint: Writing a cover letter for caregiver jobs is a great idea. You'll vastly increase the chances the manager will read your CV.
Double your impact with a matching CV and cover letter combo. Use our cover letter builder and make your application documents pop out.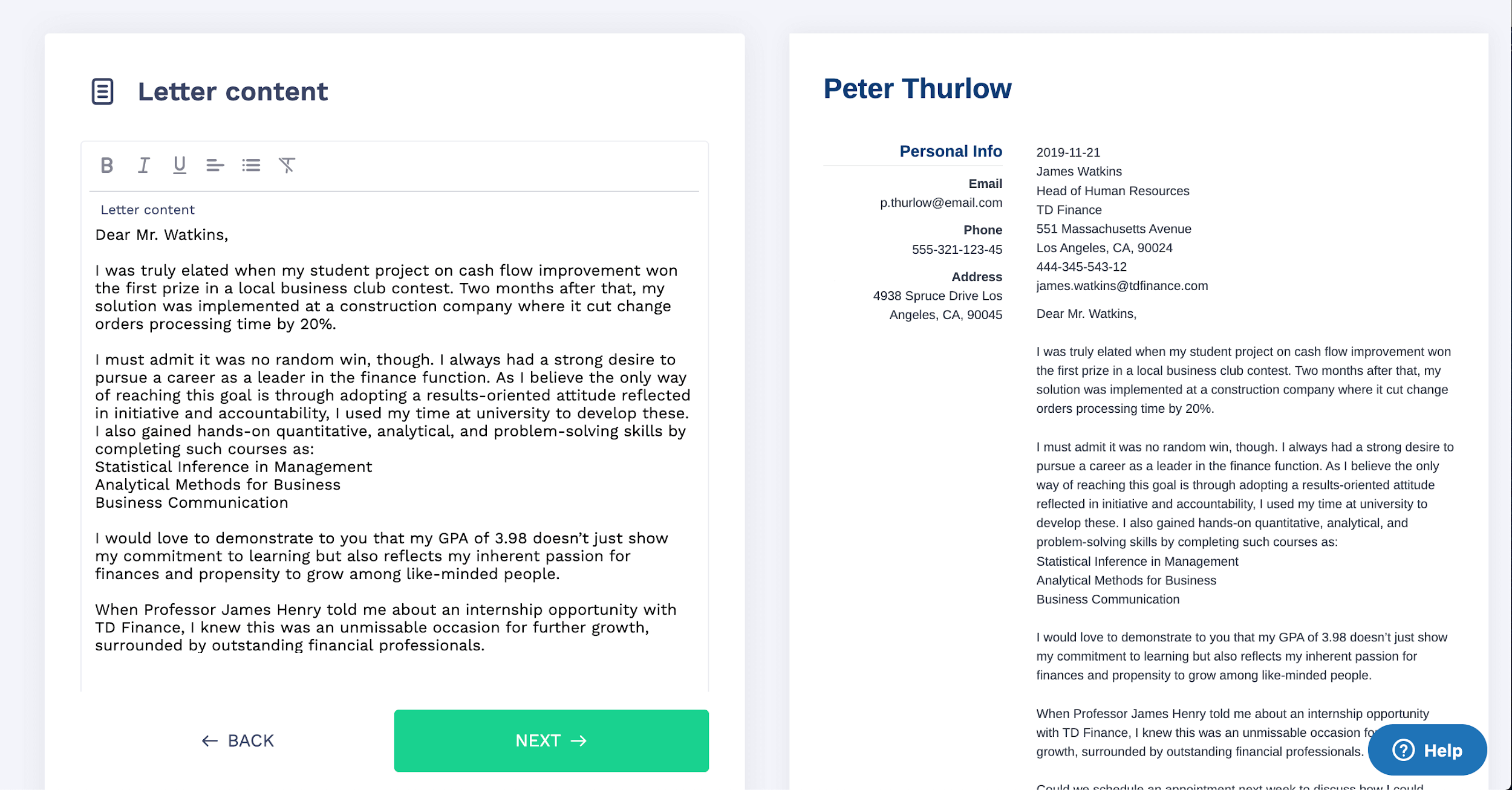 Want to try a different look? There's 18 more. A single click will give your document a total makeover. Pick a cover letter template here.
Key Points
For a caregiver CV that will get you hired:
Use the caregiver CV template up top. It follows the right plan of care to get you the job.
Put caregiver accomplishments throughout your CV. Add them to your objective, experience, education, and "bonus" sections.
List key caregiver skills. Can't think what those are? Find them in the online posting.
Write a caregiver cover letter. It's the best way to show you want this job, and you're not just shotgunning CVs.
Got questions on how to write a great CV for caregiver jobs? Not sure how to show caregiver on a CV? Leave a comment. We'll be happy to reply!