LPN CV—Sample and 25+ Writing Tips
You are the frontline of care. Without you, doctors could as well not come in to work. This LPN CV sample will get you the job you want.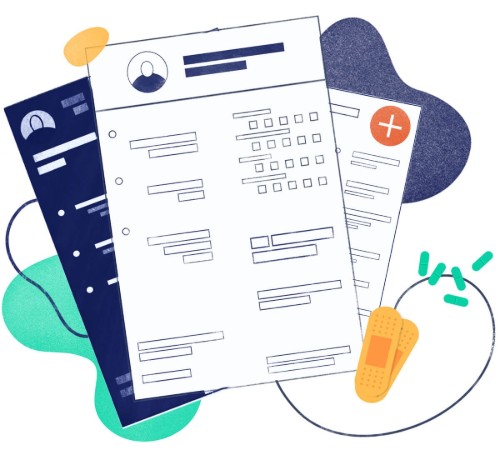 You always knew how priceless and irreplaceable licenced practical nurses are.
Just like masks, protective equipment, and antibacterial gel, a great LPN CV is essential.
Lucky for you, a good LPN is not mass produced, they hone their skills and compassion for years.
In this guide:
An LPN CV sample so on-fire, the nursing manager will want to administer Naproxen.
The key to writing a CV objective for your LPN CV with no experience.
How to write your LPN job description better than most.
Let's see that LPN CV example, stat:
Save hours of work and get a CV like this. Pick a template, fill it in. Quick and easy. Choose from 21 CV templates and download your CV now.
What users say about ResumeLab:
I had an interview yesterday and the first thing they said on the phone was: "Wow! I love your CV."
Patrick

I love the variety of templates. Good job guys, keep up the good work!
Dylan

My previous CV was really weak and I used to spend hours adjusting it in Word. Now, I can introduce any changes within minutes. Absolutely wonderful!
George
They're going to put the lights and siren on to snap up Edward as fast as they can.
Are you writing CVs for various jobs? See our other dedicated guides:
Haven't found what you're looking for? Check all our CV Examples for Any Job.
LPN CV Sample You Can Copy and Use
Edward J. Hills
Licenced Practical Nurse
Personal Info
223 Fraggle Drive
Hinsdale, IL 60521
Phone: 630-323-4533
E-mail: edwardjhills@gmail.com
Summary
Licenced Practical Nurse with 7+ years of experience in providing daily care in a 30-bed Neurology unit. Helping prepare up to 8 patients a day for surgical procedures. Supervising and assigning the bathing, cleaning and changing schedules to be performed by 3 nursing assistants. Documenting changes in condition, commended 3 times for spotting minor symptoms early. Seeking to apply these outstanding organisational and nursing skills to a position at Green Hills Hospital.
Experience
Licenced Practical Nurse
General Surgery, Holy Trinity Hospital
2017-present
Providing daily care in a 30-bed Neurology unit, including monitoring vitals and symptoms, ordering tests, administering medication, and electronic charting.
Preparing up to 8 patients a day for surgical procedures.
Supervising and assigning the bathing, cleaning and changing schedules to be performed by 3 nursing assistants.
Documenting changes in condition with 100% accuracy.
Commended 3 times for spotting minor symptoms early.
Maintained 97% patient satisfaction.
Commended on 2 occasions for empathy and compassion after families contacted the unit to express gratitude for kindness extended to their loved ones.
Performed 400+ venipunctures.
Supervised the training of two nursing assistants.
Education
Associate Degree in Nursing
Northwest Mississippi Community University
2015–2017
Certifications and Licensure
Licenced Practical Nurse, Illinois Department of Financial and Professional Regulation
First Aid, CPR, BLS (American Red Cross)
Certified Phlebotomy Technician Certification (National Healthcareer Association)
Skills
Phlebotomy
Wound Dressing and Care
Patient Assessment
Neurological Care
Post-Surgical Patient Care
Patient Monitoring
Administering Medications
O2 Treatment
Microsoft Office
Organisational Skills
Teamwork
Effective Communication
Languages
Here's how to write your own healthy LPN CV:
1. Stabilise The LPN CV Format with A+ Treatment
For a patient on the ward, or for you after a long day on your feet, there is nothing better than a fresh sheet. There is something even better—a well-formatted CV sheet. The look of your CV must show your penchant for organisation and keeping things neat by getting it right.
Here's how to format your CV:
Licenced Practical Nurse CV Format
How long should your CV be? Limit it to one page. A two-page CV is also OK, if you have lots of great achievements and experience.
Let's get your scrubs on and write the perfect CV.
Expert Hint: Wondering how to start your CV? If you're feeling overwhelmed, try starting with a CV outline. It will help you get organised before frustration even has a chance of taking over.
2. Write a Sterile LPN CV Objective or Summary
Start your LPN CV with a strong CV profile. It must be as concise as a patient condition report. Focus on the most vital information that will affect their decision. The responsibilities of LPNs can be rather typical, so focus on backing it up with numbers and statistics to show you think about the quality of your work.
If you have substantial experience, opt for a CV summary. Start with a strong adjective, your job title, include your years of experience (e.g. 4+), and two or three key achievements with numbers.
Use these examples to write a skin-piercing career summary:
LPN CV Summary—Example
The bad example doesn't do much for you. It lists obvious things and run-of-the-mill adjectives, which will have to be verified anyway. Also, nobody can work as an LPN without being certified, so it includes redundant information.
If you're writing a first time CV with no experience, it'sbetter to write a heart-stopping career objective that focuses on ambitions and goals, as well as transferable experience—such as volunteering or customer service roles.
LPN CV Objective—Example
Expert Hint: You should be in for a long and satisfying career. The Bureau of Labour Statistics predicts that in 2031, there will be 58,800 more LPN positions to fill. Make sure you have a perfect CV.
3. Write Pressure-Raising LPN Job Description and Skills Sections
This is the hardest part of getting a job as an LPN. Yes, even harder than the first day in a new clinical assignment. For most, not for you. Instead of rattling off a list of generic LPN responsibilities, focus on numbers and statistics, which shows you care about the quality of your work.
This is the best way to list professional experience on a CV:
To write a heart-stopping LPN job description:
Pick the right CV skills. Find them in the job ad. This way your LPN CV will go right to the heart of the matter, and will not be rejected by the CV applicant tracking software the hiring manager is likely to use.
Use those skills as your CV keywords.
Provide metrics and achievements: "Cared for 30 patients", "Maintained 100% accuracy in documentation"..
See the difference between these two LPN CV examples:
LPN Job Description for CV [Sample]
Remember add a skills section to bolster your LPN job description.
Use these CV skills to start:
LPN CV Skills
Soft Skills
Adaptability
Attention to Detail
Compassion
Conflict Resolution
Decision Making
Dedication
Excellent Communication Skills
Organisational Skills
Patience
Patient Assessment
Problem Solving
Stress Management
Technical Skills
Time Management
Hard Skills
Administer and Monitor Medications
Perform and Evaluate Diagnostic Tests
Safe Patient Transfers
Wound Care
Taking Vital Signs
The ResumeLab builder is more than looks. Get specific content to boost your chances of getting the job. Add job descriptions, bullet points, and skills. Easy. Improve your CV in our CV builder now.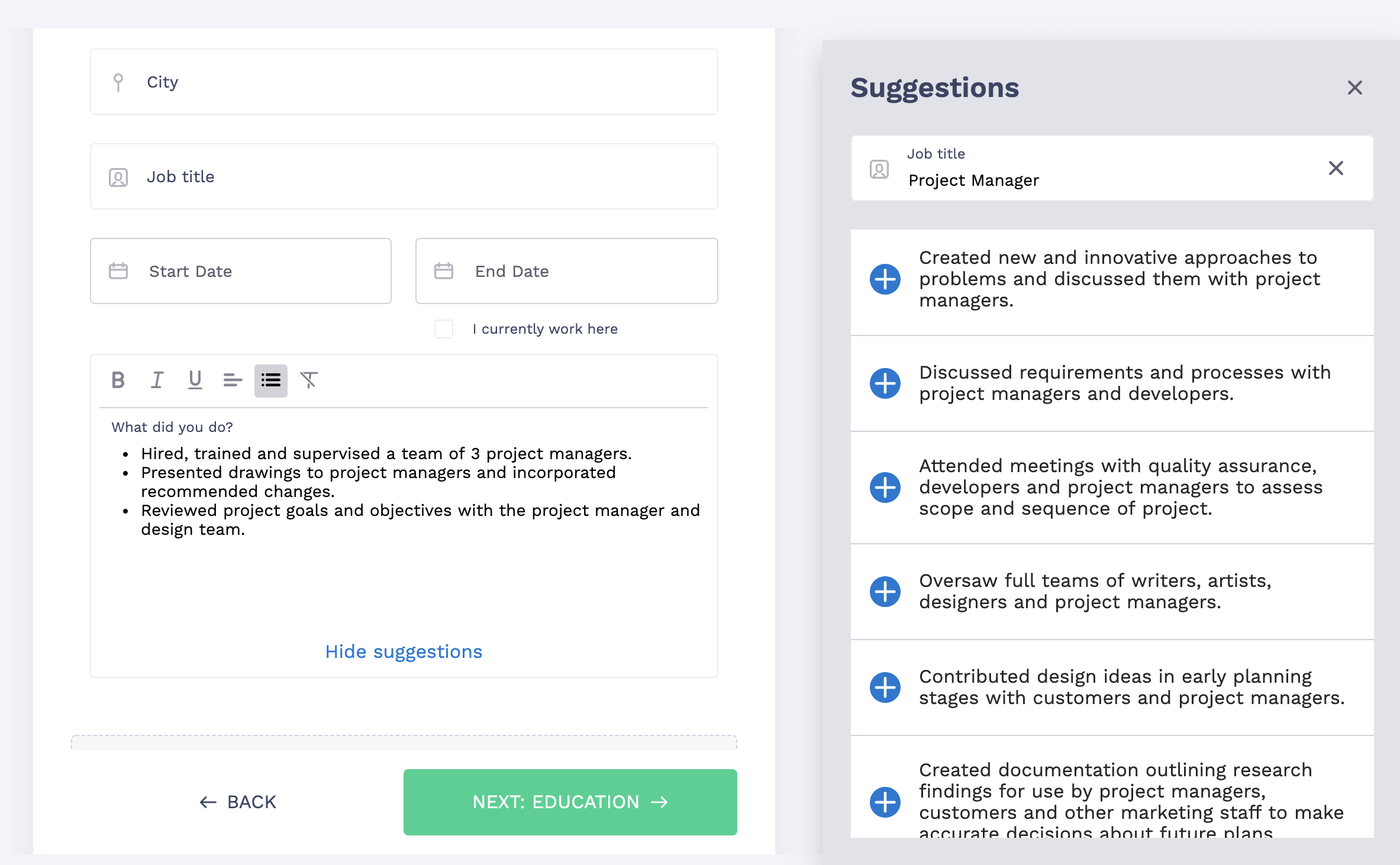 Nail it all with a splash of colour, choose a clean font, highlight your skills in just a few clicks. You're the perfect candidate and we'll prove it. Use the ResumeLab builder now.
4. Make Your Education Section Vital
In the case of LPN CVs, the education section is not going to differ much from one to another. Most likely you have an Associate's Degree or equivalent qualification. Keep this section brief, and if needed, expand with relevant coursework or achievements sections.
This LPN CV sample passes the examination:
Licenced Practical Nurse CV Example—Education
Expert Hint: The American Nurses Credentialing Centre (ANCC) has published guidelines on displaying your credentials in the proper order: highest degree, licensure, state designations, national certifications, awards and honours, other recognitions. Structure your extra CV sections this way.
5. Administer Some Added Sections
If your job description is as dilated as if you applied Tropicamide, and you still have some white space, you can try adding a few "other" sections. A Certifications & Licensure section will be mandatory for you to list your legal credentials.
You can also choose from:
Association memberships
Conferences
Languages
Groups
Publications
This LPN CV sample shows how:
Licenced Practical Nurse CV Example—Extra Sections
Whatever you do, don't forget to write a cover letter. While it's true that it's not always required, it is also true that almost 50% of the time it is. Sending a nursing cover letter along with your CV can go a long way in seeing you employed.
Expert Hint: You can look to bolster the chances of your CV with added certifications. The American Heart Association's Advanced Cardiovascular Life Support (ACLS) is in particularly high demand.
Double your impact with a matching CV and cover letter combo. Use our cover letter builder and make your application documents pop out.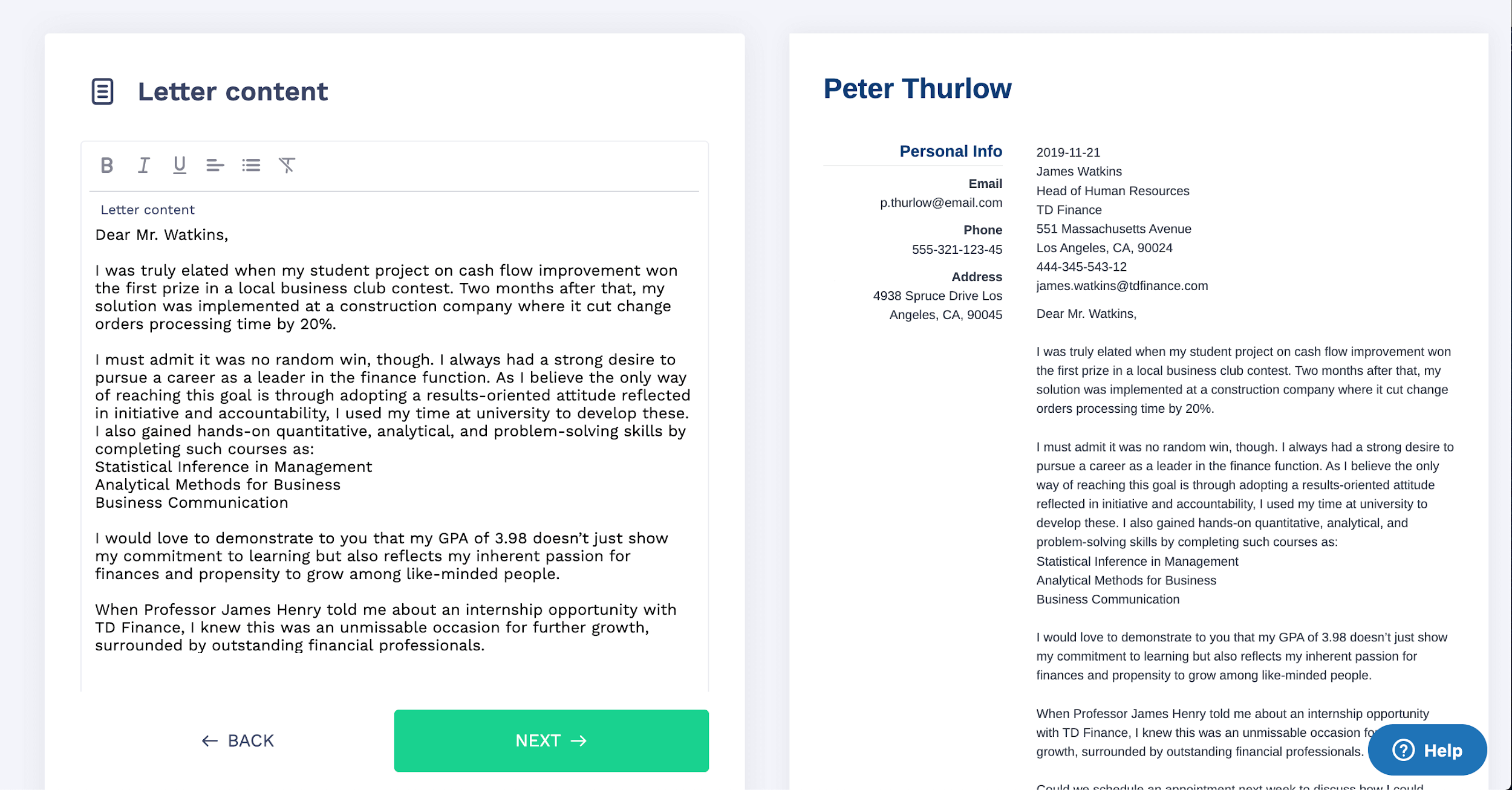 Want to try a different look? There's 18 more. A single click will give your document a total makeover. Pick a cover letter template here.
Key Points
Follow these steps to get your LPN CV ready for operation:
Stabilise the CV format—margins, fonts, reverse chronological
Quantify the impact and achievements, instead of just listing responsibilities.
Limit the length of the education section, as most will be identical.
Write an LPN cover letter. You can get some inspiration from our nursing cover letter guide or check out more specific cover letter guides like the new grad RN cover letter, the RN cover letter, or the CNA cover letter.
Did you find our LPN CV examples helpful? Did we help you get your own LPN CV right? Leave a comment. We'll be happy to hear from you.