New Grad Nursing (RN) CV—Examples & 25 Writing Tips
You went for a career that keeps you on your toes and saves lives. But how will the HR team know you're worth your clipboard? Show them with your new grad nursing CV.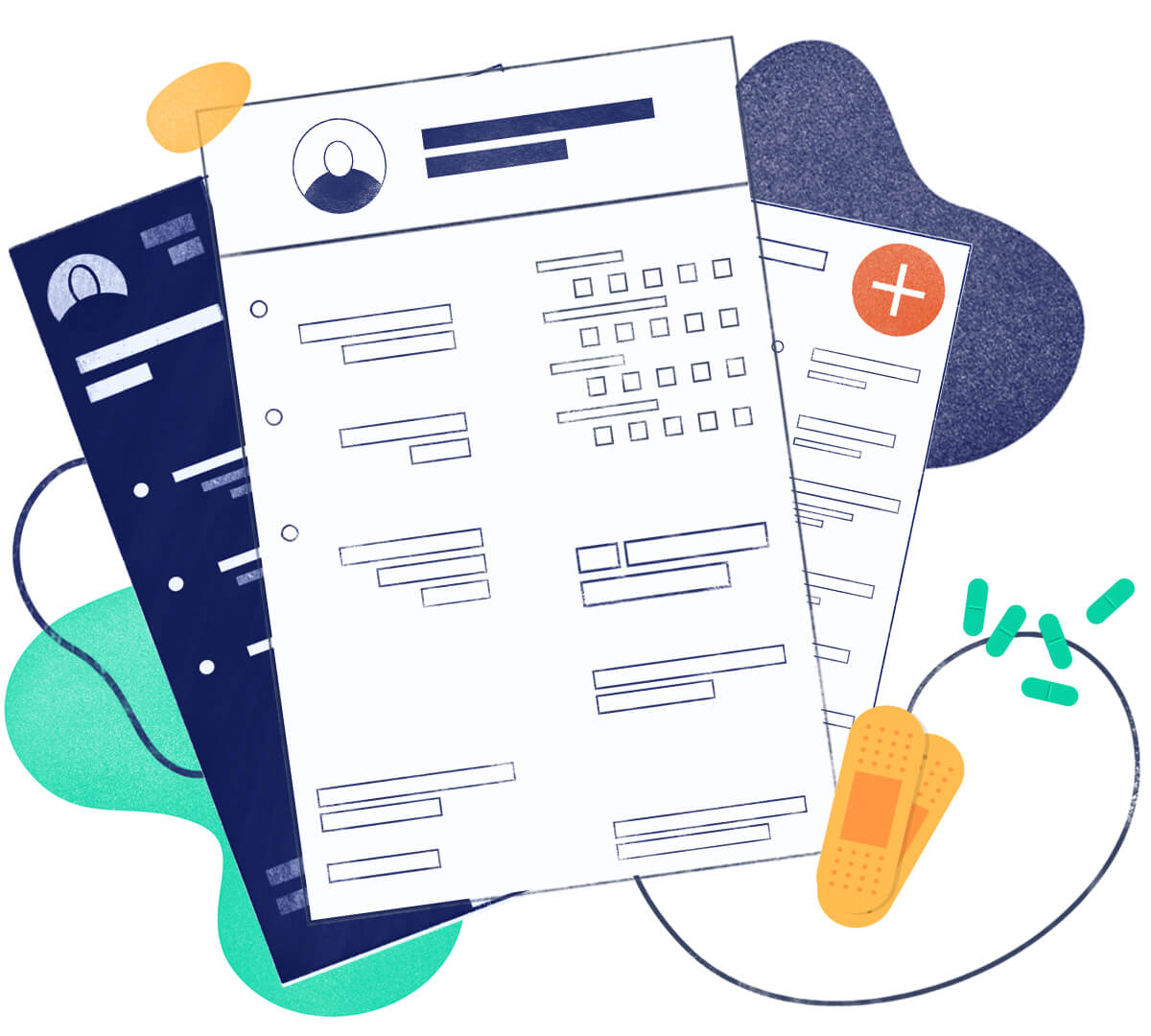 This new grad nursing CV sample can shock your career to life.
But—
There are over 200,000 new nurses every year.
They want the same jobs you do.
To get noticed in that mob, you need a Theresa-Brown-level CV for new nursing graduates.
You can do it, with the right focus on your schooling and clinical experience.
In this guide:
A new grad nursing CV example better than most.
How to write a new grad RN CV that lands interviews.
How to custom-craft your new grad nursing job description.
Why you can't just list new grad nursing skills (and what to do instead).
Save hours of work and get a CV like this. Pick a template, fill it in. Quick and easy. Choose from 21 CV templates and download your CV now.
What users say about ResumeLab:
I had an interview yesterday and the first thing they said on the phone was: "Wow! I love your CV."
Patrick

I love the variety of templates. Good job guys, keep up the good work!
Dylan

My previous CV was really weak and I used to spend hours adjusting it in Word. Now, I can introduce any changes within minutes. Absolutely wonderful!
George
Is a new grad RN CV really the best choice? See our guides:
Haven't found what you're looking for? Check all our CV examples for any job.
Sample New Grad Nursing CV You Can Copy and Use
Molly Michaud
RN
Personal Info
Phone: 757-944-3536
Email: mollyzmichaud@gmail.com
linkedin.com/in/mollyzmichaud
twitter.com/mollyzmichaud
Summary
Licenced RN with 2+ years of precept nurse experience. Eager to deliver high-level care at APMC. At Richmond Medical Centre, was scored at 97% for patient education and wound-dressing by preceptor. Completed assigned tasks 10% ahead of schedule.
Licence & Certifications
Registered Nurse, Virginia Board of Nursing, Licence #00000000
Certified Patient Care Technician
Basic Life Support
Education
Bachelor of Science, Nursing
University of Virginia
2015–2019
Excelled in patient education coursework.
Worked as teacher's assistant in wound dressing classes.
Member, Student Nursing Association.
Clinical Experience
Precept Nurse
Richmond Medical Centre
2018–2019
Provided care and assisted with creation of plan of care in general 35-bed inpatient ward.
Collected patient information and communicated results to preceptor. Used collected data to assist preceptor in creating plan of care.
Established track record for efficiency, completing assigned tasks 10% ahead of schedule with 90%+ accuracy as judged by preceptor.
Performed medical procedures including IV insertion, intradermal injections, blood pressure assessments, and wound care.
Key Achievement
Rated at 97% by preceptor for wound-dressing and patient education.
Precept Nurse
Alexandria Medical Clinic
2017–2018
Facilitated mobilisation of patients to minimise falls and skin breakdown. Achieved 10% lower bedsore rate than clinic average.
Scored 100% in HIPAA compliance.
Sterilised instruments with 99% scores in spot checks by preceptor.
Recorded vital signs of 5+ patients per day.
Additional Activities
Volunteer educator, American Red Cross.
My article on catheterization was published in The Nursing Show.
Weekly yoga for fitness & self-care.
Hard Skills: wound dressing, patient education, IV insertion, medication administration
Soft Skills: interpersonal skills, teamwork, communication, problem solving
Here's how to write a healthy new grad nursing CV:
1. Choose the Best New Grad Nursing CV Format
Which new grad nursing CV format is right?
Easy choice.
Select the reverse-chronological format for CVs.
It shows off your Cleveland-Clinic-worthy achievements first.
Use these CV format tips:
New Grad Nursing CV Format
Create a one–page CV for new grad nursing jobs.
Make 1-inch margins.
Pick a CV font like 11–14pt Cambria or Arial.
For max readability, add some white space.
Make CV sections for Heading, Summary, Experience, Education, and Skills.
Expert Hint: Save your work as a PDF CV so it works on all devices. A new grad RN CV in PDF form won't confuse the ATS, and hiring teams love them.
2. Write a New Grad Nursing CV Objective
The facts:
The charge nurse will skim your new grad nurse CV.
If it doesn't grab her, she'll toss it.
So—
Make your first paragraph sparkle like Meredith Grey.
Do that with a career objective.
Add:
An adjective (licenced, energetic)
"RN"
What you'll do and for whom (deliver high-level care at APMC)
Best CV achievements(scored 97% for patient education)
See these new grad nursing CV examples:
New Grad Nursing CV Objective—Example
Diagnosis?
The second of those new grad nursing CVs samples just says what you can do.
The first shows you've done it—fast and well.
Your precept nurse experience counts as real experience in a new grad nurse CV. Don't waste it!
Expert Hint: Write your new grad RN CV objective last. You'll have an easy time summarising your CV when you've got the finished copy at your fingertips.
3. Give Your Education Section a Fighting Chance
How should you list education in a new grad nurse CV?
That's easy.
Show your degree and the name of your school. But—
To wow the charge nurse, put skills in your CV education section.
See this new grad nursing CV sample:
New Grad Nursing CV Example—Education
First rate.
You just added patient education and wound dressing to your new grad RN CV.
The ResumeLab builder is more than looks. Get specific content to boost your chances of getting the job. Add job descriptions, bullet points, and skills. Easy. Improve your CV in our CV builder now.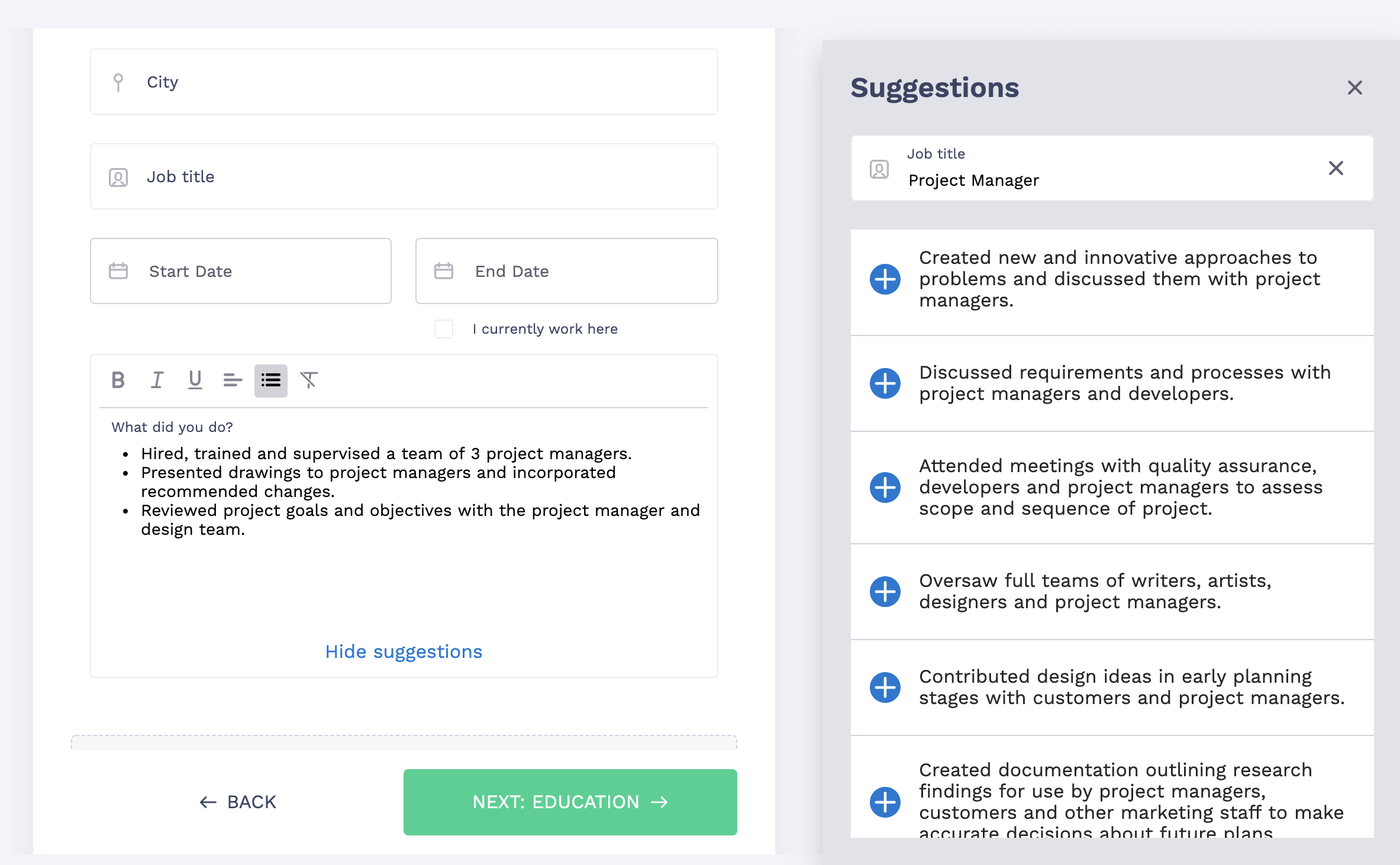 Nail it all with a splash of colour, choose a clean font, highlight your skills in just a few clicks. You're the perfect candidate and we'll prove it. Use the ResumeLab builder now.
4. Show Clinical Experience and Skills in a New Grad Nursing CV
What skills function in a nursing CV for new grads?
Here's a CV skills list:
New Grad Nursing CV Skills
Efficiency
Documentation
Medicine Administration
Wound Dressing
Patient Education
Budgeting
Patient Transport
Phlebotomy
Electronic Health Records (EHR)
Recording Vital Signs
Creating Plan of Care
Time Management
Attention to Detail
Active Listening
Compassion
Problem Solving
Teamwork
Physical Stamina
Interpersonal Skills
Communication
Caution—
Don't pump them all into a new grad nurse CV.
Only a tailored CV will get you hired. So, pluck CV keywords from the nursing job description.
These new grad nursing CV samples show how:
The job wants skills in collecting patient information, efficiency, IV insertion, and wound dressing.
New Grad Nursing Job Description for a CV [Sample]
No contest.
With the second of those ICU nursing CV examples, you're circling the drain. But—
The first is skin-glued to the job ad.
Expert Hint: A peer-reviewed study found that clinical nursing simulations were no substitute for real experience. If you've volunteered or worked an internship, show that in your new grad nursing CV.
5. Add Bonus Sections to Your New Grad Nursing CV
More than 200,000 new nurses graduate from school each year.
Your new grad RN CV has to outshine them all.
So—add extras to your new grad nurse CV.
Choose from:
Certifications (RN, CPN, ONCC, etc.)
Associations (ANA, etc.)
Internships
Honours or awards
Media appearances
Publications
Languages
Conferences
Additional activities
Sports and fitness
See these new grad nursing CV examples:
New Grad Nursing CV—Other Sections
Hmm.
What's wrong with making sauerkraut or singing? Nothing! But they don't prove RN skills.
The first of those new grad nursing CV samples shows you can take the heat.
Expert Hint: Write a cover letter for your nursing new grad CV. Show off your love of nursing and your best few nursing high points that make you a great choice.
Double your impact with a matching CV and cover letter combo. Use our cover letter builder and make your application documents pop out.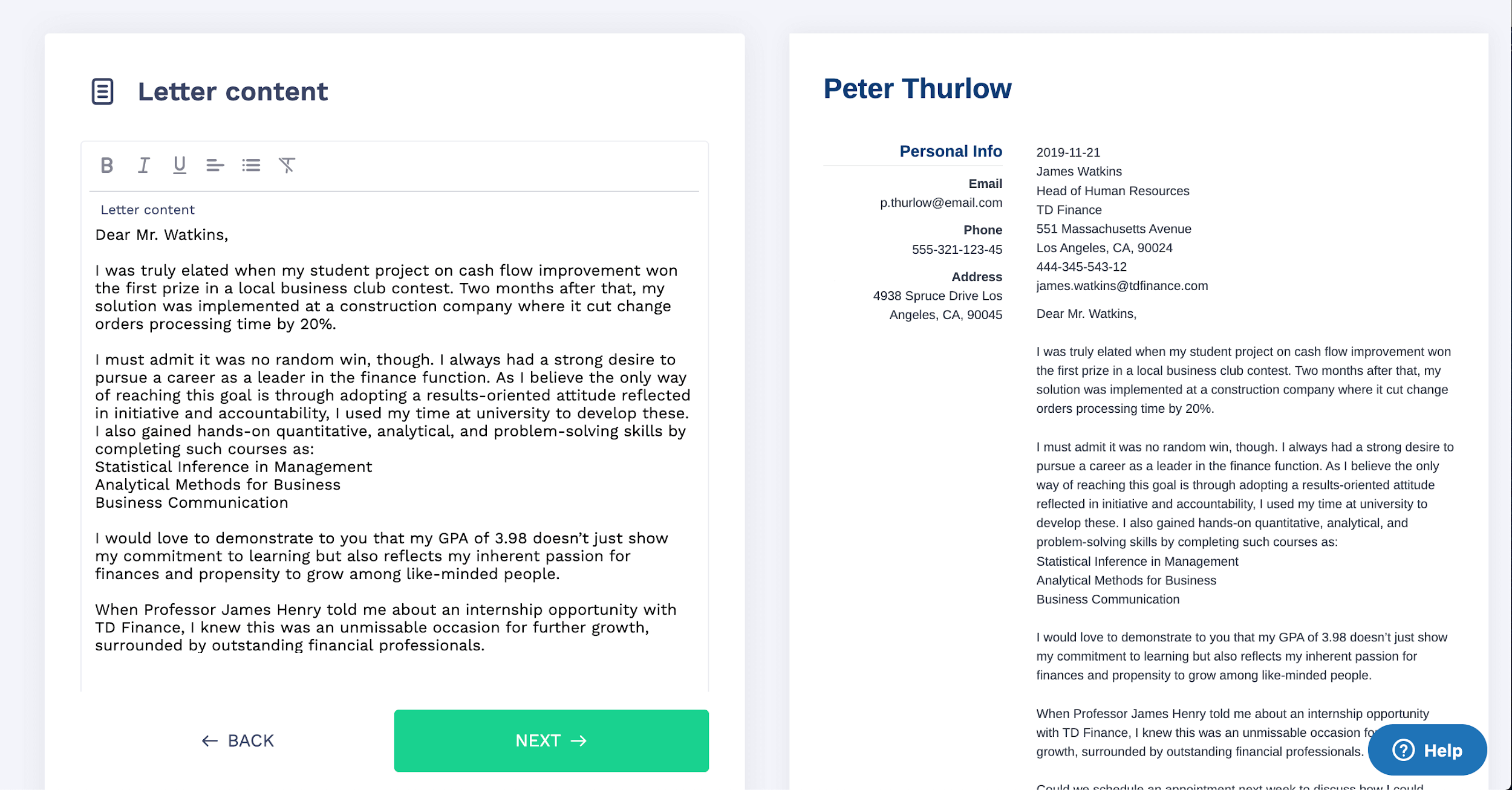 Want to try a different look? There's 18 more. A single click will give your document a total makeover. Pick a cover letter template here.
Key Points
Here's how to write a new grad nursing CV:
Start with a new grad nursing CV template. Infuse it with your top new grad nursing moments.
Add new grad nursing skills like wound dressing or patient education. Put a few numbers in to measure your results.
Write a new grad nursing CV objective as a snapshot of the best reasons to hire you.
Add extra sections to list your licence or an ANA membership.
Don't forget to write a new grad RN cover letter.
Got questions on how to write good CVs for new grad nursing jobs? Want to see more new grad nurse CV examples? Leave a comment. We'll be happy to reply!