Medical CV—Templates and 25+ Writing Tips [+Objective]
You're on the front-lines in the healthcare world, treating patients and improving quality of life. But employers won't believe it without proof. Use this medical CV sample.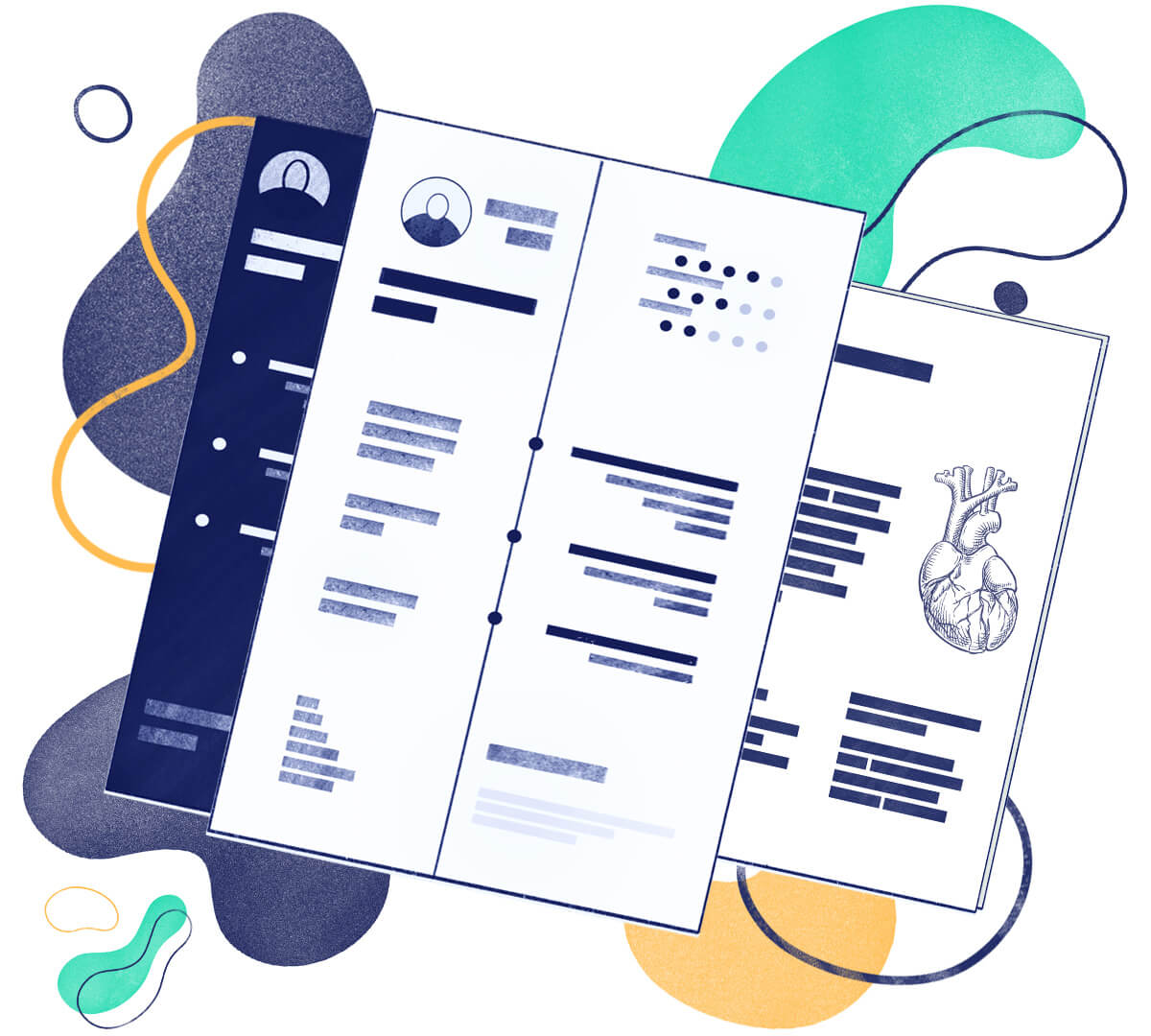 This medical CV sample works like an ACE bandage.
That's good, because—
Medical jobs are growing. Fast.
Job growth in the healthcare sector outstrips every other industry.
How fast? Try 29,000 jobs a month.
But—
A flood of new applicants is vying for those jobs.
The upshot? Your medical field CV has to stand out like Edward Jenner to get noticed.
No fear. You can do it with the right medical accomplishments in the right format.
In this guide:
A medical CV sample better than most.
How to write a successful medical CV.
How to customise your medical job description to the job you're after.
Why you can't just list medical skills (and what to do instead).
Save hours of work and get a CV like this. Pick a template, fill it in. Quick and easy. Choose from 21 CV templates and download your CV now.
What users say about ResumeLab:
I had an interview yesterday and the first thing they said on the phone was: "Wow! I love your CV."
Patrick

I love the variety of templates. Good job guys, keep up the good work!
Dylan

My previous CV was really weak and I used to spend hours adjusting it in Word. Now, I can introduce any changes within minutes. Absolutely wonderful!
George
Do you need a certain type of medical field CV? See our guides:
Haven't found what you're looking for? Check all our CV Samples.
Medical CV Sample You Can Copy and Use
Tanya Robbins
Medical Assistant
Personal Info
Phone: 281-690-4769
Email: tanyazrobbins@gmail.com
linkedin.com/in/tanyazrobbins
twitter.com/tanyazrobbins
Summary
Certified Medical Assistant with 6+ years of experience providing excellent administrative support in hospital and clinic settings. Seeking to deliver expert-level care at PPMC. At Shawna Taylor Medical Centre, saved £120K through attention to detail.
Experience
Medical Assistant
Shawna Taylor Medical Centre, Sugarland, Texas
2016–2020
Provided expert medical assistance in busy hospital, including documentation, filing, patient care, education, and vital sign collection.
Pre-certified 25% more patients than average for health care through insurance providers facilitating 15% revenue increase.
Cleaned and stocked examination rooms for use by staff.
Sent and received patient records as needed, maintaining 100% HIPAA compliance at all times.
Assisted with the maintenance, calibration, and inspection of medical equipment according to daily checklist.
Key Achievement:
Saved the hospital an estimated £120,000 by spotting four serious malfunctions in medical equipment during inspections.
Medical Office Assistant
MedFast Network, Pearland, Texas
2014–2016
Worked as office assistant in high-volume medical clinic. Performed patient intake and documentation and assisted nurses and doctors.
Welcomed and processed patients on arrival to clinic. Processed and performed data entry on applicable forms with 99.9% accuracy.
Transmitted patient forms to insurance vendors. Achieved reimbursements 10% faster than clinic average.
Maintained supplies inventory and restocked examination rooms. Worked with vendors to achieve 17% savings on medical supplies.
Key Achievement:
Maintained 96% positive reviews from patients.
Education
Sugarland High School
2014
Certifications
Certified Medical Assistant, AAMA
Basic Life Support, American Red Cross
Additional Activities
Freelance typist.
Volunteer 2x per month for Habitat for Humanity.
Ride bike 70+ miles per week as self-care.
Hard Skills: patient assessment, taking vital signs, medical administrative skills, administering injections
Soft Skills: interpersonal skills, communication, teamwork, efficiency
Here's how to write a medical CV that restarts your career:
1. Choose the Best Medical CV Format
How to start a CV? With a medical CV format that will get you hired.
That's an easy one.
The reverse-chronological CV format works best.
It lists your most Lasker-level achievements at the top.
Use these CV format tips to perfect it:
Medical CV Format
Expert Hint: Do brag. If you have lots of relevant medical experience under your belt, go for a two-page CV.
2. Write a Medical CV Objective or Summary
Pulse check:
Most medical professional CVs get skimmed, then binned.
To give yourself a fighting chance—
Make sure the parts they skim grab them like an EpiPen.
Do it with a CV profile. It comes in three forms: a CV objective (for entry-level candidates) and a CV summary or a summary of qualifications (for seniors). Regardless of how much work experience you have, use this simple formula.
Include:
An adjective (certified, energetic)
The job title from the online listing (RN, Nurse, Nurse Practitioner, CNA...)
Years of experience (1+, 9+)
What you'll do and who for (deliver expert-level care at PPMC)
Best CV accomplishments(saved £120K through...)
See these medical CV examples:
Medical CV Summary—Example
Ready for discharge.
But why do they work?
Because they mention the job and facility by name, then show a track record of medical excellence.
See those percents and other numbers? They're proof positive you can do the job.
Do that in your medical professional CV, and you'll get noticed like Charles Richard Drew.
Not quite that kind of medical superhero yet?
You can still make a full recovery. See these entry-level medical CV samples:
Entry-Level Medical CV Objective
See why those work?
They're both entry-level medical CV examples. But they show real medical skills.
Expert Hint: Create your medical field CV objective last. It's much easier to pull together all the moving parts of your career when you've already done the legwork of writing your other sections.
3. Fine Tune Your Medical CV Job Description and Skills
What skills should you put in a medical CV?
Use this CV skills list:
Medical CV Skills
Medical Skills for Nurses
Wound dressing
Patient education
Electronic Health Records (EHR)
Budgeting
Record keeping
Phlebotomy
Recording vital signs
Medicine administration
Discharge planning
Creating plan of care
Medical Assistant CV Skills
EHR
Patient assessment
Phlebotomy
ICD 10 codes
Recording medical histories
Inventory and supplies
Clinical research
Taking vital signs
Patient education
Billing
Medical Skills for Nurse Practitioners
Consultation
Ordering tests
Differential diagnosis
Interpreting test results
Patient evaluation
Monitoring ongoing patient conditions
Discharge & admissions
Developing policy
Prescribing and administering medication
Patient education
Medical Skills for CNAs
Gloving & gowning
Patient mobility
First aid
Foot care of chair bound residents
Assisting with toileting
Patient care
Changing linens
Dressing residents
Recording vital signs
Mouth care
Transferable Medical CV Skills
Customer service
Time management
Problem solving
Interpersonal skills
Foreign languages
Communication
Stress management
Teamwork
Compassion
Multitasking
That's a lot!
Which ones should you put in your medical professional CV?
That's easy.
Write a customised CV by tracking down CV keywords in the medical job ad.
These medical CV samples show how:
The job wants skills in pre-certifying patients, cleaning and stocking examination rooms, HIPAA compliance, and medical equipment inspection.
Medical Job Description for a CV [Sample]
Here's another medical CV example. It's for a job that needs skills in leadership, infection control, HIPAA compliance, and scheduling.
Well done.
Both of those medical CV examples will get the interview.
They stitch your work history to the new job, skill by skill.
But what about an entry-level CV for medical jobs?
See these entry-level medical field CV examples.
The first one is for a medical assistant job that wants data entry, communicating with insurance vendors, and inventory management.
Entry-Level Medical CV Job Description [Sample]
Now here's an entry-level medical CV example for a nurse practitioner.
The applicant has only worked as a nurse. The NP job he wants needs skills in charting and treatment plan creation.
Perfect.
Both of those entry-level medical CV samples use high-level medical skills from low-level experience.
Do that for a Cedars-Sinai-level medical field CV.
Expert Hint: In the next 10 years, there will be 1.9 million new medical jobs, according to research by the US Bureau of Labour Statistics. Which ones get the most pay for the least schooling? Dental hygienists and nuclear medicine technologists make £74,000+ with an associate's degree.
The ResumeLab builder is more than looks. Get specific content to boost your chances of getting the job. Add job descriptions, bullet points, and skills. Easy. Improve your CV in our CV builder now.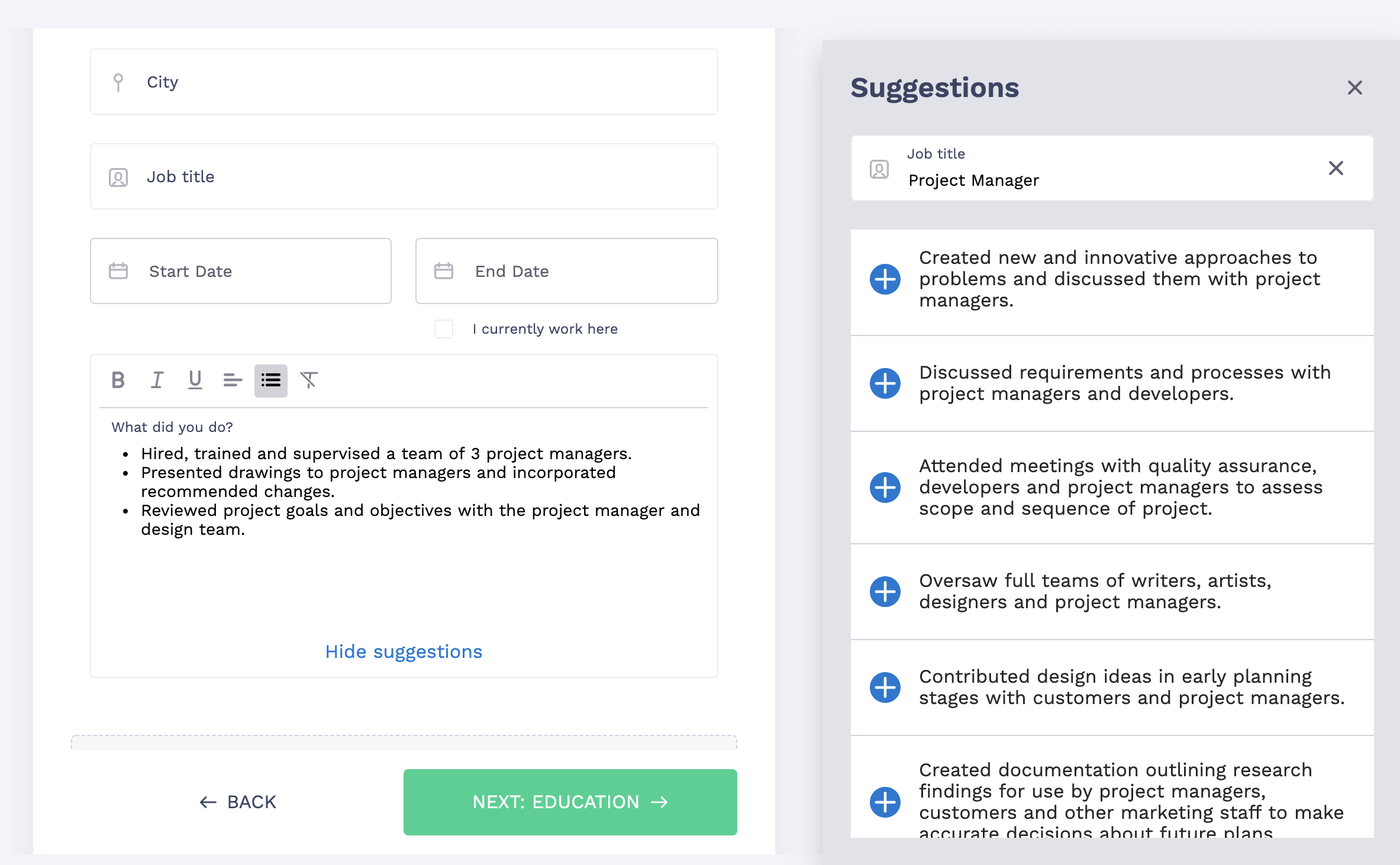 Nail it all with a splash of colour, choose a clean font, highlight your skills in just a few clicks. You're the perfect candidate and we'll prove it. Use the ResumeLab builder now.
4. Revitalise Your Education Section
Not sure how to list education in a medical professional CV?
There's a trick to it.
Tell them your school name and degree title. But—
Improve the education section of your CV by adding medical skills proof.
See these medical CV samples:
Medical CV Example—Education
Notice anything?
In a medical CV, more recent education needs more details such as relevant coursework. Older education doesn't matter as much, so clip it short.
5. Add More to Your Medical CV
There are about 346,000 new medical jobs each year.
Healthcare is growing faster than any other industry.
But there are 200,000 new nurses a year. 4,000 nurse practitioners. 90,000 medical assistants. 300,000 CNAs.
Get the picture?
There are lots of new medical jobs. But there are more new medical job applicants.
You need to hustle to get hired.
To give your medical job CV a fighting chance, add bonus material.
Select from:
Certifications (RN, NP, CMA, CPhT, etc.)
Freelance work
Awards & honours
Conferences & speaking appearances
Publications
Foreign languages
Additional activities
Sports & fitness
See these medical CV examples:
Medical CV—Other Sections
Heads up:
Those medical CV samples have Virginia-Apgar-worthy details. They'll stand out in a good way to the hiring team.
Expert Hint: Write a cover letter for your medical field CV. Make them see your love of healthcare. But also, show your top 2–3 medical achievements that'll make them notice you.
Double your impact with a matching CV and cover letter combo. Use our cover letter builder and make your application documents pop out.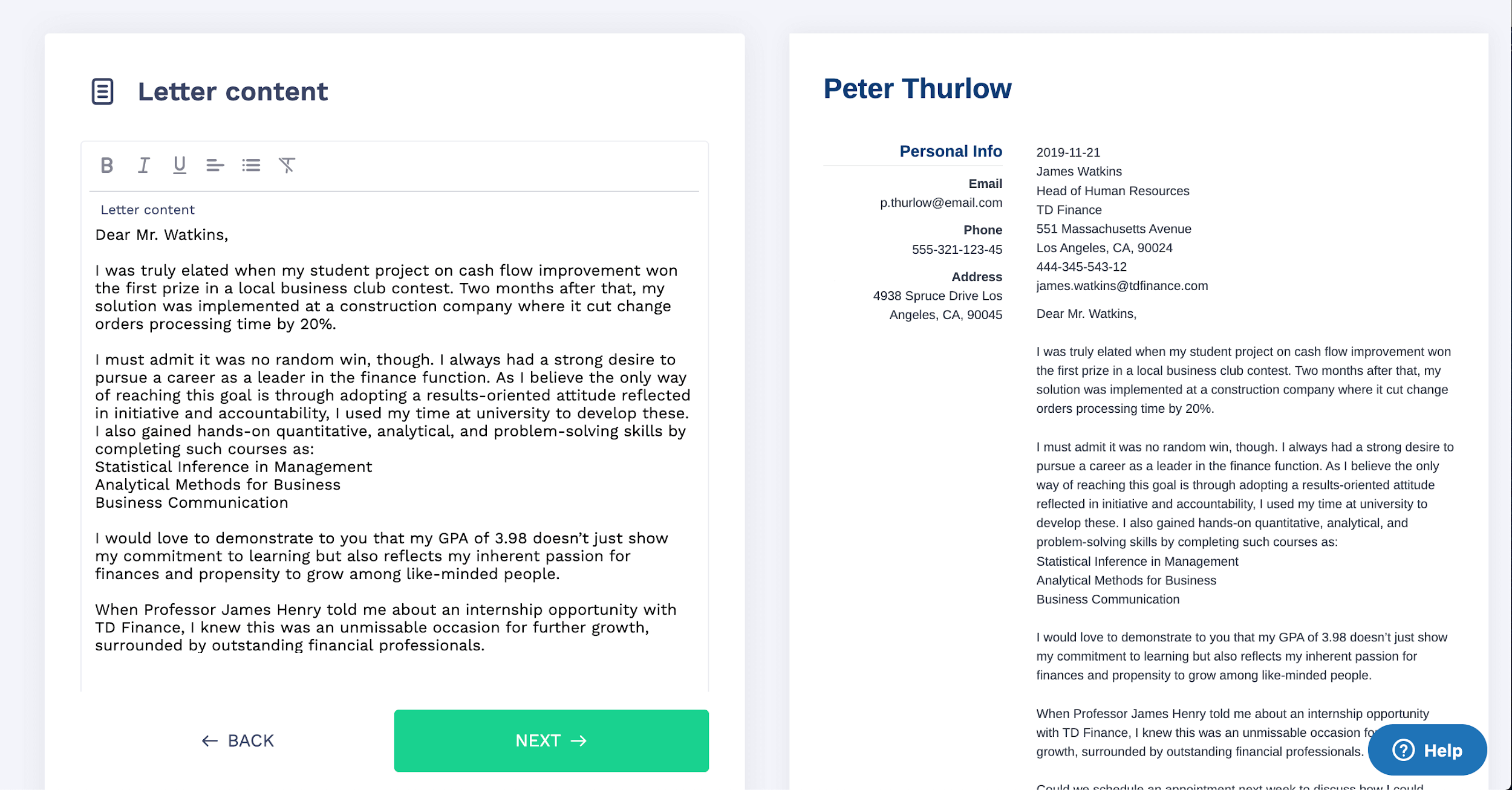 Want to try a different look? There's 18 more. A single click will give your document a total makeover. Pick a cover letter template here.
Key Points
Here's how to write a medical CV:
Start with a good medical CV template. Flesh it out with your best medical skills and accomplishments.
Add medical skills like patient assessment or filing. Put some numbers in to show their magnitude.
Write a medical CV objective with a mix of your best health care wins.
Add extra material like a CPhT certification or conferences you've spoken at.
Write a good cover letter. Get some inspiration from our physician cover letter sample.
Got questions on how to write good CVs for medical jobs? Wondering how to put medical experience on a CV? Leave a comment. We'll be happy to reply!