Accounts Receivable CV—Sample and 25+ Writing Tips
You have the financial literacy of Milton Friedman, and fight for the last penny like a bulldog. Ready to prove it?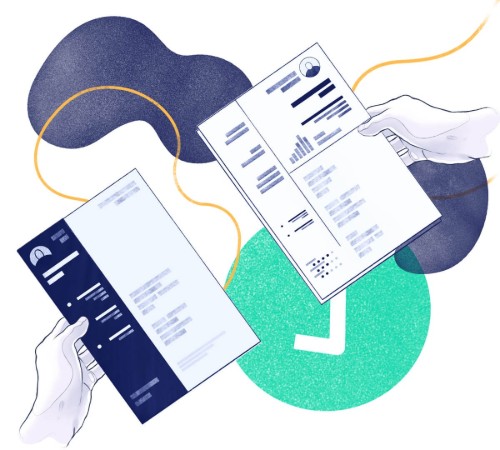 You've spent countless hours filling in an old-school ledger. The piggy bank strolls in and startles you with its screaming. You knock over a 5-gallon ink bucket, spilling the contents all over the books.
You wake up from this bad dream with relief, but soon remember that your mediocre accounts receivable CV is in the trash.
It's high time to write a CV that finally gets you interviews.
In this guide:
An accounts receivable CV sample that gets accounted for.
A quick guide on the CV format.
How to squeeze out more profit from your accounts receivable job description.
First, see how it's done.
Save hours of work and get a CV like this. Pick a template, fill it in. Quick and easy. Choose from 21 CV templates and download your CV now.
What users say about ResumeLab:
I had an interview yesterday and the first thing they said on the phone was: "Wow! I love your CV."
Patrick

I love the variety of templates. Good job guys, keep up the good work!
Dylan

My previous CV was really weak and I used to spend hours adjusting it in Word. Now, I can introduce any changes within minutes. Absolutely wonderful!
George
Need other resources? See our dedicated guides:
Haven't found what you're looking for? Check all our CV examples for any job.
Accounts Receivable CV Sample You Can Collect On
Brian A. Engles
Accounts Receivable Specialist
Personal Info
3196 Hillcrest Circle
Fridley, MN 55432
763-514-0563
brian@eagles.com
linkedin.com/beagles
Summary:
Methodical accounts receivable specialist with 4+ years of experience in handling a broad scope of billing, collections, reconciliation and month-end-closing processes. Implemented new AR/AP procedures which improved collection rate by 25%. Designed automated payment reminders using Zapier and SalesHandy, sent on shipment delivery, and in regular time intervals afterward, with alerts for AR if the emails are not opened and read within a certain time. Improved on-time collection rate by 19%, and saving 10 hours per week.Ready to implement proven strategies for Diversified Ventures' Accounts receivable//Accounts Payable department.
Experience
Accounts Receivable Specialist
Upshipper
2017–2020
Responsible for a broad scope of billing, collections, reconciliation and month-end-closing processes for a £25m wholesale shipping business.
Improved collection rate by 25% by implementing new AR/AP procedures.
Designed automated payment reminders using Zapier and SalesHandy, sent on shipment delivery, and in regular time intervals afterward, sending us emails back if emails are not opened and read.
Improved on-time collection rate by 19%, and saved 10 hours per week.
Cut down refunds from £450k to £225k annually by identifying a weakness in the refund protocols which allowed bad faith and unjustified refunds.
Prepared and maintained documentation for external and government audits.
Accounts Receivable Clerk
Upshipper
2016–2017
Managed 120+ client accounts, totalling £3m in annual turnover.
Responsible for billing, collections, reconciliation, investigating chargebacks.
Handled and made 50+ calls, 100+ emails per day.
Produced summary reports on clients' accounts.
Key Skills
Eye for Detail
Independent
Effective Communication
Quickbooks
SAP
Sage 100 Standard
Infopak 3
Advanced Excel
Education
BSBA in Accounting
University of Minnesota
GPA: 3.7
2012–2016
Certifications
Sage 100 – Certified Accounts Receivable Specialist
IOFM Accounts Receivable Specialist (ARS) Certification
Languages
Got your bean counter? No, I meant the calculator.
1. Use a Proper AR CV Format
You're going to be handling money. A lot of money. The big bucks, so to speak. A person who gets their accounts receivable CV format wrong will not be trusted with the big bucks, most likely.
Format your CV this way:
Accounts Receivable CV Format
Let's balance the books.
Expert Hint: An eye tracking-study shows that the average recruiter gives 7.4 seconds of their attention to each CV. Keep this in mind throughout this process.
2. Write a Trustworthy Accounts Receivable CV Summary or Objective
As you well know, sometimes, trust is instant. We often can't put our finger on it, but it's there. You should aim for your CV profile to perform the same function remotely. Show your expertise backed with numbers and target your CV at the requirements of the position.This will also make for an ATS-friendly CV.
Which voice to use? Certainly not the first person—it's one of the CV don'ts.
Follow textbook career summary steps for a summary that grabs attention:
Use a power adjective that describes you, your title, and years of experience.
Illustrate your biggest achievements using numbers and figures.
End with a sentence mentioning the company and how you'll provide added value to it.
And here it is applied:
Accounts Receivable Summary—Example
If you have limited accounting experience and are writing an entry-level accounts receivable CV, opt for a career objective. There's no need to lie on your CV. Simply draw on your specific qualifications and experience to highlight your accounts receivable competencies.
Accounts Receivable Objective—Example
Expert Hint: How to start a CV? It is best to do this once you have completed the other sections of your accounts receivable CV, especially your job description.
3. Get In the Hot Books With A Perfect AR Job Description and Skills
There are accountants who struggle with handling self-employed people's affairs, and there are those who seemingly run the finances of entire corporations with only minimal assistance from co-workers and stimulants.
Let them know which one you are. Let them imagine the scale of operations you handle, and how you will slot into their machine. Let them understand the improvements you can make. Quantify everything in numbers to really help them understand. If you're tempted to stretch the truth here, don't. Lying on a CV is never a good idea—it can come back to haunt you. Make your CV work experience section a list of 5-6 varied points.
See if you wouldn't want this AR specialist to look at your business:
Accounts Receivable Job Description for a CV
Your perfect CV should list your relevant skills in their own CV skills section.
Accounts Receivable Skills for CV
Soft Skills
Analytical Skills
Effective Communication
Attention to Detail
Verbal & Written Communication Skills
Organisational Skills
Time Management Skills
Teamwork Skills
Collaboration
Critical Thinking
Interpersonal Skills
Decision Making
Detail Oriented
Dependability
Problem Solving
Perceptiveness
Self Motivated
Hard Skills
Quickbooks
SAP
Xero
Sage 100 Standard
Infopak 3
Advanced Excel
CRM Software
Validating Invoices
Reconciling Accounts
Expert Hint: If you had to go on a long hiatus, it's best to explain it, the right way. Follow our guide on how to explain employment gaps on CVs.
The ResumeLab builder is more than looks. Get specific content to boost your chances of getting the job. Add job descriptions, bullet points, and skills. Easy. Improve your CV in our CV builder now.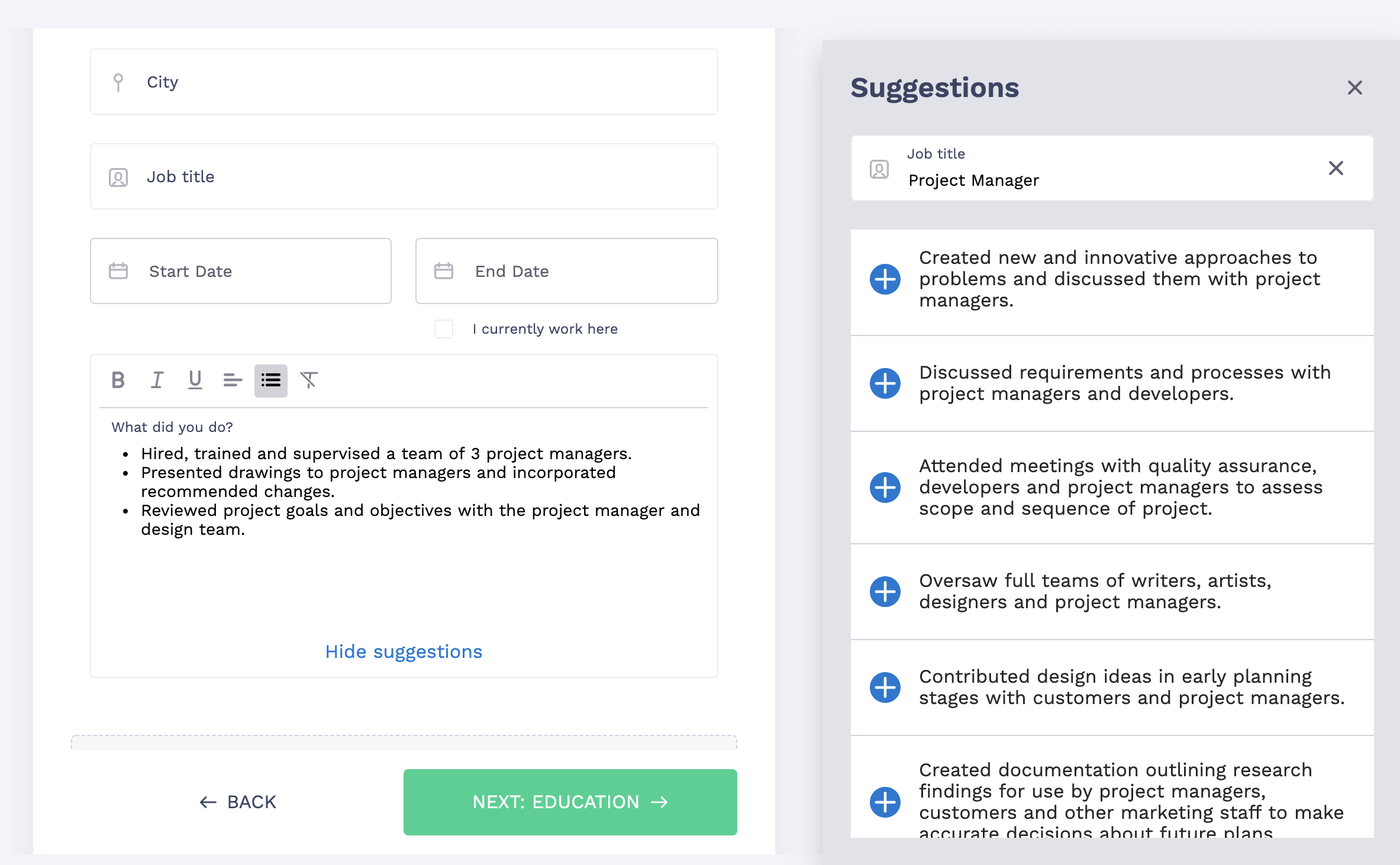 Nail it all with a splash of colour, choose a clean font, highlight your skills in just a few clicks. You're the perfect candidate and we'll prove it. Use the ResumeLab builder now.
4. Balance Your Education Section
It's one thing to do exercises at university, and another entirely to play with your boss's "hard-earned" (as he perceives it) cash. If you have more than a couple of years of experience in AR, just list the degree name, school, and graduation date. List the GPA if you graduated in the last 2 years.
This how you list education on your CV:
Accounts Receivable Specialist CV Sample—Education
If you are completely fresh to AR, you may want to add a relevant coursework section below your degree.
Expert Hint: A good LinkedIn profile can go a very long way. If someone goes to that extent to find out more about you, make sure you reward them with something interesting, so they reward you with that job. Check out our LinkedIn career advice.
5. Add Extra Sections To Your Accounts Receivable CV
If you have any more arguments for being employed as the next accounts receivable prodigy, speak now or forever hold your peace. Whatever you do, don't lump them all together, split them up into logical bonus CV sections:
Awards
Additional Activities
Foreign Languages
Skills—if you haven't included them as part of your other sections, but most of all, keep it relevant!
Compare these two examples:
Accounts Receivable CV Example—Extra Sections
All that's left is to write an accounting cover letter. Don't send your CV without one.
That's it. I can't cook the books any more in your favour.
Expert Hint: New to accounts receivable? Bolster your career change CV with Institute of Finance and Management's Accredited Receivables Specialist Certification. You can apply with no degree after 3 years of related work experience, and with 1 year of experience if you did a four-year degree. Later, you can move on to an Accredited Receivables Manager certification.
Double your impact with a matching CV and cover letter combo. Use our cover letter builder and make your application documents pop out.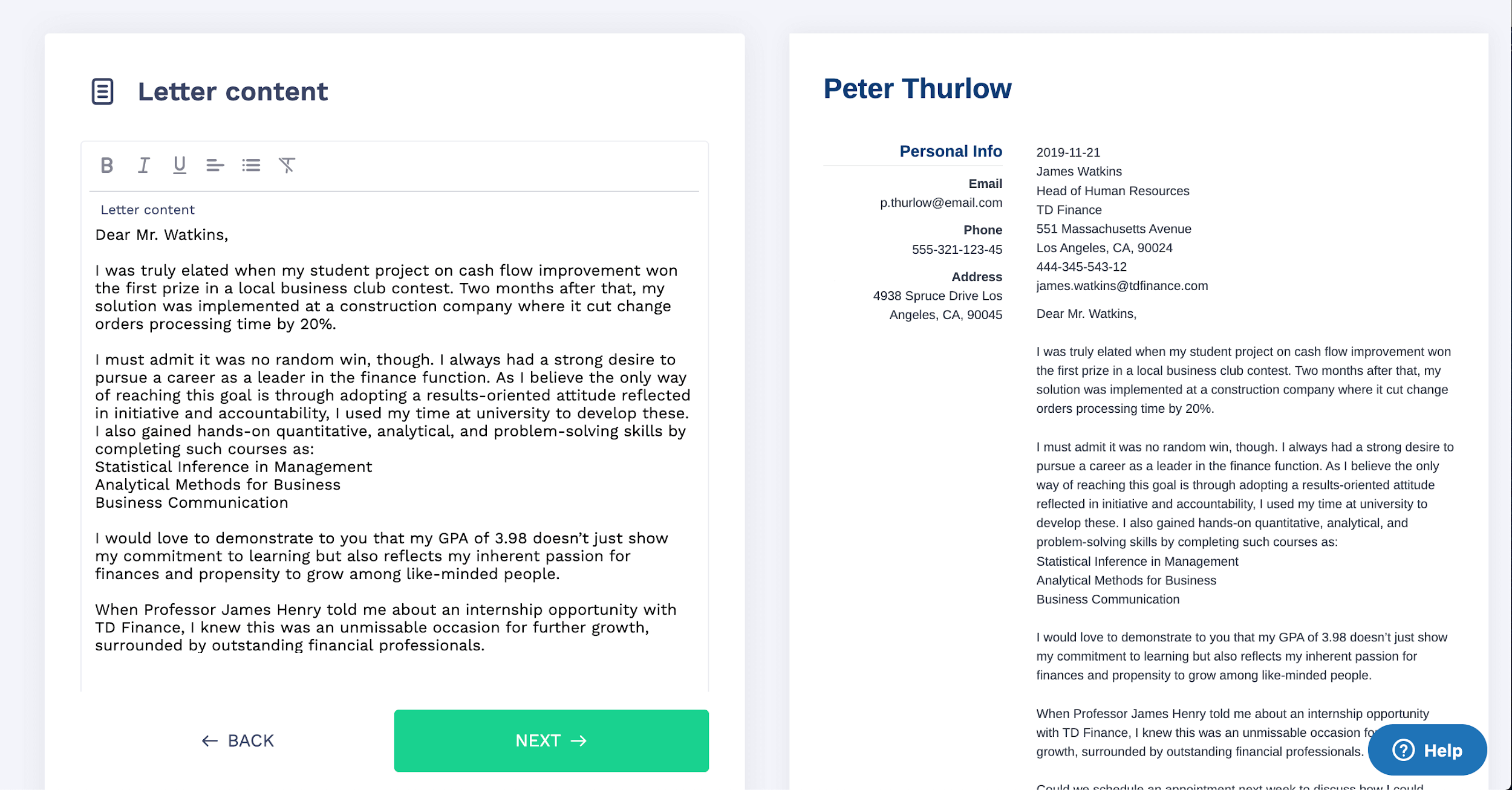 Want to try a different look? There's 18 more. A single click will give your document a total makeover. Pick a cover letter template here.
Key Points
Make sure your accounts receivable CV is marketable by:
Adjusting your CV format—margins, fonts, 1 page, reverse chronological.
Backing up the accounts receivable job description with achievements and numbers that relate to the hats you will wear in your new role.
Adding your certifications, skills and other additional info in separate bonus sections.
Writing an accounts receivable cover letter.
Got questions on how to write a great CV for accounts receivable clerks? Did we help you get your accounts receivable CV right? Leave a comment. We'll be happy to reply.