Nanny CV—Examples and 25+ Writing Tips
Kids love you, and you work hard to keep them safe, happy, and growing in all the right ways. Prove it to moms and dads with this nanny CV sample that shows your best side.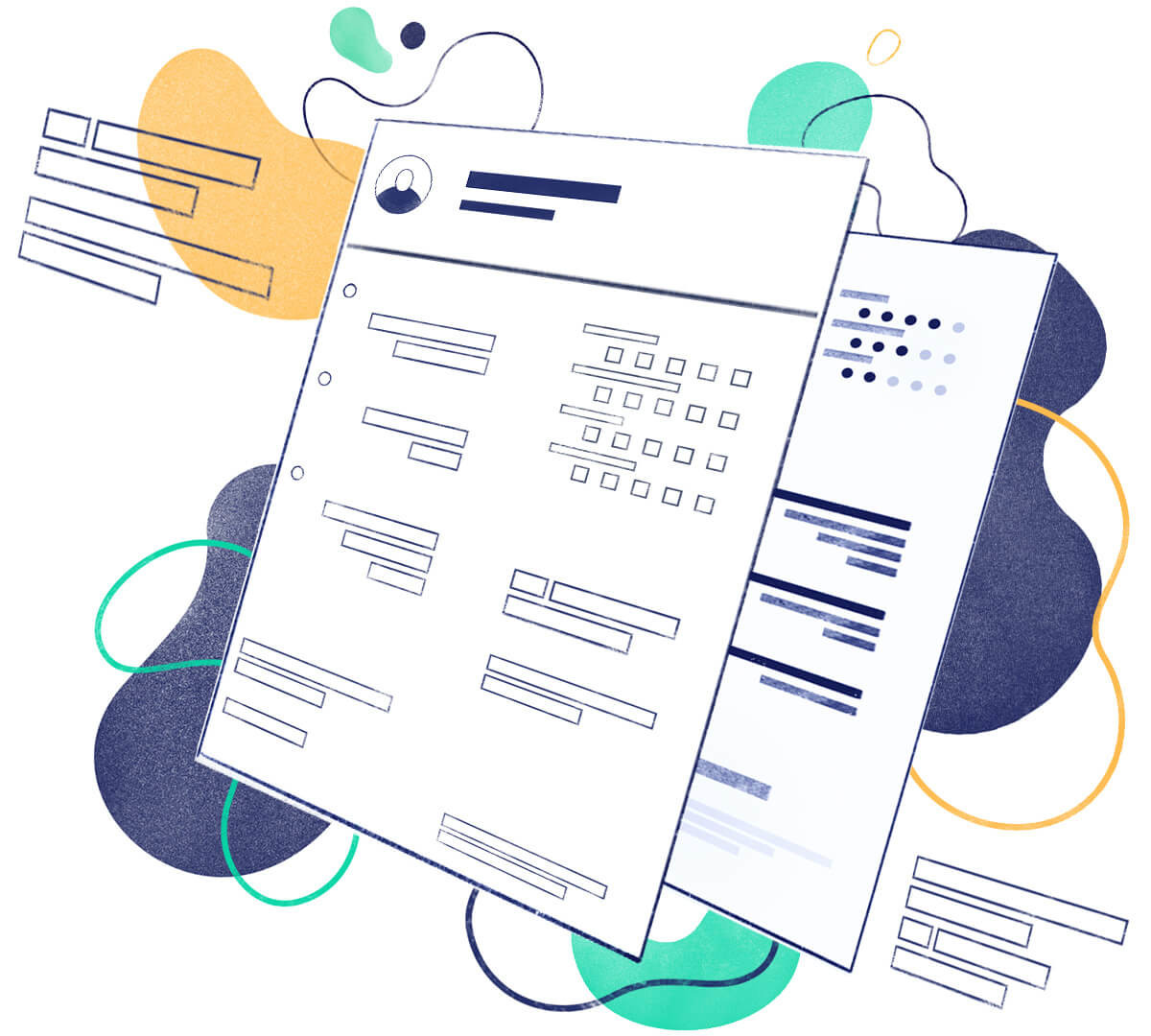 Nanny CVs have a lot to prove.
After all, this isn't just a desk job or a product you're in charge of.
This is a child's life.
If you don't show parents right away that you've got the right skills and experience, you won't get hired.
In this guide:
A nanny CV sample better than most.
How to make a good nanny job description for CVs.
How to write a CV for nanny jobs that gets interviews.
Why you can't just list nanny skills (and what to do instead).
Save hours of work and get a CV like this. Pick a template, fill it in. Quick and easy. Choose from 21 CV templates and download your CV now.
What users say about ResumeLab:
I had an interview yesterday and the first thing they said on the phone was: "Wow! I love your CV."
Patrick

I love the variety of templates. Good job guys, keep up the good work!
Dylan

My previous CV was really weak and I used to spend hours adjusting it in Word. Now, I can introduce any changes within minutes. Absolutely wonderful!
George
Thinking of a career in childhood education? See our other guides:
Making a career change into nannying (or out of it?) See our guide:
Haven't found what you're looking for? Check all our CV Examples.
Nanny CV Sample You Can Copy and Use
Claire Maturi
Nanny
Personal Info
Phone: 646-581-9799
E-mail: clariezmaturi@gmail.com
linkedin.com/in/clariezmaturi
twitter.com/clariezmaturi
Summary:
Likeable nanny with 3+ years experience, seeking to provide excellent care for Zemin family. Cared for 2 children as live-in nanny for 2+ years. Markedly decreased 5-year-old's tantrums with positive discipline techniques. Saved parents 15 hours a week with cleaning and laundry duties.
Experience
Live-In Nanny
Mike & Elissa Pearson
2017–2019
Cared for 2 girls, ages 2 and 5.
Organised and played sports with children daily, ensuring regular physical activity and easy bedtimes at end-of-day.
Prepared and served nutritious meals with organic, locally sourced ingredients. Observed food safety for 5-year old's gluten allergy.
Handled light cleaning and laundry, saving 15 parent hours per week.
Nanny
Nannies Midtown
2016–2017
Collaborated with parents weekly to plan activities and outings.
Planned daily games and outdoor activities like park walks and rock hunts, depending on children's interests.
Managed all transportation with 100% clean driving record.
Server
Chilli's
2015–2016
Maintained 97% positive customer comment scores thanks to high efficiency and friendliness.
Employee of the month 5x because of strong work ethic.
Education
BA, Liberal Arts, Bowdoin University, Maine
2012–2016
Led local youth art group, teaching art to 20+ children.
Worked as Head Start youth volunteer.
Excelled in art education classes.
Additional Activities
Stay fit with weekly HIIT sessions.
Received a 97% score on INA Nanny Basic Skills Assessment
Called "the best nanny we've ever had" by the Pearson family.
Teach monthly child music classes for local Montessori school.
Certifications
Professional Nanny Certificate
Paediatric First Aid & CPR, American Red Cross
Volunteer Work
Walk dogs weekly for Animal Care Centres of NYC
Hard Skills: Playing guitar & piano, paediatric CPR & First Aid, clean driving record, laundry, cooking
Soft Skills: Strong work ethic, nonsmoker, interpersonal skills
Languages: Fluent in Mandarin
Now here's how to write a nanny CV they'll love:
1. Start With the Best Nanny CV Format
Nannies take the child care workload off busy parents who need help with day-to-day activities. They may entertain children with games and outings, cook meals, and handle light housework like cleaning and laundry. A nanny CV must show you've done those things with high success.
Where does that start?
With a well-formatted CV for nanny jobs.
Start off right with these tips:
Nanny CV Format
Begin with the reverse-chronological CV format.
Choose one CV font like Cambria or Noto in 10–12pt.
Use 1-inch margins and copious white space.
A one-page CV for nannies is plenty long.
CV sections are: Header, Objective, Experience, Education, Skills, and "Other" (Freelance Work, Languages, etc.)
Expert Hint: Avoid the temptation to make a creative or flowery CV layout. You can show your personality with a nanny cover letter, or a link to your LinkedIn or website.
2. Write a Nanny CV Objective or Summary
You've got very little time.
You need to show the parents you're "the" one, right away.
That way they'll actually read your CV for nanny jobs.
How to do it?
With a well-written nanny CV profile (in the form of a CV objective, CV summary, or summary of qualifications).
Include:
1–2 adjectives (likeable, hard-working)
Job title (Nanny)
Years of experience (3+, 4+)
How you'll help (provide excellent care for Zemin family)
Best few achievements (saved parents 15 hours a week...)
These nanny CV examples show how:
Nanny CV Summary—Example
Easy choice.
The first of those nanny duties CV samples shows someone who has done the job.
The second might be empty bragging.
Why?
No details. No numbers. No achievements.
Writing an entry-level nanny CV?
You've got this.
Just write a CV objective.
That's the same thing as a summary, but with other kinds of accomplishments.
Nanny CV Objective—Example
That first entry-level nanny CV example does the trick. It uses experience from your own family life.
You could also prove your work ethic, interpersonal skills, or other nanny skills from jobs like waitressing or retail.
How?
By showing your achievements from those jobs. (More on that below.)
Expert Hint: You don't need to pack it all into your objective. If your CV is the ocean, your CV objective is the wave crest. Just make it eye-catching.
3. Write a Great Nanny Job Description
Bad dream:
You spend three months looking for your next nanny job.
Meanwhile, you watch your savings dwindle and the credit cards clog.
The problem?
Your CV for nanny jobs lacks a good job description.
Fix that.
How to write a job description for a CV:
Find out what the parents want most in a nanny.
Translate that to a list of nanny skills you have.
Brainstorm some times you flourished with those nanny skills.
Create your CV bullets from those accomplishments.
Add numbers to show the size of your success.
These nanny CV examples show how:
Nanny Job Description for a CV [Sample]
Big difference, right?
The first of those nanny CV examples puts you in the parents' corner. You're basically Mary Poppins with a driver's licence.
The second does say you used the skills they want. But it doesn't say if you were proficient or inept.
That's where the numbers come in.
Writing an entry-level nanny skills CV? Read on.
Entry-Level Nanny CV Job Description [Sample]
Wow.
The second of those nanny CV examples swings and misses. It proves zero nanny skills.
Next—
Show the right CV skills for nanny jobs. The best ones are CV keywords taken from the job posting.
Nanny CV Skills and Qualities
| | |
| --- | --- |
| Soft Skill | Hard Skills |
| Communication | Paediatric First Aid |
| Way With Children | Cooking |
| Problem Solving | CPR |
| Nonsmoker | Planning Meals for Children |
| Listening | Cooking |
| Reliability | Laundry |
| Teamwork | Clean Driving Record |
| Patience | Preparing Baby Formula |
| Interpersonal | Teaching |
| Decision Making | Changing Diapers |
Expert Tip: Don't try to fudge your skill-level. If you're writing an entry-level CV for nannies, say it. They're bound to find out, and being a nanny means being honest.
The ResumeLab builder is more than looks. Get specific content to boost your chances of getting the job. Add job descriptions, bullet points, and skills. Easy. Improve your CV in our CV builder now.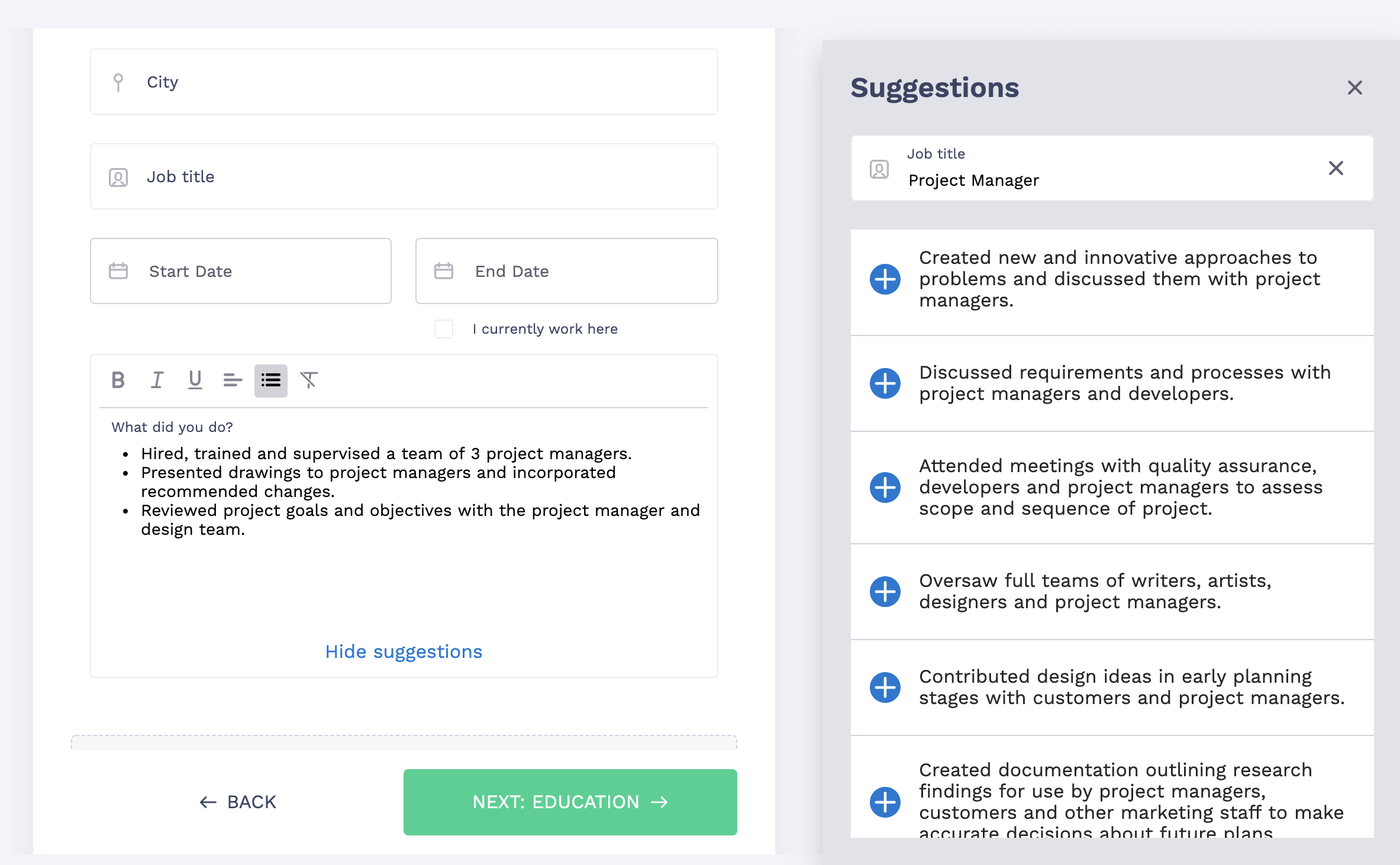 Nail it all with a splash of colour, choose a clean font, highlight your skills in just a few clicks. You're the perfect candidate and we'll prove it. Use the ResumeLab builder now.
4. Turn Boring Education to a Reason to Hire You
Nannies don't need PhDs.
But—
There's a right way and a wrong way to show education on a CV for nannies.
Wrong way:
List your school, degree, and nothing else.
Right way:
Add achievements that prove nanny skills.
These nanny CV examples show the plan:
Nanny Education—Example
Notice:
That example proves skills in teaching and working with children.
Expert Hint: You don't need a GPA on a CV for nanny jobs. You can show it if it was high or if you want to. Otherwise, focus on what makes you so great with kids.
5. Add "Other" Sections to Your Nanny CV
Great news!
The parents loved your nanny CV. You're hired!
What did you do right?
They fell in love with a single bullet point. And it wasn't even in your work history or education.
Add a couple "bonus"CV sections to stand out:
Volunteer Work
Additional Activities
Certifications
Freelance Work
Awards
Continuing Education
Foreign Languages
Associations like INA
These two nanny CV examples show how:
Nanny CV—Extra Sections
No comparison.
The first of those nanny CV samples will get oohs and ahhs.
The relevant accomplishments are key.
Do you have a CDA? (No, it's not the Child Detection Agency from Monster's Inc.) If you do, definitely put it on your nanny duties CV.
A Nanny Skills Assessment looks good too, as does a Professional Nanny Certificate.
Expert Hint: Write a cover letter. A nanny cover letter is the one way to show your personality to the parents in a good way. Focus on your passion for nannying and your big achievements.
6. How to Include Nanny Experience on CVs
Now what?
You were a nanny, and you loved it. But—
It's time to move on.
So how do you show nanny on a CV?
It's easy.
Just pick the most important skills from the job ad online.
Then think of how you used those skills as a nanny.
Let's say the job needs collaboration, planning, communication, and interpersonal skills.
Show it like in this nanny CV example:
Nanny Job Description for a CV [Nanny on CV]
Live-In Nanny
Mike & Elissa Pearson
2017–2019
Collaborated with parents to plan daily outings, educational activities, and healthy meals. Saved parents 40 hours per week in childcare needs.
Communicated with parents and educators about children's needs. Assisted with solving long-term temper-tantrum problem in 5-year-old.
Used interpersonal skills to help resolve an issue with preschool teacher over inconsistencies in discipline approaches.
See that?
A little head-scratching goes a long way. Switching careers can be easy if you spend the time to brainstorm transferable achievements.
Expert Tip: If you find yourself stretching the truth, don't. Look elsewhere in your life (in volunteer work or activities). Find proof you've got the skills to do the new job.
Double your impact with a matching CV and cover letter combo. Use our cover letter builder and make your application documents pop out.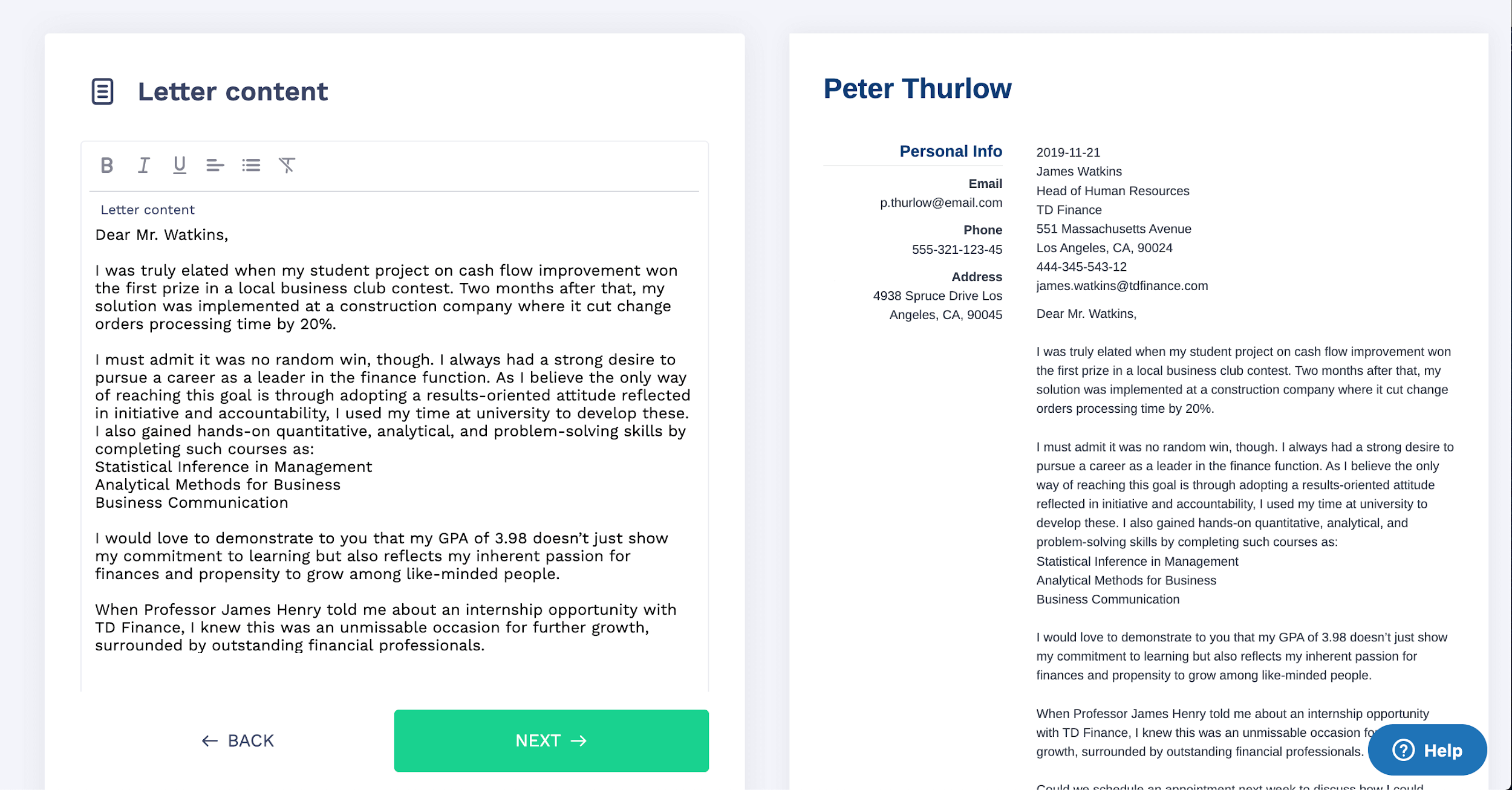 Want to try a different look? There's 18 more. A single click will give your document a total makeover. Pick a cover letter template here.
Key Points
For a nanny CV that makes the phone right:
Use the nanny CV template up top. It links to what the parents need.
Put nanny achievements in your CV objective, work experience, education, and "additional" sections to get hired.
List the right nanny skills. If you can talk to the parents before you submit your CV, ask what they're most interested in.
Write a nanny cover letter. Use it to show you "get" their needs. Then show how you've met needs like those before.
Got questions on how to write a great CV for nanny jobs? Still not sure how to show nanny on a CV? Leave a comment. We'll be happy to reply!