Business Owner CV—Sample and 25+ Writing Tips
Whether you're applying for a more ambitious position, or entering the workforce after wrapping up your venture, you're about to write a business owner CV that works.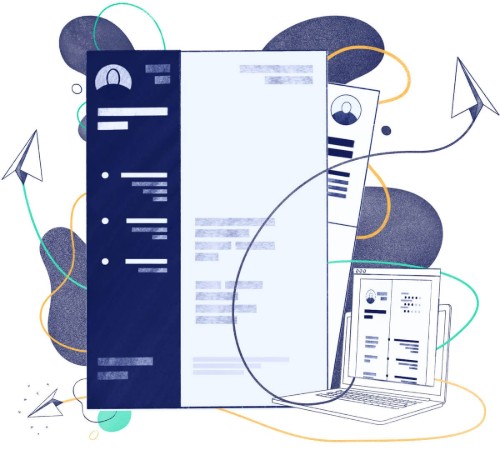 As a business owner, you have worn many hats.
The salesman hat.
The accountant hat.
The stockroom, cleaning, and worrying about the end of the month hats, too.
Through this invaluable education, you are perfectly equipped to slot into many management and business roles in larger organisations.
Let's work on making them see that right out of your business owner CV, and get them to believe in your brand.
In this guide:
A business owner CV sample that is always in high demand.
A definitive walkthrough on the CV format.
How to extract maximum value from your business owner job description.
Let's shop around.
Save hours of work and get a CV like this. Pick a template, fill it in. Quick and easy. Choose from 21 CV templates and download your CV now.
What users say about ResumeLab:
I had an interview yesterday and the first thing they said on the phone was: "Wow! I love your CV."
Patrick

I love the variety of templates. Good job guys, keep up the good work!
Dylan

My previous CV was really weak and I used to spend hours adjusting it in Word. Now, I can introduce any changes within minutes. Absolutely wonderful!
George
Business Owner CV Sample You Can Take Home
Jeremiah L. Kauffman
Business Owner
Personal Info
1837 Birch Street
El Paso, TX 79930
915-578-4344
jeremiahkauf@eagles.com
linkedin.com/jlkaufmann
Summary:
Meticulous business owner with 10+ years of retail and online sales experience. Transformed family coin collecting tradition into thriving online business generating £300k in annual online sales and £150k turnover at physical location in sales, appraisal services, and purchasing items at metal prices. eBay Gold Powerseller. Managed day-to-day operations of the store with 4 employees. Created social media following of 12,000 for the business. Provided apprenticeships for two local youths in appraisal and collectible purchasing, who are now tasked with purchasing items at local auctions and sales. Seeking to apply business experience as a Mulligan Burger franchisee.
Experience
coinDepository
Business Owner
2010–Present
Built a physical store (2010) and online sales (2012) business specialising in collectible coins, jewellery, watches, and precious metals.
Bringing £300k in online sales annually using a Shopify platform.
Generating £150k turnover at the physical store in sales, appraisal services, and purchasing items at metal prices.
Grew the team from 2 to 5 employees.
eBay Gold Powerseller (£120k+ annual sales), 99.8% positive feedback on 15,000+ transactions.
Created a social media following of 7,500 on Facebook and 12,000 on Instagram for the business.
Implemented GoAntiquing! point-of-sale software to improve stock and price tracking and streamline posting of new offers to online stores, saving 20 hours per week.
Implemented QuickBooks accounting software to save 4 hours per week.
Implemented Zapier automation for generating sales and new offer newsletters from new stock registered in the system.
Provided apprenticeships for two local youths in appraisal and collectible purchasing. They are now self-employed, purchasing items from local auctions and sales, and supplying them to our store.
Education
BSBA in Accounting
University of Tennessee
Graduated: 2008
Key Skills
Financial Management
Marketing and Sales
Customer Service
Leadership
Project Management
Time Management
Problem-Solving
Networking
Shopify, QuickBooks, Zapier, GoAntiquing!
eBay
Physical Store Diversification
Social Media
Employee Training
Considering many paths? See our dedicated CV guides:
Haven't found what you're looking for? Check all our CV examples.
Ready to put on the uniform again?
1. Use a Business CV Format
You may not sell more if your store is clean, or your website works perfectly, but you will definitely sell less if your store is dirty, or your website messy. Along the same lines, you won't get hired for your font choice, but bad formatting can land your CV in the shredder.
Format your CV this way:
Business Owner CV Format
Now that you're clear on your CV layout, it's time to stock your shelves.
Expert Hint: An eye tracking study shows that the average recruiter gives 7.4 seconds of their attention to each CV. Keep this in mind throughout this process.
2. Write a CV Summary or Objective That Opens Negotiation
In a business owner CV, the CV profile is your 7-second pitch. Think as a business owner—if you were investing some money in someone, what would you like to know? Mainly what they can do for you, right?
Check out the responsibilities of the position you're applying for, and adjust your targeted CV to focus on illustrating that you have handled this kind of stuff as a business owner. That's how you build a bestselling CV summary statement.
Here's what to include:
Start the first sentence with a power adjective, business owner, years of experience, industry.
In the next 2 to 3 sentences illustrate your successes using numbers and percentages. These will be your achievements in a nutshell.
Close the summary or objective by specifying your intent on running the very business you're applying for.
See how that works out in practise:
Business Owner CV Summary—Example
Do you have what it takes to run a business but you've never owned one? Your entry-level CV template will need a CV objective statement.
Business Owner CV Objective—Example
See the difference between the good and bad examples? The quantified achievements practically jump out at you and cannot be ignored.
Read on for more great CV tips.
Expert Hint: How to write a CV profile? It is best to do this once you have completed the other sections of your business owner CV, especially your job description.
3. Write a Business Owner Job Description and Skills Section That Seal the Deal
Try and remember all the hats you wore again. Think about how good you were at wearing those hats—how much the sales grew, how much budget you saved, how much needless work you saved by doing something smart. Put it into numbers.
Out of these achievements, pick the ones that match the hats you're going to have to wear in your new job. This is what they are interested in, and only that. Everything else can become a cool interview anecdote.
See the self-madeness radiate from this job description:
Business Owner Job Description
If there are some skills you have that you think are relevant, but don't command their own bullet point, add a CV skills section. Make sure that any skills you have which also match the skills in the ad find their way into your CV. This will make for an ATS-compliant CV that will not be discarded before it even sees the light of day.
Business Owner Skills for CV
Customer Service Skills
Attention to Detail
Friendliness
Energetic & Enthusiastic
Verbal & Written Communication Skills
Organisational Skills
Time Management Skills
Teamwork Skills
Collaboration
Critical Thinking
Interpersonal Skills
Decision Making
Detail Oriented
Dependability
Communication
Problem Solving
Perceptiveness
Self Motivated
Sales Platforms: (e.g. Shopify)
Accounting Software (e.g. QuickBooks)
Sales and CRM SoftwareZapier
eBay
Physical Store Diversification
Social Media
Employee Training
Business Plans and Strategy
Marketing Skills
Management
The ResumeLab builder is more than looks. Get specific content to boost your chances of getting the job. Add job descriptions, bullet points, and skills. Easy. Improve your CV in our CV builder now.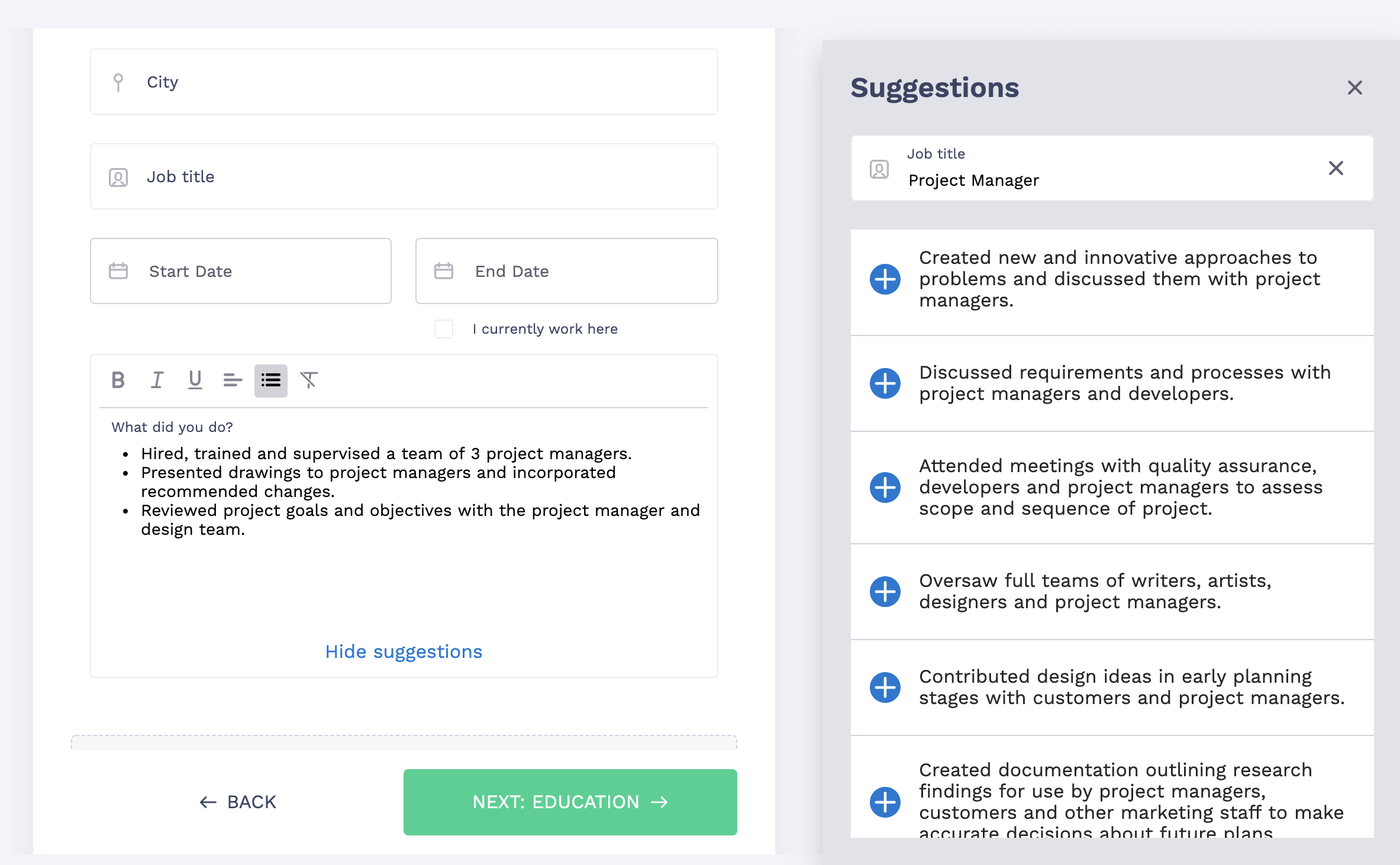 Nail it all with a splash of colour, choose a clean font, highlight your skills in just a few clicks. You're the perfect candidate and we'll prove it. Use the ResumeLab builder now.
4. Turn Your Education Section Into Another Reason To Hire You
Writing a business owner CV is tricky. On the one hand, you're saying "I abandoned all you know, and did this, this and that!", and on the other, you're saying "Please take me back." People who have left the workforce for a prolonged period of time are sometimes distrusted. You weren't meant to come back.
Leave the reasons for your career change for your business owner cover letter. If your business owner experience still doesn't convince your potential employer, a well-crafted education section might. Record your diploma name, school name, and graduation date. Any relevant coursework can also be included in this section (if it's relevant to the position you're applying for).
Here's how to add education on your CV:
Small Business Owner CV Sample—Education
Expert Hint: A good LinkedIn profile can go a very long way. Check out our LinkedIn career advice examples to make your profile as attractive as your CV.
5. Upgrade Your Former Business Owner CV With Added Sections
Let me guess, you didn't start your business right out of high school. Even if you did, there were a multitude of other things you did that may be relevant. Pick your brain, and if you believe something is truly relevant, perhaps it fits in one of these bonus CV sections:
Awards
Foreign Languages
Other skills you haven't included in your other sections
Compare these two examples:
Business Owner CV Example—Extra Sections
You should be set to go.
Expert Hint: Now that you're on your way to writing the perfect CV, remember to create a CV cover letter. Many employers expect to see one, and the ones who don't, will be glad to see one.
Double your impact with a matching CV and cover letter combo. Use our cover letter builder and make your application documents pop out.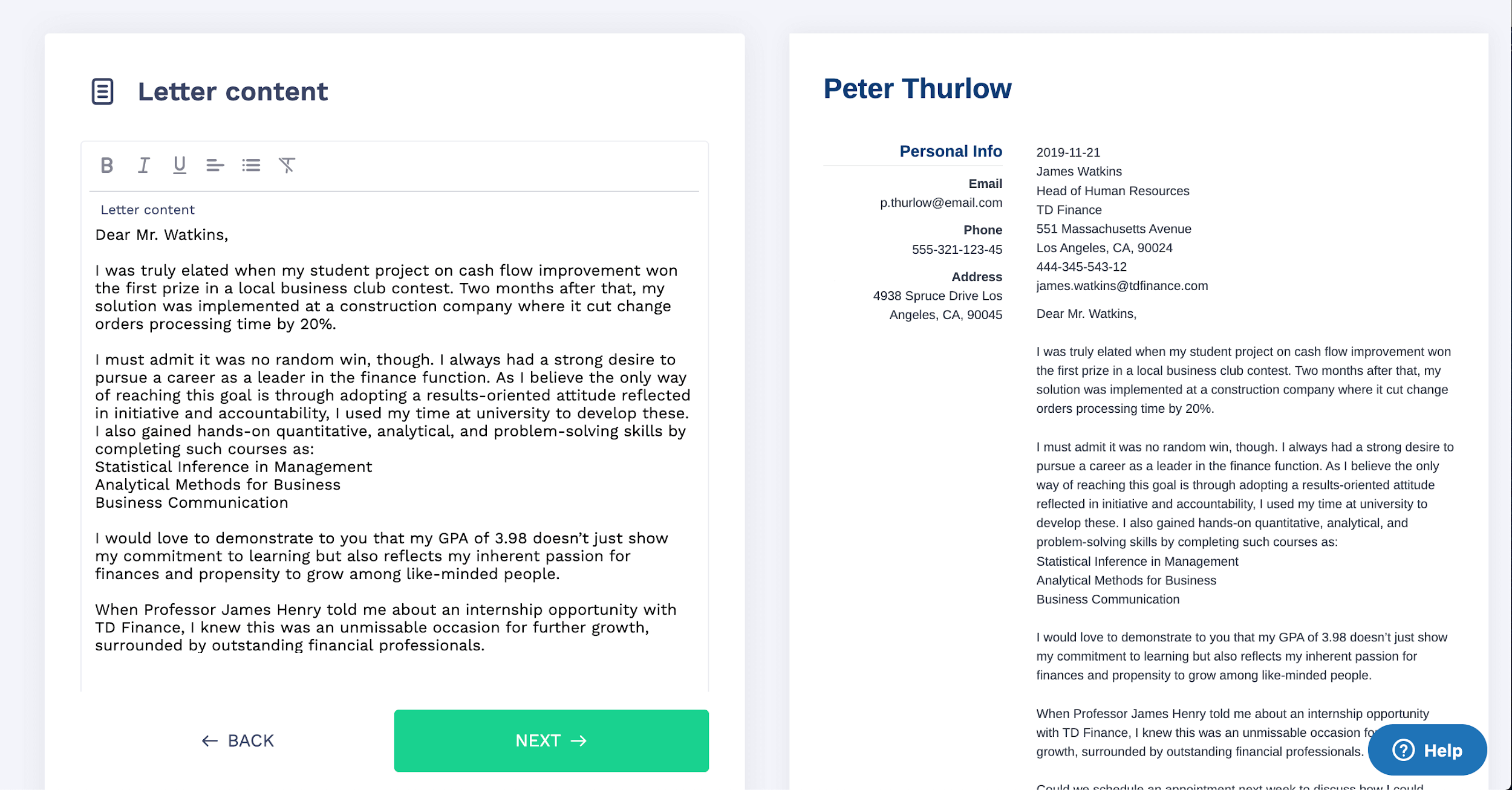 Want to try a different look? There's 18 more. A single click will give your document a total makeover. Pick a cover letter template here.
Key Points
Ensure that your business owner CV is marketable by
Adjusting your CV format—margins, fonts, 1 page, reverse chronological.
Drawing inspiration from ResumeLab's business owner CV sample.
Backing up business owner job description with achievements and numbers that relate to the hats you will wear in your new role.
Adding your certifications, skills and other additional info in separate bonus sections.
Writing a business owner cover letter.
Got questions on how to write a great CV for business owners? Did we help you get your business owner CV right? Contact us by leaving a comment. We'll be happy to reply.