Esthetician CV—Sample and 25+ Writing Tips
Beauty is in the eye of the beholder. And in your hands. Write an enchanting esthetician CV using this guide.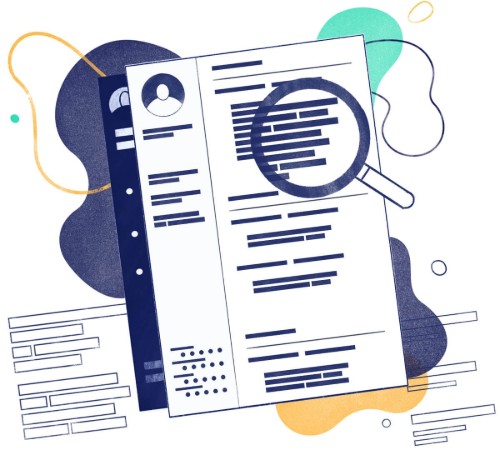 Are you a licenced esthetician, but the only thing peeling is the paint off your walls?
Are you taking contrast showers not for health, but as a consequence of overdue bills?
Whether it's due to the ageing baby boomer population trying to stay young, or the young following trends, one thing's for sure—
There is work for the right esthetician.
Show them that your pH is just right for the job, that you are as perfect for it as a rough loofah for mechanical exfoliation.
First, you need a healthy and glowing esthetician CV.
In this guide:
A glowing and radiant esthetician CV sample.
A guide to the CV format.
Tips for presenting your esthetician skills and education even if you have no experience.
If someone thinks they're getting this job over you, they're in for a cold, Swiss shower.
Save hours of work and get a CV like this. Pick a template, fill it in. Quick and easy. Choose from 21 CV templates and download your CV now.
What users say about ResumeLab:
I had an interview yesterday and the first thing they said on the phone was: "Wow! I love your CV."
Patrick

I love the variety of templates. Good job guys, keep up the good work!
Dylan

My previous CV was really weak and I used to spend hours adjusting it in Word. Now, I can introduce any changes within minutes. Absolutely wonderful!
George
Esthetician CV Sample You Can Copy and Use
Dorothy H. Ortiz
Esthetician
Personal Info
3471 Camden Place
Poughkeepsie, NY 12601
845-231-1943
dorothyortiz@msn.com
instagram.com/ortizbeauty
Summary
Licenced esthetician with 5+ years of experience in skin and facial treatments for up to 50 clients a week. Performed 350+ laser hair removals independently. Grew skin care product sales by 18% by preparing sales scripts. Added £900 in monthly revenue by setting up a refreshment and snack bar. Managed schedules of 5 estheticians, serving 180+ clients a week. Seeking to apply the treatment and business experience as lead esthetician at BeautyGlo.
Experience
Lead Esthetician
exoSpa
2017–2020
Performed up to 50 treatments per week, including skin care, chemical peeling, facials, waxing, microdermabrasion, spray tans, IPL and laser hair removal.
Managed schedules of 5 estheticians, serving 180+ clients per week.
Grew skin care product sales by 18% by preparing sales scripts for estheticians performing treatments.
Added £900 in monthly revenue by setting up a refreshment and snack bar at the front desk.
Completed 350+ laser hair removals independently.
Esthetician
exoSpa
2015–2017
Performed up to 60 treatments per week, mainly skin care and facial treatments.
Worked the front desk, managing appointments for 17 beauty professionals serving up to 700 clients a week.
Drove £4,000 in sales by performing follow-up calls on recent treatments and regulars who hadn't come in for 3+ months.
Education
Continental School of Beauty Culture — Rochester
1,000 Hour Aesthetics Program
2014-2015
Relevant Coursework: Facial Treatments, Body Procedures, Paramedical Aesthetics, Hair Removal, Makeup Techniques, Business Practises
Poughkeepsie Central High School
Graduated: 2014
Certifications
New York State Esthetician Licence
First Aid, CPR, BLS (American Red Cross)
Languages
Spanish—Fluent
Portuguese—Conversational
Key Skills
Effective Communication
Management
Interpersonal Skills
Skin Care Techniques
Laser Hair Removal
Product Sales
Appointment Management
Cold Calling
Considering other positions? See our dedicated CV guides:
Haven't found what you're looking for? Check all our CV samples.
Let's put the foundation on.
1. Beautify Your Esthetician CV Format
You know how you sometimes look at someone in the street for a brief second and think: "That eyebrow is so uneven." Sometimes, when the minor details are not right, they jump right out and spoil the whole effect.
In a job that revolves so much around appearance, would you come in for an interview messy and disorganised? Of course not. Therefore, neither should you send a messy and disorganised CV that is hard to read and comb through.
Give yourself a chance at being read by using an aesthetic CV format. Follow these rules so that your CV looks its best:
Esthetician CV Format
You have the tools, let's start the procedure.
2. Write a Glowing Esthetician CV Objective or Summary
How many times a day do you judge someone at first glance? Your CV awaits a similar fate. Most estheticians' CVs are loaded full of toxins, such as "reliable", "detail-oriented", "organised". Empty statements only make people sick.
Similar story with describing exactly what you do in detail, without describing how well you do it.
Building a weatherproof CV profile is key. For esthetician CVs, it'd be wisest to write a CV summary, and combine describing your study and achievements with setting out your ambitions.
Answer the following questions with one sentence each to compose it:
Who are you? (One power adjective, licenced esthetician, years of experience.)
How well do you know your craft as an esthetician? (Describe using numbers and achievements how well you can perform the functions of the job described in the ad)
What is your one super-achievement?
What can you bring to the table? (1-2 sentences)
Esthetician CV Summary—Example
The good example looks like you worked on this month's Glamour's cover girl. The bad example looks like you tried giving someone highlights seven minutes before closing.
But hold the phone. What if you're advancing your career and writing an entry-level CV for an esthetician CV with no experience?
No need to pull your hair out.
Build a CV objective statement around skills and achievements you already have.
Esthetician CV Objective—Example
For a targeted CV, add the name of the company to which you're applying in your qualifications summary. It will show the recruiter you're not sending a generic CV for every availability.
Expert Hint: How to make starting a CV easier? It is best to do this once you have completed the other sections of your esthetician CV, especially your job description.
3. Pamper Your Esthetician Job Description and Skills Section
It may seem hard to build an outstanding esthetician job description. Everyone is trained to the same standard, and you are limited by regulations in what you can perform. Right, and wrong. As you well know, anyone could perform a facial and acid rinse, but not everyone can manage appointments.
Try to show you can cover the whole spectrum of esthetician responsibilities, and support your versatility with various metrics and achievements in the aspects that correspond to the requirements of the employer. List up to 6 bullet points per job. Use CV action verbs such as performed, improved, developed.
Check out this job description from one of our esthetician CV samples:
Esthetician Job Description
The good example covers everything like a mud bath. It shows that the candidate can handle all the responsibilities, and allows the employer to estimate what they can expect by hiring them.
Follow up your job description with a CV skills section.
Esthetician Skills for CV
Skin Care
Skin Analysis
Make-up Application
Permanent Make-up
Manicure / Pedicure
Facials
Exfoliation / Extraction
Laser Hair Removal
Appointment Management
Cold Calling
Customer Service
Enthusiasm
Friendliness
Hand-Eye Coordination
Interpersonal Skills
Organisation
Problem Solving
Product Sales
Punctuality
Stress Management
Teamwork
Time Management
Verbal & Nonverbal Communication Skills
Work Ethic
Working Under Pressure
Expert Hint: Whether it's due to the 73 million baby boomer population reported by the Census Bureau, or due to Instagram culture, the need for skilled beauticians is skyrocketing. The Bureau for Labour Statistics predicts an 11% growth in esthetician jobs in the next decade, much higher than average. Make sure you make your CV perfect to get the job you want.
The ResumeLab builder is more than looks. Get specific content to boost your chances of getting the job. Add job descriptions, bullet points, and skills. Easy. Improve your CV in our CV builder now.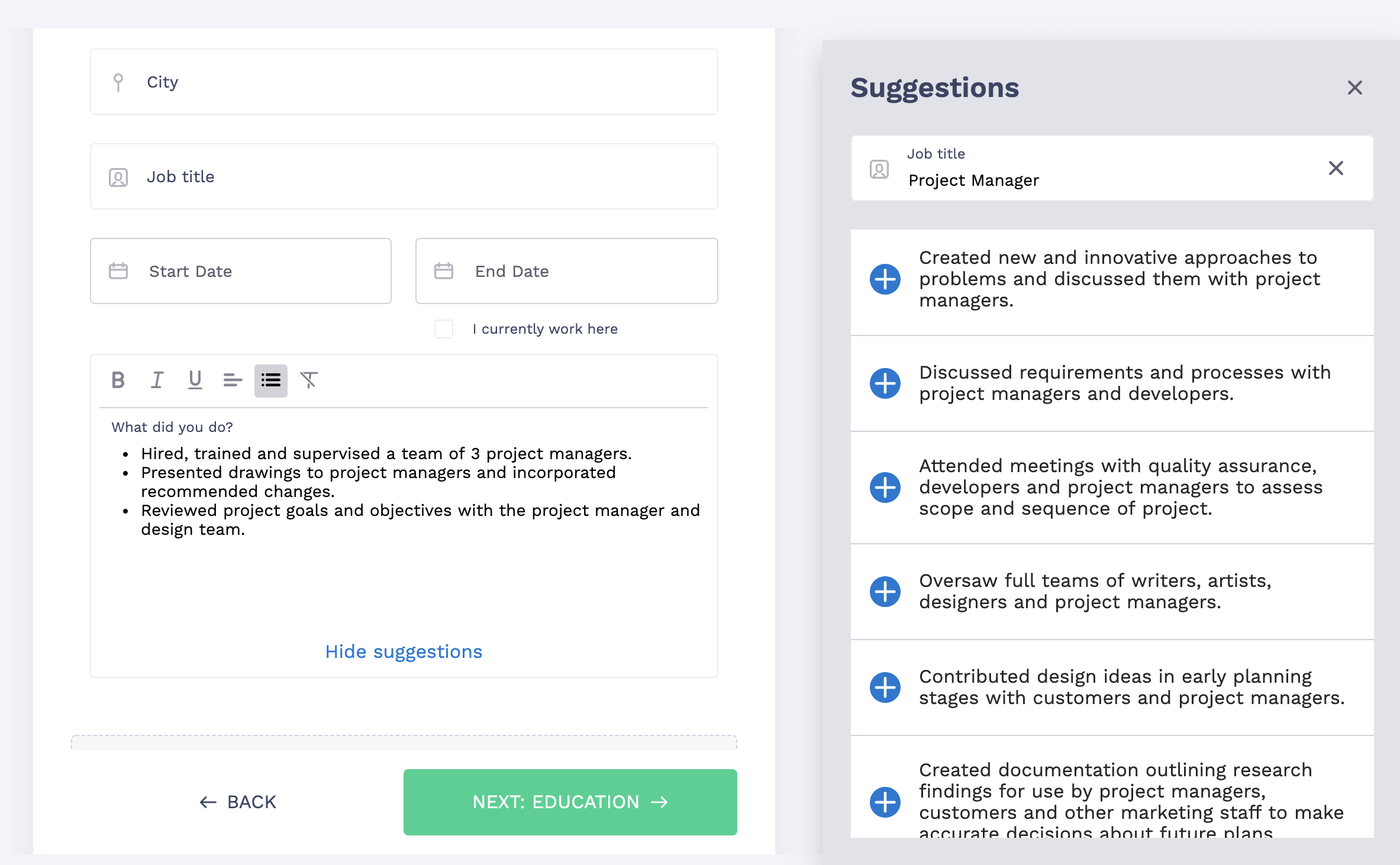 Nail it all with a splash of colour, choose a clean font, highlight your skills in just a few clicks. You're the perfect candidate and we'll prove it. Use the ResumeLab builder now.
4. Scrub Up Your Education Section
Since Cosmetology and Aesthetics training is pretty standard across the board, many esthetician CVs will neglect this section. Presenting your education in the right way can make or break your application.
Follow these CV tips: list your school name, the cosmetology program name, and some relevant coursework or Achievements bullet points if applicable. If you recently graduated high school, feel free to list the name of the school and graduation year, but no more than that should be required.
Here's how to list education on your CV:
Esthetician CV Sample—Education
Expert Hint: If this is your first job out of school, you can find more guidance in our high school CV guide.
5. Apply Some Blush With Added Sections
Now it's time for a final touch, a little eyeshadow and blush. To fill the remaining space, add some bonus CV sections.Begin with a certifications section, since you need to be licenced to practise this profession, so start by listing that.
If you have any other factors that you think may help your application, separate them into sections such as:
Awards
Additional Activities
Foreign Languages
Skills—if you haven't included them as part of your other sections
This will allow greater legibility and information access at first sight, instead of lumping everything together in 'Additional Info' like the bottom of a handbag.
See the after and before from this esthetician CV example:
Esthetician CV Example—Extra Sections
It's that simple!
Expert Hint: Don't forget to write a cover letter. Having one when the employer doesn't require it can't hurt, but not having one when they do, which is about 50% of the time, can land your CV in the trash.
Double your impact with a matching CV and cover letter combo. Use our cover letter builder and make your application documents pop out.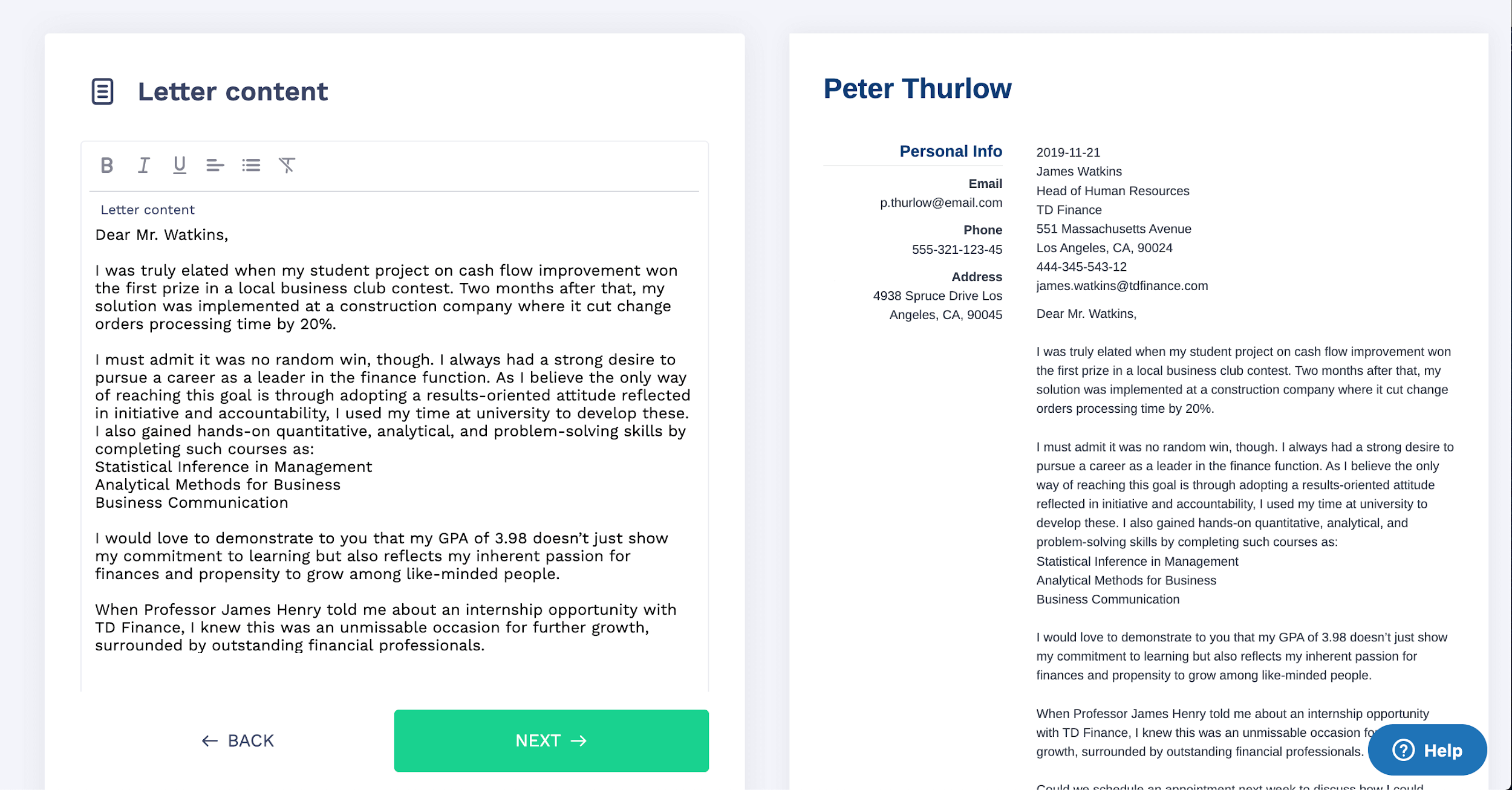 Want to try a different look? There's 18 more. A single click will give your document a total makeover. Pick a cover letter template here.
Key Points
When pampering your esthetician CV:
Stick to the CV format guidelines—margins, fonts, 1 page, reverse chronological.
Powder your esthetician job description with achievements and numbers.
Split up certifications, skills and other bonus sections properly.
Write an esthetician cover letter.

Got questions on how to write a great CV for estheticians? Would you like to see more esthetician CV templates? Did we help you get your esthetician CV right? Leave a comment. We'll be happy to reply.