Production Assistant CV—Sample & 20+ Writing Tips
Though it's an entry-level job, it's also an on-the-job training program to the film industry. To use the learning opportunities, nail your production assistant CV. Here's how.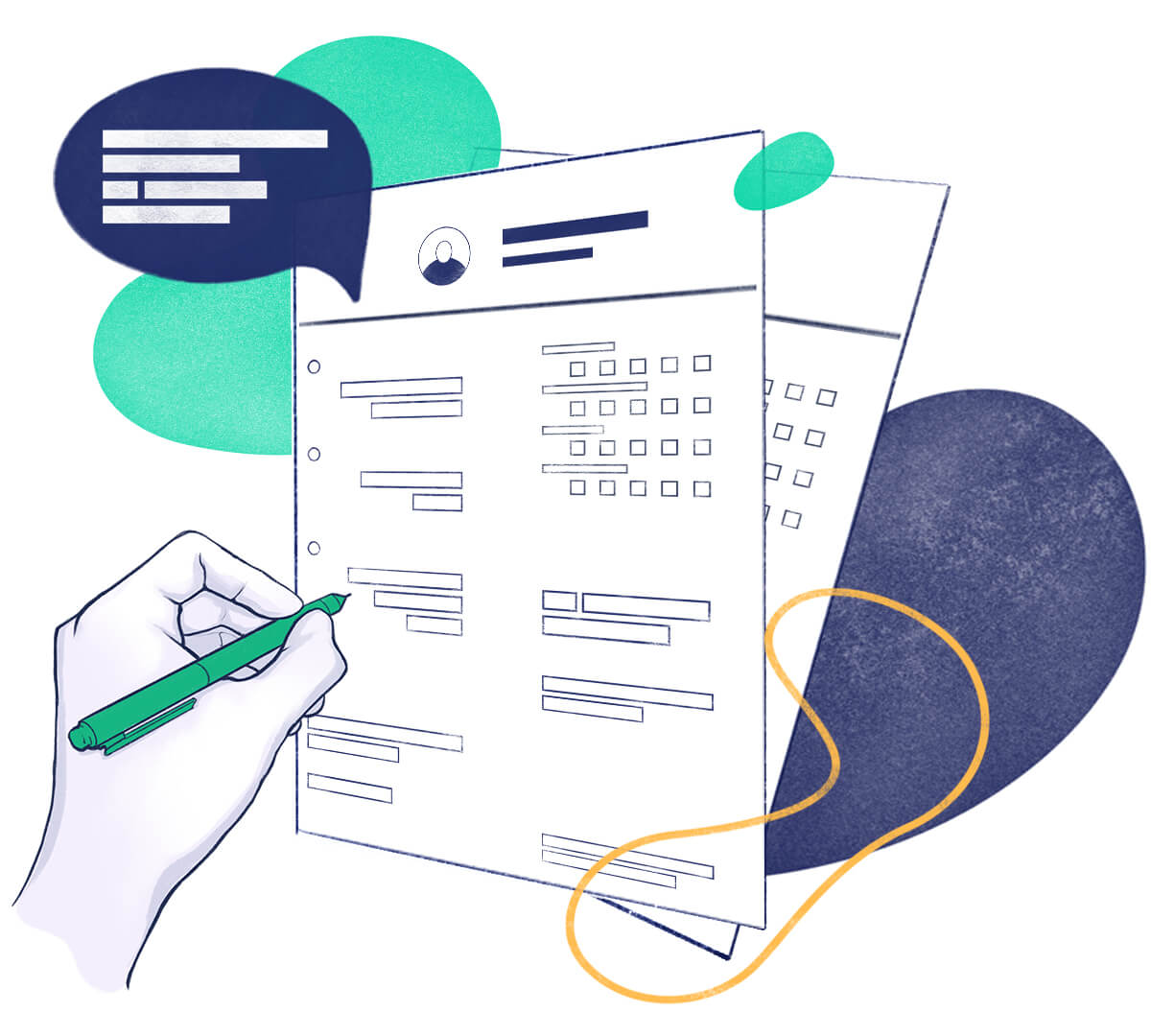 You help bring magic to life on the screen.
You do the legwork that makes everything fall into place.
You're the film industry's jack of all trades (and master of most!).
So why aren't you landing your dream gigs? Well, I happen to know.
Your production assistant CV isn't up to scratch. But that's about to change.
In this guide:
A production assistant CV sample better than most.
How to make the perfect production asst job description for CVs.
How to write a CV for TV or film production assistant jobs that stands out.
Expert tips and examples to boost your chances of landing a PA job.
Save hours of work and get a CV like this. Pick a template, fill it in. Quick and easy. Choose from 21 CV templates and download your CV now.
What users say about Resumelab:
I had an interview yesterday and the first thing they said on the phone was: "Wow! I love your CV."
Patrick

I love the variety of templates. Good job guys, keep up the good work!
Dylan

My previous CV was really weak and I used to spend hours adjusting it in Word. Now, I can introduce any changes within minutes. Absolutely wonderful!
George
If you're looking for other CV guides related to the film industry, though, here's a list of our other guides:
Now__
Production Assistant CV Sample You Can Adjust and Use
Contact Info
Frank Wynne
Production Assistant
(519) 978-4733
frank.wynne@me.com
linkedin.com/fancisjohnwynne
Personal website: filmmatters.io
Professional Summary
Efficient, detailed-oriented film and TV production assistant with 4+ years of experience on various types of sets. Skilled in record-keeping, creating schedules, constructing sets, and preparing research templates. Cut XYZ Studios quarterly costs by 25% through negotiating new catering contracts for the crews across 4 locations. Looking to join ABC Production to help optimise day-do-day production processes.
Work Experience
TV Production Assistant
XYZ Studios, Los Angeles, CA
Jun 2017–Present
Organised and executed mass orders for promotional materials, gifts, and studio equipment.
Successfully negotiated £10,000+ contracts with vendors.
Maintained Artist Library through ordering and logging new titles and keeping track of check-ins and check-outs. Boosted efficiency by 15%.
Managed demo reels requests from artists within the studio.
Collaborated with production leadership to effectively manage the changing of schedule priorities and communicate to all involved parties.
Key accomplishment: Negotiated new catering contracts for 4 crews, cut quarterly cost by 25%.
Assistant
Disney, Emeryville, CA
Sep 2015–Apr 2017
Coordinate production schedule requests with the executive team and corporate departments.
Created and support a friendly and professional atmosphere within the team and production offices
Booked all travel and created detailed itineraries for 15+ filmmakers and executives. Frequently commanded by efficiency and attention to detail.
Set up for meetings and conferences with drink and food trays, tables, and audiovisual equipment.
Assisted with the event preparation and the execution of TTF events.
Setting up for meetings and conferences with drink trays, etc.
Education
BA in Content, Media, and Film Production, 3.9 GPA
California Institute of the Arts, Valencia, CA
2015
Relevant coursework: Assistant Directing, Introduction to Cinematography, Production Design, Project Production & Development
Key Skills
FileMaker Pro
MS Word, MS Excel
Photoshop
Google Drive Suite
Camera Boom, Light Boom, Mic Boom
Highly-Organised
Good Communicator
Able to Work Under Pressure
Additional Activities
Non-profit blogger at filmmatters.io
Volunteering every 2 weeks at the American Heart Association in Los Angeles.
That's a killer CV, isn't it? Soon, yours will be equally great.
Here's how to write your production assistant CV in 5 simple steps:
1. Start With the Best Production Assistant CV Format
Few work environments are as chaotic as a film set.
Everything happens at once. Unexpected problems pile up. No one seems able to control the chaos… Enter:
You.
You're organised. Dependable. Always on top of things. So—
Let the formatting of your PA CV reflect that. Follow these steps:
Production Assistant CV Format
Reverse-chronological order: last or most recent job first, followed by the one before it, then the previous one, and so on.
Good font for a CV: an all-time classic such as Cambria, Calibri, Georgia, or Verdana. No Times New Roman, please, we're not in the 80s anymore.
Single-inch margins on all 4 sides.
Plenty of white space.
One-page only if you have less than 5 years of experience. More than that? A two-pager will work fine.
Legible CV sections with big headings: Contact Info, CV Profile, Work Experience, Education, Skills, Additional Activities.
Once done, save your CV for production assistant jobs as a PDF file to keep the layout intact.
Just remember to double-check with the job posting. Some companies will only accept CVs in DOC.
Expert Hint: While employment in broadcasting, in general, has plummeted in the US in the past 20 years, jobs for directors' and producers' assistants are on the rise and projected to grow further. The industry might feel to be in decline, but your niche is safe. What does it mean for you? Don't settle for less. Wait for the perfect opportunity—you should be spoilt for choice.
2. Write a Stunning Production Assistant CV Objective or Summary
It's that paragraph at the top of a CV—called a CV profile.
Think of it as a trailer for the rest of your CV. It has to convince the producer to read the whole document.
How to make sure your CV profile delivers? By offering value.
Got relevant experience in film or TV production? Write a summary statement.
Start with an adjective followed by your job title (e.g. Dependable TV production assistant).
Add 2–3 skills and achievements.
Promise to help achieve their goals.
See these examples for reference:
Sample CV Examples: Summary
The difference is clear, right?
The first example says "I've delivered solid results and I'll help your team achieve your goals."
The second one? It's so generic it could just as well read "I'm a production assistant."

Little to no experience in the field? Take heart. Make your CV stand out with a nicely-phrased career objective.
The key to success? Don't just write about what you want out of the job. Instead, show them what skills you've mastered so far and how well you'll fit in. See how it works in practise.
Sample Entry-Level Production Assistant CV Objectives
Netflix just called. They're hiring you for the next season of Russian Doll.
Not awful. But this candidate failed to provide any proof of his skills.
Anyone can claim to be "well-organised." And everyone wants to gain experience. That's just not enough to convince the hiring team you're worth getting a shot.
Expert Hint: While this section comes at the top of your CV, write it last. Create the rest of your production assistant job application first, then pick the best bits and compile them into the CV profile.
The ResumeLab builder is more than looks. Get specific content to boost your chances of getting the job. Add job descriptions, bullet points, and skills. Easy. Improve your CV in our CV builder now.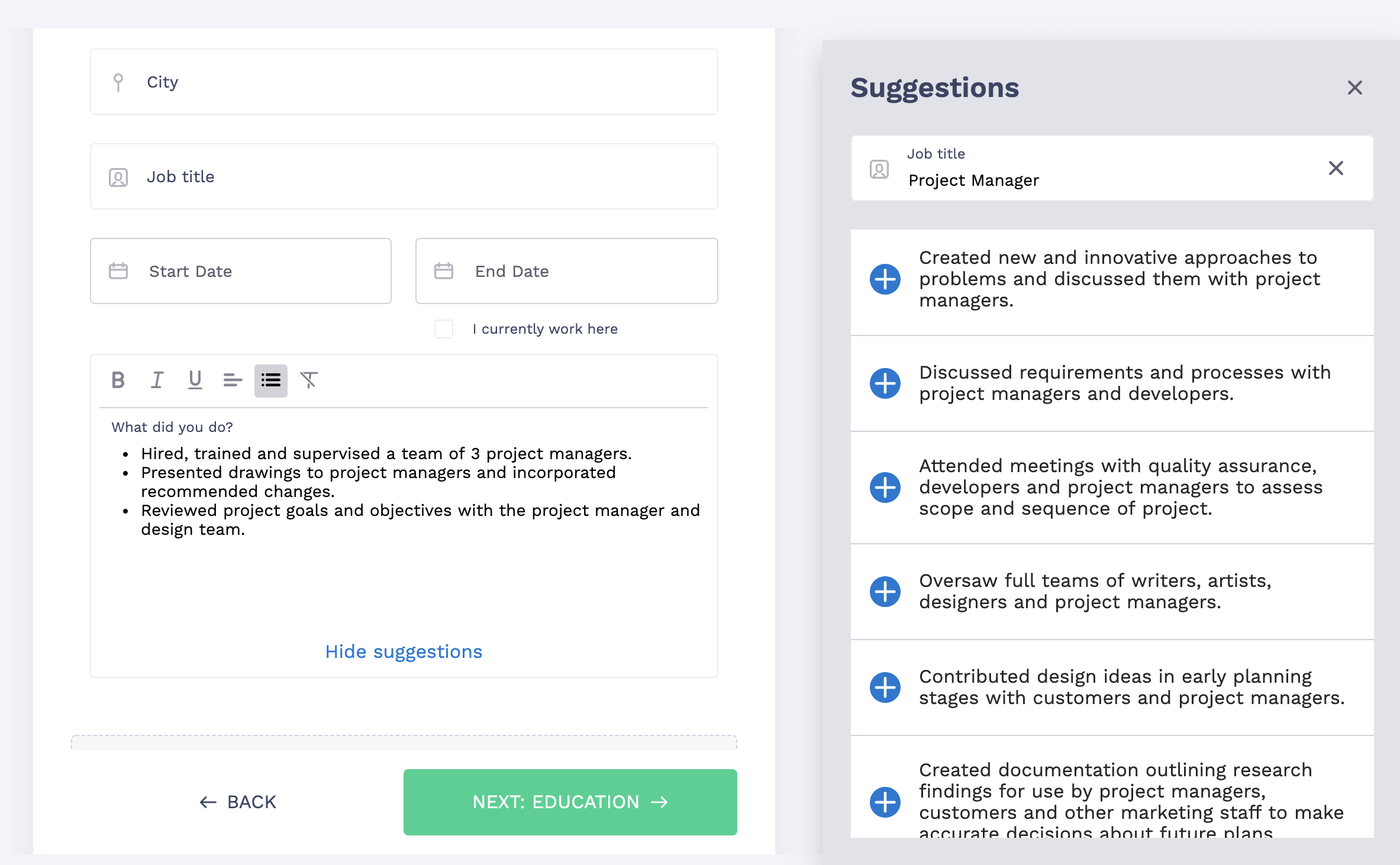 3. Write a Perfect Production Assistant Job Description and Skills Sections
There's no such thing as a "typical day" in the work life of a production assistant.
The pace of your work would make Fast & Furious feel like a psychological drama.
Your work experience section has to show you are:
Able to tackle multiple problems at once.
Versatile and dependable.
Here's how to do it:
Read the job ad carefully and spot the most important requirements.
Think of your experience that matches those. Highlight it on your CV.
Instead of just listing things you did, illustrate how well you did them.
Quantify your achievements whenever possible. Numbers pop!
In every entry, include: your job title, name of the company, dates worked, and bullet points describing your duties and accomplishments.
Check out these two, very different, excerpts from production assistant CVs.
Production Assistant CV Samples: Work Experience
The good example? Wow, who is this candidate? A future James Cameron of sorts?!

The bad one is boring. Forgettable. Flat. Next, please!
One more thing—
While the work history section on your PA CV has to provide evidence of your varied skills and talents, you should still include a separate CV skills section with a snapshot of your key areas of production expertise.
Just don't cram your CV with production skills you think you have in whatever order you deem right. Focus on the job ad. List only those skills that are relevant to this particular gig.
For reference, here's an extensive list you can pick from.
Production Assistant Skills Examples
Hard Skills:
Clearing Copyrights
Budgeting
Scheduling
Walkie Talkies & Earpieces
Physical Fitness
Operating Equipment: Mixers, Lighting Rigs, Teleprompters, Microphones
Software: Photoshop, Premiere Pro, Final Cut Pro X, MS Office, Avid
Soft Skills:
Time Management
Organisation
Attention to Detail
Teamwork
Active Listening
Problem-Solving
Creativity
Critical Thinking
Expert Hint: Considering a major career change, or simply a transition to a specific industry? Think about digital marketing! Your skills are very much sought-after by digital marketing employers. Studies have revealed most marketing companies are planning to expand their budget for video creation in the upcoming years. Sound like a hot prospect? Browse our collection of sample CVs for other positions to seek inspiration!
4. Turn the Dull Education Section into a Reason to Hire You
Listing education on a CV is easy, most of the time.
Especially if you're an experienced production assistant. If such is the case, limit this section to:
Degree
University Name
Major
Minors (if applicable)
Graduation date
Writing an entry-level CV for production assistant jobs no experience to showcase? It's time all those courses you slaved over started paying off!

Expand your education section by adding extra details:
Relevant coursework
Favourite fields of study
Academic achievements
Extracurricular activities
Expert Hint: What about your GPA? Include it only if it's higher than 3.5. Also, you don't need to add it if you've had more than a year of full-time experience. Your work history is more important than grades.
5. Add Extra Sections to Make Your CV Shine
With all the above sections filled out, that's a decent CV you've got there.
But you don't just want a decent job. So—
Let's punch your CV up a notch.
If you have some of these, add a few "additional" sections to your CV. Here are some ideas to consider:
Industry blog
Influencing on social media
Solo projects/freelancing work
Conferences
Anything that shows your drive and a sense of purpose in pursuing a career in TV, film, or other areas of entertainment.
Expert Hint: Once done with your CV, create a short and sweet cover letter too. Depending on the source, between 20% and 50% of employers expect covering letters for CVs.
Double your impact with a matching CV and cover letter combo. Use our cover letter builder and make your application documents pop out.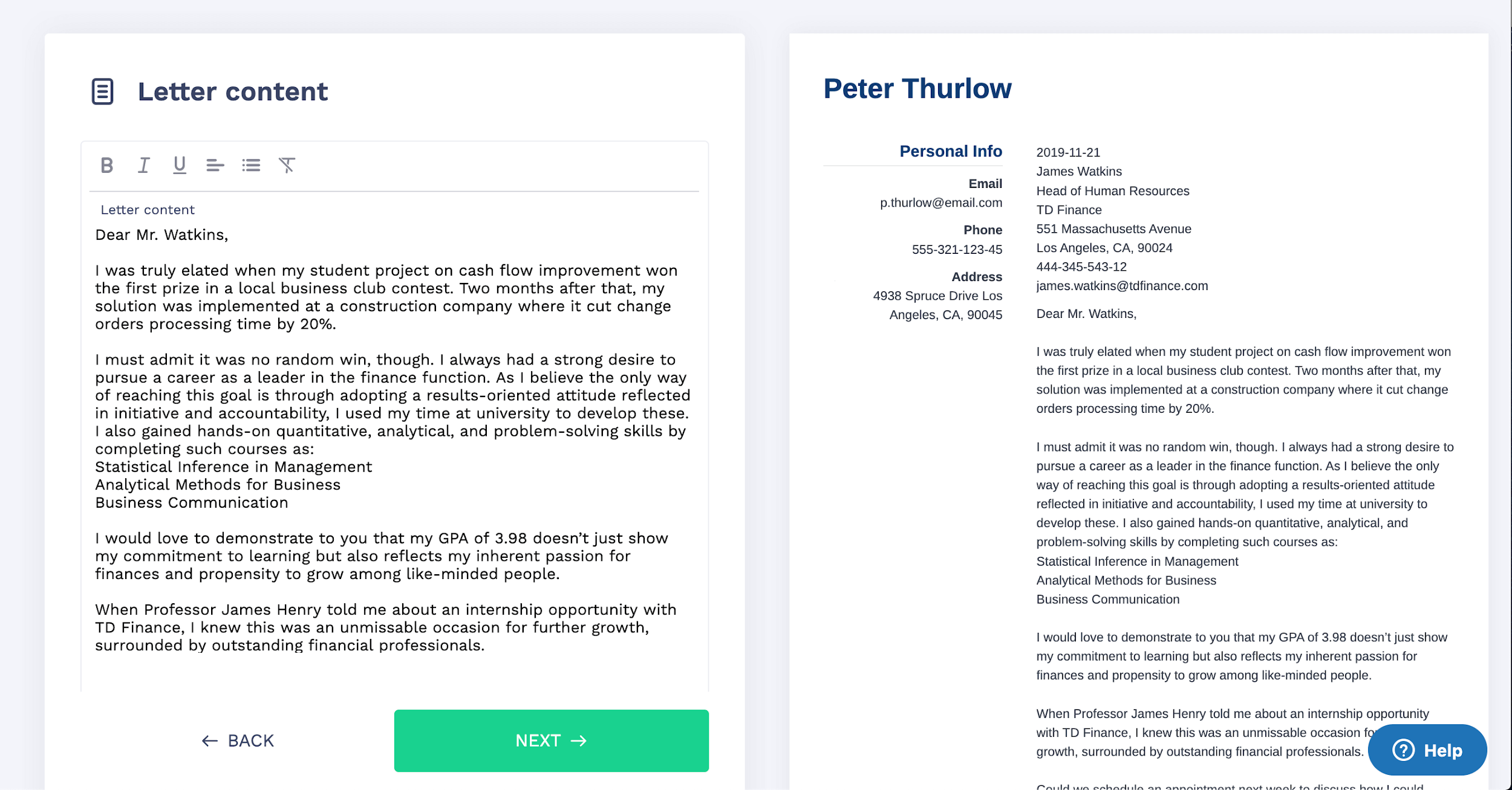 Key Points
For a job-winning production assistant CV, follow these steps:
Use the reverse-chronological CV format with lots of white space, big section headings, and elegant layout.
At the top, put a carefully-crafted CV profile: a summary or an objective.
In your work experience section, highlight achievements over daily duties. Quantify whenever you can.
List skills that are relevant to this position, not just any production assistant skills.
Add extra sections: conferences, solo projects, certifications, industry awards.
And there you have it. Everything you need to know to write a CV that lands Hollywood-level jobs. If you have more questions or need help, let me know in the comments section—I'll get back to you straight away.