Dance CV—Examples and 25+ Writing Tips
You can battement tendu and grand jeté with the best of them. But you'll look like an amague unless you prove your dance skills. Do it with this expert dance CV sample.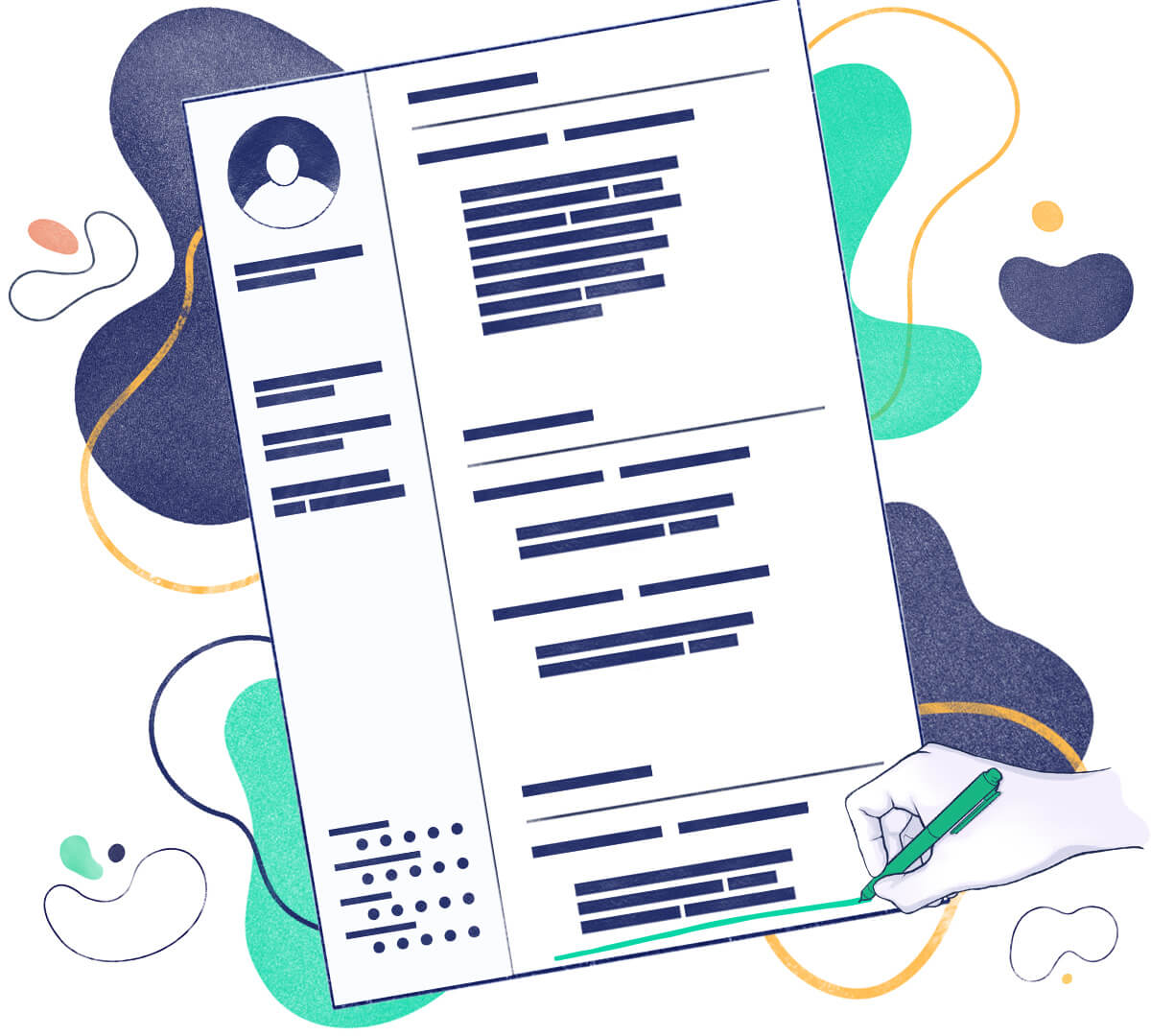 No wonder it's not easy.
Artistic directors and choreographers wade through hundreds of dancer CVs.
They reject most.
If you look like an empty leotard, they'll skip you.
But take heart.
With a little training, you can brisé toward your next big role.
In this guide:
A sample dance CV better than most.
How to write a CV for dance jobs that leaves them breathless.
How to make the perfect dancer job description for CVs.
Why you can't just list your credits (and what to do instead).
Save hours of work and get a CV like this. Pick a template, fill it in. Quick and easy. Choose from 21 CV templates and download your CV now.
What users say about Resumelab:
I had an interview yesterday and the first thing they said on the phone was: "Wow! I love your CV."
Patrick

I love the variety of templates. Good job guys, keep up the good work!
Dylan

My previous CV was really weak and I used to spend hours adjusting it in Word. Now, I can introduce any changes within minutes. Absolutely wonderful!
George
Looking for other gigs, too? See our guide:
Haven't found what you're looking for? Check all our CV Examples for Over 200 Jobs.
Let's see an example:
Dance CV Template You Can Copy and Use
Zoe Gigot
Dancer
Personal Info
Phone: 909-416-7643
E-mail: zoezgigot@gmail.com
linkedin.com/in/zoezgigot
instagram.com/zoezgigot
Summary
Professional dancer with 7+ years of experience. Seeking to excel at Los Angeles Ballet. At American Contemporary Ballet, performed featured roles of Clara and Sugar Plum Fairy in The Nutcracker. Also played Odette in Anthony Johnson's Swan Lake at Ballet Magique. Corps de Ballet in Battle of the Year (film).
Professional Experience
American Contemporary Ballet
Corps de Ballet and Featured Roles
2018–2019
Lincoln Jones':
The Nutcracker - Clara
Swan Lake - Odette
Ballet Magique
Corps de Ballet and Featured Roles
2014–2018
Anthony Johnson's:
The Nutcracker - Sugar Plum Fairy, Snow Flake
Don Quixote - Aldonza Lorenzo
Cinderella - Anastasia
Giselle - Bathilde
Sylvia - Aminta
Battle of the Year (Film)
Corps de Ballet — Director, Benson Lee
2013
Anaheim Ballet
Corps de Ballet
2012–2014
Recognised by artistic director for form.
Education
BA Dance, USC
2008–2012
Excelled in repertory & performance classes.
Conducted senior project in dance technique.
Summer Courses
Los Angeles Ballet, 2007
Marat Daukayev School of Ballet, 2006
Awards
Cover of Dance Magazine, May 2018.
Featured in article in Dance Studio Life.
Additional Activities
Study classical music.
Teach weekly yoga classes.
Hard Skills: Ballet, hip hop, jazz dance, French
Soft Skills: Interpersonal skills, teamwork, active listening, communication
Here's how to write a dance CV that clicks:
1. Select the Best Dance CV Format
You've got poise. Grace. Skill.
Make them see that, with a professionally-formatted CV.
It starts with the reverse-chronological CV layout. That puts your most recent credits near the top.
Here's how:
Dance CV Format
Use 1-inch margins in a single-page CV.
Add white space between paragraphs.
Employ a common CV font like 10–12pt Calibri or Garamond.
Create CV sections like Heading, Summary, Professional Experience, Education, and Skills.
Save your work as a PDF. A PDF CV moves gracefully from one computer to the next.
Don't add a photo. Save that for your portfolio website—or attach it to the back.
Expert Hint: There are only about 150 ballet companies in the US, and precious few other venues that hire dancers. Your dancer CV has to glow like Misty Copeland.
2. Make a Dance CV Objective or Summary
Imagine this:
You're slogging through a pile of 500+ dance CVs.
They all look "pretty good." But you only need five dancers.
Now turn the tables. Why should anyone choose you?
Chin up. Make them notice you with a well-crafted CV summary or CV objective.
That's just a quick paragraph that matters to the artistic director.
Add:
An adjective or two (professional, capable)
"dancer"
Years of experience (1+, 8+)
Your goal (excel at Los Angeles Ballet)
Best dance moments (played Odette in Swan Lake at Ballet Magique...)
Tip: make your best dance moments match the job, and write it last for a smooth transition.
These professional dance CV examples show how:
Dance CV Summary—Example
The difference is clear.
Both samples reference The Nutcracker and Swan Lake.
But one adds American Contemporary Ballet, Ballet Magique, Clara, and Odette.
But wait—
Are you writing a professional dancer CV with no experience?
You still need proof.
See these dance CV examples for balance:
Dance CV With No Experience [Objective]
Don't miss that.
The second of those dancer CVs with no experience begs for a chance.
But the first shows you've earned it.
Expert Hint: Most dancers work in theatres or dance schools. In a dance instructor CV, it helps to show you've worked in a similar position in the past.
The ResumeLab builder is more than looks. Get specific content to boost your chances of getting the job. Add job descriptions, bullet points, and skills. Easy. Improve your CV in our CV builder now.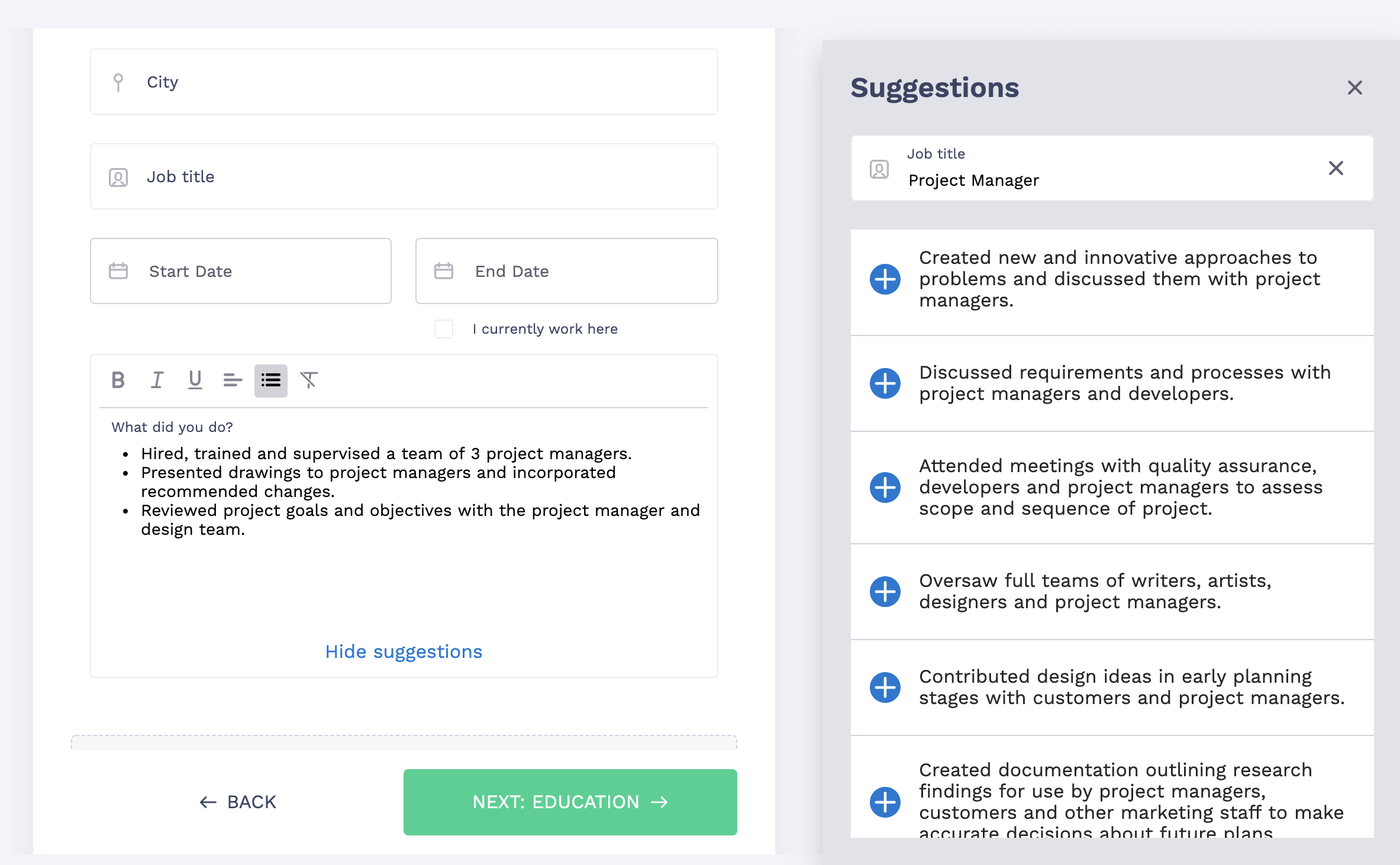 3. Write a Graceful Dance Job Description and Skills Section
Don't make the choreographer read through everything you've ever done.
That's exhausting.
Just pick the few credits that'll wow him.
For instance, does the company do Nutcracker every year? What about Swan Lake?
If you've done those, say it. But also say what company you worked for, and the choreographer. Add your role (if any).
And put your last job first.
Emulate the first of these dance CV samples:
Dance Job Description for CV [Sample]
The difference?
The last of those dance CV examples uses the wrong order.
Sure, it "shows the progression of your career." But—
What if the director has 600 dancer CVs to read? (She does!)
She'll never get to your "progression" if you bury roles like Clara and Odette down deep.
Next—an entry-level CV:
Entry-Level Dance CV Job Description [Sample]
Don't have even that much dance experience?
Don't pull a Madame Butterfly just yet.
Make your education and training section longer. Then put it higher on your CV.
That's next.
Need a dance skills list for CVs?
Find CV skills (or CV keywords) in the call for auditions.
List those on your CV or try this list:
Dance Skills List
| | |
| --- | --- |
| Hard Skills | Soft Skills |
| Ballet | Interpersonal Skills |
| Jazz Dance | Teamwork |
| Hip Hop | Communication |
| Contemporary Dance | Creativity |
| Ballroom | Physical Stamina |
| Tap | Work Ethic |
| Foreign Languages | Positive Attitude |
| Choreography | Empathy |
| Music Theory | Flexibility |
| Floor Work | Discipline |
Expert Hint: The average dancer makes less than £20 an hour. Some make £100,000 a year or more. To get higher in the range, customise your CV.
4. Wow Them With Your Education
Especially in a dancer CV with no experience, education matters.
But an education CV section can't blend in like Corps de Ballet.
So—
Research the artistic director a little.
What things does she care about?
Put those in your education section.
This dance CV sample shows the routine:
Dance CV Example—Education
In a dance CV for university, your education can cover the whole page.
Expert Hint: Dance jobs are shrinking, not growing. But you can still get a high-paying job right out of school. List educational achievements that match the job you're vying for.
5. Add Background Sections to Your Dance CV
They'll want to know you're passionate.
So show them with a few "other" sections in your dancer CV, like:
Awards
Portfolio website
Conferences
Groups
Freelancing
Publications
Media appearances
Additional activities
Hobbies
Fitness
But don't overdo it.
Let your credits and education do most of the talking.
The next of our dance CV examples is en l'aire:
Dance CV—Extra Sections
Expert Hint: Write a cover letter. Your CV for dance jobs stands a better chance if you write one. In it, show your love of dance and why you fit the company so perfectly.
Double your impact with a matching CV and cover letter combo. Use our cover letter builder and make your application documents pop out.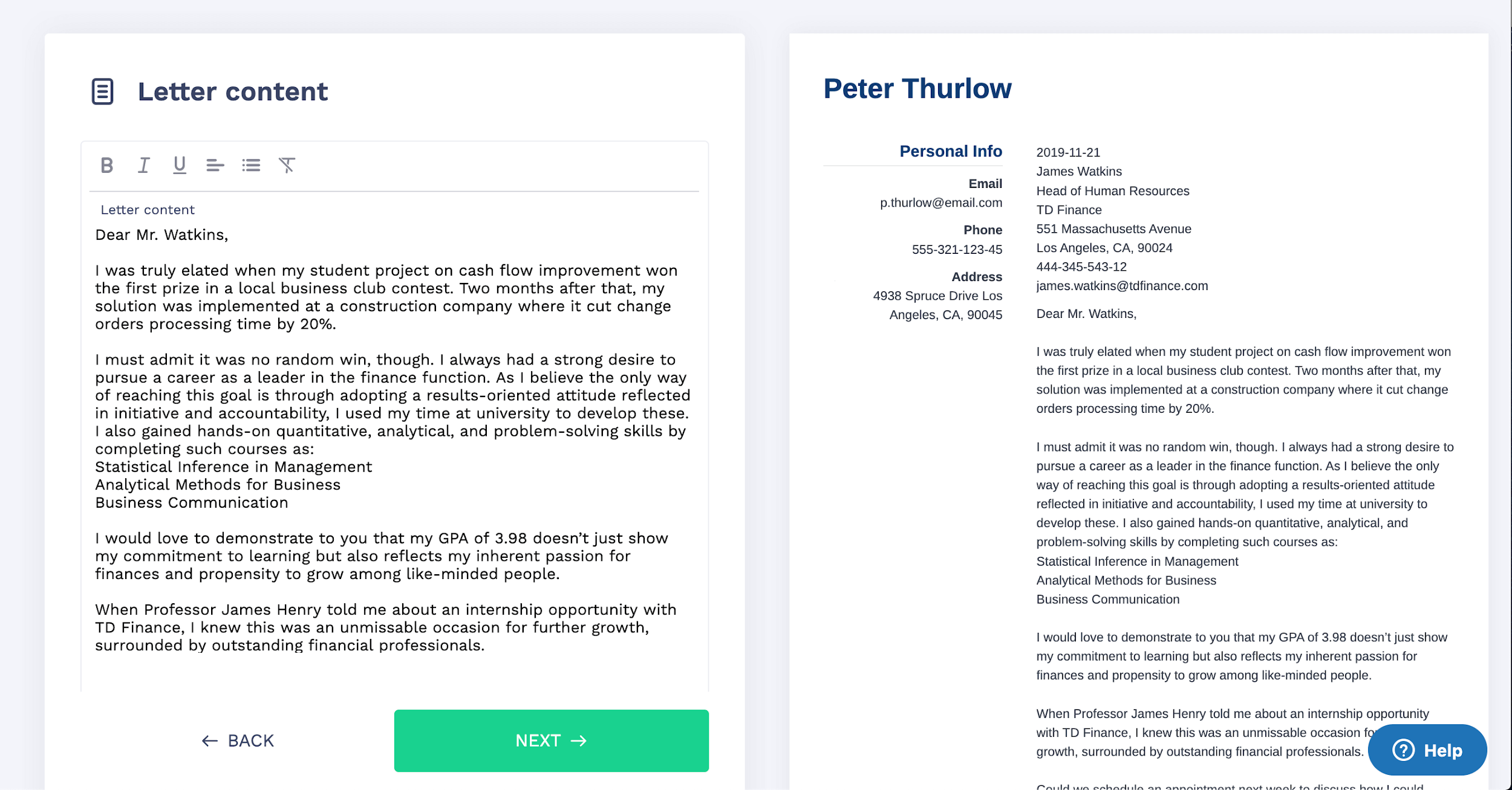 Key Points
Here's how to write a dance CV that works:
Use the dance CV template up top. It lets you fit your skills to the artistic director's needs.
Show your credits in reverse-chronological order.
In a dance CV for university, stretch your education to fill most of the page.
Add "other" sections that express your passion for motion.
Got questions on how to write great CVs for dance jobs? Not sure how to show dance on a CV? Leave a comment. We'll be happy to reply!