Sales Associate CV Sample (Examples & 25+ Writing Tips)
A sales associate CV sample that will get jobs. Create your CV for sales associate positions fast with insider tips and examples. Read more!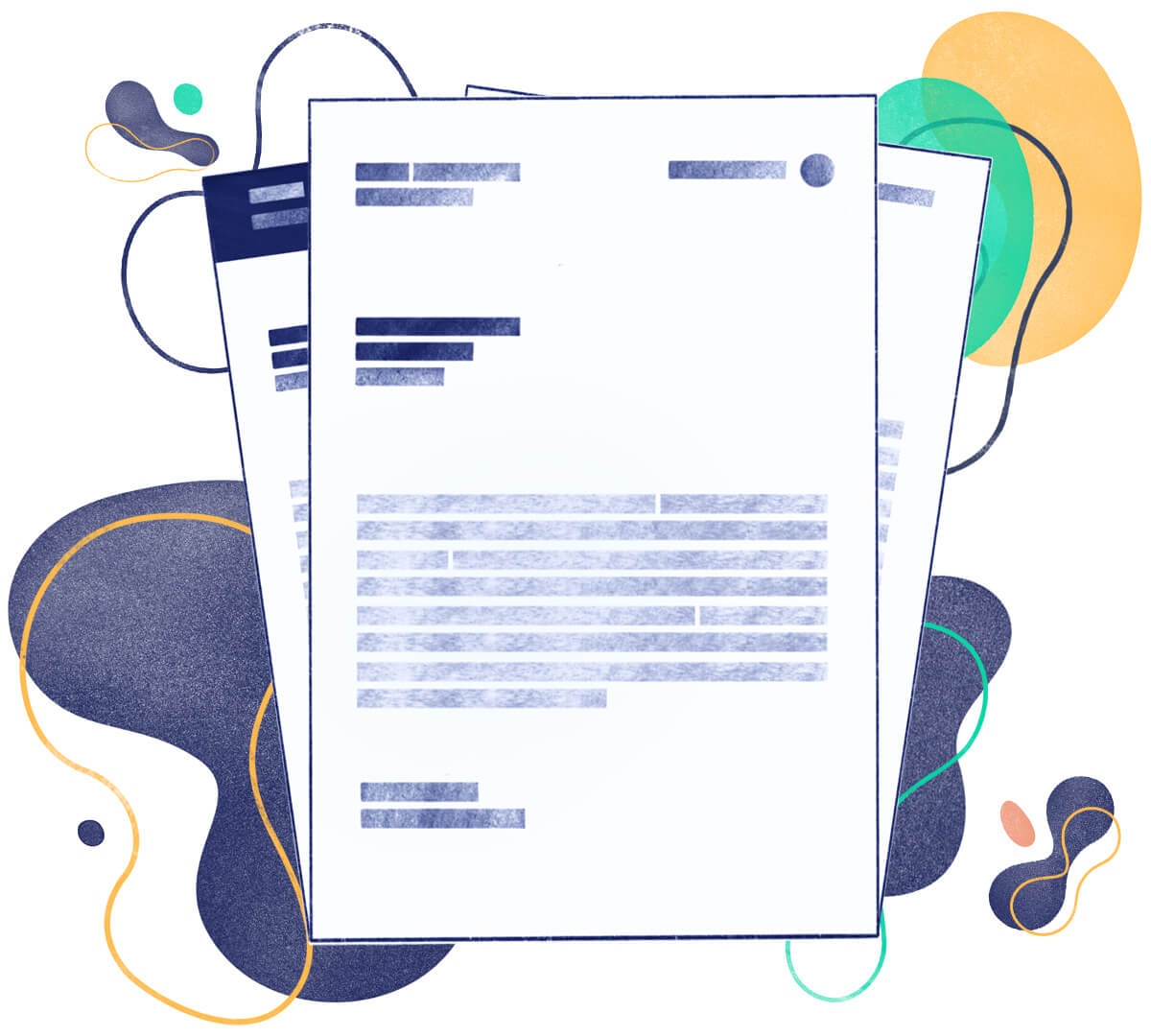 You could sell a fridge to a penguin. You could sell this pen to literally anyone.
But can you sell yourself with a professional sales associate CV?
Are you sure you're getting all those interviews you deserve?
Even if not, we're about to fix that.
This guide will show you:
Sales associate CV examples better than most.
How to ace that retail sales associate job description on a CV.
How to write a CV for sales associate jobs that gets the interview.
Why picking the right few achievements is the #1 key to get hired.
Save hours of work and get a CV like this. Pick a template, fill it in. Quick and easy. Choose from 21 CV templates and download your CV now.
What users say about ResumeLab:
I had an interview yesterday and the first thing they said on the phone was: "Wow! I love your CV."
Patrick

I love the variety of templates. Good job guys, keep up the good work!
Dylan

My previous CV was really weak and I used to spend hours adjusting it in Word. Now, I can introduce any changes within minutes. Absolutely wonderful!
George
Want to see more salesperson CV examples for other professions in sales and retail? See one of our dedicated guides:
Haven't found what you're looking for? Check all our CV Examples for Over 200 Jobs.
Now, check out this professional sales associate CV sample. Read on for a breakdown of what makes it so great.
Sales Associate CV Example You Can Copy, Adjust, & Use
Bill Buffet
Senior Sales Associate
512-462-0001
bill.b.buffet@me.com
linkedin.com/in/billbarrybuffet9
Summary

Motivated and highly professional Sales Associate with 6+ years of experience. Achieved a 42% increase in sales over the past year. Maintained 93% positive customer reviews and 21% above average repeat customer scores. Seeking to leverage proven skills in sales and customer loyalty to boost Armani Menswear KPIs.
Experience
Senior Sales Associate
Tommy Hilfiger, Columbus, OH
2015–present
Voted Ohio's Salesperson of the Year in 2017.
Continuously exceeded monthly sales targets by over 20%.
Achieved a 42% increase in sales over the past year by building customer loyalty through fostering stronger relationships.
Handled customer-service including POS, sales, and inventory management.
Key achievement: Developed a new system of internal trainings and knowledge-sharing, helping the team resolve 96% of customer complaints without delegating to senior management (14% increase in 4 months).
Sales Associate
American Outfitters, Cleveland, OH
2012–2015
Resolved all customer inquiries and complaints.
Exceeded sales targets by 5% in my first year.
Consistently exceeded sales targets by at least 9% for every subsequent year.
Managed to upsell products by focusing on customers' past purchases.
Key achievement: Contributed to the company's local Facebook page, bringing in 25,000 new fans in 6 months.
Retail Clerk
Adidas Originals, London, OH
2010–2012
Exceeded sales targets for all years by 7% on average.
Overall 93% positive ratings from customers in post-sales surveys.
Managed to upsell products by focusing on customers' past purchases.
Education
High School Diploma
Cherryville High School, Cherryville, OH
2011
POS Skills
Square
Shopify POS
Unicenta
Erply
Other Skills
Tracking Frequent Customers
Communication Skills
Anticipating Customer Needs
Time Management
Courses and Certificates
Online Course in History of Textile Manufacturing, The University of Chicago, 2018
Executive Certification, Institute of Sales Management, 2016
Associate Certification, Institute of Sales Management, 2012
1. Use a Professional Sales Associate CV Template
The first impression starts here—
No one will read your CV if it's not properly formatted. Start by dividing your CV into separate sections. Make it easy for recruiters to spot what interests them.
Sales Associate CV Template
Contact Information
Summary or Objective
Experience
Education
Skills
Additional Sections
Remember to keep your CV formatting neat and elegant:
Use the reverse-chronological CV format, this way your most recent position gets the most attention.
Use professional CV fonts: 11–12pt for the main body and 14–16pt for section headings.
Set 1-inch margins on all sides.
Be generous with white space.
Make your CV one-page long. No more, no less.
Expert Hint: Once done, save your sales CV in PDF. But double check with the job ad—some employers still expect Word CVs.
2. Write a Mouth-Watering Sales CV Objective or Summary
A CV profile is a short, snappy paragraph at the top of your CV. It works like a sales pitch for your whole job application. It can take the form of a CV summary, CV objective, or summary of qualifications. Here's which one to choose:
Experienced in sales? Write a sales associate CV summary. Make an outline of your career and highlight some of your proudest wins (e.g, exceeded targets).
Barely starting out as a sales associate? Pick a CV objective. Discuss what retail sales skills you've learned so far and how well you'd fit in.
Whichever one is right for you, keep two things in mind:
One, always make an offer in your summary statement. Think about this—
According to a HubSpot study, almost 70% of buyers rank "listening to their needs" as their #1 priority. In you sales associate CV summary or objective, address the needs of your employer.
Two, mention the name of the company to which you're applying. True, that means you cannot just spam one general sales CV around. And that's precisely the point. Personalization works wonders (and, as a salesperson, you surely know it!).
See these examples of sales associate CVs for reference.
Sales Associate CV Summary Examples
Sample Sales CV Objectives
Expert Hint: While this section comes at the top of your CV, write it last. First, write the experience, education, and skills sections. Next, choose the best, most relevant bits and put them together in your sales associate CV objective or summary.
3. Write a Sales Associate Job Description for a CV
As Peter Thiel wrote in Zero to One, "Like acting, sales works best when hidden."
The one thing about sales that should not be hidden?
Achievements in your retail sales associate CV job descriptions.
Here's how to make sure they shine like diamonds in Harry Winston's Fifth Avenue Vault.
How to Describe Your Sales Associate Duties on a CV
Start with your current or most recent sales associate job.
Follow it with the one before it, and so on.
List your job title, the company name, and the dates worked.
Under each position, add up to 6 bullet points. The more recent the job, the more bullet points in the job description. Cut the number of bullets as you go back in time.
In your retail sales associate job descriptions, don't just list sales associate responsibilities and tasks. Focus on quantified accomplishments.
Use CV action words: "maintained product knowledge," or "developed customer loyalty," instead of "responsible for maintaining product knowledge and developing customer loyalty."
Below your bullet points, add a "key achievement" subsection. Describe your most important professional win.
Pay close attention to the sales associate job description. Highlight keywords related to responsibilities that will be expected of you and use those words on your CV. Always target your CV for the job you're trying to land.
Like the candidate from our sales associate CV example did:
Retail Sales Associate CV Example: Job Descriptions
The ResumeLab builder is more than looks. Get specific content to boost your chances of getting the job. Add job descriptions, bullet points, and skills. Easy. Improve your CV in our CV builder now.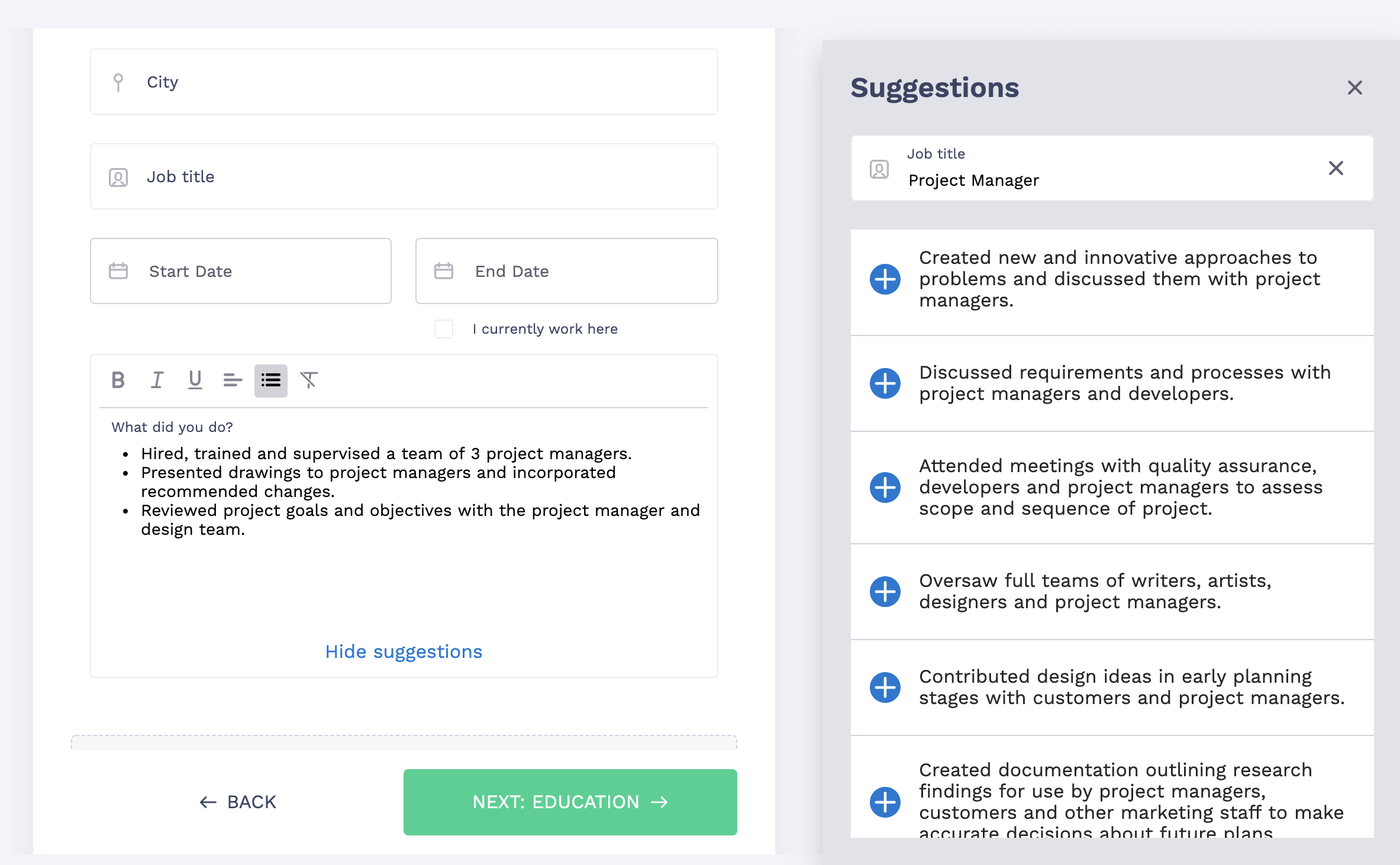 Nail it all with a splash of colour, choose a clean font, highlight your skills in just a few clicks. You're the perfect candidate and we'll prove it. Use the ResumeLab builder now.
Best Sales Associate CV Skills
Do yourself a favour: never copy-paste generic skills list to your sales CV.
Instead:
Go through the job description and identify skills-related keywords.
Then, sprinkle some of these skills into your retail sales associate job descriptions.
Add a few others to your CV summary or objective.
Finally, pick the most job-relevant skills and list them on your CV in bullet points.
Have I just told you not to use a generic sales skills list?
That's right. Just for reference, have a look at the table below:
Sales Associate Skills to Put on a CV
Sales Associate Skills

| | |
| --- | --- |
| Transferable skills | Technical skills |
| Customer service | Product knowledge |
| Communication | Inventory management |
| Conflict resolution | Cashier experience |
| Problem solving | Sales |
| Time management | CRM platforms |
| Teamwork | Merchandising |
| Interpersonal skills | POS (Shopify POS, Square, unicenta, Quickbook POS etc.) |
| Detail-oriented | Math |
| Adaptability | Tech-savvy |
| Ability to work under pressure | Policy knowledge |
| Decision-making | Contract negotiation |
| Creativity | Customer needs analysis |
| Ability to build relationships | Objection handling |
Expert Hint: Looking for more keyword ideas for your sales associate CV? According to Harvard Business Review's report, "curiosity," "intelligence," and an "agile mind" are the most important predictors of sales success.
4. Turn Boring Education into a Reason for Hiring You
The great thing about sales jobs? No one cares about your education, so long as your performance is top-notch.
That's only true if you have years of relevant work experience.
In such case, limit your education to the following information:
Education on a Sales Associate CV
School name
Graduation year
Degree
That's when your CV's education section proves handy. Add extra details such as:
Relevant coursework
Favourite fields of study
Extracurricular activities and achievements
Sales Associate CV Sample: Education Section
5. Enhance Your Salesperson CV With These
How much do you want the job?
This much?!
Good!
So don't submit a subpar, basic sales associate CV. Prove you have that extra gear.
Add sales associate CV details that put you up with Joe Girard and Mary Kay Ash.
Sample Salesperson CV Extra Sections
Additional Activities
Industry Awards
Volunteer Work
Extra Training
Expert Hint: To boost your interview chances by as much as 50%, submit a cover letter. Almost half of all employers still expect them. To speed things up, feel free to use our sales associate cover letter sample.
Double your impact with a matching CV and cover letter combo. Use our cover letter builder and make your application documents pop out.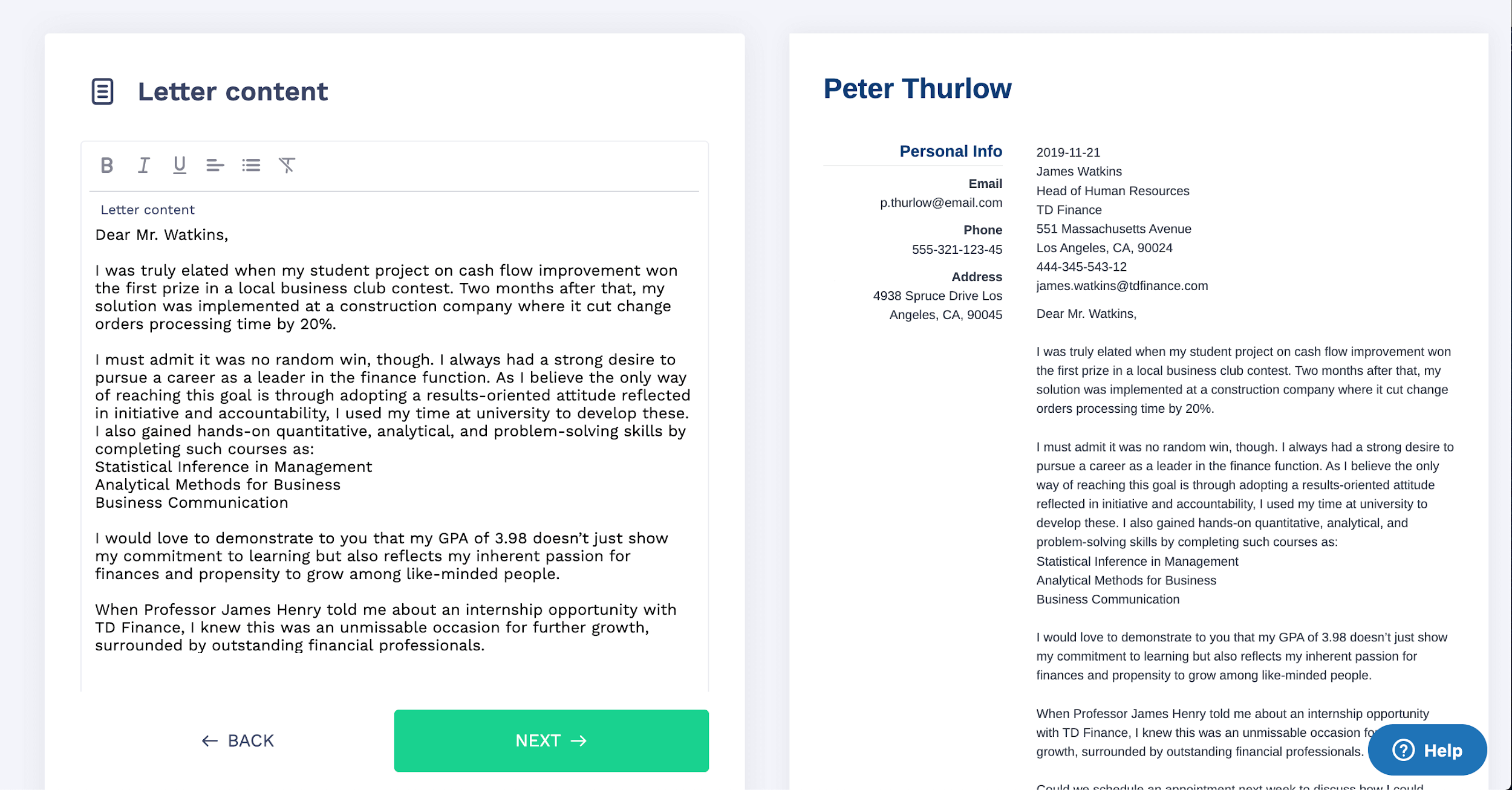 Want to try a different look? There's 18 more. A single click will give your document a total makeover. Pick a cover letter template here.
Key Points
For a sales associate CV that gets you the job, follow these steps:
Use a proper sales associate CV template, legibly divided into sections.
At the top, just below your contact info, put a short and sweet CV summary or a career objective.
Tailor your sales job descriptions and skills to the job ad.
Focus on your achievements, not just sales duties and responsibilities.
Add extra sections such as certifications, additional training, or even hobbies and interests.
Do write a sales cover letter!
Need more information? Still unsure how to showcase your accomplishments? Give us a shout in the comments. Let's chat!