Real Estate CV—Examples and 25+ Writing Tips
You've got the skills to generate leads, the ability to close property deals, and a winning personality to tie it all together. Show that to them with a perfect real estate CV.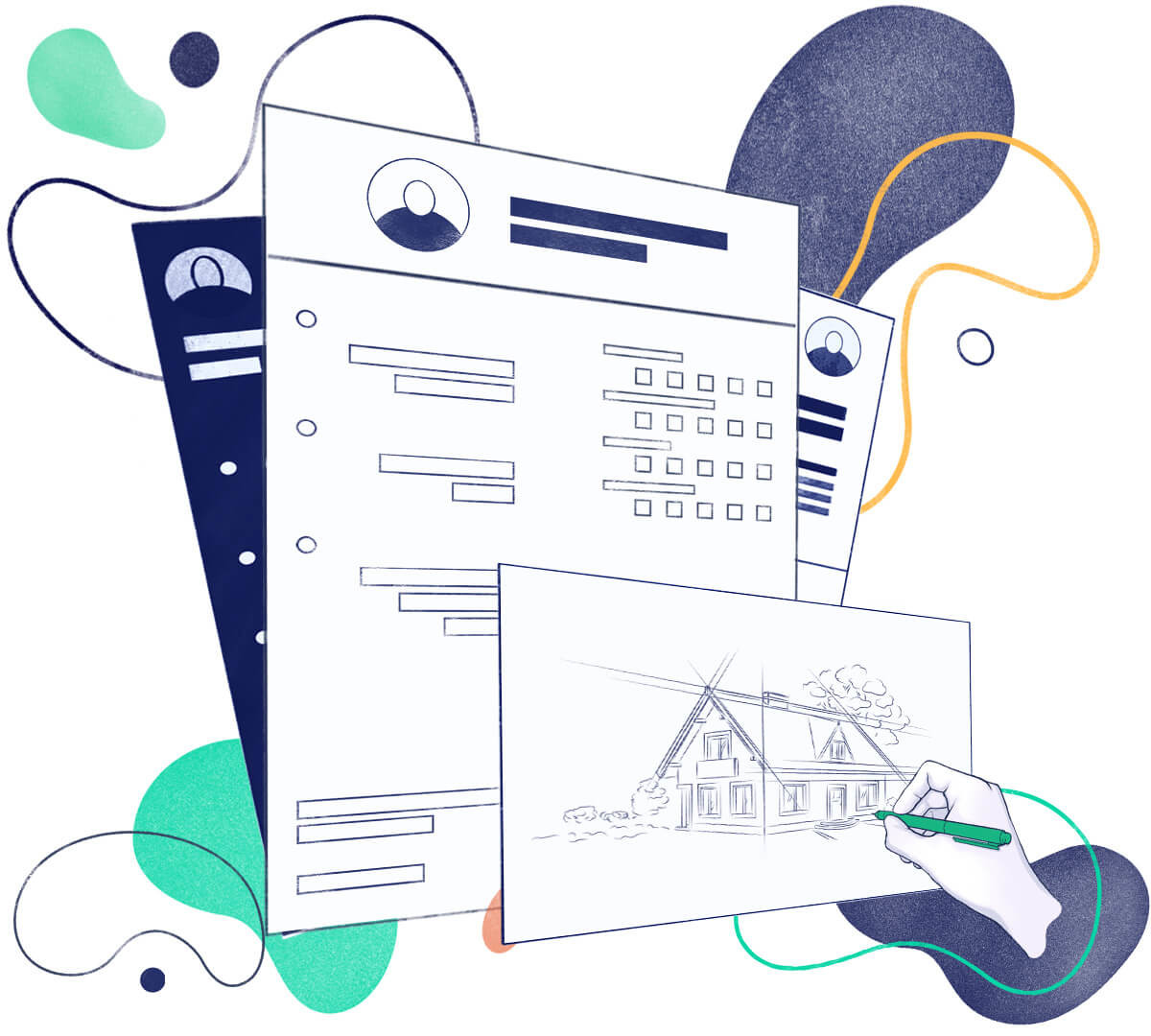 As a real estate agent you're the chief make-it-happen officer: you coordinate, schedule, manage transactions… Well, the list of duties revolving around buying and selling properties doesn't end.
How to get the real estate agency employer to understand you're the best agent they could hire?
Let's take your fixer-upper CV, give it some TLC, and make you their final offer with a top-notch real estate CV.
In this guide:
The best sample real estate CV to get the real estate jobs you want.
How to customise a CV to real estate agent job description.
How to write CVs for real estate agents that score job interviews.
Expert tips and examples to improve your chances of landing property jobs.
Save hours of work and get a CV like this. Pick a template, fill it in. Quick and easy. Choose from 21 CV templates and download your CV now.
What users say about ResumeLab:
I had an interview yesterday and the first thing they said on the phone was: "Wow! I love your CV."
Patrick

I love the variety of templates. Good job guys, keep up the good work!
Dylan

My previous CV was really weak and I used to spend hours adjusting it in Word. Now, I can introduce any changes within minutes. Absolutely wonderful!
George
Interested in a different CV example? Have a look at these:
Haven't found what you're looking for? Check all our CV Samples.
Real Estate CV Sample
Wallace S. Parker
WA-State Certified Real Estate Agent
wallace.parker@gmail.com
206-720-7248
linkedin.com/in/wallaceparker
Summary of Qualifications
Friendly, fast-paced residential real estate agent with 4.5+ years of experience at small Seattle-area agencies. Skilled at showing properties, generating leads, and building great client relationships. Current Washington State DOL real estate licence. Seeking to leverage the closing of over £35 million in residential property sales to become the commercial real estate agent at Easy Street Brokerage.
Work Experience
Residential Real Estate Agent
May 2017–August 2019
Century 34 Estate Agency, Seattle, WA
Key Qualifications & Responsibilities
Worked with first-time and repeat home buyers to facilitate residential property purchases and sales.
Scoured Seattle-area boards and databases to generate appropriate leads.
Stayed current with Washington State landlord and management companies and procedures.
Guided homebuyers through entire sales process, from open house showings through to closings.
Assisted clients in determining values of properties prior to listing on the open market.
Key Achievements
Closed more than £35 million in sales 2 years in a row.
Junior Real Estate Agent (Hybrid)
January 2015–April 2017
Washington State Property Brokers, LLC., Seattle, WA
Key Qualifications & Responsibilities
Generated commercial and residential client leads for buying, selling, and rental properties.
Counselled buyers on the Seattle real estate market, property value trends, and financial approval process.
Chaperoned clients to various property showings and open houses.
Performed due diligence on commercial and residential properties prior to acceptance.
Key Achievements
Successfully completed 20 residential closings and 5 commercial closings in 2 years.
Education
Bachelor of Science in Real Estate
University of Washington, Seattle, WA
Graduation: 2015
Relevant Coursework: Principles of Real Estate, Real Estate Law in the United States, Commercial Property Management, Income Property Appraisal, Comparative Real Estate Markets in a Global Perspective, Market Analysis in Real Estate, Ethics and Enterprise.
Key Skills
Lead Generation & Follow-Up
Commercial Real Estate Sales
Residential Real Estate Sales
FHA Loans & Mortgages
360Workplace Software for Commercial Real Estate by Accruent
Managing Open Houses & Property Showings
Certifications
Washington State Real Estate Licencing Certification
60-Hour Course Completion Certificate in Real Estate Fundamentals
30-Hour Course Completion Certificate in Real Estate Practises
Memberships
Society of Industrial and Office Realtors (SIOR)
Washington Association of Realtors (WAR)
American Guild of Appraisers (AGA)
Association of Commercial Real Estate Professionals (ACRP)
Languages
Latin American Spanish: Advanced Working Proficiency
Okay, so you were just given our take on a interview-scoring real estate agent CV example.
Now—
Let's learn how to write a real estate CV for yourself:
1. Format the Real Estate CV Template the Right Way
Like organising an open house, you can't just come in on a Saturday and expect to let potential homebuyers walk right in.
You've got to tidy the place up, spruce up the decor, and create an event for those clients to find.
Similarly, before you start writing a CV for real estate agent jobs, you've got to format the CV just right.
So—
Here is how to format real estate CV templates:
Start with your most recent job, real estate or otherwise, and go back in reverse-chronological order from there.
Pick a CV font to use which is easy to read for the real estate agency employer.
Use an 11–12pt font size in the body text, about 2–4pts larger for section headings, and leave a 1-inch margin around all sides of your CV for real estate agents.
Choose appropriate sections to put on a CV—if it isn't relevant or helpful in landing you a real estate interview, leave it off.
Expert Hint:Send CVs as PDFs. The real estate agent CV PDF format is way better than a Microsoft Word doc when it comes to how well it displays on various devices. Don't send a Word CV unless the real estate job description specifically tells you to do so.
2. Begin With a Real Estate CV Objective or Summary
Real estate jobs are all about closings.
But a real estate CV is all about the opening—
Opening statement, that is.
The heading statement, either the CV objective, career summary, or summary of qualifications either turns the hiring manager away or compels them to continue reading.
But which opening statement do you select?
If you have plenty of experience in real estate jobs, choose the CV summary.
The summary paragraph introduces you as a candidate with a brief roundup of your property agent experience and real estate skills. To prove you're not just all talk, give a quantified achievement or two.
Here is how to make a real estate broker CV summary:
Real Estate CV Examples of Summary Statements
One of the main aspects which separates a good summary from a bad one is that it is customised to one specific employment offer. Another point in the good example's favour is that it shows numbers to really allow the agency manager to understand how great a real estate agent you are.
But what if you…
Don't Have Any Experience in Real Estate Jobs?
If you're preparing an entry-level real estate agent CV, go with the CV objective.
The objective paragraph talks up your real estate career goals to accommodate your lack of professional experience. But, you'll still include numbers from past, unrelated jobs in a way that adds value to a real estate agent CV description.
Here's how to write a real estate agent CV objective:
Real Estate Objective Example
Just like with the summary paragraph, a good real estate CV example of an objective statement is tailored to the job. On top of that, numbers give proof of how well you did at your past job so they get an idea of how well you'd do in real estate.
Expert Hint: Write the introductory profile statement as you wrap up your residential or commercial real estate CV, even though its position is at the top. This way, you'll have a better idea of the most impactful things to include by getting ideas from other sections.
3. Write a Great Real Estate Job Description and Skills Section
On any real estate sales CV or real estate investor CV, the work history section informs the agency of your employment past.
To get them to give you a shot, you've got to document your previous jobs in a way that highlights your real estate prowess.
So—
Here is how to add past work experience onto real estate CVs:
List your most recent or current job title first, going back in time in reverse-chronological order from there.
Include your position title, employment dates, the name of the company you worked for, and their city and state.
Add job responsibilities relevant to the real estate job you're aiming for. Use CV keywords from the real estate job description to match what they're looking for.
Give your real estate agent job description a boost by including an achievement with numbers.
Have a look at these real estate agent CVs samples of employment sections:
Sample Real Estate Agent Job Description for a CV
What makes the first example better than the second one?
Well, it includes detailed real estate duties to give the employer a solid picture of your know-how. At the end, it offers them a solid sample of your expertise with a numbered achievement.
Next up—
The CV skills list.
Real estate brokers and sales agents are set to increase by 6% (24,900 jobs) between 2016 and 2026, according to the BLS.
A great real estate agent skills CV section will go a long way in helping you land an interview over your competition.
First, take a look at these sample real estate skills:
20+ Skills for Real Estate Jobs
Client Lead Generation
Commercial Real Estate Listings
Residential Real Estate Listings
FHA Loans & Mortgages
Real Estate Property Management Software (e.g., Appfolio, Buildium, Planon, MRI Software, Rentec Direct, TRIRIGA)
Open Houses & Property Viewings
Escrow, Deed, and Title Searches
Multiple Listing Service (MLS) Database
Knowledge of Local Area & Property Values
Lead Distribution System
Digital Staging Software
Marketing & Advertising Skills
Property Management
Communication Skills
Friendliness & Great Personality
High Energy & Enthusiasm
Negotiation Skills
Closing & Sales Skills
Honesty & Integrity
Event Planning & Management
Networking Skills
Before you just put any skill onto your CV, go back to the real estate agent job description. Look at the job responsibilities section of the job offer to find abilities this agency is looking for in a candidate. If you have that skill, this is what you add onto your real estate agent skills list.
The ResumeLab builder is more than looks. Get specific content to boost your chances of getting the job. Add job descriptions, bullet points, and skills. Easy. Improve your CV in our CV builder now.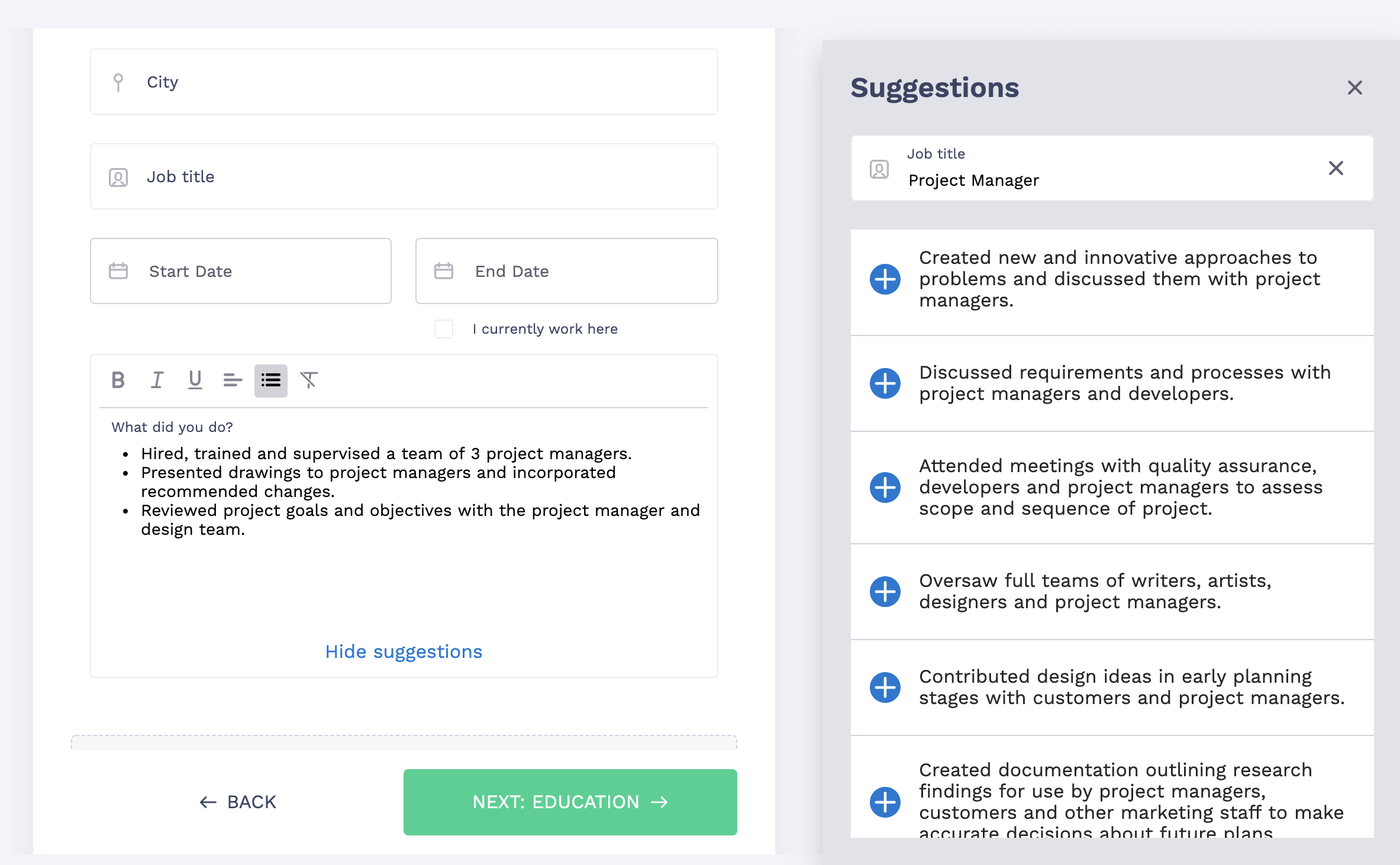 Nail it all with a splash of colour, choose a clean font, highlight your skills in just a few clicks. You're the perfect candidate and we'll prove it. Use the ResumeLab builder now.
Expert Hint: All realtors are real estate agents, but not all real estate agents are realtors. Don't use the term "realtor" to describe yourself on your real estate CV unless you're a member of the National Association of Realtors!
4. Turn the Education Section Into the Reason They Hire You
Educational requirements vary depending on if you're writing a CV for leasing managers, appraisers, loan officers, estate zoning manager, or other real estate job.
However—
No matter the job title, there's still a right way to include your academic history on real estate agent CVs.
Here's how:
Real Estate Agent CV Sample of Education Section
Here are the guidelines to follow in a real estate agent CV education section:
If you have more than one degree (such as a master's and bachelor's), add the highest one first.
List the major, the school name, its location, and the year of completion.
Add any coursework related to real estate jobs you may have taken.
If you have additional educational accomplishments, such as academic awards, include them below as a subsection.
Don't add a high school entry if you've completed a university degree.
Expert Hint: Writing a new real estate agent CV? If you have impressive university work but lack relevant real estate experience, switch their places. Move the education section over your work history section to give the employer the most notable things first.
5. Add Extra Sections Onto a Real Estate Agent CV
Here are a few of the most effective additional sections to include on a CV for real estate jobs, along with a few examples of each:
Real Estate Agent CV—Extra Sections
60-Hour Real Estate Fundamentals Certificate
30-Hour Real Estate Practises Certificate
State Real Estate Brokers Licence
Mortgage Loan Processor Level I Certification
Real Estate & Property Management Associations
Playing Monopoly
Photography & Videography
Local Area History & Current Events
Foreign Language Proficiency
Amharic: Native Proficiency
Egyptian Arabic: Professional Working Proficiency
Estonian: Intermediate Proficiency
Brazilian Portuguese: Basic Conversational Proficiency
6. Attach a Real Estate Cover Letter to Your CV
Sure, it's not a section on a CV, but a real estate cover letter should always be included with your CV.
More than half of employers will toss a CV without the application letter, meaning you cut your chances in half right from the beginning without one.
Use the cover letter to reference important items in your CV. Always give the screener solid reasons to read the CV itself. Thus, especially if the CV is somewhat lengthy because you've got quite a bit of work experience, use the cover letter to direct the reader to the sections where the most important job-related items can be found.
Double your impact with a matching CV and cover letter combo. Use our cover letter builder and make your application documents pop out.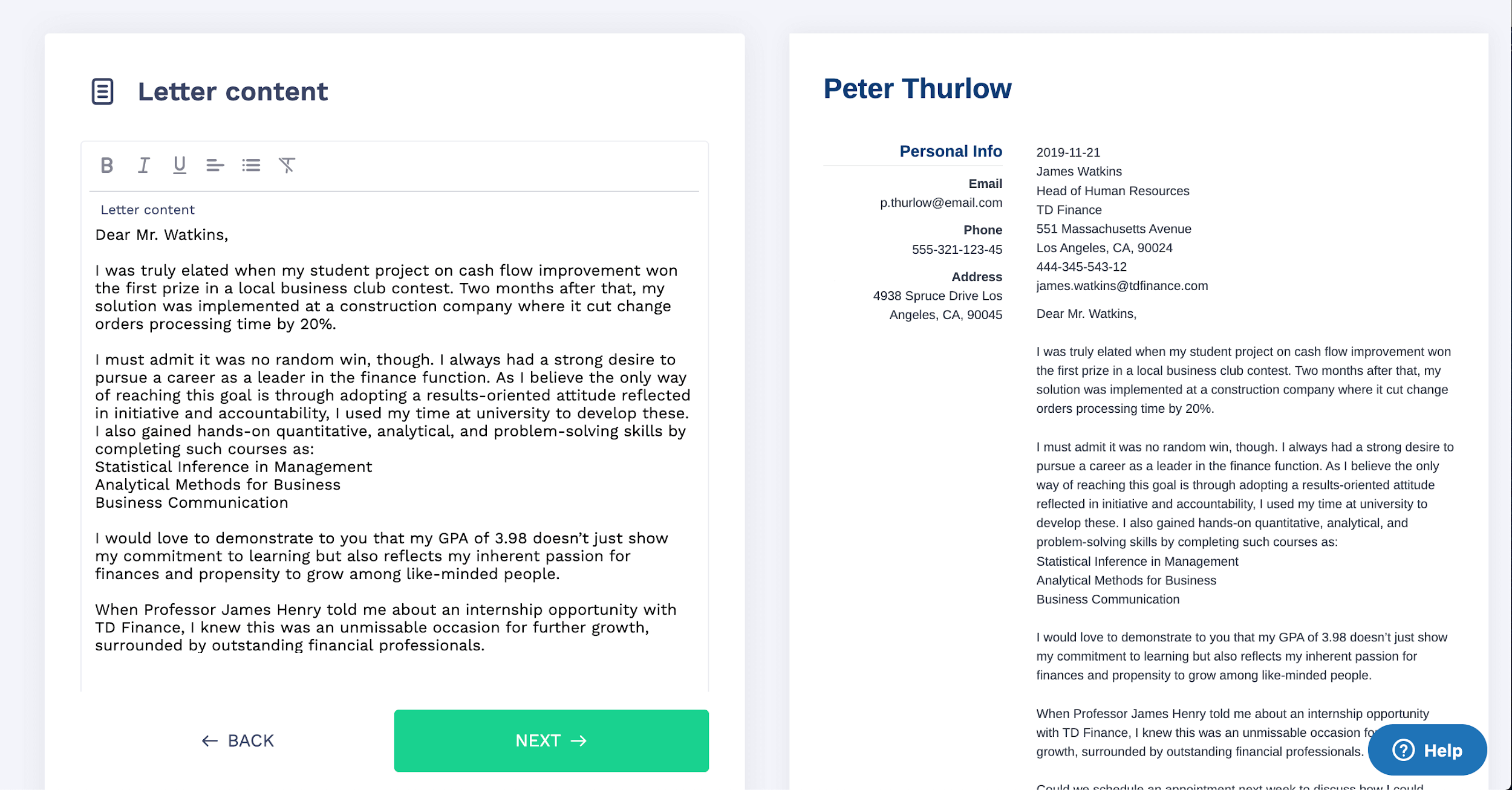 Want to try a different look? There's 18 more. A single click will give your document a total makeover. Pick a cover letter template here.
Key Points
Let's review—
Here's how to write a real estate CV:
Ensure the real estate CV template is formatted correctly before you continue.
Start with a poignant summary or objective statement at the top.
Use keywords and achievements to build a powerful work experience section.
List real estate skills which are relevant to the job you're applying for.
Document your educational history in the correct and most effective manner.
Include an additional section, such as real estate licences or knowledge of a foreign language.
Always include a real estate agent cover letter with your CV.
Have any questions on how to write a real estate assistant CV or real estate appraiser CV? Need some sample CV real estate bio examples? Let's chat below in the comment area, and thanks for reading!