Law School CV—Examples and 25+ Writing Tips
A good law school CV has to show you're so much more than just a student with a big dream. Use this sample CV to prove you'll finish the paper chase in style.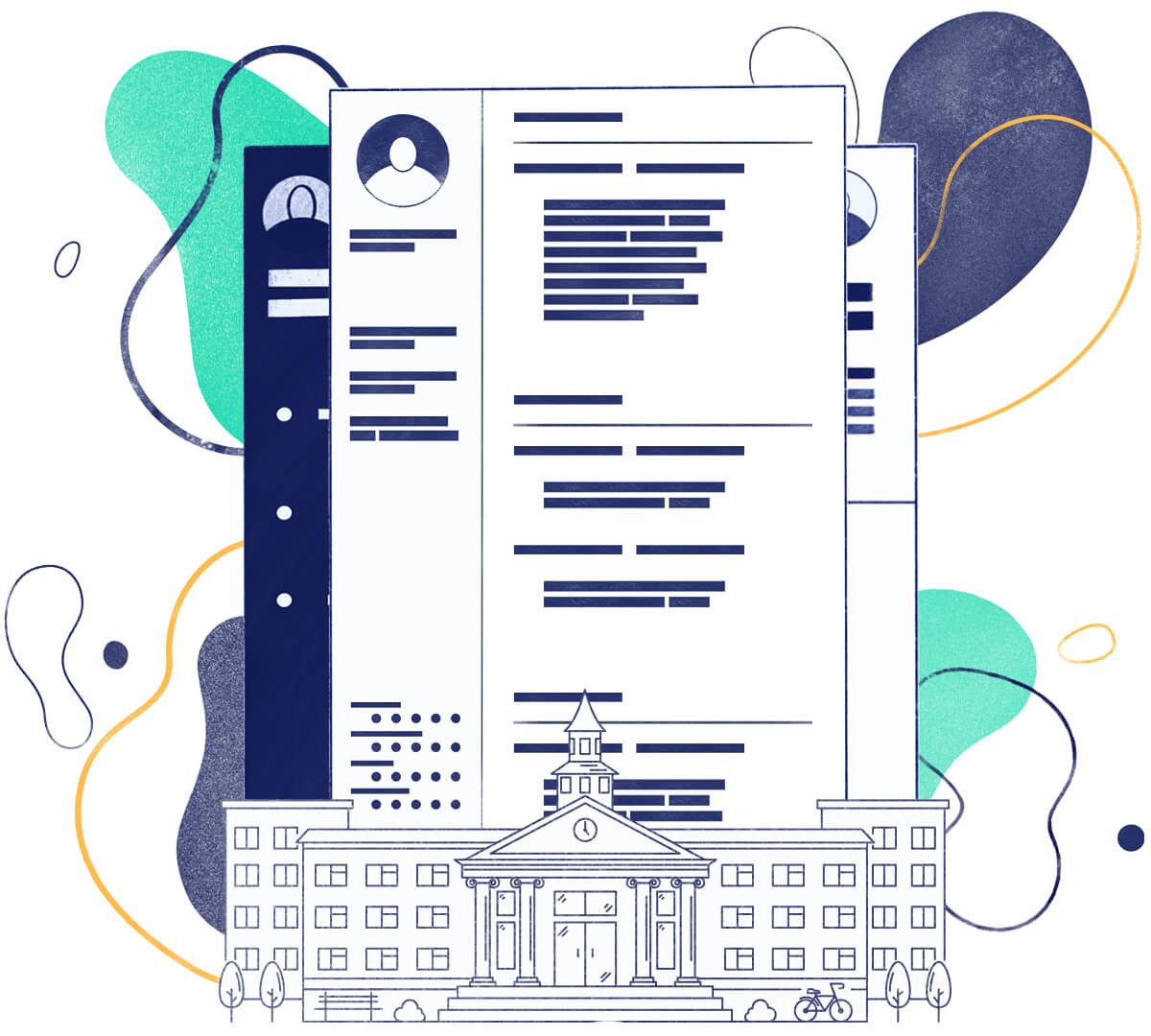 You've got the burden of proof.
Your law school application CV must show you nailed your bachelor's degree.
But—
It also has to show your character. A high GPA and LSAT scores are not enough.
With enough personal and academic wins, you'll turn heads like David Boies.
In this guide:
A law school CV sample better than most.
How to write a CV for law school applications that proves your claims.
How to draught the perfect education section in a CV for law school.
Why you can't just list law school skills (and what to do instead.)
Save hours of work and get a CV like this. Pick a template, fill it in. Quick and easy. Choose from 21 CV templates and download your CV now.
Create a job-winning CV with little effort. Hack your way through ATS software with our 18 beautiful templates—give our builder a try!

Create my CV now
Are you writing a CV to use after law school? See our guides:
Writing a general university application CV? See these guides:
Haven't found what you're looking for? Check all our Professional CV Examples.
Law School CV Sample You Can Copy and Use
Cara Chicote
Doctor of Jurisprudence Candidate
Personal Info
Phone: 626-496-0233
Email: carazchicote@gmail.com
linkedin.com/in/carazchicote
twitter.com/carazchicote
Summary
Hard-working Doctor of Jurisprudence candidate with BS in Business Administration. Seeking to excel at Concord Law School. Skilled in accounting and technical writing. Created own paid file clerk internship at Stout & Love Law. Performed legal research for 5 cases involving foreclosures and bankruptcies. As BSA Eagle Scout, built school for disabled in Bhutan.
LSAT Score
2019
LSAT Score: 172
Education
BS Business Administration, National University
2015–2019
GPA 3.9
Minor in Accounting.
Beta Gamma Sigma Honour Society.
Marsha Klenecky Award for Academic Excellence.
President, Intramural Ultimate Frisbee League.
Conducted Senior Business Project that Earned £7,500.
Professional Experience
File Clerk Summer Internship
Stout & Love
2019
Created and received unadvertised, unpaid legal file clerk position. Transitioned to a paid title in 2 weeks based on performance.
Performed legal research and wrote findings for cases involving IRS audits and investigations bankruptcies, and foreclosures.
Investigated facts for 3 successful cases.
Bookkeeper
Paulette Electric
2018–2019
Set up QuickBooks accounting for small electrical contractor.
Slashed past-due accounts 14% through automated notifications.
Worked directly with 30+ clients to ensure 95% satisfaction rate.
The Pickled Clam
Server
Maintained 99% positive client scores in upscale bar.
Volunteer Work
Volunteer bookkeeper, Jackson Street Animal Shelter.
Set up new donation processing system that saved £10,000.
Eagle Scout, BSA
Eagle Project - built school for disabled in Bhutan.
Led 35+ Scouts in 30+ day hikes and camp-outs.
Publications
Article on reading 10x more books published in Ms. JD.
Article on conflict resolution published in The Careerist.
Hard Skills: Accounting, technical writing, research
Soft Skills: Interpersonal skills, communication, collaboration, critical thinking, self-motivation
Here's how to write a law school CV that gets to "yes":
1. Use a Respected Law School CV Format
You want in.
The first step? Show you can follow the rules.
A poorly-formatted CV will impeach your professionalism.
To fix that, write a reverse-chronological CV.
Law School CV Format
Expert Hint: Your LSAT score matters on a law school application CV. The top 25 law schools want scores above 160. Take a free version of the test first to boost your score.
2. Write a Law School CV Objective or Summary
Bad news.
The Dean of Admissions won't read your law school CV.
First readers will.
Catch their eye, or the Dean won't know you exist.
Grab them with a winning CV objective.
That's a fast paragraph with your best exhibits.
Use:
An adjective (hard-working, resourceful)
"Doctor of Jurisprudence Candidate"
Your goal (excel at Concord Law School)
Best achievements (created own paid file clerk internship...)
Some key skills (research, technical writing...)
Oh yeah—
Write it last to nuke your stress.
Let these law school CV examples brief you:
Law School CV Objective—Example
Oceans apart.
Both samples list legal research skills. But—
That first one adds 5 cases and a massive personal achievement.
Expert Hint: 6.9% of applicants get into Yale law school. 28.6% get into Boston University. Tailor your law school application CV to some schools with high acceptance rates.
3. Show Competence With Education
This is critical:
Law schools look for applicants with strong academic ability.
That means GPA matters. But—
So do other factors, like your LSAT score, and what you did in school.
That's why your CV education section carries so much weight.
Do it like this Harvard law school CV sample:
Law School CV Example—Education
That's Clifford-Chance-level.
That education section is crammed like Tom Brady's trophy case.
The ResumeLab builder is more than looks. Get specific content to boost your chances of getting the job. Add job descriptions, bullet points, and skills. Easy. Improve your CV in our CV builder now.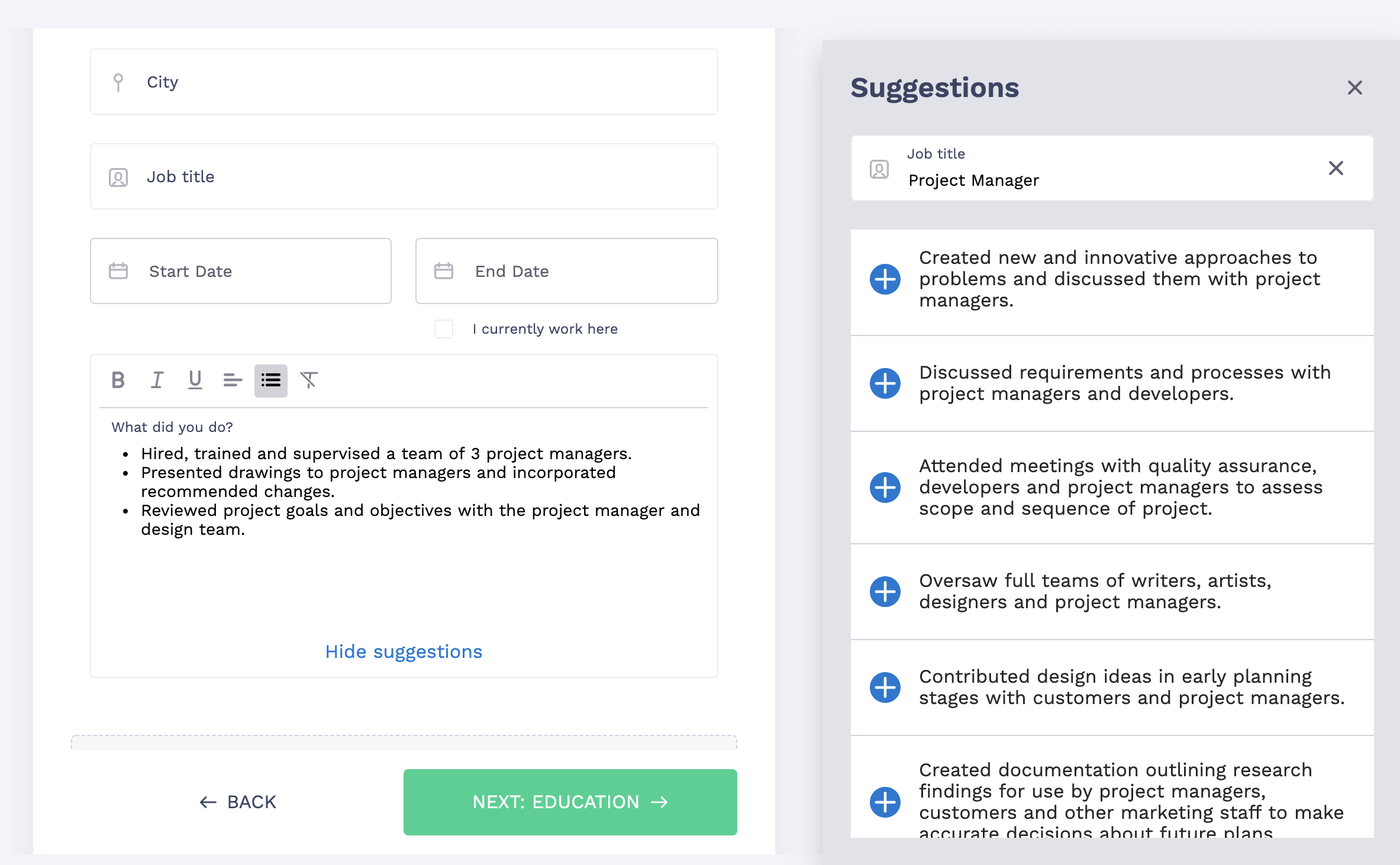 4. Target Your Law School Job Description and Skills Section
What skills go in a law school CV?
Here's a list of the best skills to put on a CV for law school applications:
Law School Skills for a CV
Work ethic
Interpersonal skills
Written communication
Oral communication
Collaboration
Research
Study
Critical thinking
Problem solving
Creativity
Active listening
Self motivation
Technology
But—
You can't just pile all those into a CV for law school.
That looks shady.
So, research your chosen law school. Find out which skills they value most.
Then, tailor your CV.
Watch these law school CV samples do it:
Let's say you want to showcase these law school skills: work ethic, research, time management, collaboration, technology, problem solving.
Law School Job Description for a CV [Sample]
Now check out this poor law school application CV example:
See that?
The second of those law school CV examples isn't tragic.
But the first one builds your case like Vinny Gambini.
5. Add Riders to Your Law School CV
You've done more than earn a bachelor's degree.
And guess what?
Admissions directors love accomplishments.
Have you written articles? Done service projects?
Those can elevate your law school application CV.
Try some of these:
Associations or groups
Honour societies
Publications
Conferences
Freelancing
Languages
Additional activities
Sports
These sample law school CVs show how:
Law School CV—Extra Sections
Impressive.
Why does the first of those Harvard law school CV examples work better? It does due diligence on the details.
Expert Hint: You need a cover letter with your CV for law school. Admissions departments want your letter to show you're passionate about the school.
Double your impact with a matching CV and cover letter combo. Use our cover letter builder and make your application documents pop out.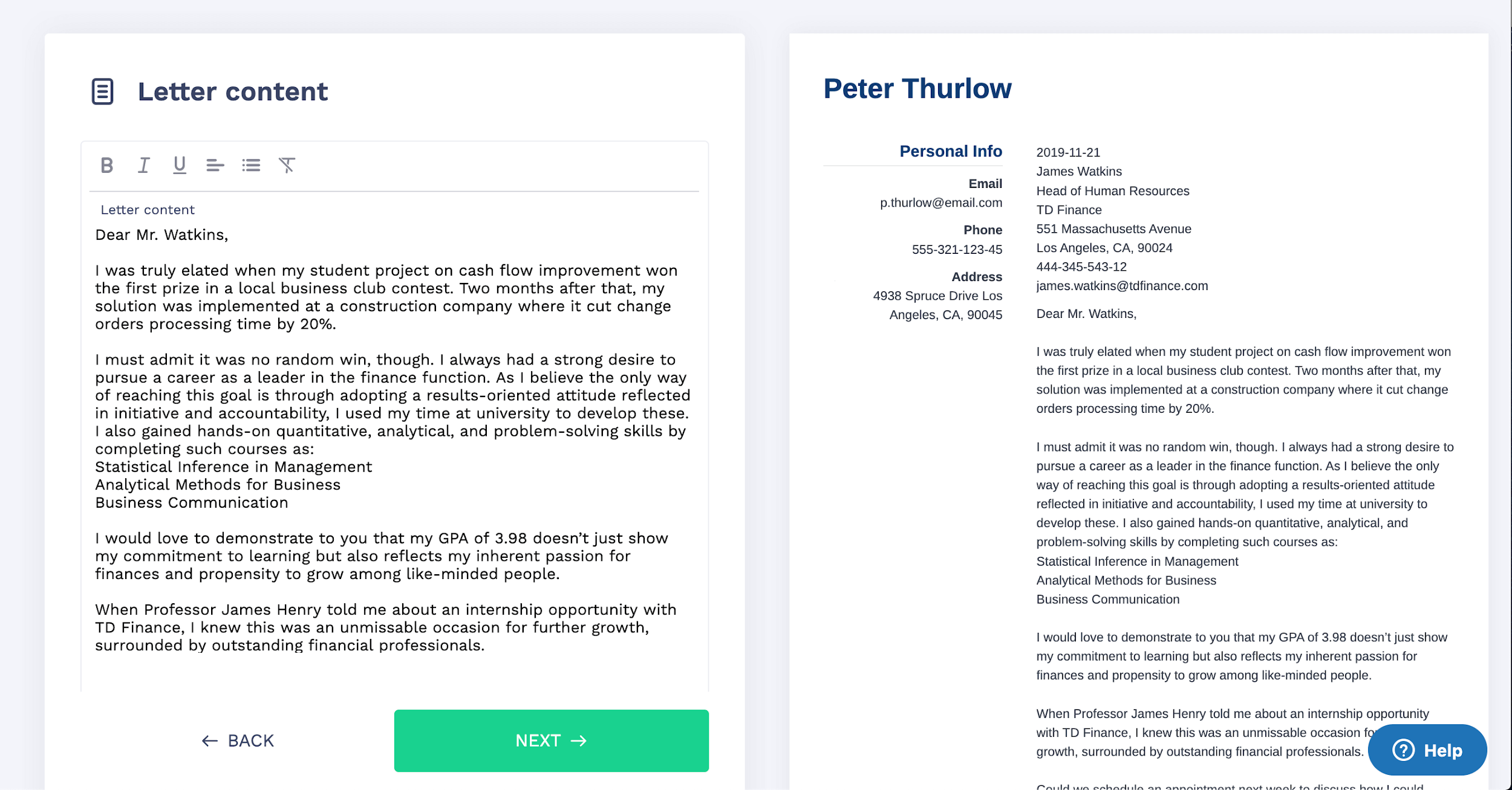 Key Points
Law school CV tips:
Use the law school CV template up top. Admissions departments respect its reverse-chronological format.
Don't just "show" your education. Make the case for your academic excellence with high scores and achievements.
Use your experience section to show you've built key skills like communication and teamwork.
Include a few bonus CV sections. Publications or volunteer work show your character.
Got questions on how to write a great law school application CV? Not sure how to put law school on a CV? Leave a comment. We'll be happy to reply!