Computer Technician CV—Sample and 25+ Writing Tips
Were you born with an RJ45 cable in one hand and a screwdriver in the other? With this guide, your computer technician CV will be more effective than Stuxnet.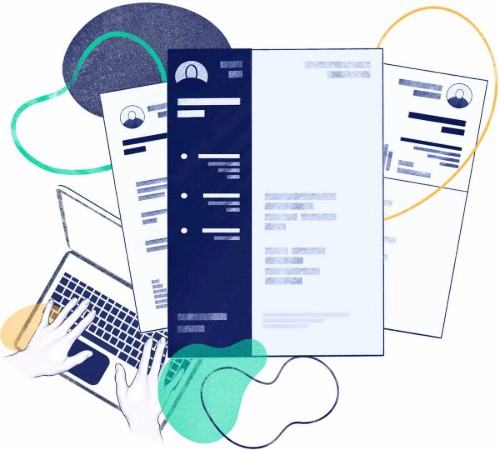 Whether you're maintaining a large company network, and feel sick when you hear the word "Cisco"—
Or you fix laptops in the comfort of your own home, one thing is for sure.
There seem to be more computers than ever, running more complicated processes than ever, and yet, nobody is calling back about your computer technician CV.
Perhaps all their data got wiped precisely because they don't have you there.
More likely, your CV suffers from one of many very common ailments and mistakes that disqualify you right at the start.
Let's start the troubleshooting process.
In this guide:
A computer tech CV sample that pings back in milliseconds.
The correct config for the CV format.
Tricks that will allow you to write the best possible computer technician job description.
Let's see some open-source solutions.
Save hours of work and get a CV like this. Pick a template, fill it in. Quick and easy. Choose from 21 CV templates and download your CV now.
What users say about ResumeLab:
I had an interview yesterday and the first thing they said on the phone was: "Wow! I love your CV."
Patrick

I love the variety of templates. Good job guys, keep up the good work!
Dylan

My previous CV was really weak and I used to spend hours adjusting it in Word. Now, I can introduce any changes within minutes. Absolutely wonderful!
George
Considering other paths? See our dedicated CV guides:
Computer Technician CV Sample You Can Make Your Own
Jose D. Daly
Computer Technician
Personal Info
3799 Feathers Hooves Drive
Manhattan, NY 10107
631-634-5890
jose@daly.com
linkedin.com/josedaly
Summary
Methodical computer technician with 5+ years of experience in troubleshooting and resolving 150+ hardware and software issues a week on-site. Provided 24/7 support for 300+ employees. Responsible for hardware and network infrastructure for new hires, approx. 20 people annually. CompTIA A+, CCNA, CISSP, MCSA, ACA certified. Looking to apply proven repair and maintenance skills to smooth operation at SoftGroup.
Experience
Computer Technician
SoftwareSilo
March 2016–April 2020
Responded to all on-site requests and problems through Jira ServiceDesk, 24/7 for 300+ employees.
Maintained 220 desktops, 420 laptops, 30 printers, and the entire company network.
Efficiently set up hardware and network infrastructure for new hires, 20+ people per annum.
Saved 2 hours per week by scheduling updates through Citrix.
Installed and configured 25 Cisco routers and cabling.
Decreased ticket volume by 17% by creating an FAQ portal on company Jira to solve common problems quickly.
Upgraded legacy operating systems to Windows 10.
Trained 1 junior computer technician on procedures and common problems.
Genius
Apple Store Manhattan
January 2015–February 2016
Solved 300+ technical issues per week through the use of procedures and protocols.
Gained inside knowledge of Apple and Mac products.
Provided expert guidance to drive sales through cooperation with the sales team.
Education
BS in Computer Science
Columbia University
GPA: 3.8
2012–2016
Certifications
CompTIA A+ Technician
Cisco Certified Network Associate
Apple Certified Associate
MCSA: Windows 10
Certified Information System Security Professional
Languages
Key Skills
Jira Service Desk
Cisco Hardware Installation
Citrix
LAN/WAN Networks
Windows 10
Internet Security and Data Privacy
Troubleshooting Skills
Creative Thinking
Effective Communication
Ready to start untangling these cables?
1. Quickfix Your Computer Technician CV Format
There is always the correct way to do something, and the best way to do something. You can plug in the Nvidia card willy-nilly. Make a nice spaghetti of the cables. Don't want to screw the HDD down? Mine has been laying loose at an angle for 8 months now. It works.
Just because something works does not mean it's effective, and neither will your CV be without the proper CV format. According to HR Statistics, you only have less than a minute of the recruiter's attention.
Here's how to configure your CV's layout:
Computer Technician CV Format
Should I include my address in the CV, you ask? It's not necessary, unless you know they're looking for local candidates.
Time to start sending some packets.
2. Write an SSD-like CV Summary or Objective
In a computer tech CV, the CV profile must be like an SSD. It must have only the most crucial data, easily accessible at lightning speed. Answer these questions in one sentence each:
Who are you? (One power adjective, job title, years of experience.)
How well can you do the job we are asking you to do? (Illustrate using numbers and accomplishments).
What makes you special? (One super-achievement).
Finish by calling out the name of the hiring company.
That should build a solid CV summary statement.
Computer Technician CV Summary—Example
Big difference, right? Like closing all background apps.
What if you're new and need an entry-level CV?
If your experience is a little thin, cite your certifications and answer another question in 1 or 2 sentences and make it a CV objective statement:
What can you do for them?
Computer Technician CV Objective—Example
Remember. Internships on a CV count as job experience, too!
Expert Hint: Though the CV profile goes at the top of your CV, it is best to do this once you have completed the other sections of your computer technician CV, especially your job description.
3. Write a Bug-Free Computer Technician Job Description and Skills Section
If the CV profile is an SSD, this is the HDD. Your CV job description is the repository of your experience. Make sure you defrag it, and leave only the points that are relevant to your new position. Back up whatever possible with metrics and achievements.
Just knowing how many devices you have in the network and how many tickets you get a day means you think about your work. It means you care. Try to build up to 6 bullet points that are varied and relevant to your next position.
See a Stuxnet-effective job description from one of our computer tech CV samples:
Computer Technician Job Description for a CV
If you have some left over computer skills, technologies you mastered that didn't make the cut so far but are relevant, you can add them next to your soft skills, in your CV skills section. This can be a big plus if you are writing a CV with no experience.
Computer Technician Skills for CV
IT Service Management (ITSM) Software (e.g., TOPdesk, ServiceNow, Spiceworks, Jira Service Desk, SolarWinds Service Desk, CA Service Desk Manager)
Information Technology Infrastructure Library (ITIL)
Up To Date on Technological Understanding
Knowledge of Product or Service Offered
Computer Skills
Technical Skills & Savviness
Project Management Skills
Troubleshooting Skills
Customer Service Skills
Attention to Detail
Friendliness
Energetic & Enthusiastic
Compassionate & Empathetic
Verbal & Written Communication Skills
Organisational Skills
Time Management Skills
Teamwork Skills
Collaboration
Critical Thinking
Interpersonal Skills
Decision Making
Detail Oriented
Dependability
Communication
Problem Solving
Perceptiveness
Self Motivated
The ResumeLab builder is more than looks. Get specific content to boost your chances of getting the job. Add job descriptions, bullet points, and skills. Easy. Improve your CV in our CV builder now.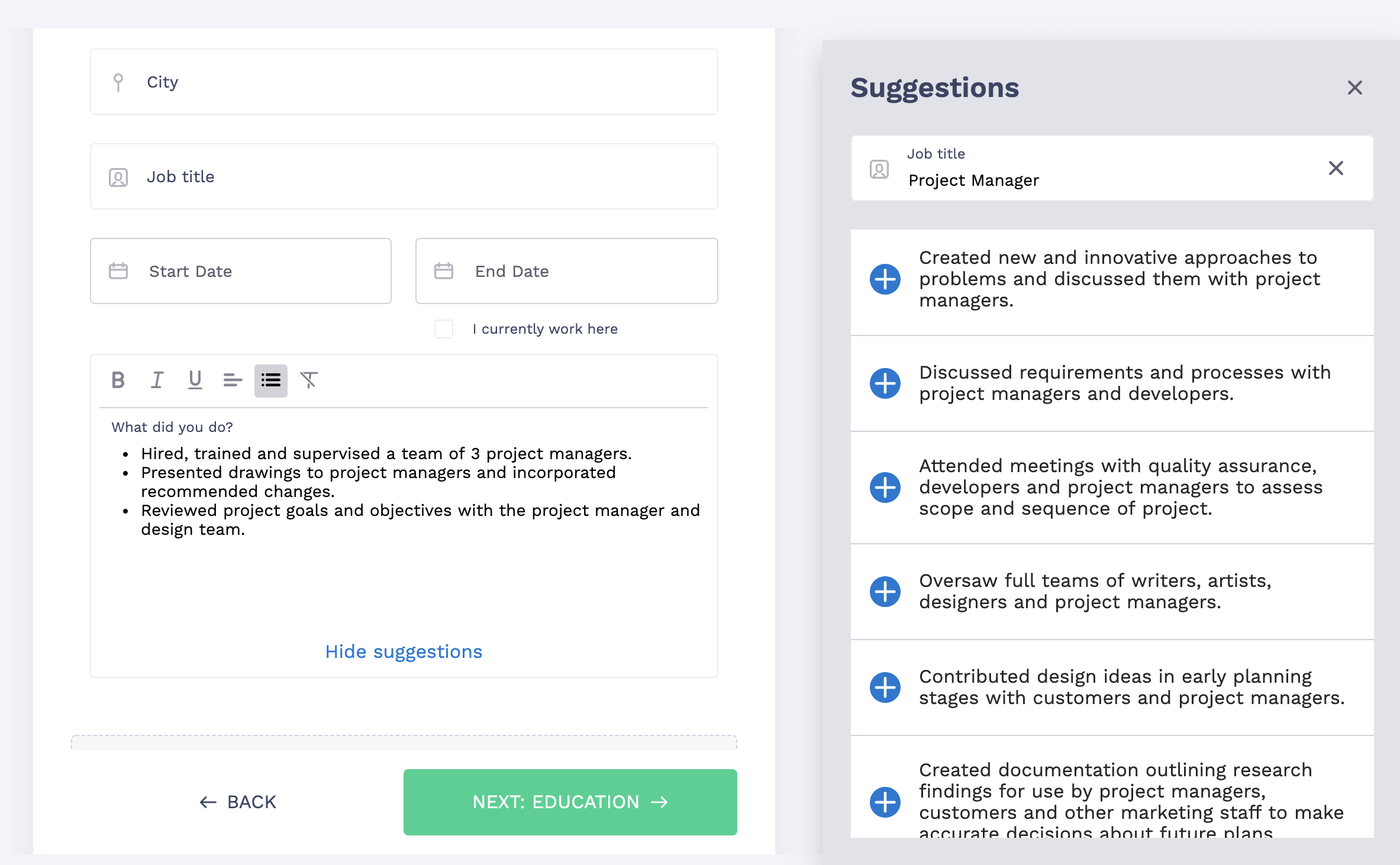 Nail it all with a splash of colour, choose a clean font, highlight your skills in just a few clicks. You're the perfect candidate and we'll prove it. Use the ResumeLab builder now.
Expert Hint: Hiring teams use ATS CV software so as not to waste time on reading CVs from candidates that they'd rather not have considered. To make your computer tech CV ATS-compliant, study the job posting and find CV keywords to include in all of the relevant sections.
4. Make Your Education Section A Reason To Hire You
What use is a computer with a new i7, and a Radeon X800 from 2005? None. If one part is lacking, the whole system appears unusable. Record your education properly, with your degree name, school name, and graduation date.
If you are just beginning your career as a computer technician, list your GPA, and consider adding relevant coursework or achievements sections. You can add an "Honours" subsection and list your scholarships, too.
Here's how to list education on your CV:
Computer Technician CV Sample—Education
Expert Hint: Make sure your LinkedIn profile is up-to-date and has the right elements. Check out our LinkedIn career advice.
5. Upgrade Your Computer Technician CV With Added Sections
Nobody's a final version. I'm on version 26.0.1 (still in beta). Over the years, you will be adding, or may have already added, many technologies you master, certifications and awards. The list of certifications you put on your CV should come first.
You can also add other bonus CV sections to make sure everything is presented neatly:
Awards
Foreign Languages
Skills—if you haven't included them as part of your other sections
Compare these two examples:
Computer Technician CV Example—Extra Sections
Sharpen your screwdriver, because the future looks bright. The U.S. Bureau of Labour Statistics predicts an 8% growth in computer support specialist employment—even more reason to make your PC tech CV sharper than the competition's.
Expert Hint: Don't send your computer technician without a well-written cover letter. An IT cover letter will be a welcome sight even if the recipient isn't expecting one. About half of them do, by the way. For junior jobs, write an entry-level cover letter.
Double your impact with a matching CV and cover letter combo. Use our cover letter builder and make your application documents pop out.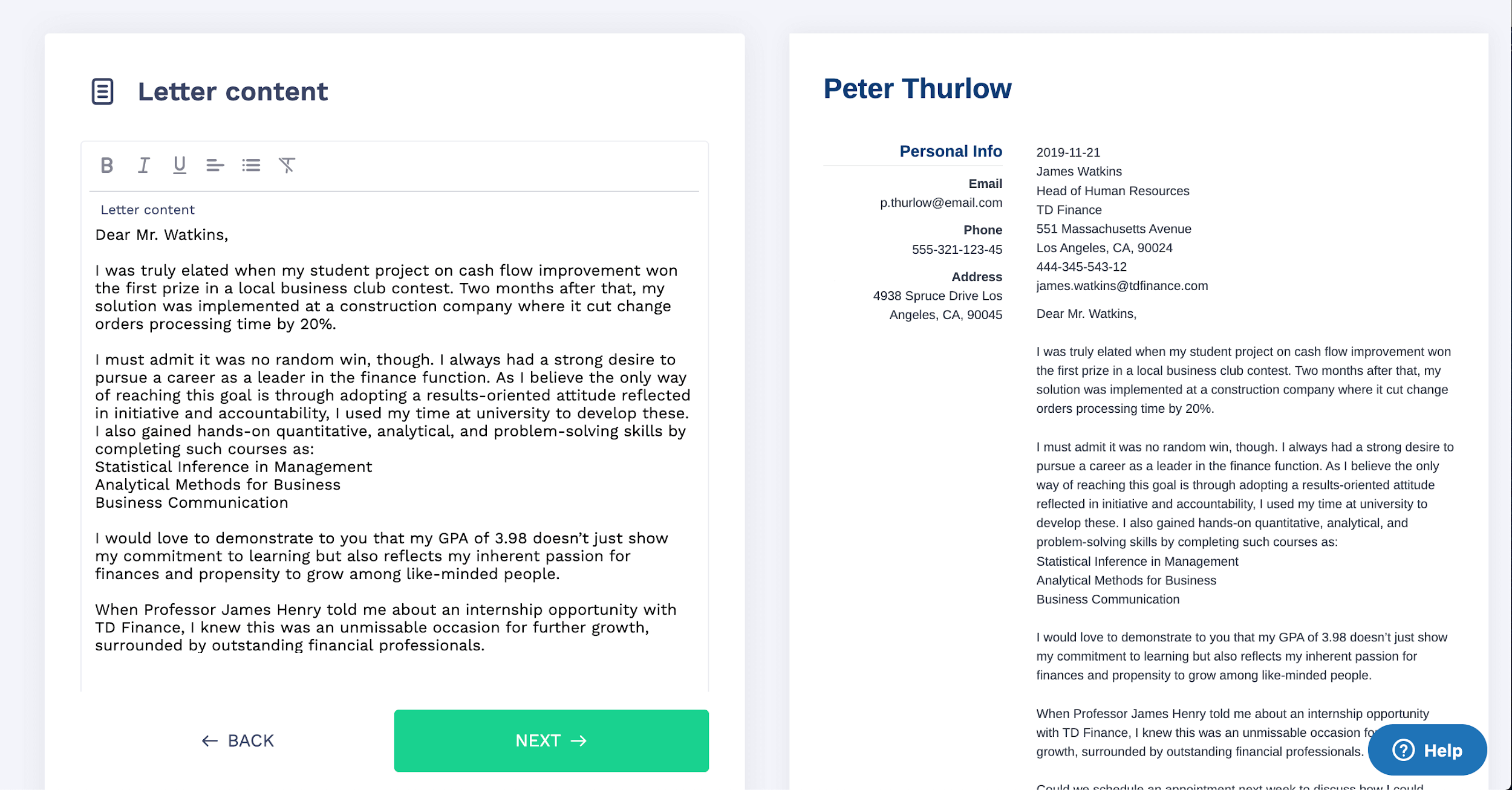 Want to try a different look? There's 18 more. A single click will give your document a total makeover. Pick a cover letter template here.
Key Points
Patch your computer repair technician CV to the latest version by:
Checking your CV format—margins, fonts, 1 page, reverse chronological.
Compile computer technician job description with achievements and numbers backing up your performance.
Add your certifications, skills and other additional info in separate bonus sections.
Write a computer technician cover letter.
Got questions on how to write a great CV for computer technician jobs? Did we help you get your PC technician CV right? Leave a comment. We'll be happy to reply.