Lab Technician CV—Sample & 20+ Writing Tips
You send out the samples, but get no results back. With this lab technician CV guide, your application will be picked out as if by ultracentrifuge.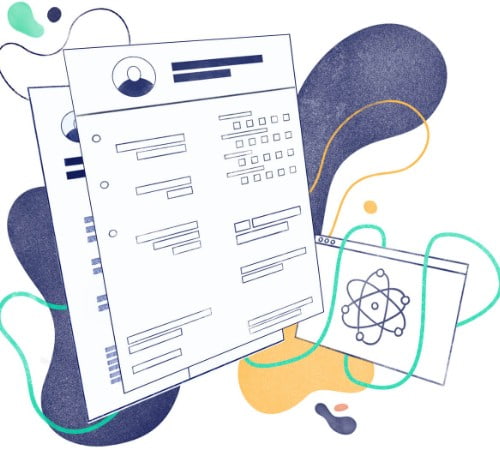 Is it starting to feel like you're the only person that's not getting results from the laboratories? Worry not, there are many lab technician CVs filling drawers in labs around the world. There are probably more of those samples than any other.
The lab manager is pretty good at picking out things they're looking for on the gas liquid chromatography. They're much less adept at picking out things they're looking for from your lab tech CV.
Why am I making it all sound like it's a good thing? Because it is. It is, because you're here, and you will not make any of the common mistakes that will ruin your chances of getting a job.
In this guide:
A perfectly calibrated lab technician CV sample.
A set of clear rules for the CV format.
Tips for grabbing attention with your lab technician CV objective.
And much, much more.
Save hours of work and get a CV like this. Pick a template, fill it in. Quick and easy. Choose from 21 CV templates and download your CV now.
What users say about ResumeLab:
I had an interview yesterday and the first thing they said on the phone was: "Wow! I love your CV."
Patrick

I love the variety of templates. Good job guys, keep up the good work!
Dylan

My previous CV was really weak and I used to spend hours adjusting it in Word. Now, I can introduce any changes within minutes. Absolutely wonderful!
George
Targeting a different tech position? See our guides:
Lab Technician CV Sample You Can Copy and Use
Mary D. Morales
27 High Street,
Birmingham,
B35 7PR
07944 187 039
MaryDMorales@gmail.com
Meticulous lab technician with 9+ years of experience working on government research projects. Adept at using LIMS to manage 75+ samples a day with 100% accuracy. Trained and mentored 15 laboratory technicians. Proven track record at improving efficiency of testing and cutting costs. Seeking to leverage those skills on world-class research projects at GrowLab.
Work Experience
Lab Technician
Regional Medical Centre, Birmingham
March 2012—Present
Participated in 4 government research projects with a total budget of £1M.
Used LabWare LIMS to manage 75+ samples a day.
Maintained 100% error-free documentation for the whole duration of employment.
Trained 15 laboratory technicians, seven of which work on government and international projects.
Implemented 5S procedures and FIFO protocols that improved efficiency of testing by 15%.
Introduced improvements to supply ordering that lowered costs by £3,000 annually.
Took part in 2+ international science conferences every year.
Lab Technician Intern
YourLab, Birmingham
January 2011—February 2012
Worked in a team of 12 experienced lab technicians.
Prepared and processed reagents and patient samples for microscopic examination and laboratory analysis.
Operated, maintained and sterilised laboratory equipment in order to comply with strict health and safety rules.
Education
Bsc in Microbiology, 2008-2011
Imperial College London
Skills
Multitasking
Labware LIMS
5S Methodology
Precision
Organisation of work
Collaboration skills
Memberships
Royal Society of Chemistry
Languages
Spanish (advanced)
Portuguese (advanced)
French (beginner)
Mary won't have to wait long for her results. Let's get started on your own lab technician CV.
1. Use a Business CV Format
There's a reason lab results are presented in tables and graphs. It makes it easy to pick the key stuff out. The same way, CVs also have a common format that allows even the most overworked of lab managers to find what they're looking for.
If you don't set out your information in this way, you're making them work for it. They have enough on their plate, sorry, Petri dish, so don't. Follow these CV layout rules:
Lab Technician CV Format
That's the framework, now let's collect all the samples to include.
2. Write a Centrifugal Lab Technician CV Objective or Summary
Your CV profile is the quick panel of most key results that they will be interested in. It's the red blood cell count of your CV. HR looks at your CV for 7.4 seconds, so pick the most key results to include.
List your years of experience, type of work you have done, and 2-3 most key achievements or improvements you made at your past job. Then, in a single line, state your ambition at the new workplace to make a solid career summary statement.
Lab Technician CV Summary
Use the same approach when writing an entry-level CV.
Lab Tech CV Objective
You can write a powerful career objective even if you don't have relevant lab tech experience. Focus on showing transferable skills and add numbered achievements whenever possible.
Expert Hint: How to write a CV profile? It is best to do this once you have completed the other sections of your lab technician CV, especially your job description.
3. Detox Your Lab Technician Job Description and Skills Section
Most lab tech CVs are full of toxins. The slow, annoying kind that bores the person reading your CV to death. Most people think that listing your work experience is simply listing the tasks you have performed. If that was the case, all CVs would look the same.
Fire up the induction coils. List 3 to 8 bullet points that outline the type and magnitude of work you have done, and focus on backing them up with measurable results and accomplishments. The PAR (Problem-Action-Result) method can be helpful if you're stuck.
For older positions, limit yourself to 3 bullet points.
Laboratory Technician Job Description
The worse example is what most lab tech CV samples will look like. Without numbers and perspective, it does nothing.
If you want to underline a particular part of your skillset, or you have something that needs to be included but doesn't warrant a bullet point, you can do so with a CV skills section.
Mix 5-10 hard and soft skills and make sure they're relevant to the position you're applying for.
Lab Technician Skills for CV
Adaptability
Attention to detail
CAD
Collaboration
Computer skills
Conflict resolution
Corporate scheduling
Customer service
Data entry
Detail-oriented
Equipment calibration
Equipment maintenance
Equipment programming
Equipment troubleshooting
HIPAA
Initiative
Inspection preparation
Interpersonal communication
LIWS
Listening
Microscope operation
Multi-line phone systems
Multi-tasking
Office supply management
Organisational skills
PPE use
Prioritising
Problem-solving
Record keeping
Reliability
Scheduling
Specimen analysis
Specimen collection
Specimen preparation
Time management
Training
XX WPM Typing Speed
Expert Hint: The job isn't all vials and pipettes. There's going to be a lot of typing. If you're scarce on experience, listing your typing speed could help. Take an online test and run it a few times to find the average.
The ResumeLab builder is more than looks. Get specific content to boost your chances of getting the job. Add job descriptions, bullet points, and skills. Easy. Improve your CV in our CV builder now.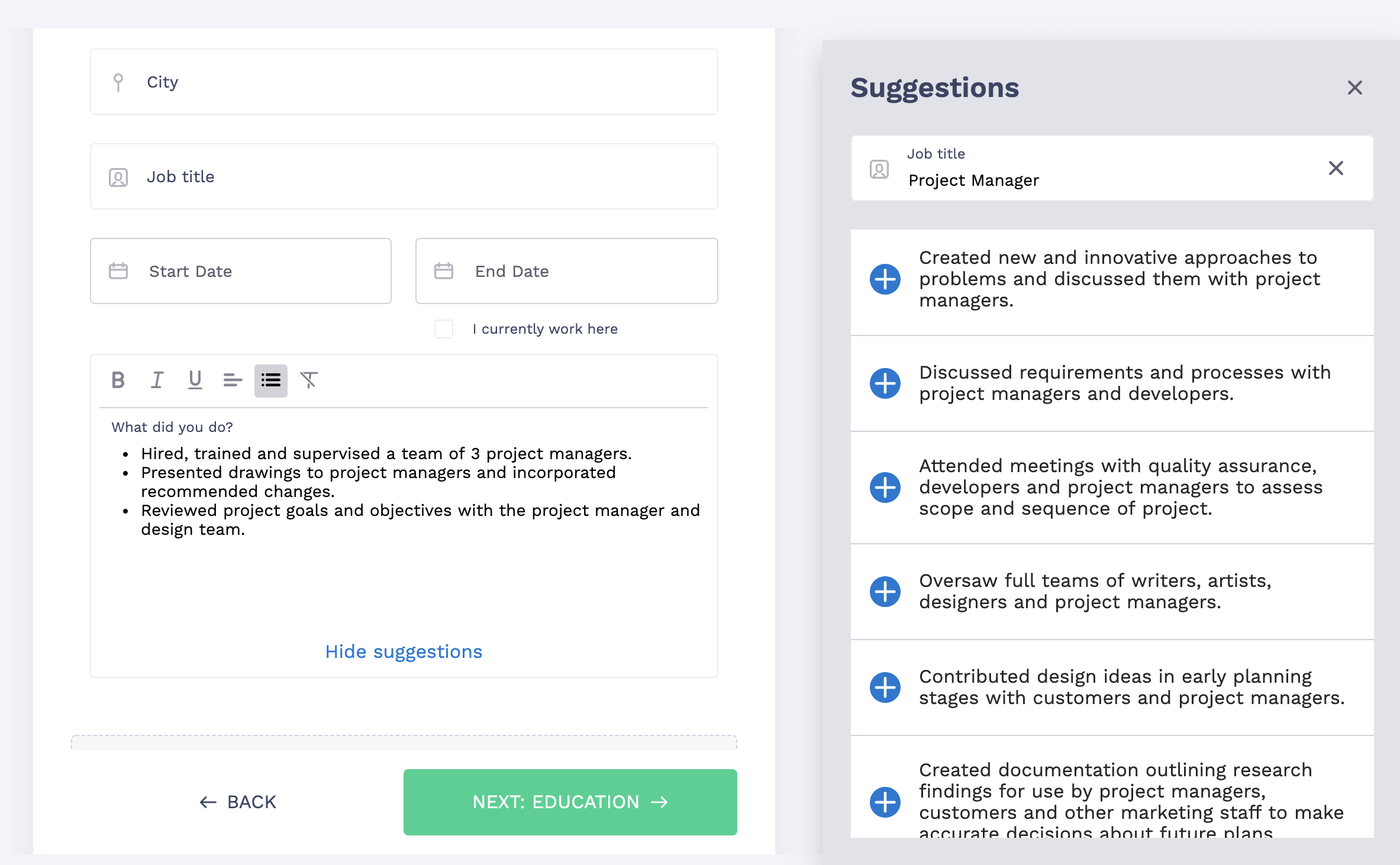 Nail it all with a splash of colour, choose a clean font, highlight your skills in just a few clicks. You're the perfect candidate and we'll prove it. Use the ResumeLab builder now.
4. Include An Education Section
Unless you're applying for a specialist research post that requires a certain degree, you will probably be well served to reduce it to just the name of the degree, date of graduation, and school name.
Include your GPA if you are fresh out of school, and relevant coursework if you think it will advance your chances.
This how you should list education on your CV:
Medical Lab Technician CV Sample—Education
Expert Hint: Do you have employment gaps on your CV? Don't hide them. Lying won't help as the recruiter will discover them with a basic background check.
5. Inject Some Added Sections
Of course, you need to be certified to perform this job, so lead with a certifications section. What comes after that is a matter of personal preference and carefully weighing up what is relevant and will benefit your application.
You should list bonus CV sections under clear headings:
Awards
Additional Activities
Certifications
Foreign Languages
Volunteering (82% of managers would rather hire someone with volunteering experience than without.)
Skills—if you haven't included them as part of your other sections
This is the proper way to organise it instead of throwing everything together under an 'Other Info' heading. Keep it relevant.
See the after and before from this lab technician CV example:
Dental Laboratory Technician CV Example—Extra Sections
Keep it structured, concise, and relevant.
Expert Hint: Write a cover letter especially if you're a junior. Cover letters help to explain your motivation and show transferable skills.
Double your impact with a matching CV and cover letter combo. Use our cover letter builder and make your application documents pop out.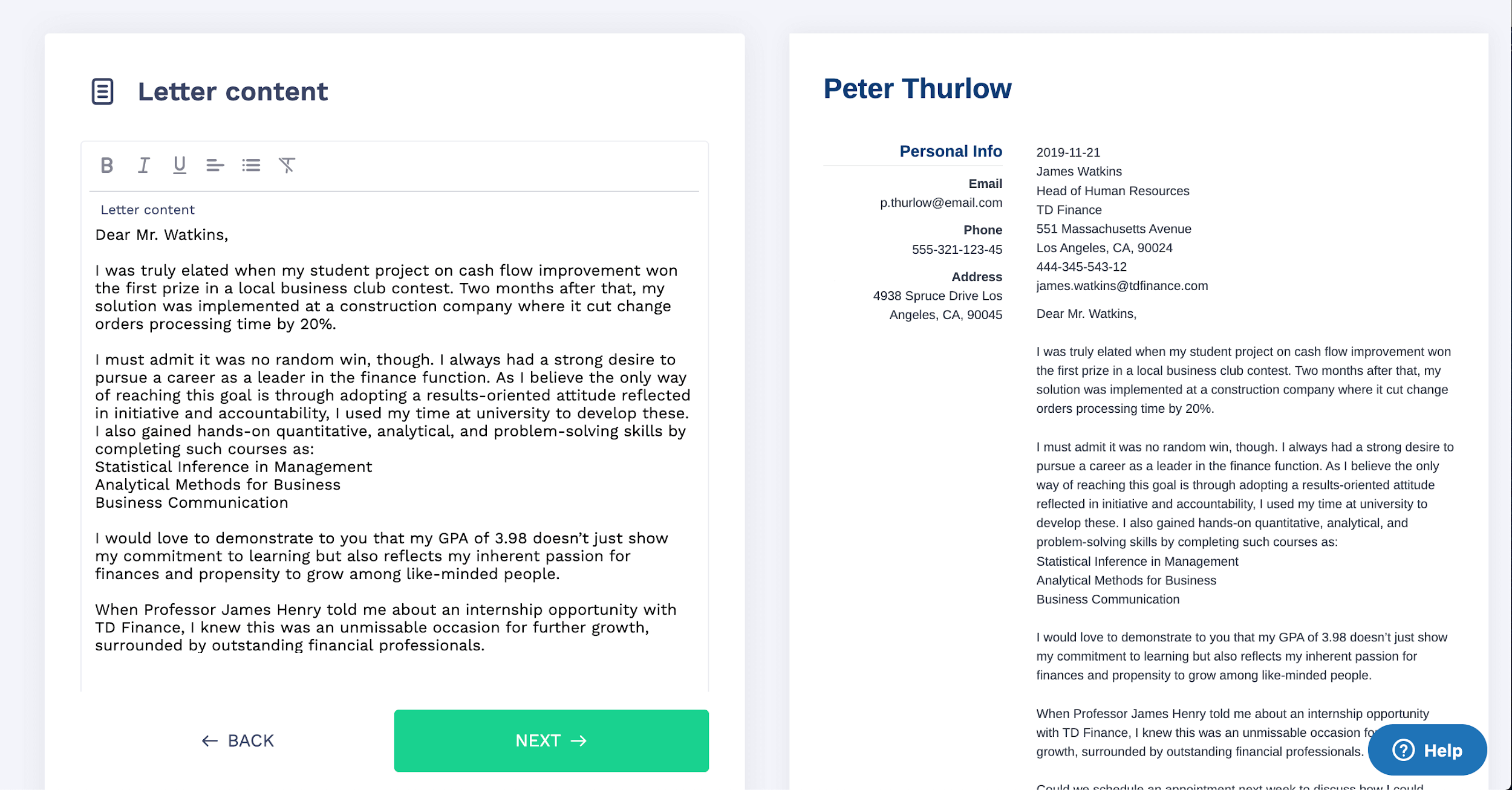 Want to try a different look? There's 18 more. A single click will give your document a total makeover. Pick a cover letter template here.
Key Points
Before your lab tech CV goes under the microscope:
Begin with our lab technician CV sample and include your own info.
Follow the CV format guidelines—margins, fonts, 1 page, reverse chronological.
Bolster your job description with achievements and numbers.
Structure certifications, skills and other bonus sections properly.
Send a lab technician cover letter.
Got questions on how to write a great CV for lab technicians? Was the lab technician CV sample helpful? Leave a comment. We'll be happy to reply.