Engineering Student CV—Examples and 25+ Writing Tips
Want to be the next Elon Musk but your daddy doesn't have an emerald mine? This engineering student CV should help.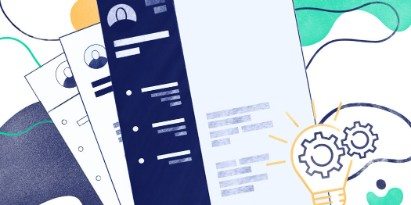 When you started your engineering degree, it was a smart decision. In the meantime, Elon Musk floated a car in space, sold flamethrowers and smoked a blunt with Joe Rogan. Now engineers are cool.
As we all know, the path of the engineer is simple: be born to an emerald mine owner, set up some businesses with a modest loan from him, yada, yada, yada, sell Paypal for £1.5 billion.
So where are you right now? Even if you fell short at 'be born to an emerald mine owner', don't worry!
With this engineering student CV you will make sure you don't get 404'd.
In this guide:
Engineering student CV examples that build bridges, not burn them.
Tips for listing your education, certifications, and skills for engineer internships and entry level jobs.
Expert hints to write the best possible job description.
Here's a sample CV for engineering students that breaks ground.
Save hours of work and get a CV like this. Pick a template, fill it in. Quick and easy. Choose from 21 CV templates and download your CV now.
What users say about ResumeLab:
I had an interview yesterday and the first thing they said on the phone was: "Wow! I love your CV."
Patrick

I love the variety of templates. Good job guys, keep up the good work!
Dylan

My previous CV was really weak and I used to spend hours adjusting it in Word. Now, I can introduce any changes within minutes. Absolutely wonderful!
George
Need a more advanced CV? We have specialist engineering CV guides:
Engineering Student CV Template You Can Copy and Use
Rachel J. Dube
3380 Pooh Bear Lane
Charlotte, SC 28202
864-700-7834
RachelJDube@jourrapide.com
A final year General Engineering student at the University of South Carolina with a projected 3.75 GPA and on the Dean's List every semester. The leader of the most successful of 6 Engineering Society teams, winning 3 out of the last 4 seasonal challenges. Practical experience gained during two internships with P&D and SpaceQ, mainly working in teams of mechanical engineers and supporting their 3D design and printing efforts. These experiences set a solid foundation to get a taste of real engineering and develop into a fully-fledged engineer at DNP.
Work Experience
Mechanical Engineer Intern
P&D Manufacturing Company, Charlotte
January 2020
Participated in 3 commercial manufacturing projects with a total budget of £13M.
Designed and constructed 20+ models of parts using AutoCAD, MathCAD, automated CNC, and 3D printers.
Cooperated with 8 mechanical engineers with 20+ years of experience.
Conducted 28 controlled experiments, developed documentation of predictions and research results, leading to a new design direction for certain hinge parts.
Maintained legal, safety and health guidelines.
Mechanical Engineer Intern
SpaceQ, Charlotte
January 2019—February 2019
Worked in a team of 12 experienced mechanical engineers to assist development of an independent space rover.
Created a 3D space gripper model, based on 2D prints. Explored 18 different design variations based on machine learning and senior engineering colleague input.
Uploaded all project data to the computer system.
Education
BS in General Engineering, (Graduation: July 2021)
Projected GPA: 3.75
University of South Carolina, Columbia, United States
Achievements:
Dean's List every semester
Engineering Society Red Team Leader (Won Fall 2019, Summer 2020 and Fall 2020 Society challenges)
Chevrolet Internship 2018 & 2019
Society of Women Engineering Founder (27 members first year)
Skills
MathCAD
MATLAB
AutoCAD, Revit, Navisworks, SketchUp
SolidWorks
Autodesk Inventor
Languages
Chinese (advanced)
Spanish (basic)
Japanese (fluent)
That's the blueprint. Let's design your own engineering student CV:
1. Rig Up Your CV Format
Why are the Teslas all the hype while the Prius was merely a curiosity when it came out? The Teslas just look good. They look good combined with a moisturised beard, but also match your caramel macchiato. You had to TELL people how good the Prius is.
Of course, Tesla owners shut up neither, but you can also see that it's just something better. Let the same shine through your engineering student CV.
The simple blueprint:
Engineering Student CV Format
You don't have to add an address to your CV. But make sure to mention a link to your GitHub.
2. Solidify an Engineering Student CV Objective
Don't blow the manager's fuse. Most candidates' CV profiles take more time to get to the point than Windows ME. Focus on solid facts: your university, GPA, and the achievements. 2 or 3 solid achievements here should utilise the 7.4 seconds of attention your CV will get.
The last sentence should tie these ends together and explain why you want to work at the place you're applying—Of course, to learn, grow, and develop. Ending your profile this way makes it a CV objective, the most suitable for students and fresh graduates.
If you're not in that much luck, and you don't have any internship to talk about, pick private projects. This section is significantly easier to write after you have completed the rest of your engineering student CV.
3. Write a Winning Engineering Student Job Description
If you have some work or internship experience, elaborate on your most recent for 5-10 bullet points. Usually in this section, we advise to focus on metrics, achievements, and results, but those may be scarce for you.
You can also focus on what you learned for a few bullet points. Prioritise the order of your bullet points differently depending on employer requirements and expectations. Tailor your CV for each application. Use CV power words such as resolved, succeeded or streamlined.
If you don't have any formal work experience, list a few private or school projects, and elaborate on each for 3 bullet points showing what you did and what you learned. You can also skip the work history section and move straight to describing your skills.
Engineering Student Job Description
AutoCAD, MathCAD, Revit...these things can stack up. If your bullet points are getting too long with lists of software and technologies, introduce a CV skills section.
Engineering Student Skills for CV
ADAMS
ANSYS
Adobe InDesign
Adobe Photoshop
AutoCAD
Autodesk Inventor
BIM 360 Glue
Bluebeam Revu
CMiC
Creo Pro/E
DYNAMO
Google SketchUp
Java
Labview
Lean Manufacturing
MATLAB
MathCAD
Minitab
Navisworks
Python
Revit
Solibri
Solidworks
Workflow Development
Teamwork
Analytical Skills
Analytical Skills
Effective Communication
For engineering student CVs, we advise sticking with a list of 5-10 technologies and software plus 2-3 soft skills. Be to the point.
Expert Hint: When listing computer skills on your CV, elaborate on each skill with a couple sentences about a private project or achievement.
The ResumeLab builder is more than looks. Get specific content to boost your chances of getting the job. Add job descriptions, bullet points, and skills. Easy. Improve your CV in our CV builder now.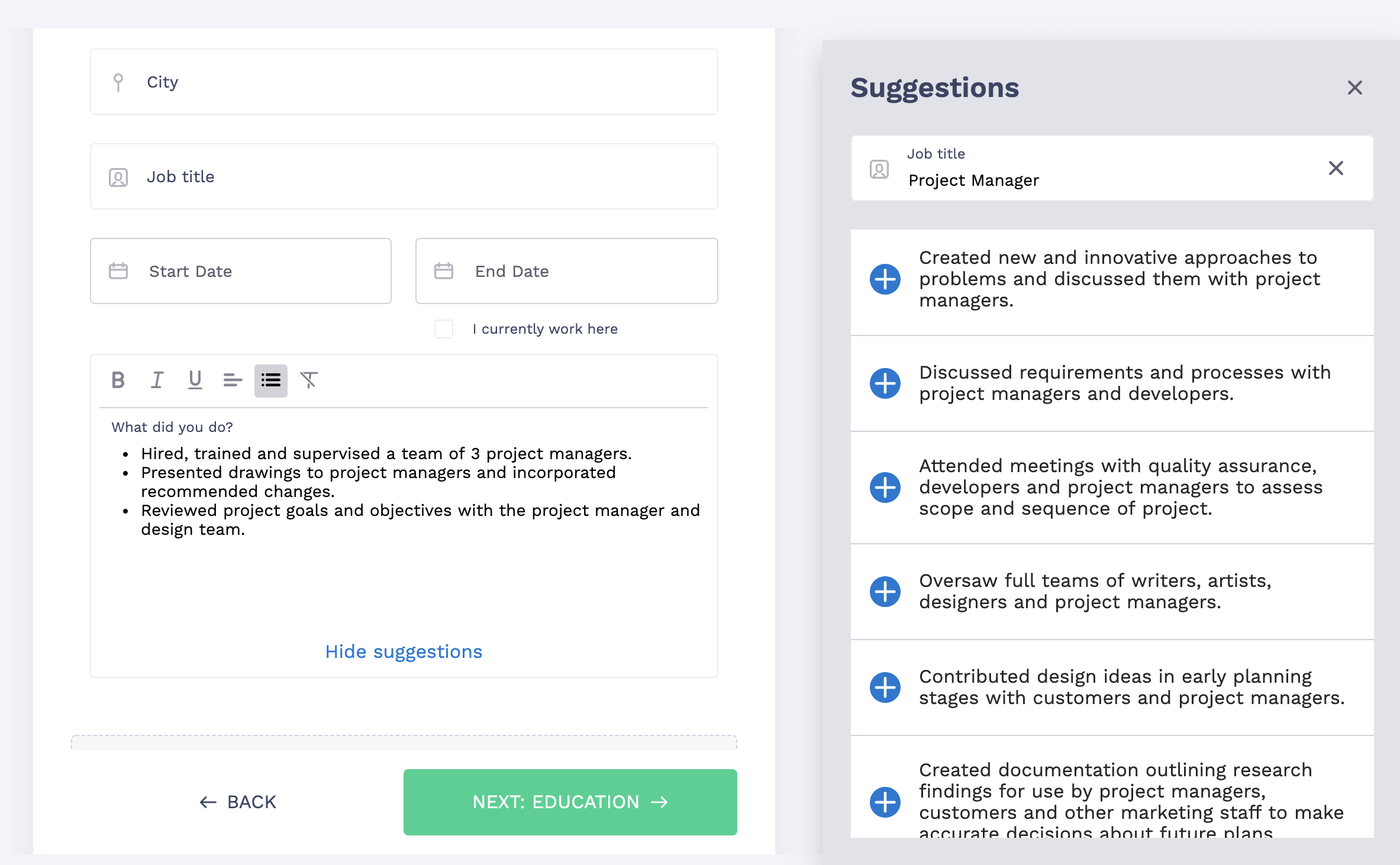 Nail it all with a splash of colour, choose a clean font, highlight your skills in just a few clicks. You're the perfect candidate and we'll prove it. Use the ResumeLab builder now.
4. Stress Test Your Education Section
The reason you're here: your engineering degree. For now, that's most of what you have to convince someone to hire you. First, list your degree, projected graduation and GPA (if good), and school.
Below, if you have them, lead with an accomplishments CV section. This could be anything from a national design competition to being treasurer of The Dancing Flea Breeder Society.
Look through the responsibilities of your new position, and pick the most relevant courses from your education to list under Relevant Coursework.
Here's how to add education on your CV:
Engineering Student CV With No Experience—Education
5. Improve Your CV With Added Sections
Can your engineering student CV bear any more load? You can expand it and provide some depth with bonus CV sections. Make sure it is relevant and helpful to the position, or it shows you are multi talented and multitasking.
Choose from these sections:
Awards
Additional Activities
Foreign Languages
Skills—if you haven't included them as part of your other sections
Just see how different these two are:
Engineering University Student CV—Extra Sections
Have you written your cover letter yet? Engineering cover letters are a great tool to show your transferable skills and motivation.
Double your impact with a matching CV and cover letter combo. Use our cover letter builder and make your application documents pop out.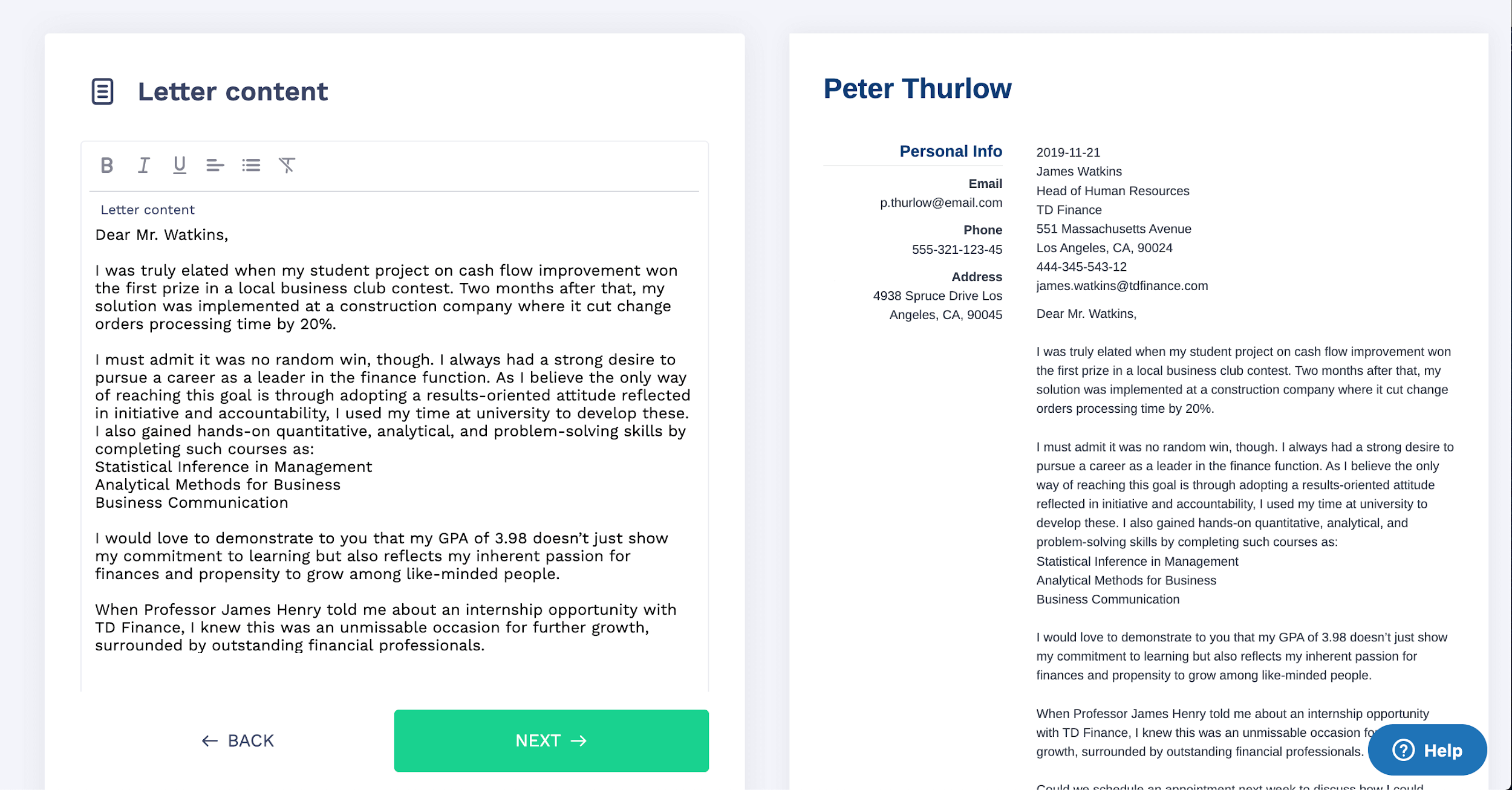 Want to try a different look? There's 18 more. A single click will give your document a total makeover. Pick a cover letter template here.
Key Points
To make sure your engineering student CV bears the heat:
Mind the professional CV format—margins, fonts, 1 page, reverse chronological.
Use our blueprint engineering student CV sample.
Design your job description with achievements and numbers regarding your performance.
Add your certifications, skills and other bonus sections—if relevant.
Write an engineering cover letter.
Got questions on how to write a great engineering student CV? Did our engineering CV examples for students? Leave a comment. We'll be happy to reply.