Civil Engineer CV Sample—20+ Examples and Writing Tips
You make big construction projects sing. Show the hiring team you can dream up massive structures that help the world and make them real with this civil engineer CV sample.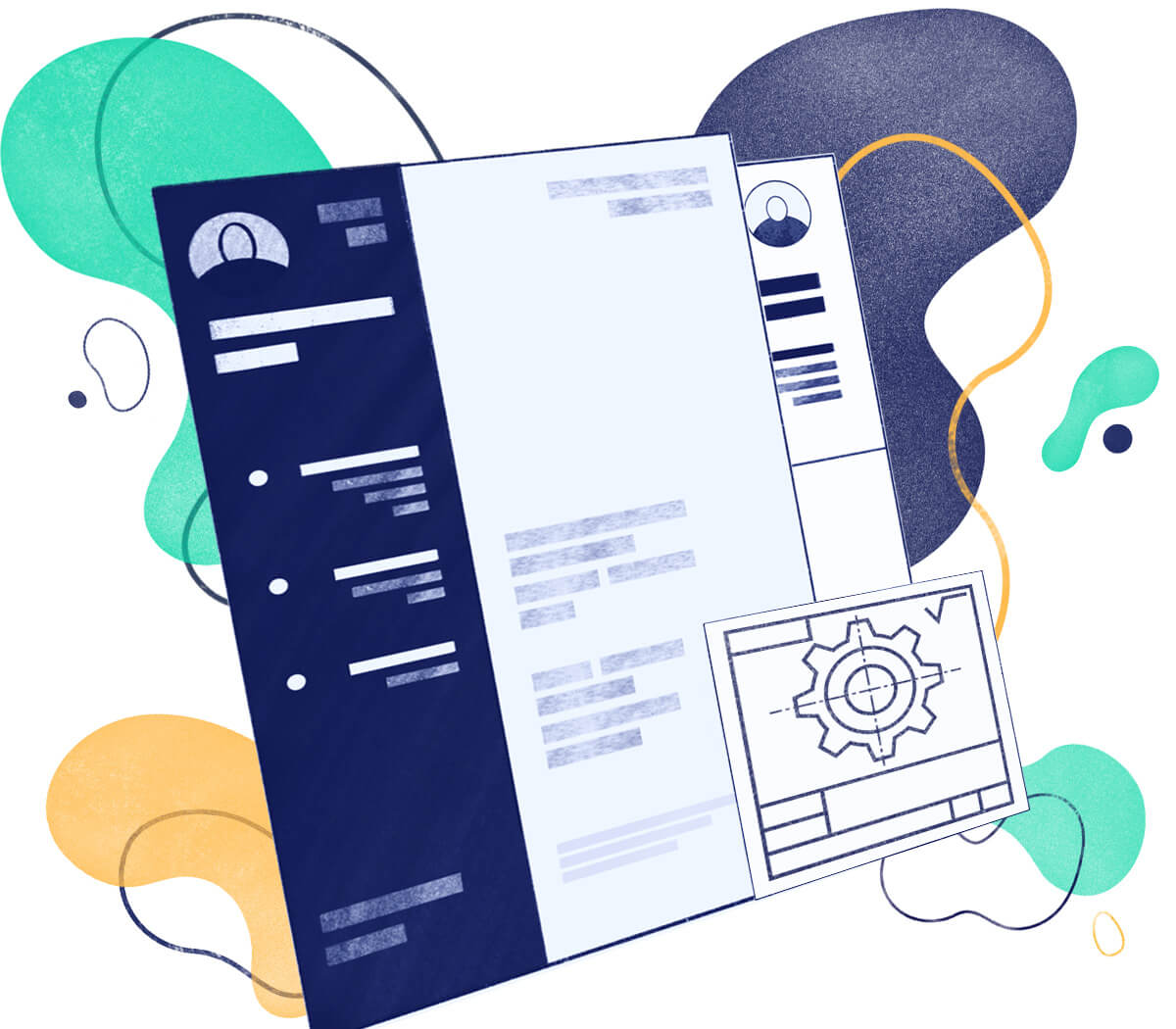 What's wrong with most civil engineer CVs?
They give a lot of details, but no specs. They don't cite any metrics or give specifics about what you've done right.
The good news?
It's not hard to write a great CV for civil engineering jobs.
You just have to find the right details in your past.
Then put them in a format that makes it easy on the hiring manager.
Do it right, and you'll be solving massive puzzles and making throngs of lives better, fast.
This guide will show you:
A civil engineer CV sample better than most.
How to make the perfect civil engineer job description for CVs.
How to write a civil engineering CV worthy of Bechtel or ACS Group.
Why you can't just list civil engineering skills (and what to do instead).
Save hours of work and get a CV like this. Pick a template, fill it in. Quick and easy. Choose from 21 CV templates and download your CV now.
What users say about ResumeLab:
I had an interview yesterday and the first thing they said on the phone was: "Wow! I love your CV."
Patrick

I love the variety of templates. Good job guys, keep up the good work!
Dylan

My previous CV was really weak and I used to spend hours adjusting it in Word. Now, I can introduce any changes within minutes. Absolutely wonderful!
George
In the wrong place? See our other guides:
Haven't found what you're looking for? Check all our CV Examples for Any Job.
Civil Engineer CV Sample You Can Copy and Use
Barry Nyland
Civil Engineer
Personal Info
Phone: 909-328-2690
E-mail: barryznyland@gmail.com
linkedin.com/in/barryznyland
twitter.com/barryznyland
Summary
Efficient Civil Engineer and PE with 3+ years of experience and a passion for problem solving. Seeking to use strong design and project management skills to raise quality and cut lead times at Jandow & Bronson. At PFKK, completed 5 £2 million projects, exceeding quality metrics by 15%.
Experience
Civil Engineer
PFKK
2016–2019
Used project management best practises to complete 5 projects with budgets over £2 million each.
Exceeded all quality metrics for structural design and construction by 15%+.
Delivered most jobs 3 days ahead of schedule.
Cut supply costs 12% through strict vendor management. Delivered all jobs 10% under budget.
Civil Engineer Experience
Various
2015–2016
Consulted on municipal design of school for disabled children in Namibia.
Performed forensic investigations of 3 damaged commercial office buildings.
Designed local sports field and 3 buildings with seating for 1,000.
Civil Engineering Internship
Trammler Bros. Construction
2015–2015
Created 15 structural designs with AutoCAD Civil 3D.
Performed requirements-gathering for £3 million commercial construction job.
Education
BS Civil Engineering, California State University
2011–2015
Maintained 4.0 average in structural design coursework.
Senior project in ETABS was written up in ASCE News.
PMP Certification
PMP, California State University
Conferences
2018 ASCE Convention, spoke on panel about project management
2017 ASCE Convention
Publications
2018 Article on STAAD featured in ASCE Magazine
2017 Spoke about AutoCAD on The Civil Engineering Podcast
Additional Activities
Member, ASCE
Head of local sea kayaking group, raised membership 60%
Hard Skills: Project management, AutoCAD, STAAD Pro, Autodesk Revit, ETABS, structural design
Soft Skills: Problem solving, critical thinking, communication, interpersonal skills, collaboration
Now here's how to write a civil engineer CV they'll love:
1. Start With the Best Civil Engineer CV Format
Civil engineers design, construct, and refurbish our infrastructure, including roads, pipelines, bridges, airports, dams, and canals. They are routinely responsible for completing multi-million dollar or even billion-dollar construction projects that support the lives of millions. That's why a civil engineering CV is so important.
And it all starts with proper formatting.
Why?
Because a sloppy civil engineer CV will terrify the hiring team.
Use these tips to stay clean and clear:
Civil Engineer CV Format
Break ground with the reverse-chronological CV format.
Pick CV fonts like Arial or Georgia in 10–12pt.
Use 1-inch margins with plenty of dead space.
Write a one-page CV unless you've got pages of civil engineering projects.
Divide it into proper CV sections: Header, Summary, Experience, Education, Skills, and "Additional."
Expert Hint: Save your civil engineering CV as a PDF file provided the job offer doesn't say no. CV PDFs look the same across multiple platforms.
2. Tempt Them with a Civil Engineer CV Objective or Summary
Imagine:
The busy hiring manager skims your CV.
Not interested, he quits the window and moves on to the other 100 CVs.
What happened?
You didn't grab him fast enough.
So—
Write a civil engineering CV summary that catches him.
Use:
One adjective (detail-oriented, efficient, creative)
Job title (Civil Engineer)
Years of experience (2+, 4+)
How you'll help (raise quality and cut lead times)
Nicest few achievements (completed 5 £2 million projects)
These civil engineer CV examples show how:
Civil Engineer CV Summary—Example
That's black and white.
The first of those civil engineer CV samples is Thomas-Telford-level. It shows off your Herculean skills.
Civil Engineer CV Objective—Example
Not enough experience in your civil engineering CV?
Don't fret.
Mention accomplishments from freelance work or civil engineering internships.
So you didn't build the Palm Islands. Still, that civil engineer CV example proves your worth.
Expert Hint: Write the objective of your CV for civil engineer jobs last. You'll have an easier time because all your material will be lined up and ready.
3. Write the Best Civil Engineer Job Description
You've done so much.
How do you show it all in a civil engineer CV?
Here's the trick:
You don't have to.
Just list the few things guaranteed to prove you could've built the Brooklyn Bridge.
Here's how to write a civil engineer job description for a CV:
Take your specs from the online posting.
Note the civil engineering skills and responsibilities in it.
Brainstorm when you've used those skills to great effect.
List those in your civil engineering CV, with metrics.
This way you'll make sure your CV has all the necessary keywords.
These civil engineering CV examples show how:
Civil Engineer Job Description for CV [Sample]
Wow.
One of those civil engineer CV examples should be condemned. The other could teach Albert Frink a thing or two.
Writing an entry-level CV for civil engineering jobs? Read on.
Entry-Level Civil Engineering CV Job Description [Sample]
Easy.
The first of those civil engineer CV examples nails it.
Just list your best and brightest wins from freelance work, volunteer work, and your civil engineering internship.
But don't forget to add those metrics! They make all the difference.
Are you writing a civil engineering intern CV or student CV?
List educational achievements.
Civil Engineer CV Skills
Beware:
Don't overload your civil engineering CV with skills.
The job ad lists all the hard and soft skills you need.
Civil Engineering Skills

| | |
| --- | --- |
| Soft Skills | Hard Skills |
| Problem Solving | Project Management |
| Critical Thinking | Math |
| Organisation | Physics |
| Creative Thinking | AudoCAD |
| Collaboration | Autodesk Revit |
| Detail Oriented | STADD Pro |
| Communication | Structural Design |
| Interpersonal Skills | ETABS |
| Time Management | Water Resources Engineering |
| Leadership | Geotechnical Engineering |
Expert Hint: The best places to find civil engineering jobs? Indeed, Google, and EngineerJobs.com. Post your CV on those sites for a recruiter boost.
The ResumeLab builder is more than looks. Get specific content to boost your chances of getting the job. Add job descriptions, bullet points, and skills. Easy. Improve your CV in our CV builder now.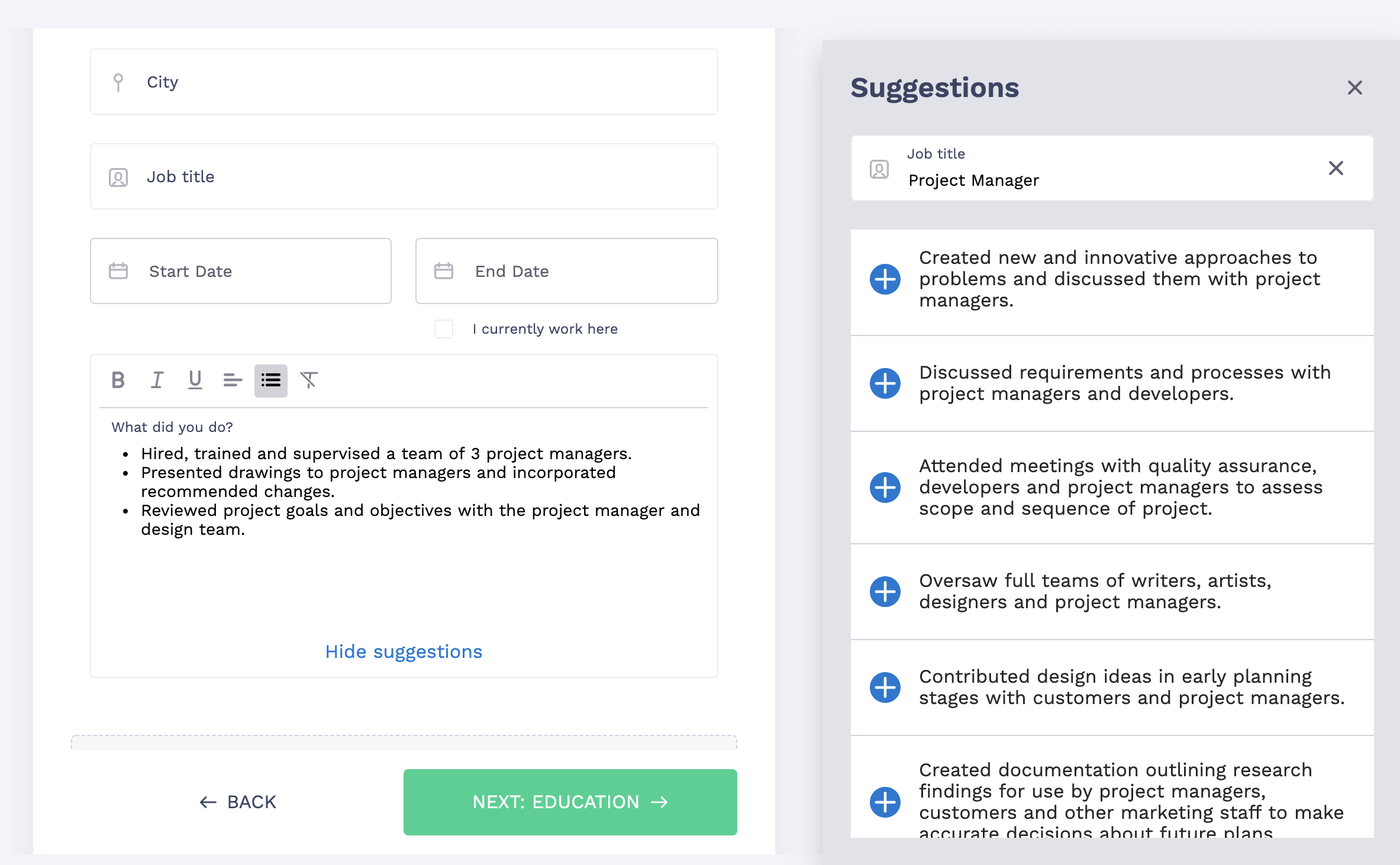 Nail it all with a splash of colour, choose a clean font, highlight your skills in just a few clicks. You're the perfect candidate and we'll prove it. Use the ResumeLab builder now.
4. Turn Boring Education to a Reason to Hire You
You know a civil engineering CV depends on education.
But—
Even your CV education section must prove skills.
These civil engineer CV examples show how:
Civil Engineer Education—Example
Wow.
That shows structural design skills, ETABS skills, and PMP proficiency.
Expert Hint: Is your civil engineering experience paltry? Your education and internship can take up ¾ of your CV. Just make sure to pack it with achievement.
5. Build Up Your Civil Engineer CV With Bonus Sections
Is that it?
Nope.
Your civil engineering CV can't just show your work history, skills, and education.
You've got to show you get stuff done.
So—
Add some "other" CV sections:
Additional Activities
Conferences
Awards & Honours
Volunteer Experience
Publications
Foreign Languages
Continuing Education
Certifications
Freelance Work
These two civil engineering CV examples show code from violation:
Civil Engineer CV—Extra Sections
Massive difference.
The applicant who wrote the first of those civil engineer CV samples could have built the Panama Canal.
Expert Hint: Writing a cover letter to add to your civil engineering CV will boost your chances of getting hired. If you don't, about half the hiring teams out there will skip your application.
Double your impact with a matching CV and cover letter combo. Use our cover letter builder and make your application documents pop out.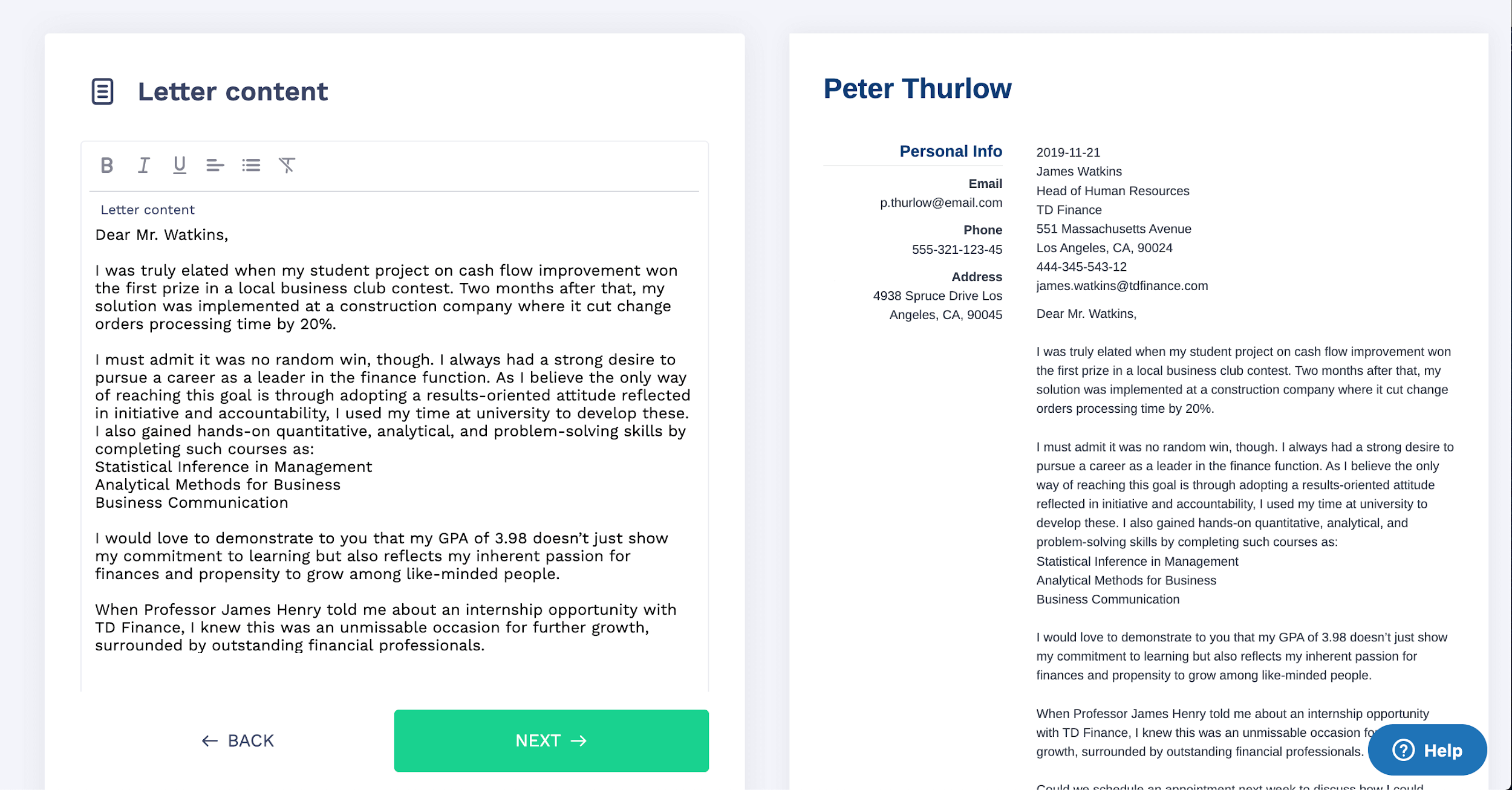 Want to try a different look? There's 18 more. A single click will give your document a total makeover. Pick a cover letter template here.
Key Points
For a civil engineering CV that gets jobs:
Use the civil engineer CV template up top. It's respectable and has all the building blocks for getting interviewed.
Put civil engineer accomplishments in your objective, work experience, education, and "bonus" sections to prove your Smeaton-level skills.
List the right civil engineer skills. They're in the civil engineering job description in the online posting.
Include a civil engineer cover letter. In it, show how you fit the job by proving that you understand the job.
Got questions on how to write a great CV for civil engineer jobs? Not sure how to show civil engineer on a CV? Leave a comment. We'll be happy to reply!