Preschool Teacher CV Sample—20+ Examples and Expert Tips
You know how children learn. You're trained, experienced, and ready to work. But how will the school administrators know that? Use this educated preschool teacher CV sample.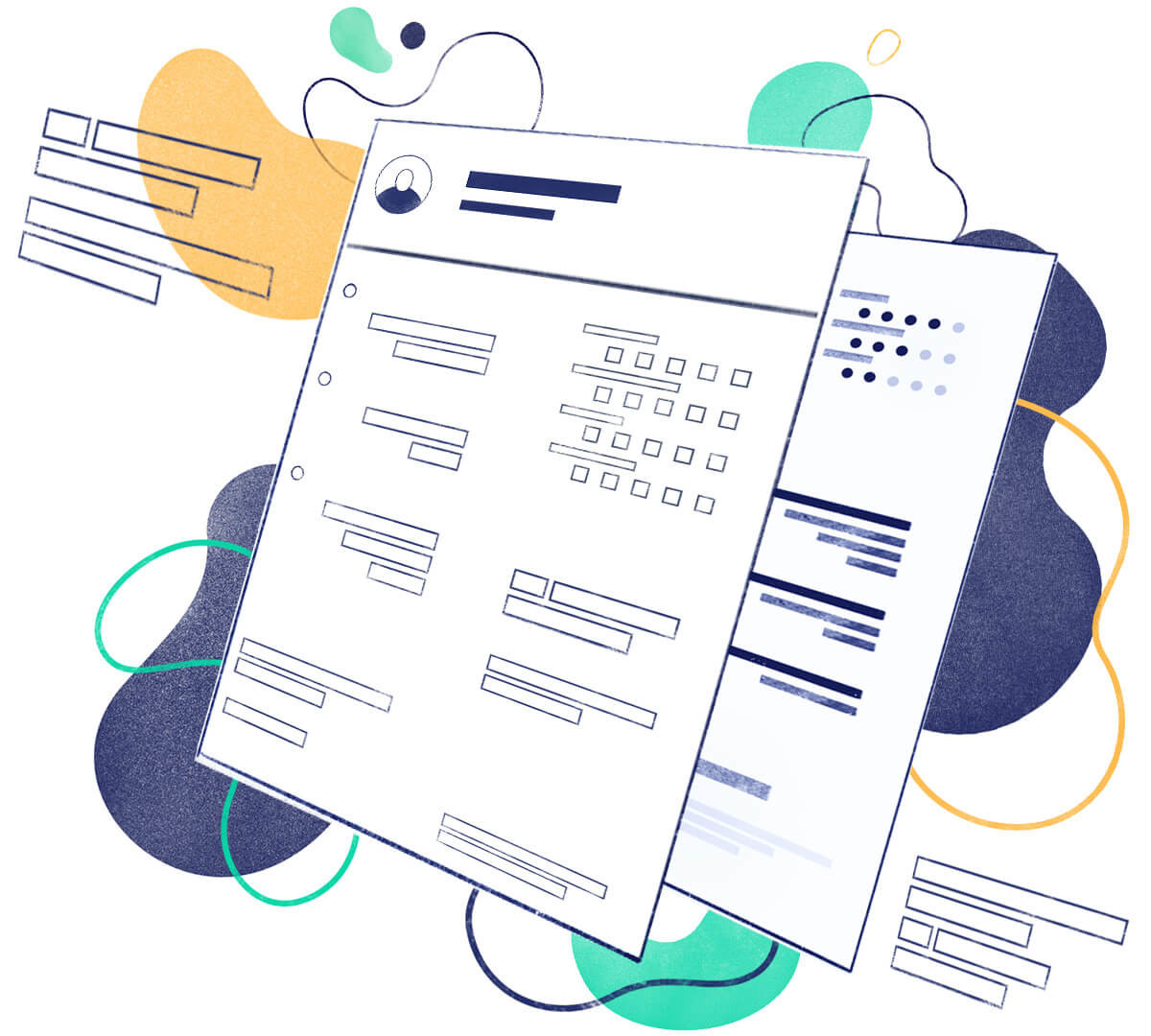 Preschool teachers do the critical work of introducing young minds to learning. They observe, evaluate, and implement age-appropriate learning activities to create a lifelong love of education. A CV for preschool teachers must demonstrate experience nurturing budding interests, plus prove key teacher skills.
You can get a preschool teacher job.
But not if you look like all the others.
Your CV for preschool teacher jobs needs all the right building blocks—
In the right order.
But you can do it with a little guidance.
In this guide:
A preschool teacher CV sample better than most.
How to make a good preschool teacher job description for CVs.
How to write a CV for preschool teacher jobs that gets interviews.
Why you can't just list preschool teacher skills (and what to do instead).
Save hours of work and get a CV like this. Pick a template, fill it in. Quick and easy. Choose from 21 CV templates and download your CV now.
What users say about Resumelab:
I had an interview yesterday and the first thing they said on the phone was: "Wow! I love your CV."
Patrick

I love the variety of templates. Good job guys, keep up the good work!
Dylan

My previous CV was really weak and I used to spend hours adjusting it in Word. Now, I can introduce any changes within minutes. Absolutely wonderful!
George
Got other teacher skills? See our guides:
Haven't found what you're looking for? Check all our Professional CV Examples.
Preschool Teacher CV Sample You Can Copy and Use
Hannah Xuefeng
Preschool Teacher
Personal Info
Phone: 240-278-3797
Email: hannahzxeufeng@gmail.com
linkedin.com/in/hannahzxeufeng
twitter.com/hannahzxeufeng
Summary
Montessori certified preschool teacher with 5+ years of experience and excellent classroom management skills. Seeking to help children learn at Young Growers Preschool. At MCRES, maintained 97% positive parent feedback with classes averaging 20 students each.
Certifications
Child Development Associate
Montessori Early Childhood Teacher Certification
Experience
Preschool Teacher
MCRES, Bowie, Maryland
2016–2019
Provided interactive activities to classes of 20 students, ages 3–5 years.
Created 6 lesson plans for preschool students, so well received that 4 were adopted by other schools, with 97% favourable parent feedback.
Maintained strong communication channels with parents, working to identify and overcome behavioural and learning troubles in 15 children.
Used Montessori tools to identify individual student interests, improving motivation to learn by 35% across all student groups.
Commended 3x by board of directors for compassion and work ethic.
Preschool Teacher
Flower Seeds Preschool, Clinton, Maryland
2014–2016
Taught preschool classes of 15+ students 3–5 years old.
Implemented program to let preschoolers encourage each other through projects, increasing task confidence by 25%.
Commended by lead teacher for streamlining parent portal, resulting in 30% drop in parent-teacher miscommunications.
Used reflective practise to change curriculum implementation and group presentation approach, causing 20% rise in assessment scores.
Daycare Assistant
Rascallions Daycare
2013–2014
Worked as part-time daycare assistant for 15+ children ages 1–5.
Introduced 50+ Montessori activities to the daycare, using 5–7 daily.
Contributed to 30% parent satisfaction rise with communication skills.
Education
Maryland Montessori
2013–2016
Excelled at lesson-plan development
Commended for child management skills by practicum teacher.
BS Early Childhood Education, UMD
2009–2013
Pursued a passion for early learning coursework.
Created senior project in creating lesson plans.
Additional Activities
Member, NAEYC.
Spoke on classroom management at NAEYC Conference 2018.
Hard Skills: classroom management, lesson plan creation, child CPR, guitar, singing
Soft Skills: interpersonal skills, compassion, communication, creativity, physically fit
Now here's how to write an effective preschool teacher CV:
1. Start With the Best Preschool Teacher CV Format
Here's the thing:
Format your CV for preschool teacher jobs right, and you're halfway there.
Use these formatting tips:
Preschool Teacher CV Format
Use reverse-chronological format.
Pick a single CV font like 10–12pt Verdana or Georgia.
Add ample white space and 1-inch margins.
CV length should be one page for preschool teacher jobs.
Include these CV sections: Header, Objective, Experience, Education, Skills, and one or two bonus sections.
Expert Hint: Always save preschool CVs as PDF files. PDFs translate to different kinds of screens, and ATS hiring software handles them well.
2. Write a Good Preschool Teacher CV Objective or Summary
Here's a tip:
Like toddlers, school admins have short attention spans.
That's why you need a dazzling CV objective or CV summary.
Build it with:
An adjective or two (hard-working, certified)
The words "preschool teacher"
Years of experience (2+, 9+)
How and where you'll help (help children learn at Young Growers Preschool)
Best preschool achievement or two (maintained 97% positive parent feedback)
These preschool teacher CV examples show how:
Preschool Teacher CV Summary—Example
So different.
The first of those preschool CV samples whets their appetite with details.
Writing an entry-level CV for preschool teacher positions?
No experience?
Don't sweat it. Add transferable achievements from non-preschool-teacher jobs.
Preschool Teacher CV Objective—Example
Expert Hint: When should you write your preschool teacher CV summary or objective? Last so you can skim the cream from the rest of your CV.
The ResumeLab builder is more than looks. Get specific content to boost your chances of getting the job. Add job descriptions, bullet points, and skills. Easy. Improve your CV in our CV builder now.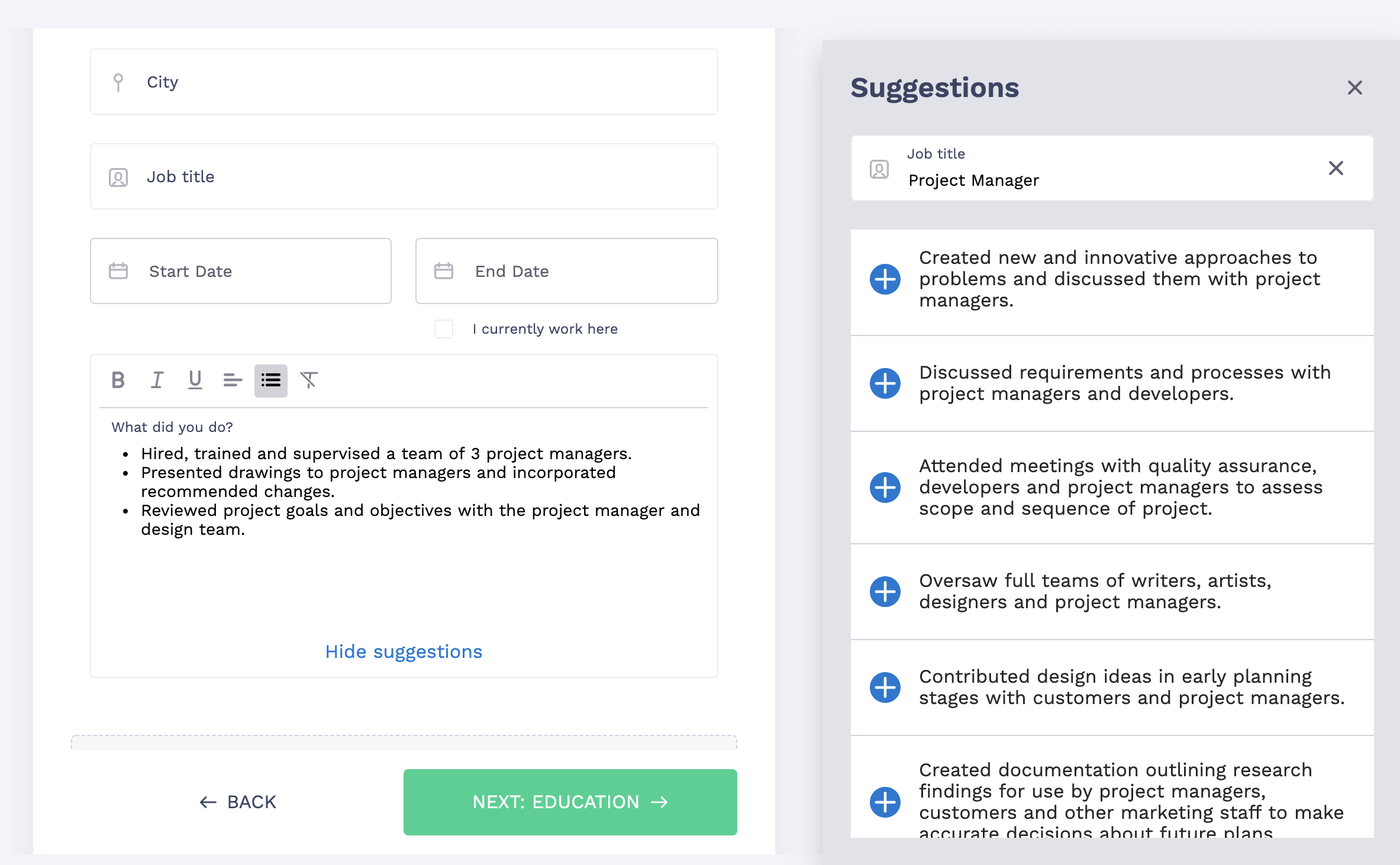 3. Write a Winning Preschool Teacher Job Description
Don't miss this:
You can't just say you "handled" preschool teacher duties.
You need to know which ones the school wants help with.
Then show you excelled at those.
Here's how:
How to write a preschool teacher job description for CVs
Dig through the posting online to see what preschool teacher skills they want.
Note some times you've soared with those.
List them in your preschool CV experience section, education, and "other" sections.
These preschool teacher CV examples show how:
Preschool Teacher Job Description for CV [Sample]
Wow.
The second of those preschool teacher CV examples flunks.
But the first one is a perfect match.
Need an entry-level CV for preschool teacher jobs? See below.
Entry-Level Preschool Teacher CV Job Description [Sample]
Take another look.
That first example uses a retail job and a daycare job to show key skills.
But—
Prove both hard and soft skills on your preschool CV. Start with the CV skills for preschool teacher jobs below.
Preschool Teacher CV Skills
| | |
| --- | --- |
| Hard Skills | Soft Skills |
| Classroom Management | Interpersonal Skills |
| Parent Interaction | Patience |
| CPR and First Aid | Communication |
| Lesson Plan Creation | Creativity |
| Montessori Experience | Instruction |
| Leading Circle Time | Physical Fitness |
| Child Assessment | Empathy |
| Writing Progress Notes | Adaptability |
| Child Monitoring | Problem Solving |
| Special Education | Organisation |
Expert Hint: To make your CV more believable, add numbers. Percents, numbers of children, and even dollar figures can enliven a sagging preschool CV.
4. Turn Boring Education to a Reason to Hire You
Did you know?
A preschool teacher CV can show its education section right or wrong.
Right: Accomplishments that demonstrate your teaching skills.
Wrong: GPA, school name, degree, and nothing more.
Watch this:
Preschool Teacher Education—Example
That education example has four great CV keywords.
Expert Hint: If you got out of school many years ago, shorten the education section in your preschool CV. If you lack experience, stretch it tall.
5. Prep Your Preschool Teacher CV With "Other" Sections
"This one has what it takes!"
You can make the hiring team say that with added sections in your preschool CV.
Choose from:
These preschool teacher CV examples outline the lesson:
Preschool Teacher CV—Extra Sections
Which one would you hire?
The first preschool teacher CV example packs in more skills proof.
Expert Hint: Writing w cover letter for a preschool teacher position is a great idea. Your application will get more eye-time this way. That's especially true if you make it clear you "get" the job.
Double your impact with a matching CV and cover letter combo. Use our cover letter builder and make your application documents pop out.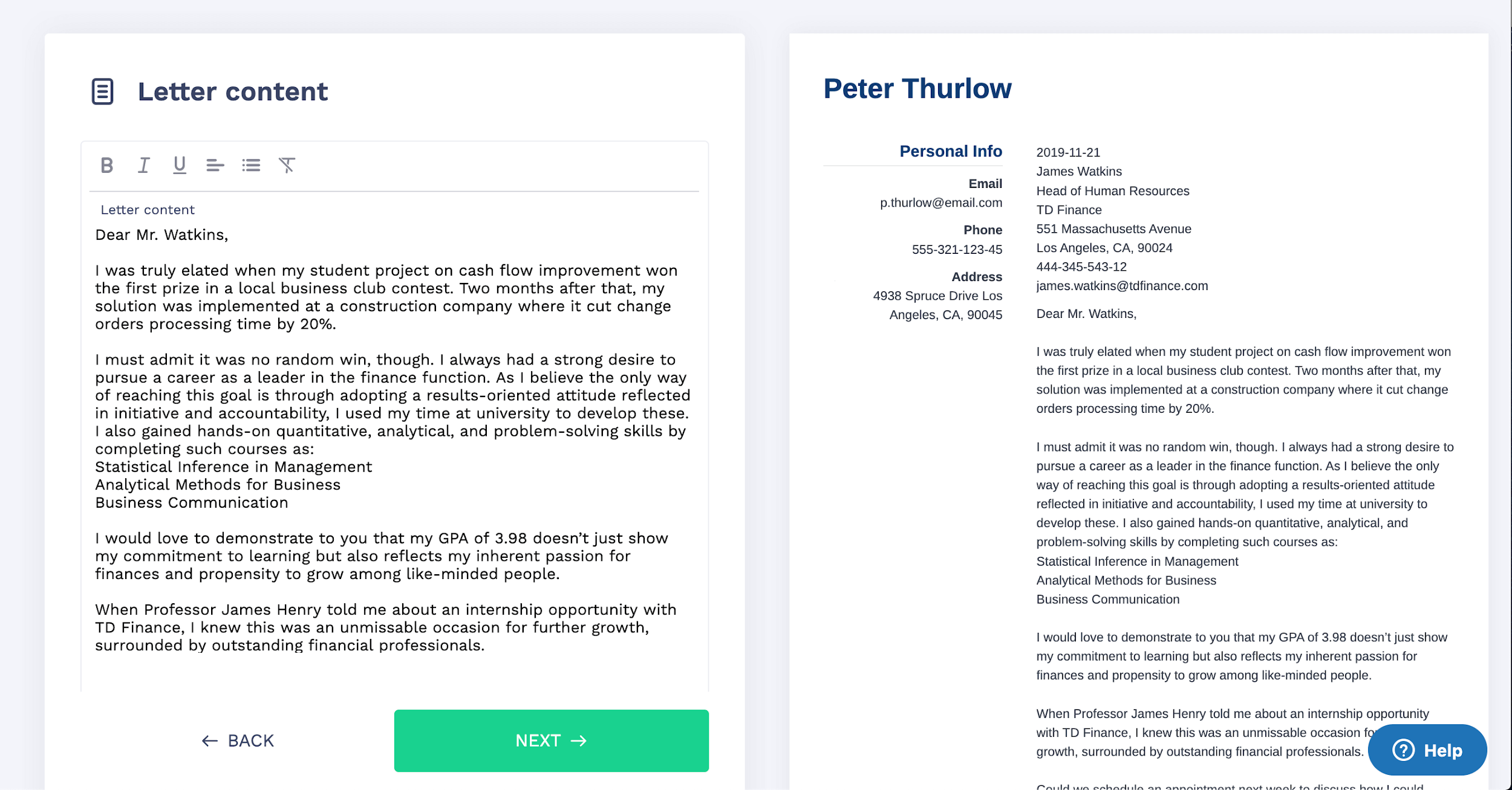 Key Points
For a preschool teacher CV they'll love:
Use the preschool teacher CV template up top. It shows you have the right childhood education skills to fit the job.
Add preschool teacher accomplishments to your CV objective, work experience, education, and "additional" sections.
List preschool teacher skills that interest the administrators. Find them in the job ad online.
Write a preschool teacher cover letter. Use it to prove your knowledge of the job.
Got questions on how to write great CVs for preschool teacher jobs? Not sure how to show preschool teacher on a CV? Leave a comment. We'll be happy to reply!