Line Cook CV—Examples and 25+ Writing Tips
You're no stranger to a mushroom sauce or agrodolce—but if the chef de cuisine doesn't know that, she won't hire you. Prove it with this satisfying line cook CV sample.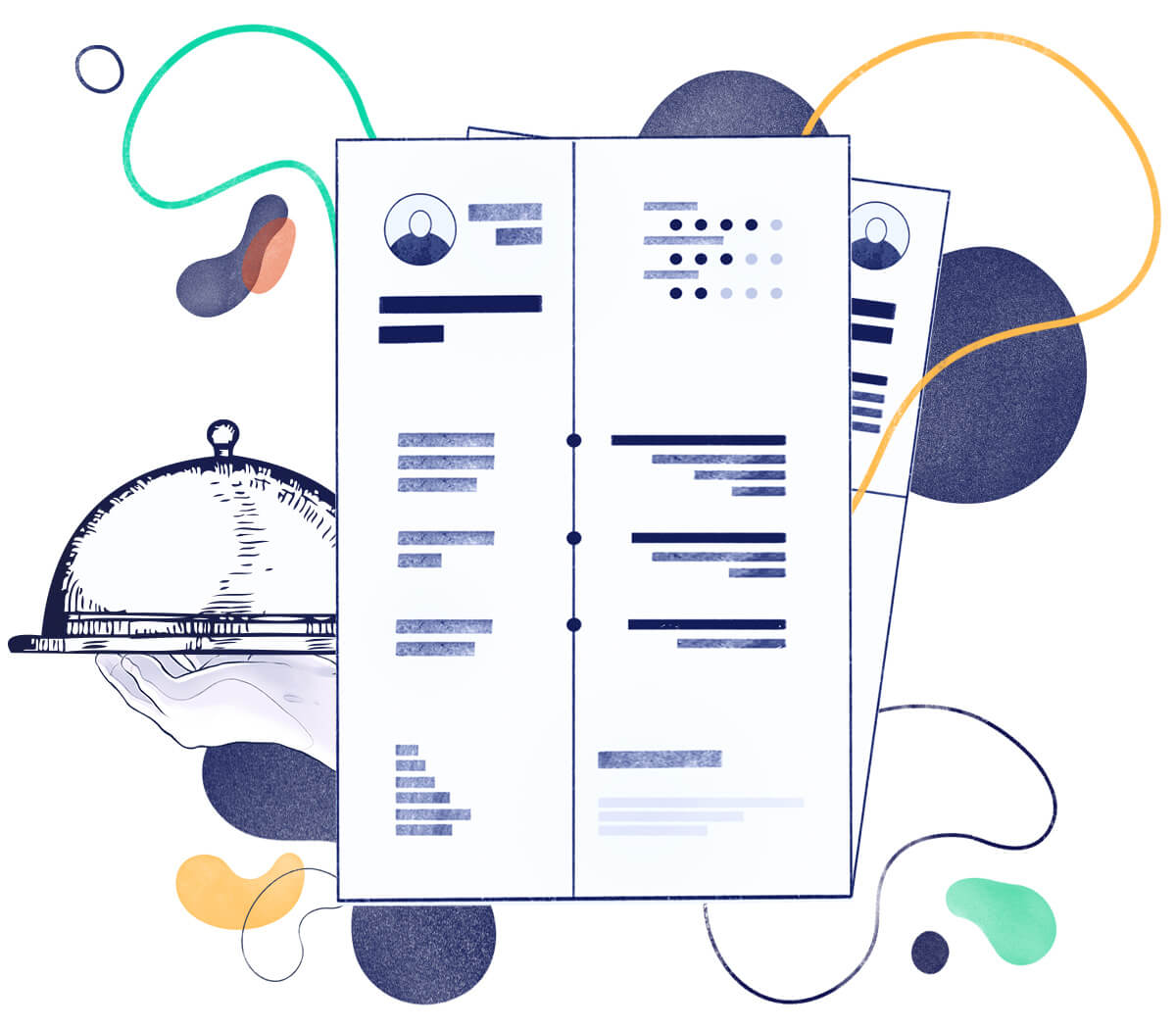 This line cook CV sample shows your talents to the head chef.
Why does that matter?
So many other cooks are fighting for that line cook job. And—
The head chef has a smorgasbord of CVs to pick from.
You have to look like Gruyere fritters with chilli and lime on a table full of Spam.
You can do this. You've got the skills.
Pick the right line cook achievements, and you'll be plying that Damascus Steel in no time.
In this guide:
A line cook CV sample better than most.
How to write a tantalising line cook CV.
How to make a line cook job description for CVs that gets interviews.
Why you can't just list line cook skills (and what to do instead).
What does a perfect CV for a line cook look like? See below—
Save hours of work and get a CV like this. Pick a template, fill it in. Quick and easy.
Choose from 18 CV templates and download your CV in minutes.
What users say about ResumeLab:
I had an interview yesterday and the first thing they said on the phone was: "Wow! I love your CV."
Patrick

I love the variety of templates. Good job guys, keep up the good work!
Dylan

My previous CV was really weak and I used to spend hours adjusting it in Word. Now, I can introduce any changes within minutes. Absolutely wonderful!
George
Looking for some other kind of food-service CV? See our guides:
Haven't found what you're looking for? Check all our professional CV examples.
Line Cook CV Sample You Can Copy and Use
Jon Karim
Line Cook
Personal Info
Phone: 909-339-8642
Email: jonzkarim@gmail.com
linkedin.com/in/jonzkarim
twitter.com/jonzkarim
Summary
Dependable line cook with 7+ years of experience creating memorable meals in a fast-paced environment. Seeking to wow customers at Leedio. At The Candied Dragon, promoted to head line cook in 6 months for teamwork, efficiency, and consistency.
Experience
Line Cook
The Candied Dragon, Los Angeles, CA
2016–2019
Key Qualifications & Responsibilities
Prepped veggies, sauces, and meats in a 40-seat restaurant with several multi-ethnic specials daily. Specialised in beef and seafood.
Awarded busy weekend night shifts by head chef for consistent efficiency, attention to detail, teamwork, and positive attitude.
Promoted to head line cook after 6 months for consistent high-quality work even in busy times. Frequently pitched in to help bussers.
Key Achievement:
Worked with local farmers to create food-waste reclamation and reimbursement effort. Recouped £1,000 a month in food waste.
Line Cook
The Sotted Gorgon, Los Angeles, CA
2014–2016
Key Qualifications & Responsibilities
Prepared and plated all food in 25-seat Greek restaurant during dinner and lunch shifts, facilitating 5-star ratings in Yelp and Google.
Introduced new sauces and side-dishes, 5 of which were adopted for the permanent menu. Commended by manager for creativity.
Key Achievement:
Worked with vendors to source better quality ingredients at a 15% savings over old arrangements, saving £1,500 a month for restaurant.
Education
AA Culinary Arts
Los Angeles Trade-Tech, Los Angeles, CA
2012–2014
Excelled in hot & cold sauce preparation.
Pursued a passion for farm-to-table cooking.
Certifications
2018 ServSafe - NRA
2017 First Aid & CPR - American Red Cross
Additional Activities
Volunteer 2x per month to cook chowder at Vine Valley Shelter.
Mentor 15 line cooks in food preparation best practises.
Hard Skills: French food, Greek food, gas grill, food safety, training, sauces
Soft Skills: interpersonal skills, collaboration, listening, communication
Here's how to write a line cook CV that satisfies:
1. Use the Best Line Cook CV Format
Presentation and plating can make or break a meal.
It's the same with CV formatting.
The reverse-chronological format for a CV is the most respected.
Complete it with these tips:
Line Cook CV Format
Make a 1-inch margin all around the page.
Pick a pleasing CV font like 11–14pt Trebuchet or Verdana.
Write CV sections for Heading, Summary, Experience, Education, and Skills.
Leave white space so the chef de cuisine won't have to squint.
Make your CV length 1–2 pages depending on your work history.
Save your CV as a PDF. Those suit every type of screen.
Expert Hint: The ToastRestaurant Technology Industry Report shows 95% of restaurant owners say technology improves business efficiency. Check the job posting for job requirements in tech or computers. If you find them, show past tech achievements in your line cook CV.
2. Make a Line Cook CV Objective or Summary
You'd never serve unappetizing food.
But—
Your line cook CV should be love at first bite too.
Start your CV for line cook jobs with a tasty CV summary or CV objective.
Include:
An adjective (dependable, efficient)
"line cook"
Years of experience (1+, 6+)
Who & how you'll help (wow customers at Leedio)
Some CV achievements—your best line cook moments (promoted to head line cook in 6 months...)
Write it last so you'll have all the right ingredients.
See these line cook CV examples:
Line Cook CV Summary—Example
The raw truth?
The second of those line cook CV samples says you'll wow customers. The first gives a taste you've done it.
Now—
Maybe your restaurant career is still a little undercooked?
See this entry-level CV for line cooks:
Entry-Level Line Cook CV Objective
Something's fishy.
The second of those entry-level line cook CV examples says, "Expert at creating sauces." But she's a dishwasher.
The first shows real line-cook achievements.
Expert Hint: According to the National Restaurant Association, 80% of restaurant owners started in entry-level jobs. That means you've got a sympathetic ear. To get the job, show you're a go-getter with specific food-service achievements.
The ResumeLab builder is more than looks. Get specific content to boost your chances of getting the job. Add job descriptions, bullet points, and skills. Easy. Improve your CV in our CV builder now.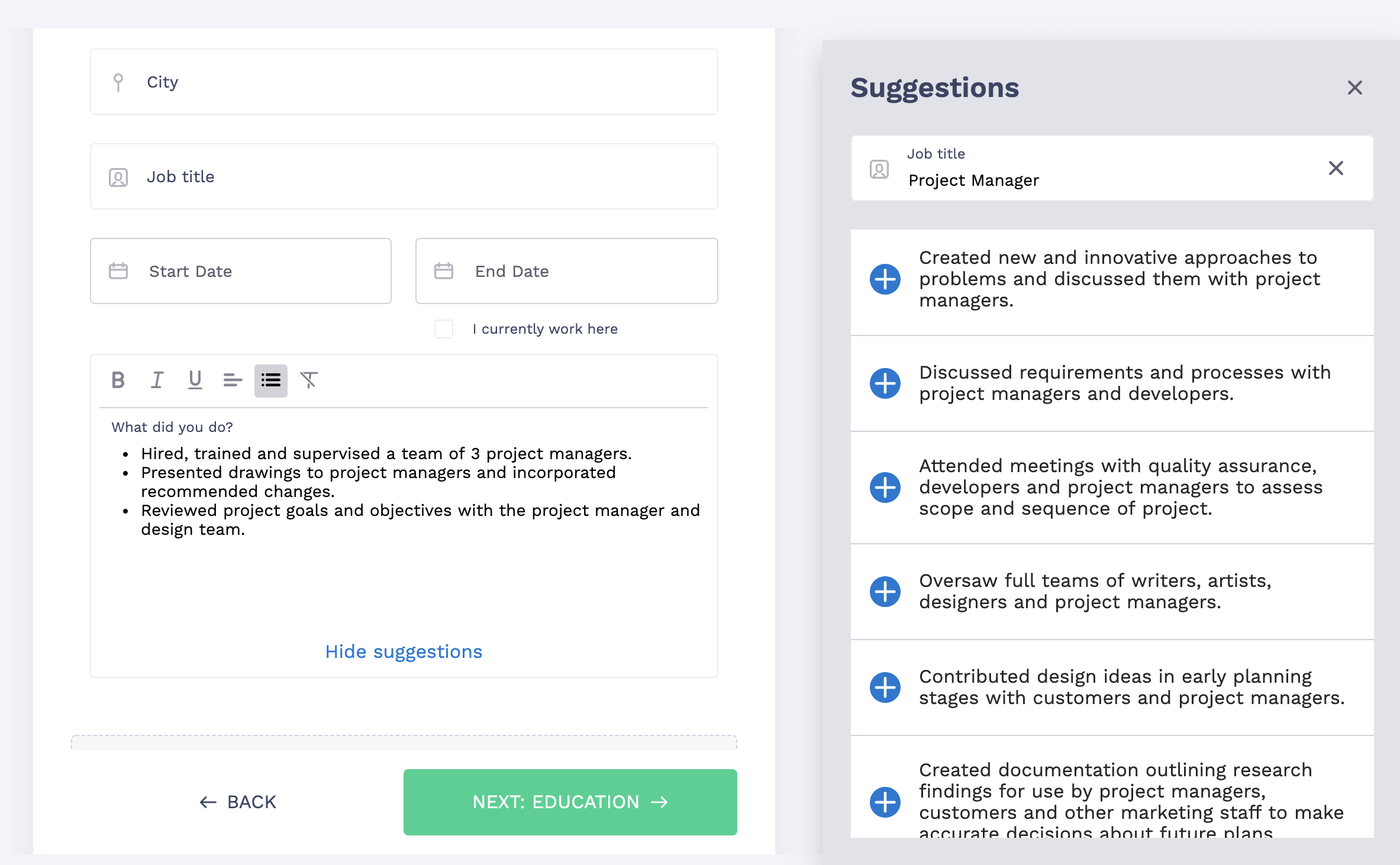 3. Target Your Line Cook Job Description and Skills Section
What line cook skills belong on CVs?
See this list:
Line Cook CV Skills
| | |
| --- | --- |
| Hard Skills | Soft Skills |
| Building Teams | Interpersonal Skills |
| Campaign Strategy | Collaboration |
| Digital Marketing | Communication |
| Radio & TV Marketing | Leadership |
| Print Marketing | Time Management |
| Agile Methodology | Problem Solving |
| CRM | Stress Management |
| Sales Funnel Management | Analytical Thinking |
| Social Media | Creativity |
| Networking | Accountability |
But beware.
A line cook job is like a restaurant guest.
Each one wants something different.
So—
Find out what CV skills they want by looking in the job ad.
Those are the best CV keywords to use. Customise your CV with them.
See these sample CV job descriptions for a line cook:
The restaurant wants a line cook who can prep veggies and is efficient and consistent. Oh and food-waste reduction is a plus!
Line Cook Job Description for a CV [Sample]
The best part?
The second of those line cook CV examples is common. Be like example #1 and you'll stand out like Gordon Ramsay at McDonald's.
But—
Are you just thawing out your line cook career?
A CV with no experience can still knock 'em flat.
See these line cook CV examples with no experience:
The job wants food prep and plating, a strong work ethic, and teamwork skills.
Entry-Level Line Cook CV Job Description [Sample]
Expert Hint: Harvard research shows a 1-star boost to a restaurant's Yelp reviews can jack up profits by 9%. If you've helped raise online reviews, that's a great perk for your line cook CV.
4. Sweeten Your Education Section
Some line cook jobs need cooking school degrees. Some don't.
Either way—
No part of your CV for line cook jobs should be bland.
Even the education section of your CV needs to convince them you can handle grills and ovens.
This line cook CV sample shows how:
Line Cook CV Example—Education
Not one of those "cooking school" line cooks? You can find standout achievements in your high school education that show teamwork and work ethic.
5. Add "Other" Sections to Your Line Cook CV
You're almost there.
But—
Let's make your CV for line cook jobs shine like Mario Batali.
Certifications, foreign languages, and other bits of flavour can impress the restaurant manager.
As your CV extra sections you can add:
See these line cook CV examples:
Line Cook CV—Other Sections
That first line cook CV sample is mouthwatering. It shows a cook who cares about her job.
Expert Hint: Write a cover letter for your CV for line cook jobs. Make it fit the menu by talking about what the restaurant wants, then showing you've got that in stock.
Double your impact with a matching CV and cover letter combo. Use our cover letter builder and make your application documents pop out.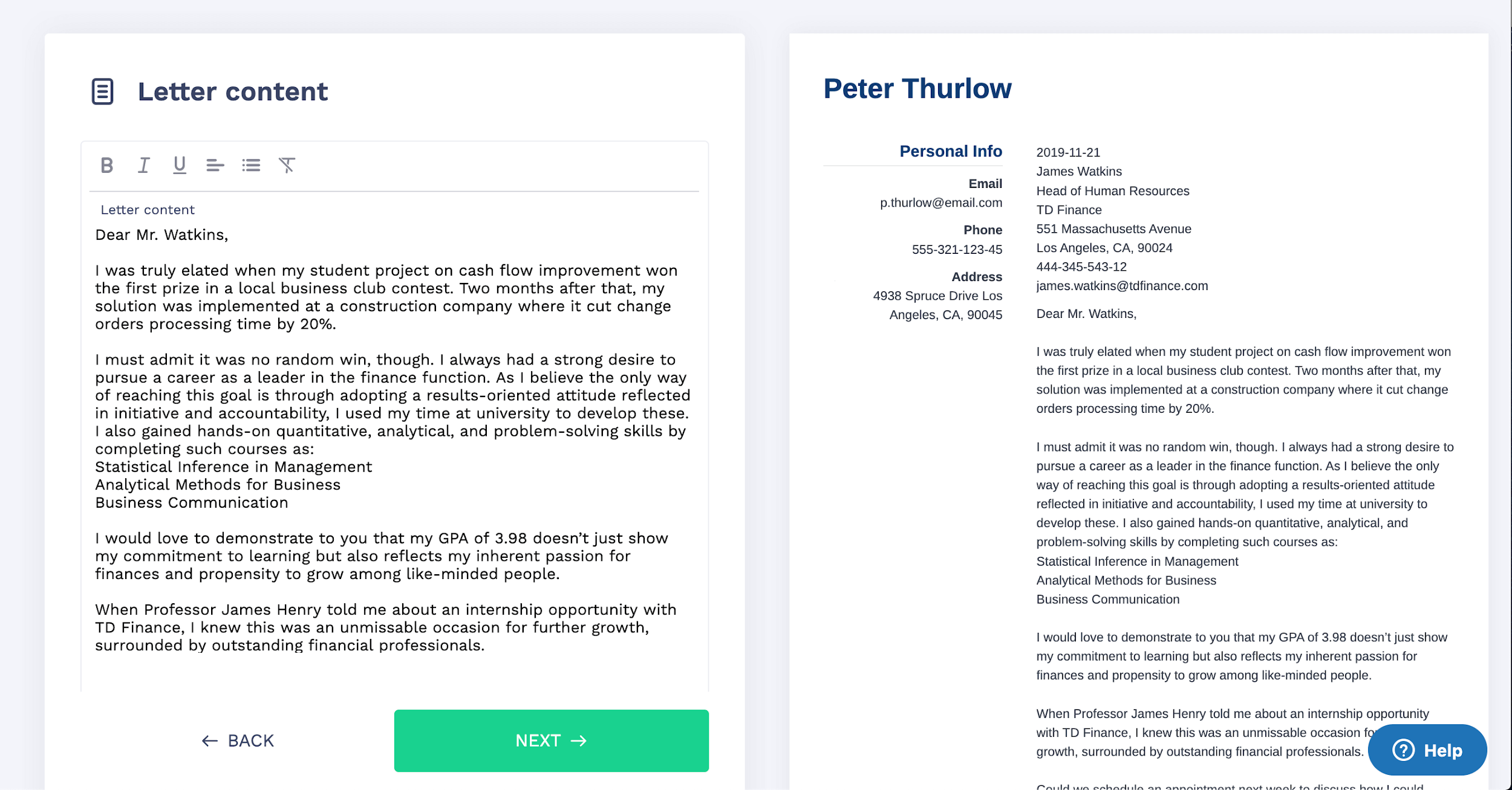 Key Points
Here's how to write a line cook CV:
Start with our line cook CV template. Add achievements from your cooking career.
List line cook skills like styles of cooking or food safety, with numbers to prove you're up there with Ina Garten.
Write a line cook CV summary up top. Use it to showcase your biggest crowd-pleasers.
Add "bonus" CV sections to prove you know a barding from beurre blanc.
Got questions on how to write good CVs for line cook jobs? Not sure how to put line cook on a CV? Leave a comment. We'll be happy to reply!