Food Service CV—Examples and 25+ Writing Tips
You can deal with everything, including grouchy customers coming in five nanoseconds before closing. Prove it with this tasty and professional food service CV sample.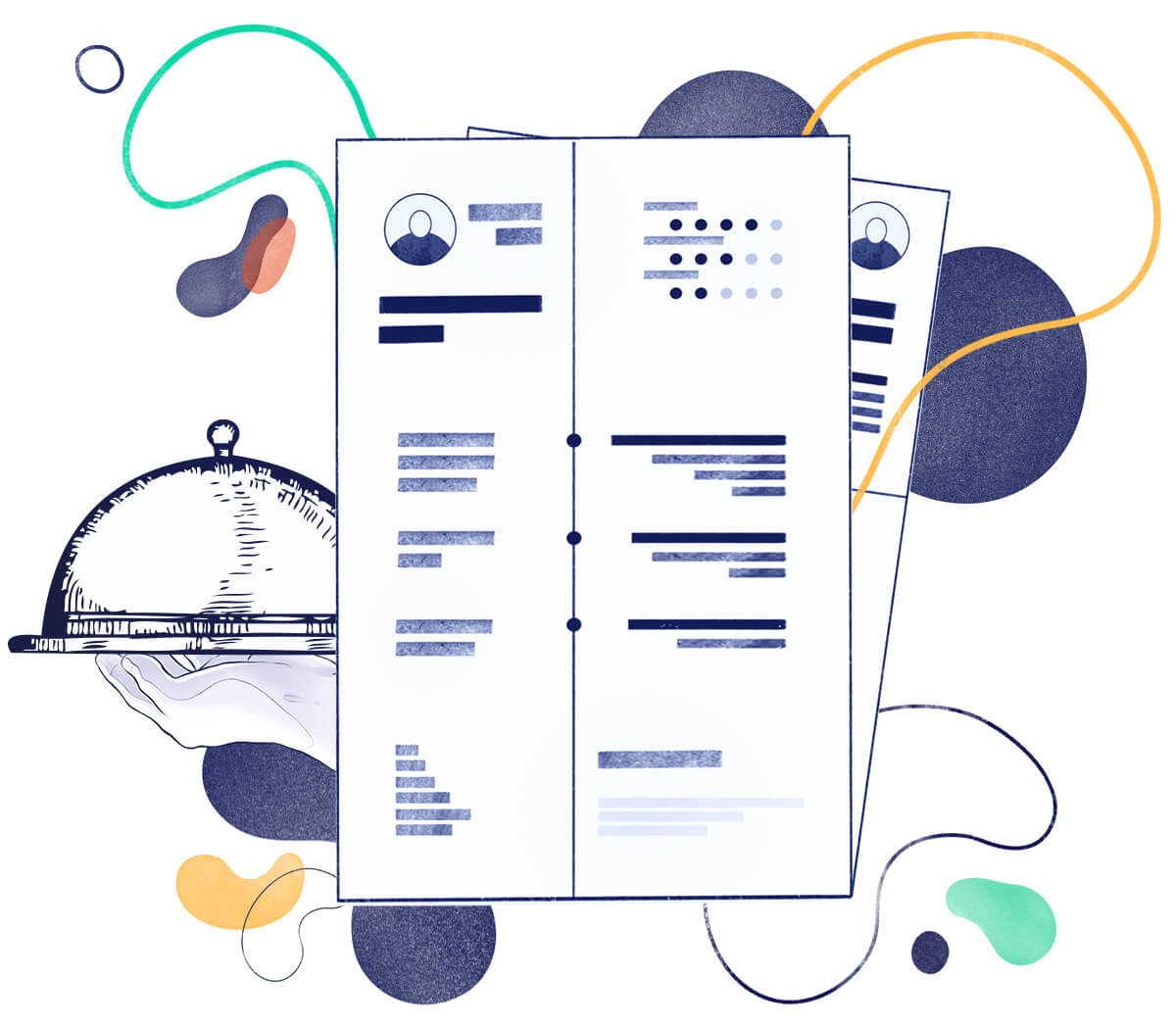 You're about to glimpse the perfect food service CV.
The thing is—
Being a food service employee is save-the-world tough.
You bend over backwards to make people happy so you can scrape up enough to keep breathing for one more day.
But, you knew that.
The trick is to prove it on one flimsy sheet of paper.
Can you do it?
Yes you can. We'll help.
In this guide:
25+ food service CV examples better than most.
How to write a CV for food service jobs that satisfies.
How to cook up the perfect food service job description for CVs.
Why you can't just list food service skills (and what to do instead).
Save hours of work and get a CV like this. Pick a template, fill it in. Quick and easy. Choose from 21 CV templates and download your CV now.
What users say about Resumelab:
I had an interview yesterday and the first thing they said on the phone was: "Wow! I love your CV."
Patrick

I love the variety of templates. Good job guys, keep up the good work!
Dylan

My previous CV was really weak and I used to spend hours adjusting it in Word. Now, I can introduce any changes within minutes. Absolutely wonderful!
George
Looking for a specific kind of food service CV? See these guides:
Are you writing a food service manager CV? See these guide:
Trying to put food service on a CV? Switching careers into the food service world? Use this guide:
Haven't found what you're looking for? Check all our Professional CV Examples.
Food Service CV Sample You Can Copy and Use
Kayleigh Zak
Head Server
Personal Info
Phone: 562-708-4258
E-mail: kayleighzak@gmail.com
linkedin.com/in/kayleighzak
twitter.com/kayleighzak
Summary
Cheerful server and manager with 8+ years of experience. Seeking to create a memorable dining experience at B-Sides Barbecue. At The Satiated Satyr, managed 17 servers, raising staff retention 25% through improved communication. Recruited and trained 10 new employees. Presided over a period of 30% more repeat business.
Experience
Head Server
The Satiated Satyr Food Service
2013–2019
Managed 17 servers and bartenders in fast-paced, chef-owned food service. Increased retention 25% through better communication.
Used interpersonal skills to build strong relationships with staff and customers. Presided over 30% increase in repeat business.
Ordered all wine, liquor, coffee, tea, and bar supplies. Worked with bar vendors to cut inventory costs by 15%.
Hired and trained 10 new staff members.
Conducted quarterly reviews. Worked with employees on efficiency and attitude. Result: increased customer satisfaction scores by 35%.
Handled bookkeeping and payroll. Kept register errors near zero.
Waitress
The Muddy Keel
2011–2013
Waited tables in high-volume food service. Attained 95% average in customer comment card scores.
Regularly pooled out with highest tips of entire team.
Commended by manager for cool head during busiest shifts. Often organised enough to help flustered servers catch up.
Regularly volunteered for unpopular tasks like cleaning restrooms.
Education
Millikan High School
2007–2011
Voted boys choice of sister.
Girl's lacrosse co-captain.
Classes
Bartender Certification - PBSO Bartending School.
Leadership Manager Training - Dale Carnegie
Additional Activities
Volunteer cook 2x per month Silver Street Soup Kitchen.
Mentor 2 at risk girls.
Lead yoga classes 2x per week to 18 students.
Hard Skills: Recruiting, scheduling, inventory, quarterly reviews, MS Office
Soft Skills: Interpersonal skills, leadership, listening
Here's how to write a food service CV that cooks:
1. Serve a Professional Food Service CV Format
Here's the ticket:
Your CV format should show you're a pro.
So—
Use the reverse-chronological layout. It gives a taste of your skills at a glance.
Food Service CV Format
Whip up a single-page CV. Use 1-inch margins.
Add one of the best CV fonts like 10–12pt Calibri or Helvetica.
Make these CV sections: Heading, Summary, History, Education, Skills, and one or two extra sections (like hobbies and interests, if relevant).
Include white space so their eyes don't melt.
Save your document as a PDF. A PDF CV works on every device.
Expert Hint: There are 5.4 million server food service jobs in the US. They'll grow 14% in the next decade. But good ones with high pay need perfect food service CVs.
2. Write a Tempting Food Service CV Objective or Summary
Think about it.
You wouldn't eat a mystery-meat sandwich.
Why would they read a mystery-meat CV?
Appetize them with a CV profile (in the form of a CV summary or CV objective). Put it near the top of your food service worker CV.
(Write it last so you'll have plenty of ingredients.)
Include:
An adjective (cheerful, efficient)
Years of experience (1+, 9+)
How/who you'll help (create memorable dining experiences at B-Side Barbecue)
Best food service moments (trained 10 employees...)
A couple job skills (serving, POS systems...)
These food service CV examples give the menu:
Food Service CV Summary—Example
See that?
Those food service worker CV samples show delicious restaurant achievements.
No matter your job title, think—
What does this restaurant manager want most? And what's the proof I've done it?
But what about CVs for food service jobs with no experience?
These entry-level food service CV examples serve it up:
Entry-Level Food Service CV Objective
Perfection.
Those food service CV examples prove interpersonal skills, efficiency, and more.
To do that, think when you used those skills to do big things.
Even debate club leadership can prove interpersonal skills.
Expert Hint: The median food service manager salary in the US is £49,139. There are six-figure managers, but to get those jobs you need a custom-fit CV.
The ResumeLab builder is more than looks. Get specific content to boost your chances of getting the job. Add job descriptions, bullet points, and skills. Easy. Improve your CV in our CV builder now.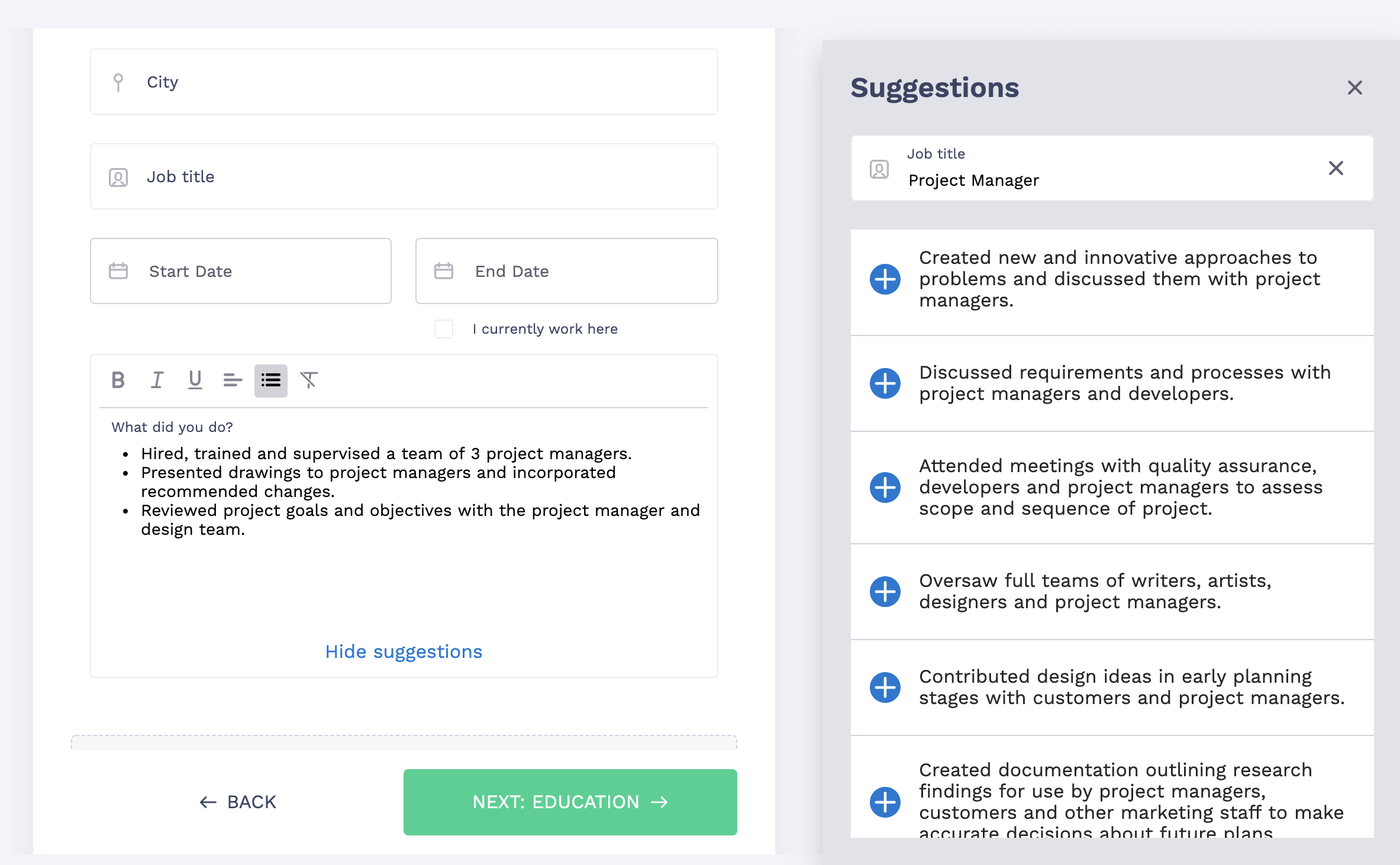 3. Sweeten Your Food Service Worker Job Description
What skills go in a food service CV?
See this list:
Food Service Skills for a CV
Customer Service
Quality Control
Food Safety
Physical Stamina
Communication Skills
Teamwork
Listening Skills
Handling Money
Multitasking
Interpersonal Skills
Efficiency
Time Management
Problem Solving
Good Attitude
Attention to Detail
Here are skills for different food service professions:
Cook Skills
Food Prep
Quality Control
Food Safety
Stocking
Knife Skills
Ordering
Cleaning
Plating
Timing Food Orders
Sauces
Server Skills
Customer Service
POS Systems
Food Safety
Restocking
Cleaning
Vacuuming
Making Drinks
Writing Specials Boards
Memorising Specials
Describing Entrees
Barista Skills
POS
Latte Frother
Bean Grinders
Specials Board Writing
Food Safety
Bartender Skills
POS Systems
Serving Drinks
Mixing Drinks
Closing Cash Registers
Restocking
Barbacking
Building Relationships
Drink Knowledge
Serving Wine
Cleaning
Chef Skills
Infrared Broilers
Gas Ranges
Beef Grinders
Managing Waitstaff
Sauces
Food Prep
Knife Skills
Explaining Specials
Plating
Desserts
But watch out:
Only list a few. And prove those few.
To write a food service worker job description for CVs:
Hand-pick your CV skills from the help wanted ad.
Salt them into your CV. They're keywords for your CV.
Show you used them to get results.
See these food service CV examples:
Say the job ad wants these food service skills: creating themed cocktails, wine knowledge, training, listening to customers.
Food Service Worker Job Descriptions for CVs [Samples]
That's not half-baked.
It's got every skill they want, with proof.
Now here's a food service manager CV example.
It needs skills in managing, interpersonal skills, ordering, and hiring:
Nailed it.
Next, a cook food service CV example.
It needs efficiency, interpersonal skills, plating, and desserts:
Magnifique.
See the game? Learn what they need. Then show you've done it.
Kind of like satisfying restaurant customers.
Let's move on to entry-level CVs.
Say the job wants these food service skills: customer service, POS, interpersonal skills, and efficiency.
See this entry-level food service CV example with no experience:
Entry-Level Food Service CV Job Descriptions [Samples]
Perfect.
Now here's a cook food service worker CV example.
The job needs food prep, food safety, customer service, friendly attitude:
Yum.
One more. A bartender food service CV example.
The manager wants customer service, efficiency, organisation, work ethic:
See the trick?
You haven't worked the job.
But you've still got the skills.
Need to learn more about writing job descriptions? Check out these great examples of CV job descriptions.
Expert Hint: The best city to be a waiter is Seattle. Servers there make an average of £18.07 per hour. The competition is hot. Your fast food service CV must cook.
4. Put More Meat in Your Education Section
You don't need an education section in a food service CV.
Do you?
Well, yes. But don't think of it like that.
It's just a way to show more skills that wow them.
This food service CV example shows how:
Food Service CV Example—Education
The point?
That example used education to show teamwork and leadership.
5. Put Add-ons in Your Food Service CV
"We've got to hire this one."
Getting food service managers to say that doesn't come from work experience alone.
Put add-ons in your food service CV to tease your skills.
Try these:
Classes
Groups and clubs
Conferences
Languages
Fitness
Additional activities
This sample food service CV sweetens it:
Food Service CV—Extra Sections
Check please.
The first of those food service CV examples shows certifications, compassion, leadership, and fitness.
Expert Hint: Write a cover letter. Your food service worker CV will look more appetising. Almost half of restaurant managers expect a cover letter with each CV.
Double your impact with a matching CV and cover letter combo. Use our cover letter builder and make your application documents pop out.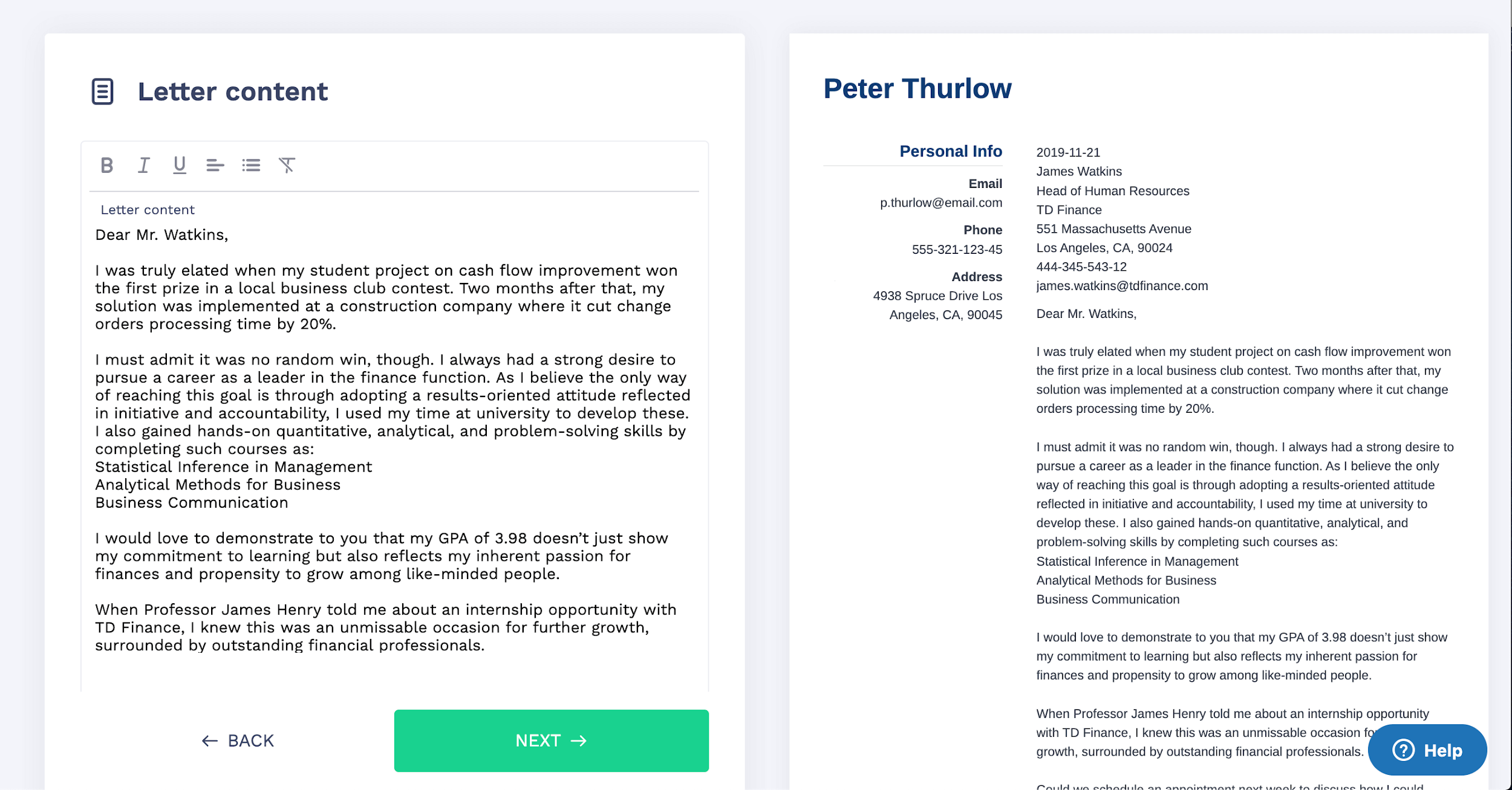 Key Points
Here's how to write a food service CV:
Use the food service CV template up top. It's got all the right flavours to make management take notice.
Don't just list food service skills. Customer service and interpersonal skills are necessary. But to get the job, show they helped the restaurant.
Your education section can upsell. Add skills proof in your bullets.
Add CV sections like classes or volunteer work to show your passion and tease skills.
Got questions on how to write great CVs for food service jobs? Not sure how to put food service on a CV? Leave a comment. We'll be happy to reply!