Chef CV Examples: 25+ Writing Tips, Template & Skills
You can run a kitchen, keep the staff in line, and satisfy an endless stream of customers, but can you prove it to the restaurant manager? You can with this chef CV sample.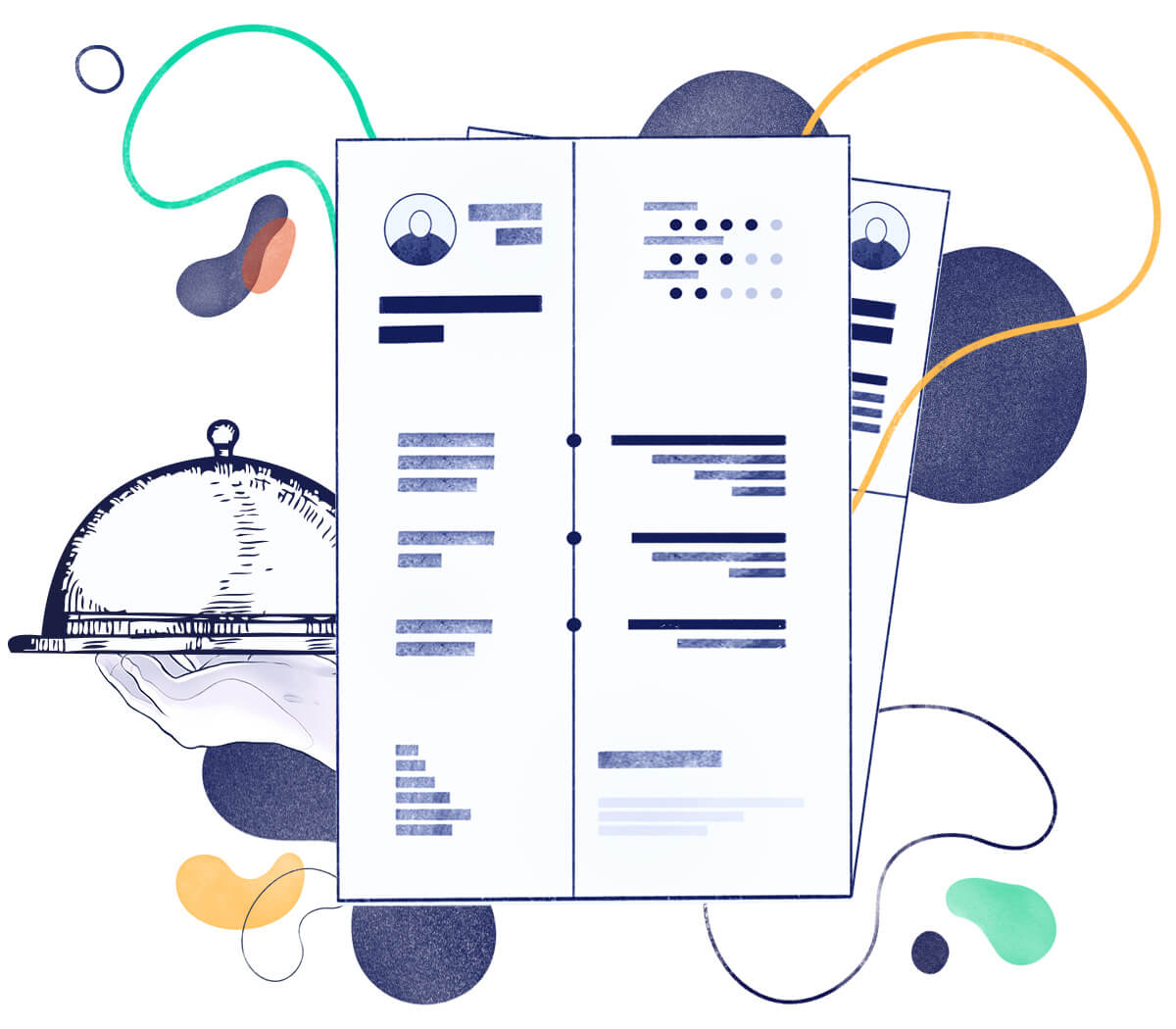 Need a chef CV? A sous chef CV?
You're halfway there.
You know the four tastes (five?) and how they interact.
And—
You can do it all with speed and volume.
But can you convince the restaurant manager on one sheet of paper?
If you don't, you'll blend in like a lone egg in a slab quiche.
But don't worry. We've got the recipe for a chef CV that gets jobs.
In this guide:
A chef CV sample better than most.
How to write a CV for chefs that gets attention.
How to customise a chef job description for CVs.
Why you can't just list chef skills (and what to do instead).
Save hours of work and get a CV like this. Pick a template, fill it in. Quick and easy. Choose from 21 CV templates and download your CV now.
Create a job-winning CV with little effort. Hack your way through ATS software with our 18 beautiful templates—give our builder a try!
What users say about Resumelab:
I had an interview yesterday and the first thing they said on the phone was: "Wow! I love your CV."
Patrick

I love the variety of templates. Good job guys, keep up the good work!
Dylan

My previous CV was really weak and I used to spend hours adjusting it in Word. Now, I can introduce any changes within minutes. Absolutely wonderful!
George
Not looking for a CV for chef jobs? Trying to do something else with food service? See our guides:
Haven't found what you're looking for? Check all our CV Samples.
Chef CV Sample You Can Copy and Use
Finley Sainato
Chef
Personal Info
Phone: 267-530-3366
Email: finleyzsainato@gmail.com
linkedin.com/in/finleyzsainato
twitter.com/finleyzsainato
Summary
Creative chef with 4+ years of experience. Seeking to produce creative and intriguing cuisine at The Respectable Ocelot Restaurant. At Geroux's BBQ, managed kitchen operations with team of 11 staff. Performed menu redesign resulting in 170% more business. 5-Star rating in Philadelphia Magazine. Slashed food waste by 70%.
Experience
Chef
Geroux's BBQ, Philadelphia, PA
2016–2019
Managed kitchen team of 11 staff members.
Redesigned menu, resulting in 170% more business.
Received 5-star rating in Philadelphia Magazine writeup.
Recruited and trained 7 staff members with 90% employee retention.
Reorganised kitchen flow for 40% efficiency increase.
Reduced food waste 70% by connecting with local farmers for farm-to-table sourcing and scrap re-use program.
Sous Chef
Bourbon Landing, Philadelphia, PA
2014–2015
Redesigned cheese steak sandwich, winning a spot in the "Best Philly Cheese Steaks in History" guide from Philadelphia Magazine.
Prepared lunches in 20-table restaurant during busy shifts.
Reduced food costs 10% through better vendor management.
Education
AA Culinary Arts, Community University of Pennsylvania
2012–2014
Completed 400 hours of on-the-job experience.
Recognised by professor for attention to detail.
Certifications
ServSafe Food Safety Certification
Certified Master Chef, ACF
Additional Activities
Member, American Culinary Federation.
Member, National Barbecue & Grilling Association
Mentor 15 ACF members in food safety and menu design.
Conferences
2019 - Virginia Farm to Table Conference - led servant leadership panel.
Hard Skills: Counselling, creating treatment plans, assessment, Mandt system
Soft Skills: Interpersonal skills, communication, active listening, empathy
Here's how to write a chef CV restaurant managers will love:
1. Use the Correct Chef CV Format
Presentation matters.
Garbled CV formatting can get your CV ignored.
So—follow the right recipe with your chef CV.
The best choice is the reverse-chronological CV. It combines all the right elements for success.
Chef CV Format
Put your freshest job up top.
Write a 1-page CV. Set 1-inch margins.
Fold in a little white space to make it look inviting.
Pick a CV font like 10–12pt Georgia or Garamond.
Write CV sections like Heading, Summary, Experience, Education, and Skills.
Send a PDF CV. Those look appetising on any screen.
Expert Hint: There are only 139,000 chef jobs in the US, and not all of them are good chef jobs. Your CV format is your first step toward landing one you want.
2. Write a Chef CV Objective or Summary
You need an appetiser.
The first part of your chef CV needs to make them want more.
So—
Concoct a winning career objective or career summary.
It's the menu for your CV for chef jobs.
Add:
An adjective (creative, efficient)
"chef"
Years of experience (3+, 4+)
Where & what you'll do (produce creative cuisine at The Respectable Ocelot)
Best chef moments (170% more business...)
Job skills (kitchen management, menu design...)
Your summary belongs at the top, but—
Write it last for best results.
See these executive chef CV examples:
Chef CV Summary—Example
Oops.
The second of those chef CV samples says, "I've got the skills."
But the first shows you managed a kitchen staff of 11, got 170% more business, and cut food waste 70%.
Those details matter to restaurant managers.
Now—
What should you do in an entry-level CV for chefs?
Same same, with whatever job you have.
See this sous chef CV sample:
Sous Chef CV Objective
Mystery meat anyone?
The second of those sous chef CV examples says you're good at menu design and working busy shifts. The first shows you've done it.
Expert Hint: The average chef salary is only £34,559. To get into a higher paying chef job, grab the restaurant manager with the best CV summary you can write.
The ResumeLab builder is more than looks. Get specific content to boost your chances of getting the job. Add job descriptions, bullet points, and skills. Easy. Improve your CV in our CV builder now.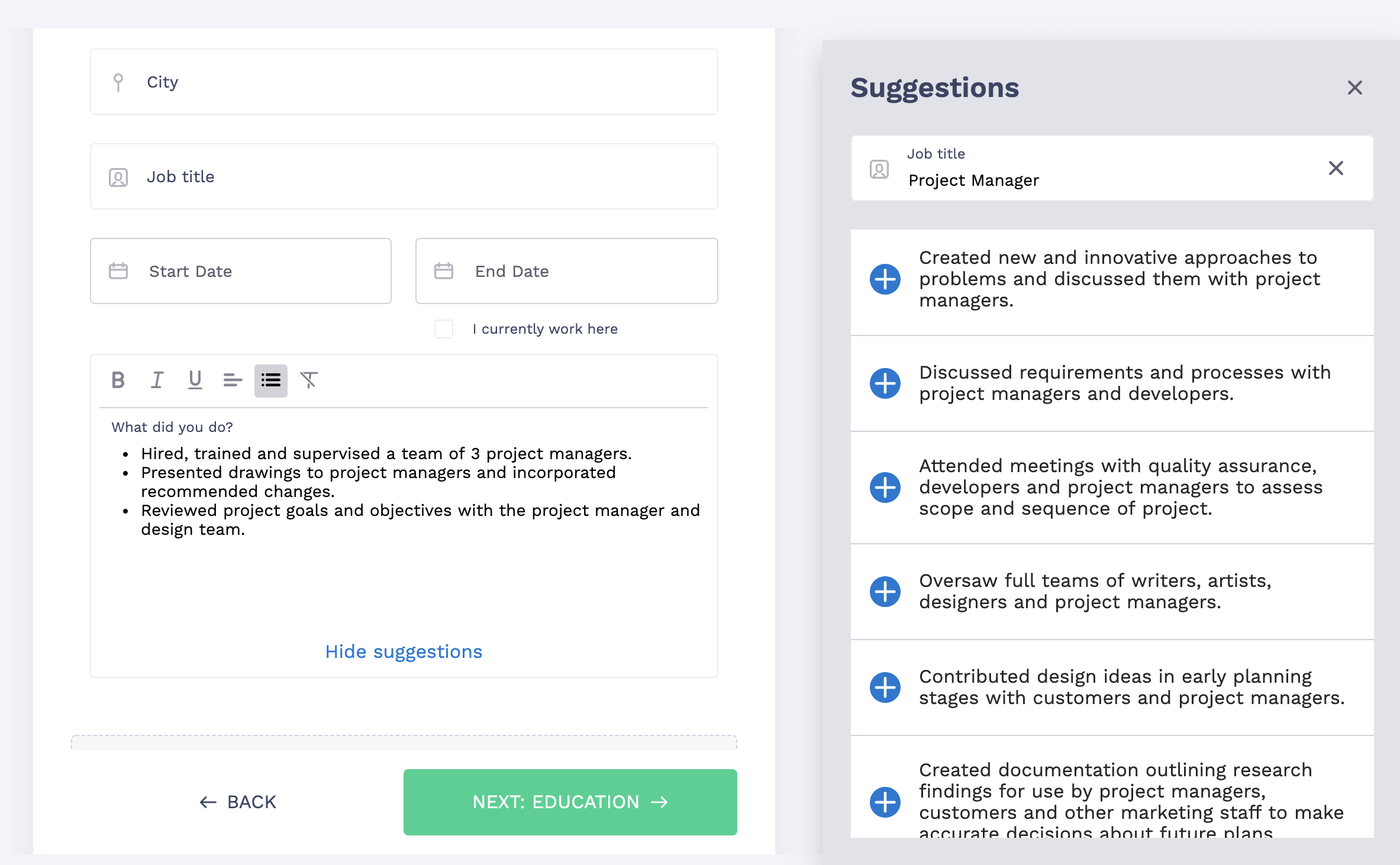 3. Whip Up a Great Chef Job Description and Skills Section
What chef skills go down well?
Here's a list of the best:
Chef CV Skills List
| | |
| --- | --- |
| Hard Skills | Soft Skills |
| Kitchen Management | Interpersonal Skills |
| Food Safety | Leadership |
| French Cooking | Communication |
| Farm to Table | Collaboration |
| Italian Cooking | Organisation |
| Sauces | Problem Solving |
| Desserts | Efficiency |
| Plating | Stress Management |
| Baking | Thick Skin |
| Hiring and Firing | Adaptability |
But:
Don't blend them all into your CV. Target your CV instead.
To write a top chef job description for your CV:
Select CV skills from the ad online.
Put them in a CV keywords list.
Show you used those skills to help your restaurant.
See these chef CV samples:
Say the job needs these chef skills: kitchen management, menu design, training, farm-to-table.
Chef Job Description for a CV [Sample]
Delectable.
The first of those chef CV examples hits the spot with kitchen management, menu redesign, and other skills the job ad mentioned.
Now a CV for entry-level jobs.
The job wants these chef skills: entree design, food prep, vendor management.
See these sous chef CV examples:
Sous Chef CV Job Description [Sample]
Yuck.
The second sous chef CV example lacks flavour. It ignores entree design, food prep, and vendor management.
Expert Hint: Only 1.1% of chefs have a master's degree. Most have no university degree at all. Don't worry if your CV education section is light, but see below to spice it up.
4. Delight Them with Your Education Section
The good news?
For chefs, any education works.
But—
The education section of your CV for chef positions needs skills proof.
See this pastry chef CV sample:
Chef CV Example—Education
On point.
That education section tells them you can handle it.
5. Perfect Your Chef CV with "Other" Sections
Oh-oh.
A CV with just experience and education is half-baked.
Tempt them with a few added CV sections.
Add a couple of these:
See these sample chef CV examples:
Chef CV—Extra Sections
Delicious.
The first of those executive chef CV examples has flavour. Sprinkle in details like that and you're set.
Expert Hint: Create a cover letter for your CV for chef jobs. Get to know a bit about the restaurant first so you can show why you're passionate about this chef job.
Double your impact with a matching CV and cover letter combo. Use our cover letter builder and make your application documents pop out.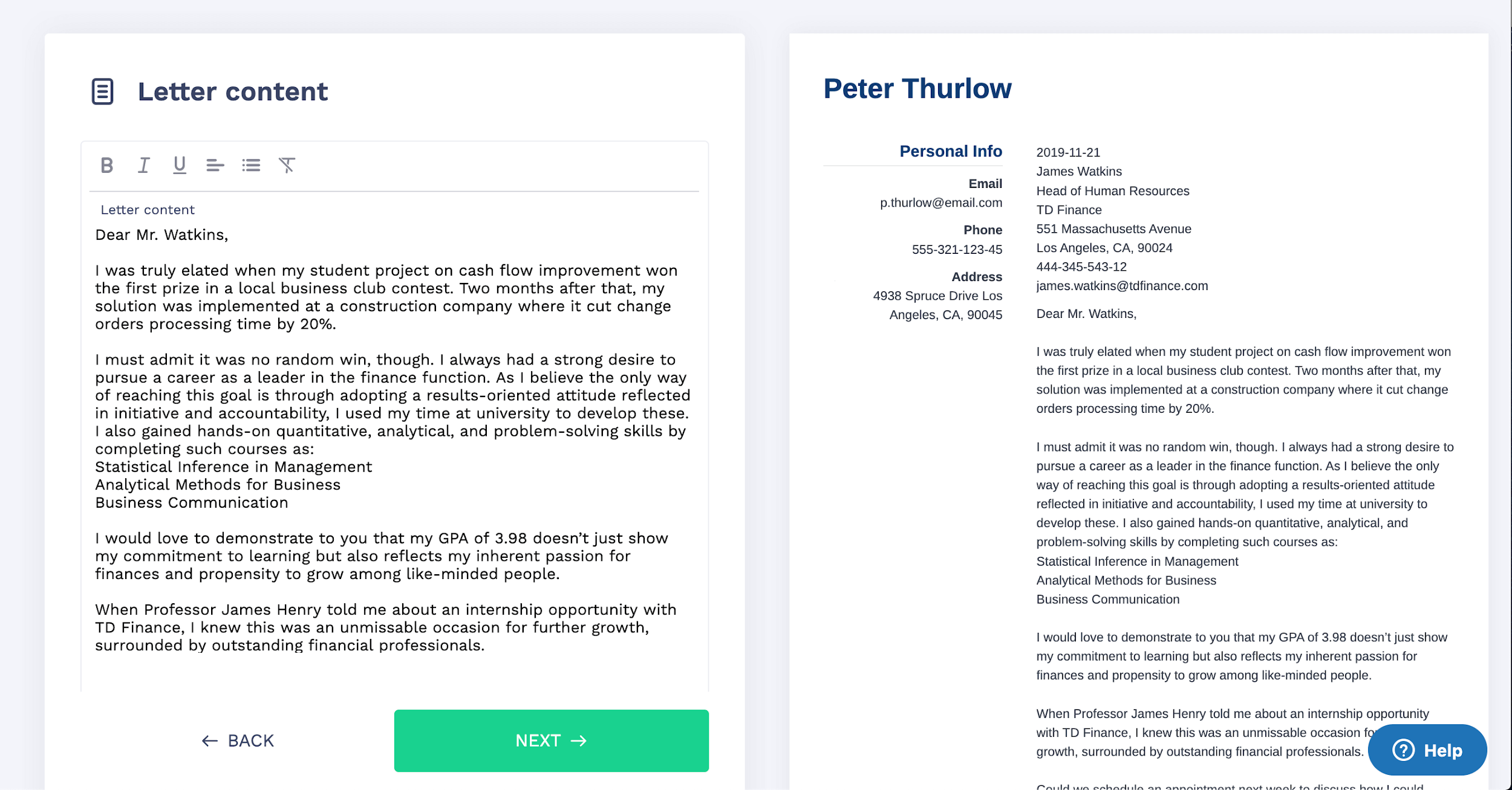 Key Points
Here's how to write a chef CV:
Use the chef CV template up top. It folds in all the right ingredients to get you hired.
List chef skills, but show they helped restaurants you've worked for.
Write a head cook CV summary up top. Put your best chef moments in it to get mouths watering.
Include "extra" CV sections like certifications or additional activities.
Got questions on how to write great CVs for chef jobs? Not sure how to put chef on a CV? Leave a comment. We'll be happy to reply!