Camp Counsellor CV—Examples and 25+ Writing Tips
Whether it's for a few hours at a day camp or an entire month-long summer camp, prove to the camp director you're a solid choice with the best camp counsellor CV yet.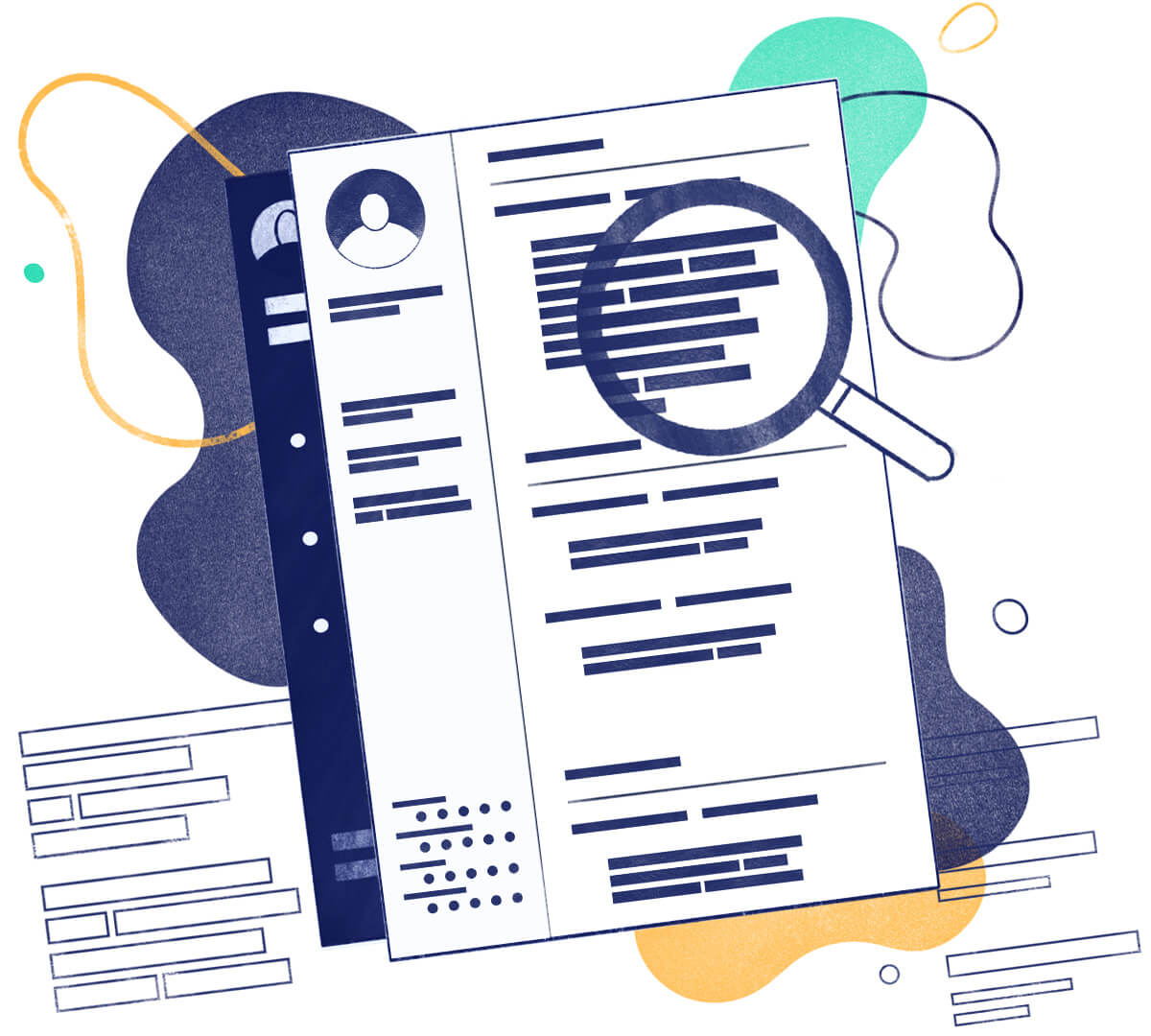 You can lead a group of dozens from one activity to another, keep everyone safe and accounted for, and have fun while doing it.
You know you'd make the finest camp counsellor this side of the Rio Grande.
But—
How's the camp director supposed to know how awesome you'd be?
You need a camp counsellor CV that gets the director excited like adventure challenge activities.
It's not so confusing.
In this guide:
The best camp counsellor CV examples to score those recreational jobs.
How to tailor content to a camp counsellor job description for CVs.
How to write camp CVs that land camp administration interviews.
Expert tips and examples to improve your chances of landing camp jobs.
Save hours of work and get a CV like this. Pick a template, fill it in. Quick and easy. Choose from 21 CV templates and download your CV now.
What users say about Resumelab:
I had an interview yesterday and the first thing they said on the phone was: "Wow! I love your CV."
Patrick

I love the variety of templates. Good job guys, keep up the good work!
Dylan

My previous CV was really weak and I used to spend hours adjusting it in Word. Now, I can introduce any changes within minutes. Absolutely wonderful!
George
Want some instructional CV examples related to day camp supervision or summer camp counselling? Check these out:
Haven't found what you're looking for? Check all our Professional CV Examples.
Also, are you instead looking for how to put summer camp counsellor on CVs? If you had a camp counselling stint but are now entering another industry, check out this article: Career Change CV Sample—25+ Examples and Writing Tips
Now__
Camp Counsellor CV Example You Can Copy and Use
Freda Schneider
Outdoor Camp Counsellor
freda.schneider@gmail.com
651-309-1568
linkedin.com/in/fredaschneider
Summary of Qualifications
Dynamic camp counsellor with 3.5+ years of experience leading, educating, and encouraging groups of teenagers and young adults in year-round camps. Capable of supervising 50+ participants and planning activities for 4-week programs and longer. Earned a 100% camp attendee satisfaction metric. Seeking to leverage compassion, communication skills, and love for mentoring to become the Senior Camp Counsellor at the Conservation Caravansary.
Work Experience
Environmental Camp Counsellor
June 2017–October 2019
Camp Whiteforest, Minneapolis, MN
Key Qualifications & Responsibilities
Assisted in supervising all aspects of a year-round environmental camp, including planning activities, implementing lessons and outings, and promoting education.
Organised team building activities and recreational events to facilitate social development.
Taught short lessons about nature, environmental preservation, and climate change.
Administered basic first aid or talk therapy to camp attendees, as needed.
Key Achievements
Maintained safe environment for 25+ campers in 2-week cycles.
Travel Camp Counsellor & Trip Leader
February 2016–April 2017
All Abroad Youth Camp, Minneapolis, MN
Key Qualifications & Responsibilities
Supervised groups of 10–15 young adult campers in 4-week programs all year around.
Inspired the love and admiration of foreign cultures, people, and places.
Planned and executed travel itineraries for medium-sized groups to Latin American and Caribbean countries.
Assisted in any travel-related issues, including passport applications, customs declarations, health and safety concerns, diet restrictions, and religious affiliations.
Education
Bachelor of Science in Recreation Therapy
San José State University University Of Health And Human Sciences, San José, CA
Graduation: 2016
Relevant Coursework: Event Planning, Cultural & Heritage Tourism, Non-Profit Recreation, For-Profit Recreation, Nature-Based Recreation, Communication & Leadership, Camp & Recreation Management, Group & Collaborative Activities, Recreational Therapy.
Accreditation: Council on Accreditation of Park, Recreation, and Tourism Related Professions (COAPRT)
Key Skills
First Aid & CPR
Communication Skills
Interpersonal Skills
Patience & Understanding
Empathy & Compassion
Leadership Skills
Certifications
American Red Cross CPR/AED Certification
American Red Cross Lifeguard Certification
NCCAP Activity Professional Certified (APC)
LEAD Camp Mental Health Certification
Memberships
The American Camp Association (ACA)
Languages
German (Swiss): Native/Bilingual Proficiency
Here's how to write a CV for camp counselling jobs:
1. Sort Out the Camp Counsellor CV Format First
Before you let loose and document all your camp skills and work experience, your CV needs to be formatted just right.
Here's how to format a camp counsellor CV template:
Lay out all dated entries (e.g., education, work history) in reverse-chronological order.
Leave a one-inch margin on all four sides of your CV for camp counsellors.
Choose a CV font that's easy for even the poorest eyes to read.
Only include relevant things on a CV—leave everything else off.
Expert Hint: Save CVs as PDFs. A day camp counsellor CV PDF will appear fine on any device, while a Microsoft Word doc may look funny on certain phones and other devices.
2. Start with a Camp Counsellor CV Objective or Summary
A heading statement (CV profile) starts things off at the very top of any camp counselling CV, like the orientation presentation on the first day at camp.
There are two options: the CV summary and the CV objective.
Which do you use?
When you know camp leadership inside and out, choose the career summary.
A summary statement offers the camp director a brief overview of your previous experience, knowledge of activities, and leadership skills. To make it more potent and impressive, it adds a numbered achievement.
Here's how to write a camp counsellor CV summary:
Camp Counsellor CV Summary Example
Here's one important rule: always personalise the CV to the individual job offer.
In the above examples, one is tailored to the camp counselling job ad, while the other could be a CV summary for any job on the planet.
But—
How about when you've got little or no experience?
When you're a campground newbie, use the career objective.
An objective statement on your boys camp, girls camp, or day camp counsellor CV replaces career goals instead of camp experience. Along with listing relevant camp skills and leadership activities, add in a quantifiable achievement or two to prove you're talented.
Here's how to write a camp counsellor CV objective statement:
Entry-Level Camp Counselling CV Objective Example
In the second example, our candidate sounds like they could be qualified. However, they still didn't personalise it or include numbers like the first one, two huge misses on any summer camp or day camp CV.
Expert Hint: Although it goes at the top, write your sports camp or summer camp counsellor CV heading statement last. You'll be better able to come up with the most effective items to highlight there once you complete the remainder of your CV for camp counsellor jobs.
The ResumeLab builder is more than looks. Get specific content to boost your chances of getting the job. Add job descriptions, bullet points, and skills. Easy. Improve your CV in our CV builder now.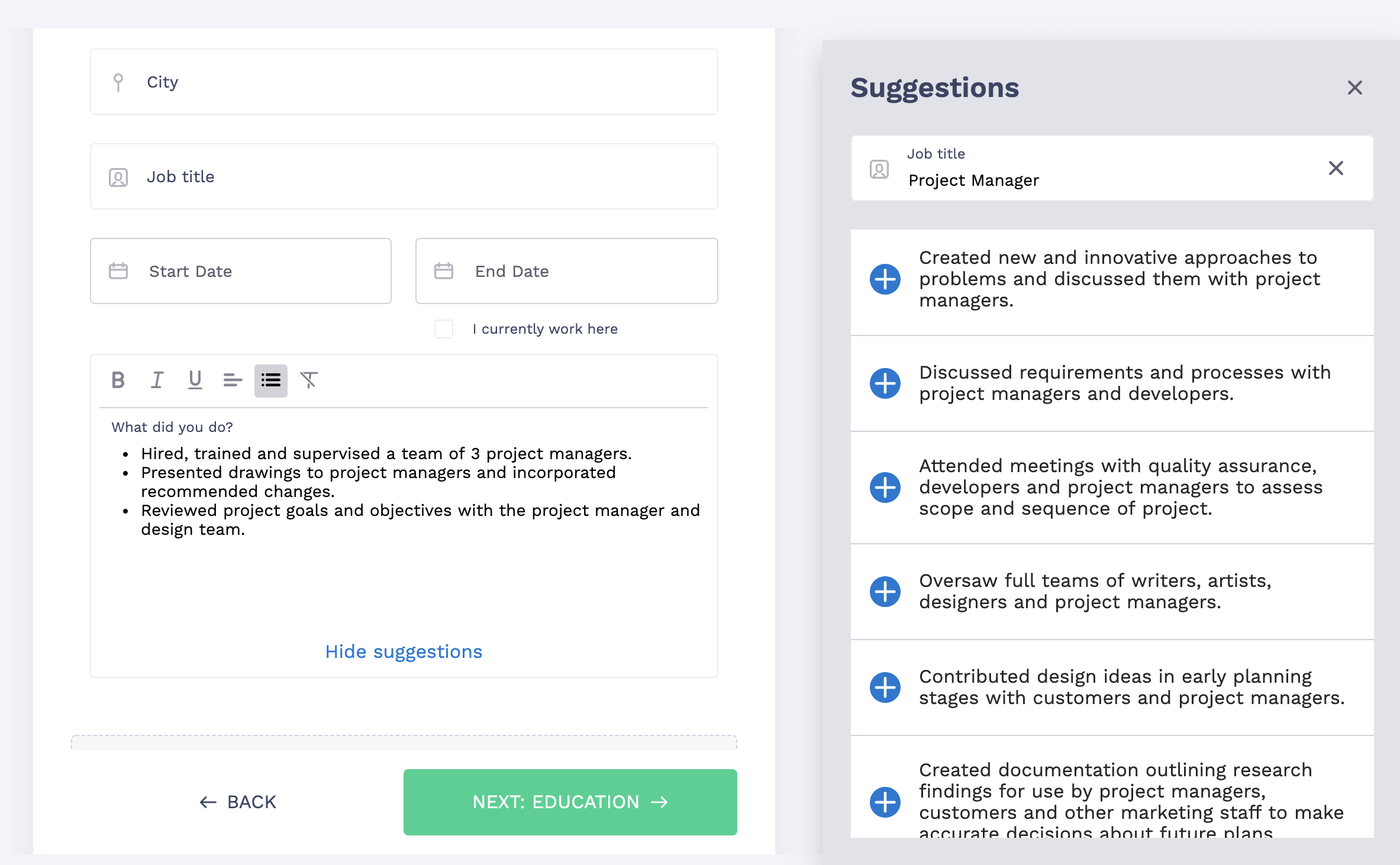 3. Write a Camp Counsellor Job Description and Skills Section
The main focus of any camp counsellor CV is the job description CV section.
Get it right, and you'll move on to the interview.
However—
Get it wrong, and you'll be sent home early like that camp bully.
Here's how to describe your employment history on a CV for camp jobs:
Start with your most recent job first, then the one before that, and so on, in reverse chronological order.
Add your professional job title, the span of time you worked, the name of the company or camp, and its location.
Include a few bullet points outlining your previous job duties in a way that's most relevant to a job for camp counsellors.
Throw in a numbered achievement or two to verify to the camp director how skilled you are.
Now—
Let's look at a few camp counsellor duties CV section examples:
Camp Counsellor Job Description for CV Examples
Like a too-early lights-out time for teenagers, the camp manager will find that second one boring.
The first one, however, offers a detailed explanation of your past camp duties and quantifiable achievements to lock in their vote.
CVs need details about outcomes, not just activities. If a CV only has role activities with very few outcomes and achievements it gets overlooked for other candidates regardless of their experiences.
Next—
A CV is like a great campfire s'more—experience would be the fluffy marshmallows, and CV skills would be creamy melted chocolate.
A work history section pairs perfectly with a list of the right CV skills.
According to the US Office of Occupational Statistics and Employment Projections, recreation workers are set to increase by 16%—64,600 jobs each year—between 2020 and 2030.
That means—
Like a campground scavenger hunt, you've got to search for just the right skills to place on your CV to impress them.
Here is a list of sample camp counsellor CV skills:
15+ Camp Counsellor Top Skills & Proficiencies for a CV
First Aid & Basic Medical Skills
CPR & AED
Verbal Communication Skills
Verbal Counselling Skills
Interpersonal Skills
Patience & Understanding
Empathy & Compassion
Problem Solving Skills
Creative Thinking Skills
Physical Strength & Endurance
Management & Leadership Skills
Storytelling (for scary ghost stories around the campfire!)
Organisational Skills
Team Building Skills
Activity & Event Planning
Administrative Skills
Also—
Aside from the regular skills, add in a few camp activities you have experience with.
Here are a few examples:
Camp Counsellor Activities for a CV
Obstacle Courses
Rock Climbing
Outdoor Games (e.g., Horseshoe Throwing, Tug of War, Capture the Flag)
Indoor Games (e.g., Ping Pong, Pool)
Camping
Canoeing, Kayaking, or Rafting
Sports (e.g., Football, Football, Baseball, Kickball)
Bird Watching & Identification
Constellations & Star Gazing
Scavenger Hunts
Crossbows & Archery
Swimming & Scuba Diving
Geocaching & Orienteering
Horseback Riding
As you can imagine, you can't just take our list of camp counsellor skills and activities and stick it right in yours. The more camp skills you add, the more you dilute how effective each one is.
Instead, look at the camp counsellor employment ad.
In the job responsibilities section, the employer is telling you exactly which skills they're looking for. Pay attention to these CV keywords, and include relevant ones in your camp supervisor CV.
4. Turn Your Education Section Into a Reason to Hire You
More than its social or physical aspects, summer camps are educational in nature.
Thus—
Stand out by documenting your academic history clearly and adequately to show you have formal background to shape young people's minds.
Here's how:
Camp Counsellor CV Example of Education Section
Here's the gist of how to list your education on a camp counselling CV:
Add your degree, diploma, or certificate name on the first line.
Below that, write the name of the school and where it's located.
Then, give your graduation date or anticipated date of completion.
Include anything impressive or relevant, such as Latin honours, extracurriculars, or relevant coursework on a CV.
If you have completed a university degree, omit high school from the education section.
Expert Hint: Are you a university graduate or university student without much professional expertise? On a CV with no experience, place this education section above the work history section so the camp director sees the most important and impressive things first.
5. Round Out a CV for Camp Counsellors Using a Few Extras
Show the camp director you're more than the Average Joe by including some impressive additional sections.
Here are a few ideas to consider on a summer or day camp counsellor CV:
Crisis Management at Camp Workshop
ACA Experienced Program Staff Certificate
ACA Aquatics: Staff Skills Verification-Lifeguarding
ACA First Aid and CPR Instructor Course
American Red Cross CPR/AED Certification
American Lifeguard Association Universal Lifeguard Certification
LEAD Camp & Camp Director Certification
Certified Therapeutic Recreation Specialist (CTRS)
Camp Affiliations & Associations
The American Camp Association (ACA)
Religiously Affiliated Camps (RAC)
Emerging Professionals in Camping (EPIC)
Association of Camp Nursing (ACN)
National Recreation and Park Association (NRPA)
Tutoring & Mentorship
Coaching High School Sports Team
Experimental Cooking
Canoeing & Kayaking
Outdoor Activities
Proficiency of a Foreign Language
Malayalam: Native Proficiency
Kinyarwanda: Bilingual Proficiency
Spanish (Spain): Professional Working Proficiency
Bahasa Malaysia: Intermediate Proficiency
Afrikaans: Basic Conversational Proficiency
Expert Hint: One more great "extra section" for camp counselling CVs? The camp counsellor cover letter. Including a cover letter is important for day camp, summer camp, and sports camp jobs, and most camp directors and supervisors expect one with your CV.
Double your impact with a matching CV and cover letter combo. Use our cover letter builder and make your application documents pop out.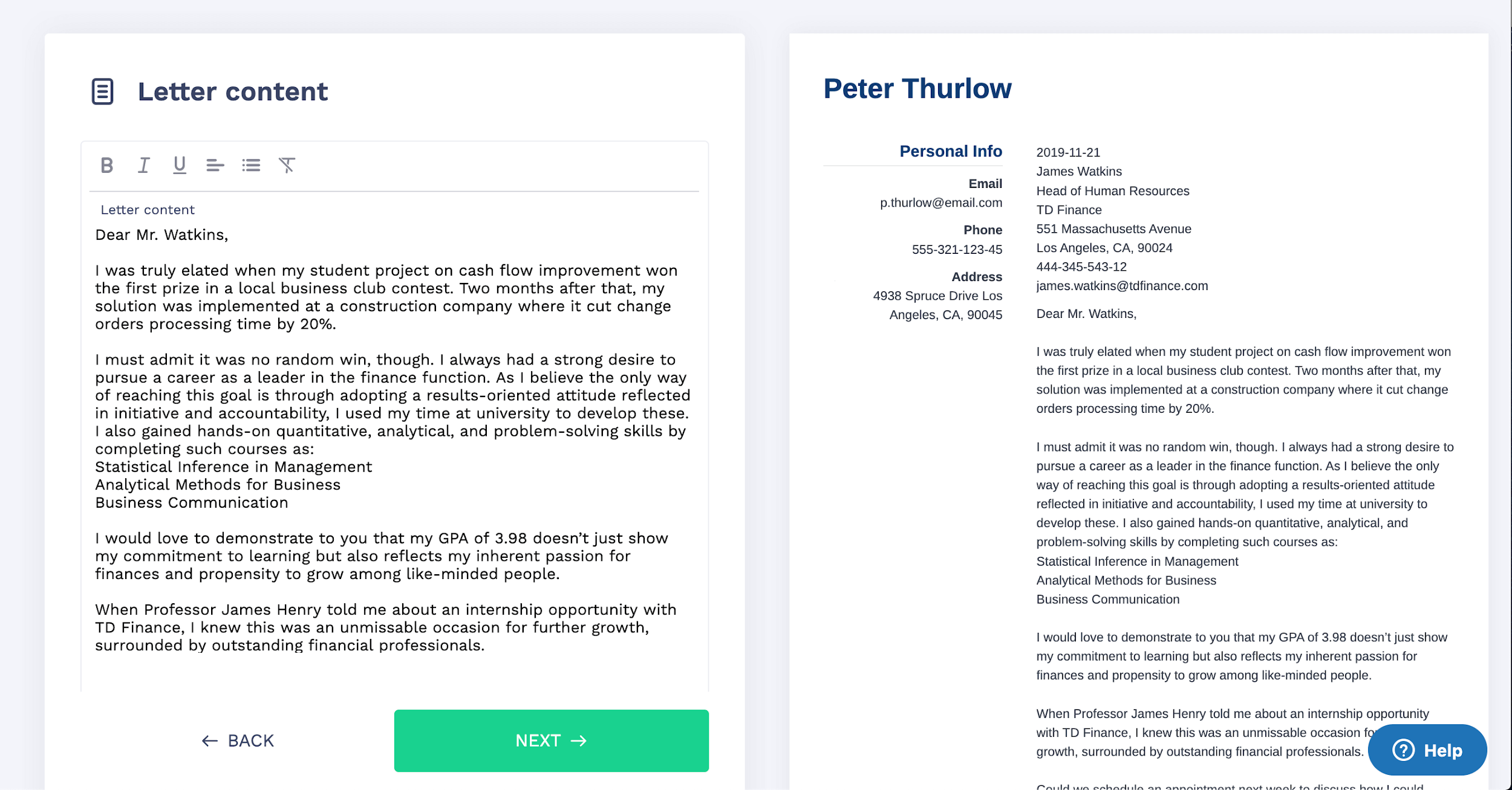 Key Points
Let's sum it all up—
Here's how to write a camp counsellor job CV:
Format the summer or day camp counsellor CV template using the right font, font sizes, line spacing, margins, and layout.
Create a compelling CV camp counsellor objective or summary statement.
Highlight your work history in the past employment section using bullet points and relevant, numbered achievements.
Make a camp counsellor skills CV list to showcase your abilities and talents.
Build a summer or day camp counsellor CV education section.
Include one or two additional sections on your camp CV, such as favourite hobbies, second languages, or related certifications.
Don't forget to attach a cover letter for camp counsellor jobs!
Have any questions on how to put camp counsellor on CVs or how to make camp counsellor CV descriptions? Need more camp counsellor CV samples? Let's chat below in the comments, and thanks for reading!