Recruiter CV—Examples and 25+ Writing Tips
You have sourcing skills, headhunting experience, and a solid knack for recruitment & talent acquisition. Show the employer this with a powerful CV for recruitment jobs.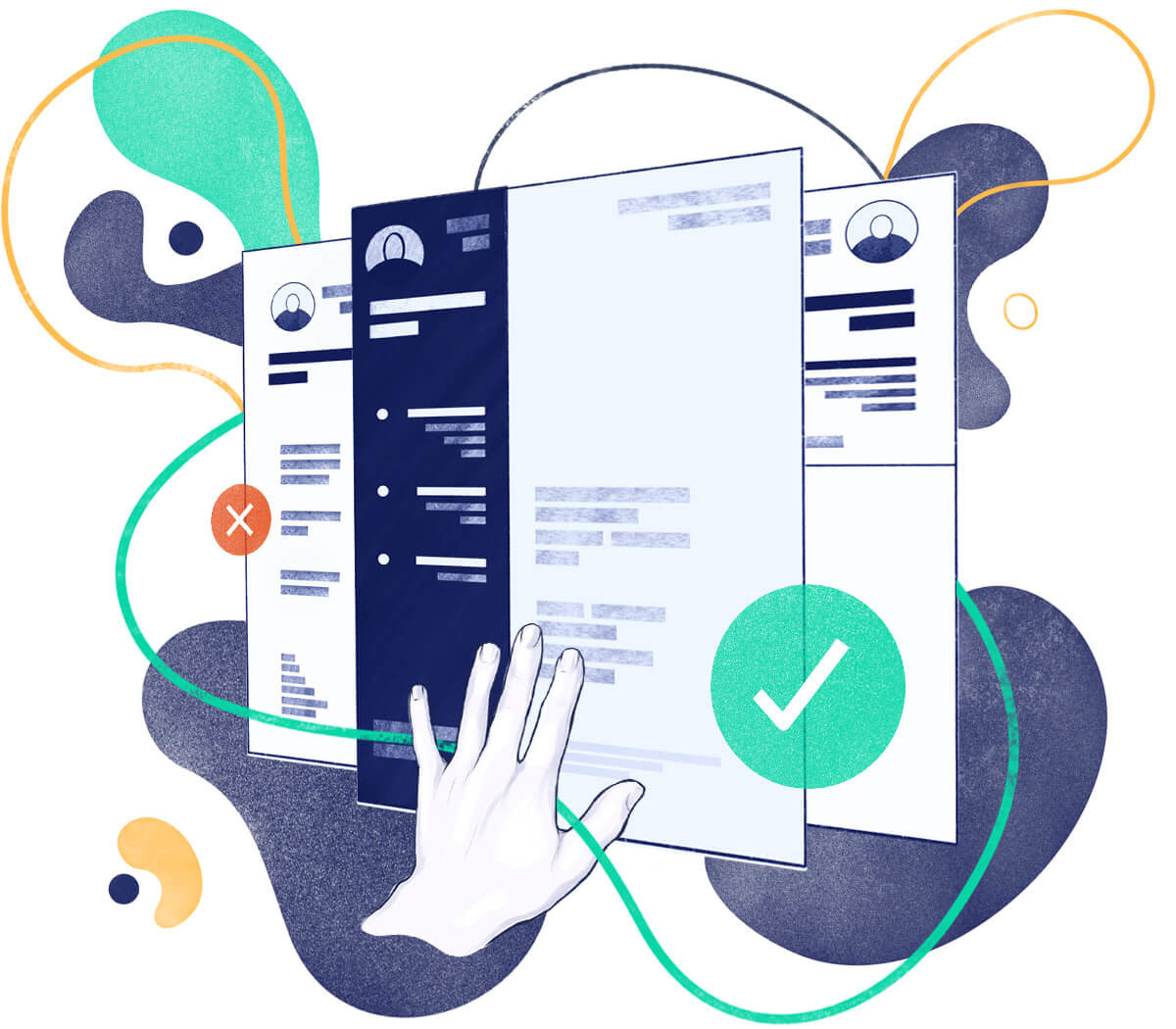 Like a top-rated chef at a market for tonight's fresh veggies, you know how to pick 'em—
You market companies in the best possible light, generate candidate enthusiasm, and place applicants where they best fit.
But—
Before you get that job in recruitment, you've got to get recruited yourself. And to have that chance, you need to show the hiring manager you're their best candidate with a top-notch recruiter CV.
No worries.
Cut their average time to find a hire and show the hiring manager you're their next FTE.
In this guide:
The best staffing & recruiter CV examples to get those recruitment jobs.
How to personalise a CV to the recruiter job description and requirements.
How to write CVs for staffing jobs that score recruitment job interviews.
Expert tips and examples to improve your chances of landing talent acquisition jobs.
Save hours of work and get a CV like this. Pick a template, fill it in. Quick and easy. Choose from 21 CV templates and download your CV now.
What users say about ResumeLab:
I had an interview yesterday and the first thing they said on the phone was: "Wow! I love your CV."
Patrick

I love the variety of templates. Good job guys, keep up the good work!
Dylan

My previous CV was really weak and I used to spend hours adjusting it in Word. Now, I can introduce any changes within minutes. Absolutely wonderful!
George
Also, have a glance at these related CV example guides:
Haven't found what you're looking for? Check all our CV Examples for Any Job.
Looking instead for a sample email to send CVs to recruiters? Check out our sample email CV guide here: Emailing a CV to Get a Job: CV Email Samples [50+ Tips]
Okay, let's get to it—
Recruiter CV Sample
Sherlyn Crown
Talent Acquisition & Recruitment Specialist
sherlyn.crown@gmail.com
302-453-6418
linkedin.com/in/sherlyn.crown
Summary of Qualifications
Friendly and personable recruitment professional with 3+ years talent acquisition experience at local sourcing agencies. Skilled at headhunting and locating top candidates, gaining enthusiasm and interest, and guiding them to ideal positions based on skills, experience, background, paygrade, and passion. Successfully placed 5+ candidates in IT and digital creative positions for each of the last 18 months in a row. Seeking to leverage human resource best practises and recruitment skills to become the new recruiting coordinator at Stern Sourcing Group.
Work Experience
Recruitment Specialist - Creative Positions
August 2017–September 2019
Nigel Smith Recruitment Group, Newark, DE
Key Qualifications & Responsibilities
Researched, identified, and reached out to passive candidates for possible job placement opportunities.
Guided possible candidates through the employment process, from phone screening until the final interview.
Partnered with business clients to determine and understand their needs in order to locate candidates with the best fit.
Coached candidates to build effective CVs, cover letters, and emails, as well as to perform well at interviews.
Key Achievements
Successfully achieved job placement for more than 5 tech and design positions for 18 months consecutively.
Junior IT Recruiter
June 2016–July 2017
KPA Talent Sourcing Agency, Newark, DE
Key Qualifications & Responsibilities
Scoured LinkedIn Recruiter and other networks to locate new back end, front end, and full stack developer candidates.
Connected with corporate clients to assess business needs and help fill open positions.
Interviewed applicants in order to properly place them in an organisation best suited for that individual.
Cold-called businesses to establish new IT recruitment and tech staffing relationships.
Key Achievements
Successfully located and onboarded 7 new business clients for new, ongoing IT talent acquisition partnerships.
Education
Bachelor of Arts in Human Resource Management
Jefferson's School of Continuing and Professional Studies, Philadelphia, PA
Graduation: 2016
Relevant Coursework: Compensation and Benefits, Human Resource Management, Recruitment and Staffing, Acquiring Talent in Technology, Diversity & Culture in the Workplace, Staff Training and Development, Labour and Employment Relations, Personnel & HR Ops.
Key Skills
Talent Acquisition & Personnel Sourcing
Social Media Engagement & Marketing
Effective Written & Verbal Communication
HR Applicant Tracking Systems
LinkedIn Recruiter
Certifications
Level 4 Diploma in Recruitment Management (DipRM)
HRCI Professional in Human Resources — International (PHRi)
SHRM-SCP (Senior Certified Professional)
AIRS Advanced Certified Internet Recruiter (ACIR)
AIRS Certified Diversity Recruiter (CDR)
Memberships
American Staffing Association (ASA)
National Association of Personnel Services (NAPS)
Languages
Norwegian: Professional Working Proficiency
Here's how to write a recruiter CV of your own:
1. Format the Recruiter CV Template for Hiring Success
You place talent, but only in the most ideal positions.
Well—
The content on your recruitment CV needs to be placed ideally, as well.
That's where formatting the CV comes in. Before you start writing, make sure your staffing CV template is laid out right.
Here's how:
In your education, work history, and any other date-related CV section, start with your most recent entry and go back from there (that's called "reverse-chronological").
Choose a great CV font for your HR recruiter CV so that it's immediately legible.
Leave a one-inch border around the entire CV, and use single line spacing in any paragraph text.
Only include relevant parts of a CV; if something doesn't add value or increase your chances of being hired, leave it off.
Expert Hint: Hiring managers and other employers read CVs on a variety of gadgets. Unfortunately, Microsoft Word CVs look funny on certain screens. So, save your CV as a PDF, since PDFs look right on any device.
2. Start with a Recruiter CV Objective or Summary
You probably know—HR managers go through dozens of job applications every day.
To accommodate this constant bombardment, they give staffing CVs just a cursory glance at first—7.4 seconds, on average!
With English, we read from top to bottom, so the header on a recruitment CV is quite important, to say the least.
Enter the CV objective or summary statement.
This introductory paragraph on a staffing recruiter CV needs to be captivating while giving the most pertinent details about you.
Which opening statement should you choose?
Choose the career summary when you have plenty of experience with talent acquisition.
On a mid-level or senior recruiter CV, this summary statement introduces you and your desire for the position with your recruitment skills, hiring accomplishments, and HR background. To give it a bump, add a relevant recruitment or related achievement with numbers.
Here's how to write a recruiter CV summary:
Recruiter CV Summary Examples
The second of the two sample recruiting coordinator CVs looks okay, at first. However, it lacks two of the qualities the first one has: the first one is a personalised CV, and it has a numbered accomplishment to give them a taste of what they're in for.
Now—
What If You've Got No Recruitment Experience?
When writing an entry-level recruiter CV, use the career objective.
The CV objective statement replaces your lack of recruitment experience with relevant HR skills and a mention of your career goals. However, still provide a numbered accomplishment here from your past to zhuzh it up.
Here's a sample:
Entry-Level Recruiter CV Objective Example
The second one is not bad, really. However, if it just added a quantifiable achievement and was less generic, it would make a great example, like the first one.
Expert Hint: Write the profile paragraph last, even though it's at the top of your specialist or recruiting manager CV. In this manner, having completed the rest of your document, you'll be better able to come up with the most impactful information to include.
3. Write a Great Recruiter Job Description and Talent Acquisition Skills Sections
As a recruiter, you know the work history section is where you will find the details to create the best fit between job seekers and corporate clients.
Likewise—
This section on your own CV for recruitment jobs is where the hiring manager will spend much of their viewing time.
Here's how to get it right:
Start with your most recent (or current) job at the beginning of this section. If you have a second entry, place that below.
Include your professional title, the dates you were employed, the name of the company, and the company's location.
Add relevant recruitment job responsibilities by matching your duties with the requirements from the job advertisement (CV keywords)
Throw in a key win with a number to give them a sample of just how talented you are.
Check out these recruiting CVs samples of job descriptions:
Recruiter Job Description for CV Examples
To build a great recruiter job description—
Give the most relevant duties in detail so the hiring manager understands the scope and breadth of your knowledge. And, include a solid achievement to knock their socks off.
Carefully reading the job description will also help you identify any keywords or phrases to incorporate throughout your CV. Some companies use an Applicant Tracking System (ATS) to philtre CVs based on keywords. If you don't have certain phrases, your CV could get tossed out before it ever comes before human eyes. So, comb through the job description to identify keywords and phrases, and thread those throughout your CV.
Next—
Following any great work history section is a CV skills list to document your proudest, most relevant abilities.
Check out this recruiter skills CV example list:
20+ Recruiter Top Skills & Proficiencies for a CV
Talent Acquisition
Personnel Sourcing
Headhunting & Passive Recruitment
Applicant Research & Placement
Social Media Engagement &
Brand Marketing
Effective Communication Skills
Phone & Video Screening
Interviewing Candidates
Locating New Partners & Clients
Presentation Skills
Hosting Job Fairs
ATS / Applicant Tracking Systems (e.g., Oracle Taleo Cloud Service, Google Hire, iCims Talent Acquisition, JobVite, IBM Kenexa)
LinkedIn Recruiter
Management Skills
Technical Abilities
Multitasking Skills
Friendly Personality
Adaptable to Change
Enthusiastic & Outgoing
Networking Skills
To find the right skills to put on a CV for talent acquisition jobs—
Don't just take a list you found on the internet (even this one) and slap it down into your CV.
Instead, locate the job requirements in the employment ad. Identify the skills this hiring agency is looking for, and add those to your headhunter or recruiting coordinator CV.
Expert Hint: Based on BLS numbers, employment of HR professionals, including recruiters and staffers, is projected to increase by 7% (38,900 jobs) between 2016 and 2026. And employment of human resources managers, including recruiting coordinators and heads of recruitment, are projected to grow by even more—9% (12,300 jobs), in the same timeframe. Highlight your hiring skills and staffing abilities effectively if you want a leg up over your competition!
The ResumeLab builder is more than looks. Get specific content to boost your chances of getting the job. Add job descriptions, bullet points, and skills. Easy. Improve your CV in our CV builder now.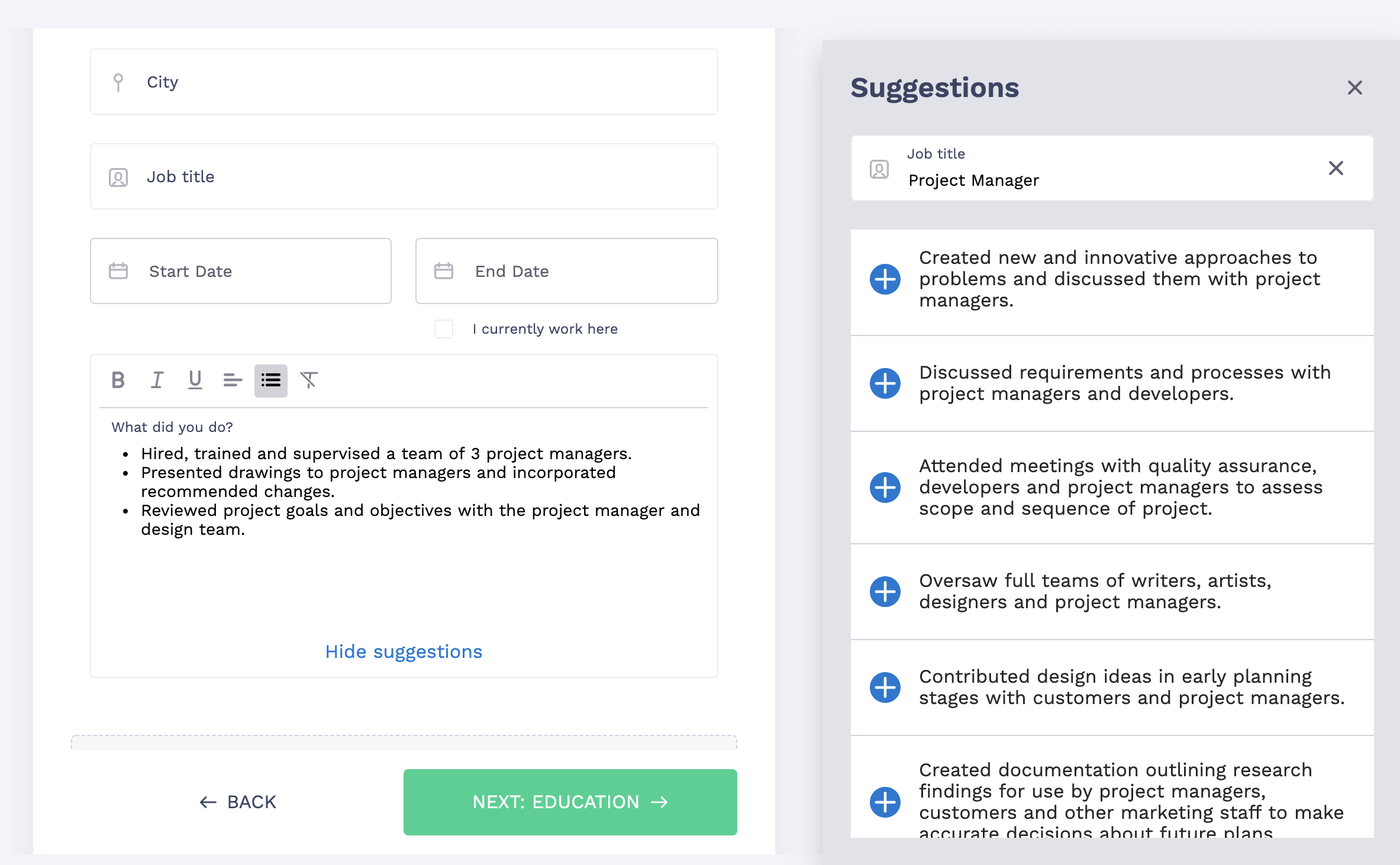 Nail it all with a splash of colour, choose a clean font, highlight your skills in just a few clicks. You're the perfect candidate and we'll prove it. Use the ResumeLab builder now.
4. Turn Your Education Section Into a Reason to Hire You
Educational requirements for recruitment jobs span the gamut depending on the job level and the staffing agency.
However—
Whether you're writing a recruiting assistant CV or a senior IT recruiter CV, you still have to list the education you have correctly:
Staffing Recruiter CV Sample of Education Section
Here's how to organise your own:
Add the name of the degree and major on the first line.
Next, add the name of the university or university, including their city and state.
Then, include a date of completion. If you're not finished yet, add it like this: "Estimated Graduation."
List several related subsections to add a few extra keywords to your recruiting CV, such as relevant coursework, academic awards, etc.
Leave high school off if you've completed an associate degree or higher.
Expert Hint: If you are writing an entry-level creative or IT recruiter CV and your education section is more impressive than the work history, swap them around. Remember that 7.4 seconds? It's better to keep the most relevant sections at the top of the page.
5. Round Out a Recruiter CV With Extras
Here are a few of the best additional areas to include on a CV for recruiting jobs, along with some examples of each:
Certified Social Media Recruiter (CSMR)
HRCI Senior Professional in Human Resources (SPHR)
HRCI Global Professional in Human Resources (GPHR)
SHRM-CP (Certified Professional)
SHRM-SCP (Senior Certified Professional)
Recruitment Organisations & Talent Associations
Social Media Engagement
Public Speaking
Blogging About IT Topics
Proficiency in Foreign Languages
Mandarin: Native Proficiency
Italian: Professional Working Proficiency
Portuguese: Intermediate Proficiency
Yoruba: Basic Conversational Proficiency
Expert Hint: The most important "extra section" for any CV is the recruiter cover letter. You should always include a cover letter, as more than half of hiring managers will immediately discard your CV without one.
Double your impact with a matching CV and cover letter combo. Use our cover letter builder and make your application documents pop out.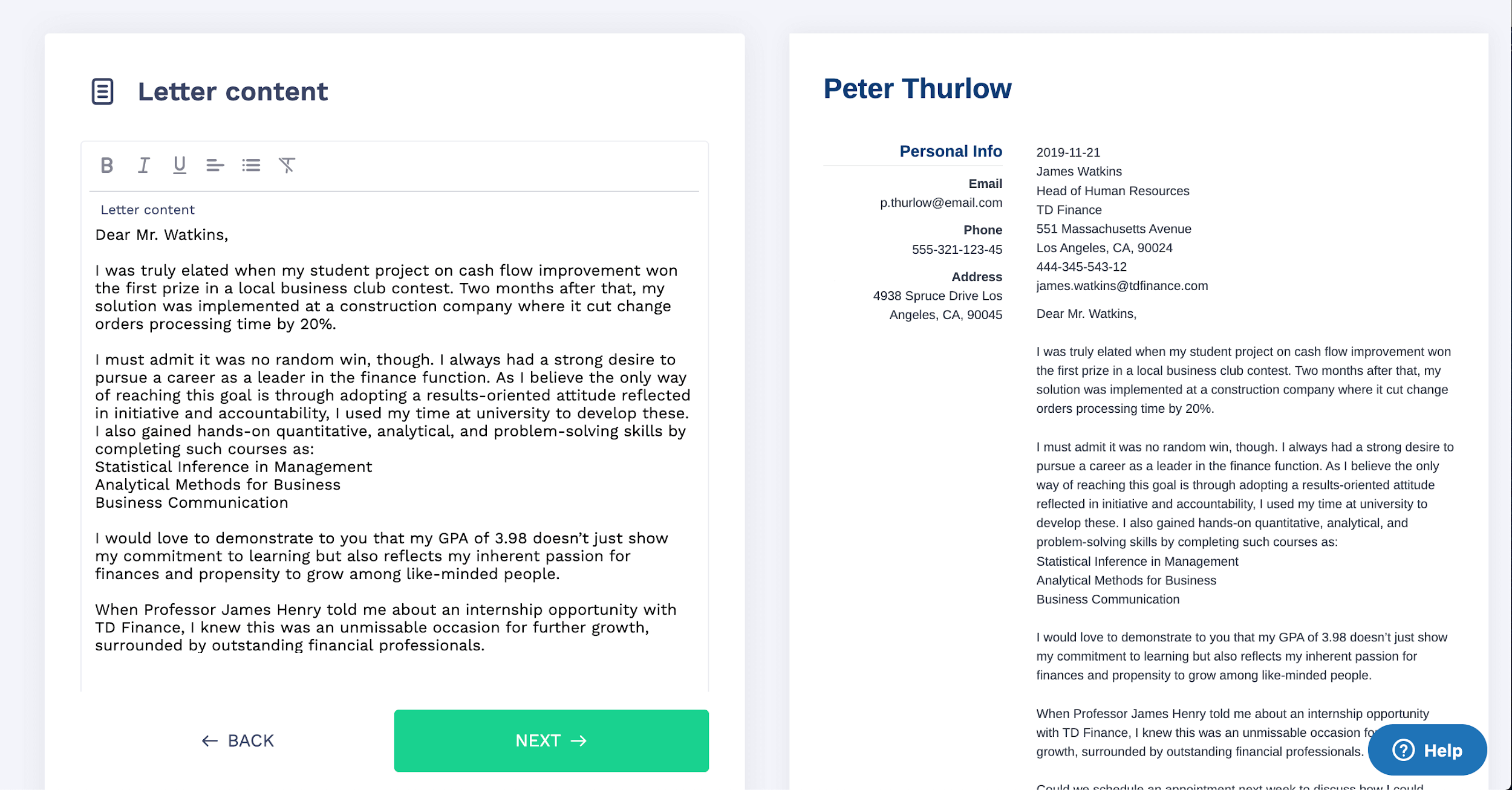 Want to try a different look? There's 18 more. A single click will give your document a total makeover. Pick a cover letter template here.
Key Points
Here's the gist on—
How to write a CV for recruiter jobs:
Format recruiter CVs correctly before you start to write.
Open your technical recruiter CV with a powerful objective or summary.
Document your previous work history in your recruitment CV using detailed entries, CV keywords, and quantifiable achievements.
Make a list of the most relevant recruiting CV skills by matching it to the job ad.
Include your education no matter what level of job you're aiming for, whether senior corporate recruiter CV or junior talent acquisition specialist.
Add a section such as certifications, memberships, or second languages to really round out your staff or university recruiter CV.
Don't forget a Human Resources Cover Letter!
Got any questions on how to create a recruiting coordinator CV? Need help quantifying your hiring achievements or listing talent acquisition skills? Let's talk about it down in the comments section, and thanks for reading!