Librarian CV—Examples and 25 Writing Tips (+Objective)
You love the feel and smell of books, and you help people stand on the shoulders of giants. Show it to employers with your professional librarian CV.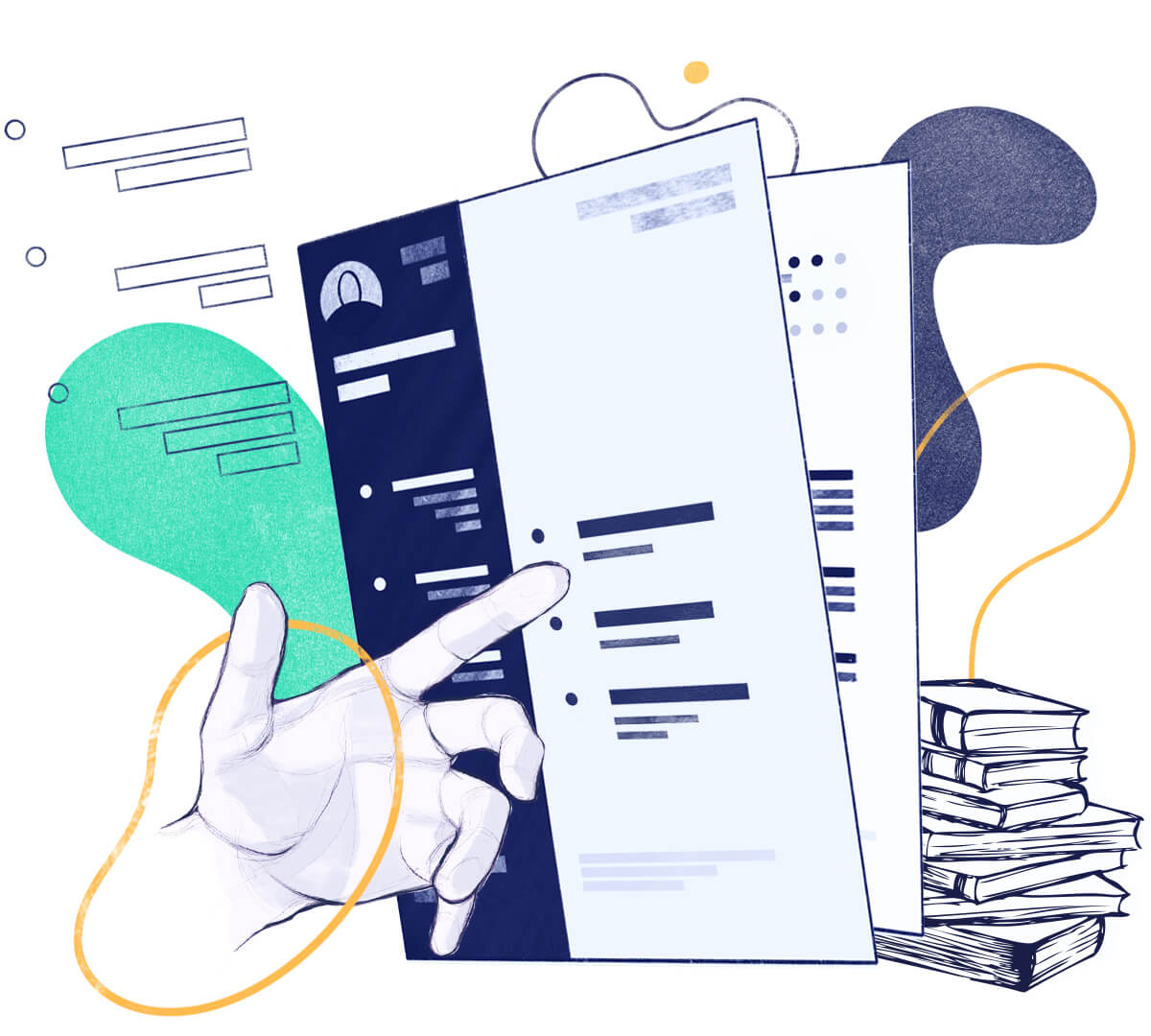 You just found a Daniel-Woodrell-worthy librarian CV sample.
Why do you need it?
Well—
There are only 134,800 librarian jobs in the US. Compare that to three million nurses or a million teachers.
To get your dream job, your CV must stand out like Arturo Bandini.
No problem. This library CV does the job.
In this guide:
A librarian CV sample better than most.
How to write a library CV that stands out in the stack.
How to tailor your librarian job description so you get hired.
Why you can't just list librarian skills (and what to do instead).
Save hours of work and get a CV like this. Pick a template, fill it in. Quick and easy. Choose from 21 CV templates and download your CV now.
What users say about ResumeLab:
I had an interview yesterday and the first thing they said on the phone was: "Wow! I love your CV."
Patrick

I love the variety of templates. Good job guys, keep up the good work!
Dylan

My previous CV was really weak and I used to spend hours adjusting it in Word. Now, I can introduce any changes within minutes. Absolutely wonderful!
George
Want to open up more job possibilities? See our guides:
Haven't found what you're looking for? Check all our CV examples.
Librarian CV Sample You Can Copy and Use
Karyna Kail
Librarian
Personal Info
Phone: 417-288-8809
Email: karynazkail@gmail.com
linkedin.com/in/karynazkail
instagram.com/karynazkail
twitter.com/karynazkail
Summary
Forward-thinking librarian with 5+ years of experience updating a busy urban library. Seeking to support rich public service at St. Louis Public Library. At Carondelet Library, managed 9 assistants and cut interlibrary loan processing time by 35% with new lending process.
Experience
Public Librarian
Carondelet Library
2015–2020
Managed 9 assistant librarians to perform all support and operations in a busy urban library with robust physical and digital programs.
Trained 5 assistant librarians in best practises for digital and physical lending and cataloguing. Achieved 95% performance to goals.
Processed patron transactions and loans to other libraries.
Led an effort to track and identify unused books. Replaced the bottom 10% of unused works with in-demand books in 6 months.
Collaborated with 5 volunteer organisations to promote library use. Increased community use of library by 20%.
Redesigned children's story hours to save 4 employee hours per month. Simultaneously increased participation 25%.
Key Achievement
Implemented new interlibrary loan system that cut processing time by 35% and saved 10+ employee hours per month.
File Clerk
Doran's Acres, St. Louis, Missouri
2014–2015
Stocked and ran internal resource library of 250+ popular titles of paperbacks, hardcovers, ebooks, and media for employees.
Created cataloguing system to ensure prompt return of materials.
Managed filing and distribution of company training materials.
Education
Master of Library Science
University of Missouri
2012–2014
3.89 GPA
Wrote master's thesis on digital library architecture.
BA in Liberal Arts
Westminster University
2008–2012
Relevant coursework: The Political History of the English Language, Etymology and the Oxford English Dictionary, Magic Realism in Modern Literature, Darkness in American Literature.
Academic achievements
President, Westminster University Student Book Club.
Member, Student Literature Discussion Group.
Publications
2019 — "The Role of Libraries in a Digital Era" in St. Louis Today
2018 — "How Digital Lending is Rocking Amazon" in The Boston Globe
Hard Skills: computer skills, cataloguing, OPALS, research, Handy Library Manager
Soft Skills: interpersonal skills, customer service, organisation, attention to detail
Here's how to write a librarian CV that shelves your unemployment:
1. Use the Right Librarian CV Format
This is important.
The hiring manager wants any excuse to toss your library CV.
Don't give her one.
Start with a clean CV format that exudes professionalism.
Use these tips:
Librarian CV Format
Expert Hint: PDF CVs are best because they display well on all screens. Have you heard ATS hiring software can't read them? You heard wrong—times have changed.
2. Write a Librarian CV Objective or Summary
Picture this:
The hiring manager—we'll call her Sue. She's busy.
She wants to know right off if your librarian CV is worth the effort.
Answer with a resounding "Yes!"
How? With a Tolstoy-worthy career objective statement or career summary statement.
Add:
An adjective (forward-thinking, creative)
"Librarian"
Years of experience (1+, 5+)
What you'll do & for whom (support rich public service at St. Louis Public Library...)
Best CV achievements (cut interlibrary loan processing time 35%...)
See these librarian CV examples:
Librarian CV Summary—Example
Quick thought:
Both librarian CV samples promise the same things.
But #1 shows a history of success with 5+ years, 9 assistants, and a 35% time savings.
But—
Is your librarian experience still on the shelf?
See these entry-level CV samples for librarian jobs:
Entry-Level Librarian CV Objective
Astounding.
Both entry-level library CV examples with are the same applicant.
The first shows evidence of skills.
3. Tailor Your Librarian Job Description and Skills
What skills go into a CV for librarian jobs?
Use this CV skills list:
Librarian CV Skills
| | |
| --- | --- |
| Hard Skills | Soft Skills |
| Classification | Interpersonal Skills |
| Cataloguing | Written Communication |
| Interlibrary Loans | Oral Communication |
| Acquisitions | Work Ethic |
| Dewey Decimal System | Analytical Thinking |
| Research | Attention to Detail |
| | Physical Stamina |
| OPALS | Efficiency |
| Handy Library Manager | Time Management |
| Programming | Teamwork |
But—
Don't shelve the whole batch in a CV for librarian jobs. That's an obvious ploy.
Instead, create a custom CV with the CV keywords the job advertises.
These librarian CV samples show how:
For a job that needs skills in training, transaction processing, collaboration, and interlibrary loans:
Librarian Job Description for a CV [Sample]
Huge difference.
The first of those library CV examples is built on the needs of the job ad.
The second isn't, and it lacks juicy numbers like 9, 5, 95%, etc. God is in the details!
If you're writing a CV for entry-level applicants, work the same magic with a twist.
See these entry-level school librarian CV examples. The job they want needs skills in stocking, cataloguing, and training.
Beginner Librarian CV Job Description [Sample]
Hmm.
The first of those school librarian CV samples is Boston Public Library material.
The second isn't awful. Even the collaboration and customer service are good transferable librarian skills. But it lacks numbers that add oomph.
Expert Hint: According to research in Reference Services Review, librarians are a new touchpoint to help patrons understand and use technology. If you've got tech experience and teaching skills, show them in your library CV.
The ResumeLab builder is more than looks. Get specific content to boost your chances of getting the job. Add job descriptions, bullet points, and skills. Easy. Improve your CV in our CV builder now.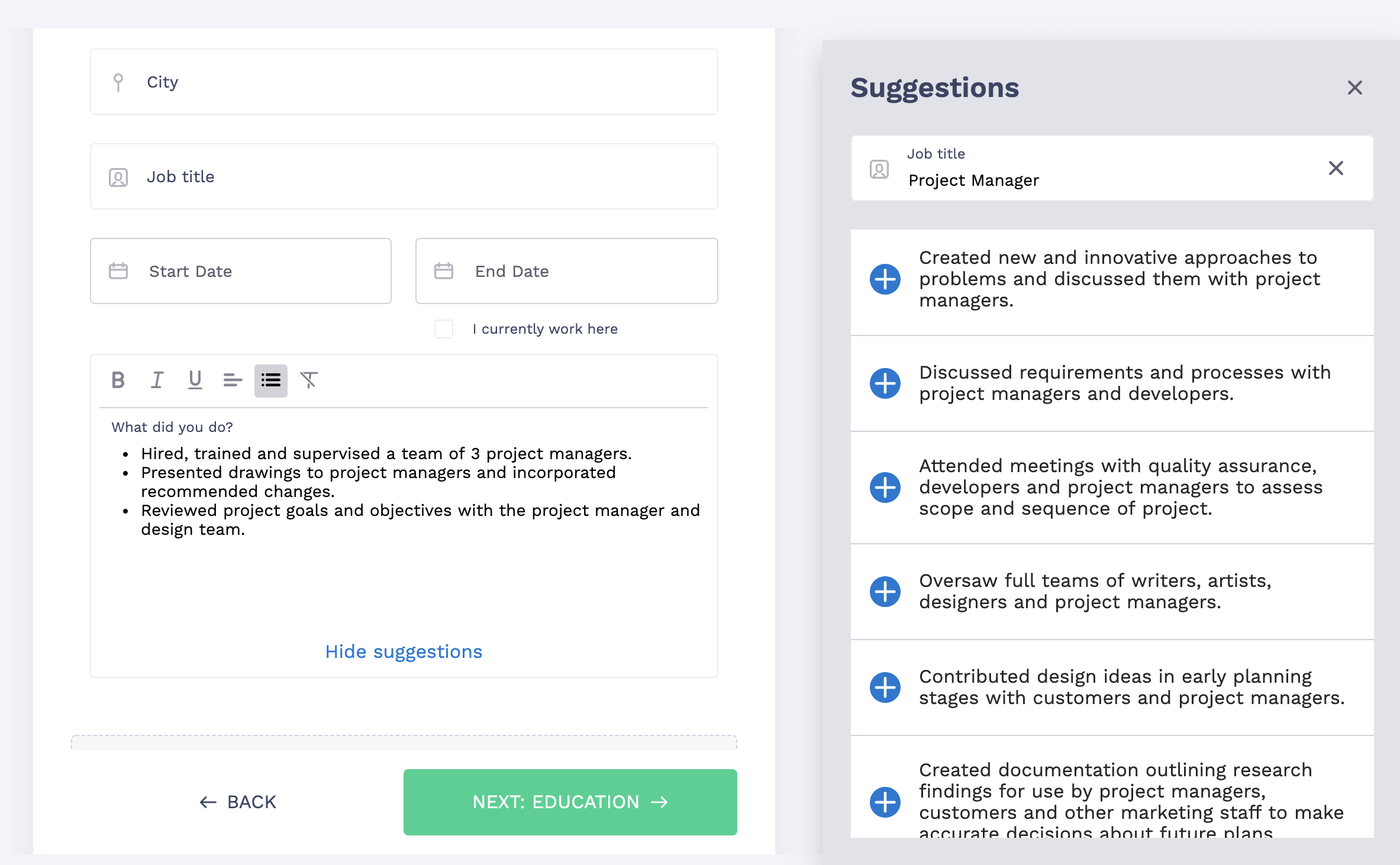 Nail it all with a splash of colour, choose a clean font, highlight your skills in just a few clicks. You're the perfect candidate and we'll prove it. Use the ResumeLab builder now.
4. Show Your Education in the Right Light
If you can't show off your education on a CV for librarian jobs, where can you?
But there's a key way to do it.
Again, it comes back to the skills in the online listing.
See this school librarian CV sample:
Librarian CV Example—Education
See that?
We added skills like digital library architecture and leadership. If those are in the job ad, you're a shoe-in!
Expert Hint: Entry-level librarians can write longer education sections. A class, student group, or project can have its own bullet points that prove librarian skills.
5. Add "Other" Sections to Your Librarian CV
Think about this:
Hiring managers can't tell much about you from your CV.
Do you have passion? Personality?
Your education and experience won't answer that.
Show them with "other" sections in your library CV.
Select from:
See these librarian CV examples:
Librarian CV—Other Sections
East, meet West.
The first of those librarian CV samples is Alice-Walker-level. It shows energy and passion.
Expert Hint: Write a cover letter for your CV for librarian jobs. Display excitement for the library or school. Add 2–3 key bits of evidence your skills are solid.
Double your impact with a matching CV and cover letter combo. Use our cover letter builder and make your application documents pop out.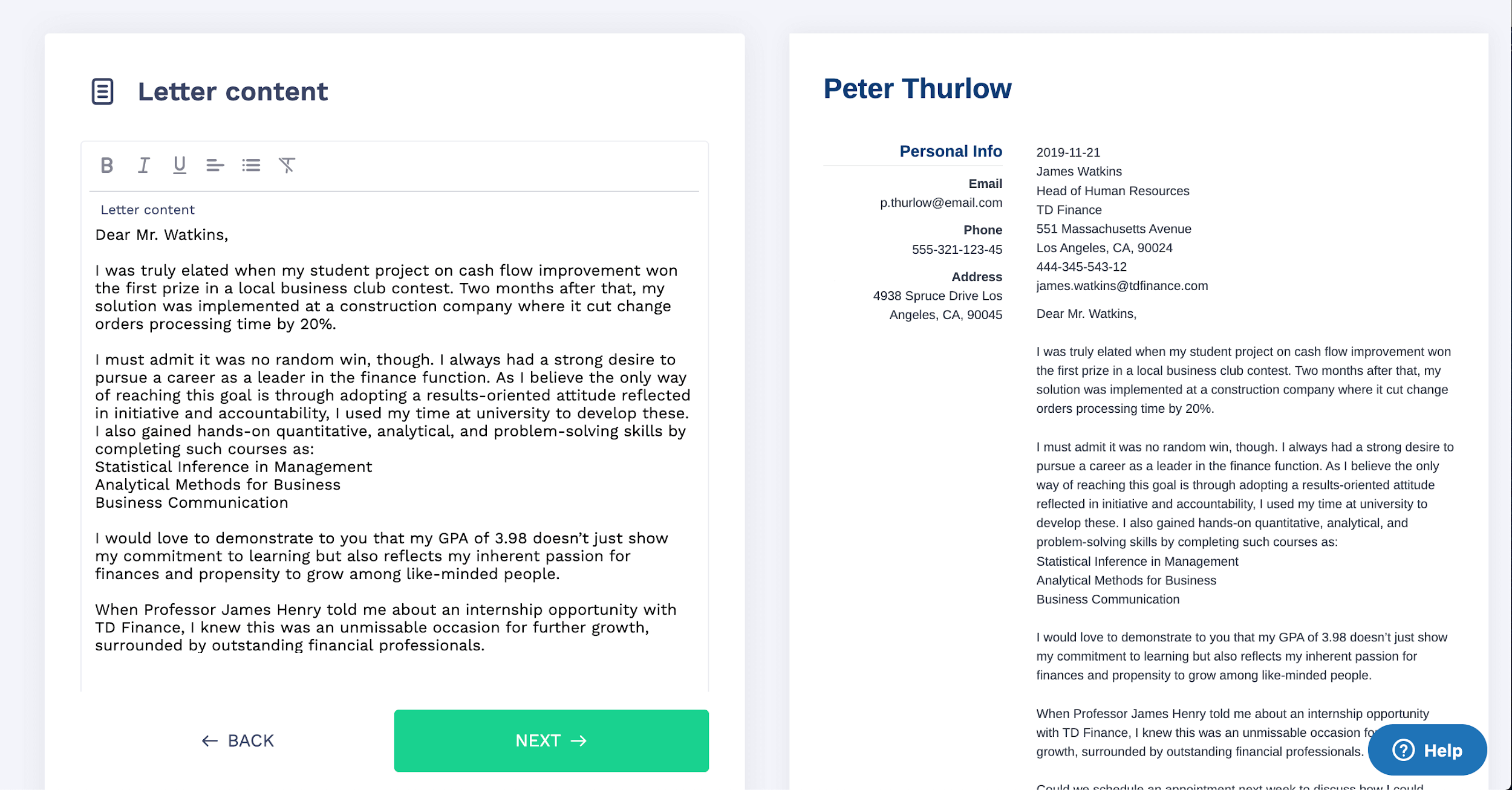 Want to try a different look? There's 18 more. A single click will give your document a total makeover. Pick a cover letter template here.
Key Points
Here's how to write a librarian CV:
Use a librarian CV template. Stock it with your finest librarian achievements.
Add librarian skills like cataloguing and interlibrary loan management. Use numbers to show competence.
Write a librarian CV objective as a quick glimpse of the best parts of your CV.
Add other sections like ACRL discussion groups or articles you've written to give your CV an added boost.
Got questions on how to write good CVs for librarian jobs? Not sure how to put librarian on a CV? Leave a comment. We'll be happy to reply!