Hostess CV—Sample and 25+ Writing Tips
You can juggle reservations, walk-in guests, requests and complaints. Make sure this comes through in your hostess CV, and you will be the face of the restaurant in no time.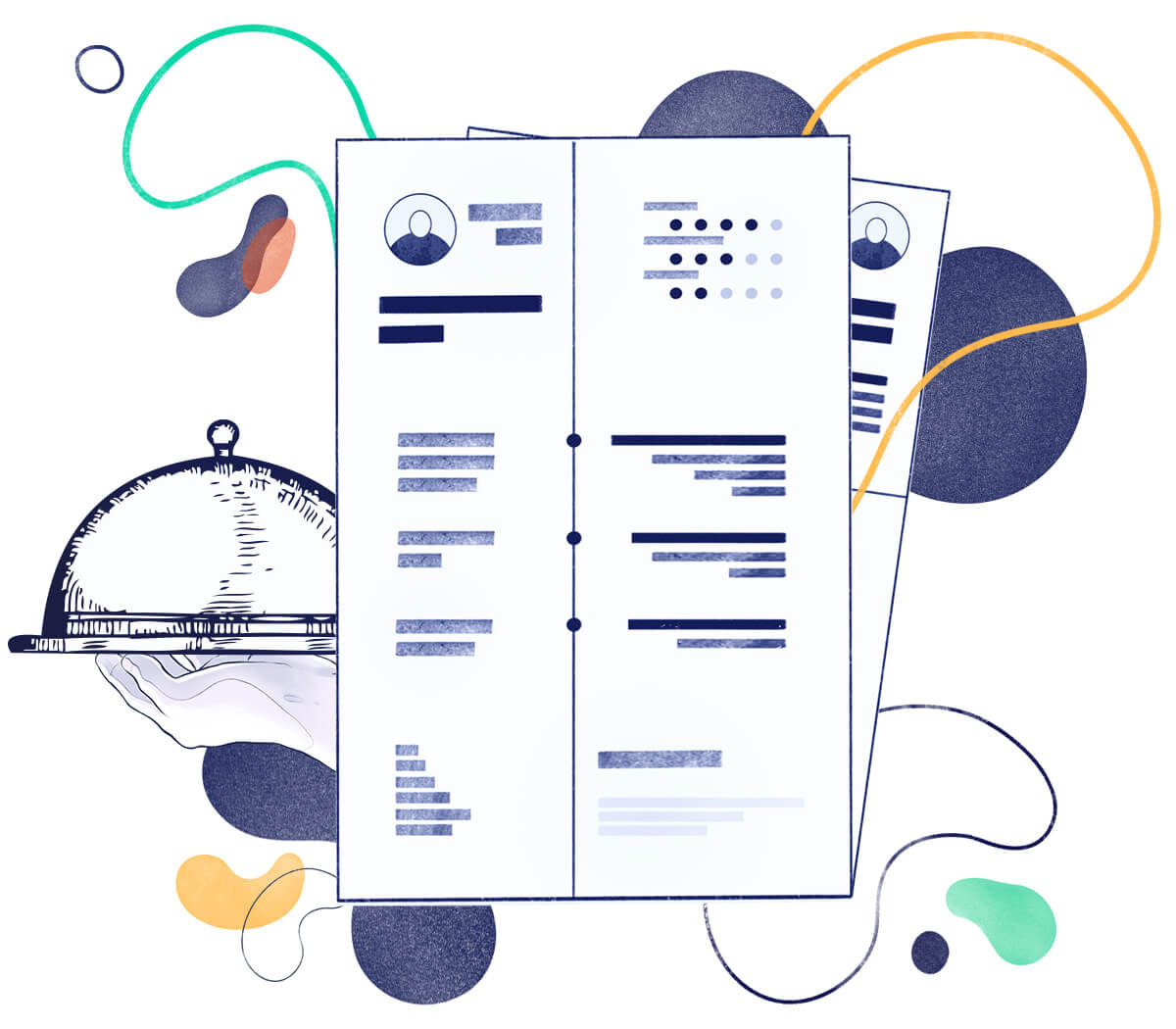 Your hostess CV must be more than just your best photo. Because being a hostess is way more than just smiling.
Prove you're customer-oriented and can handle even the busiest restaurant times. How?
By writing a CV that shows you have the right skills—and understand how they relate to what this role involves.
And you won't have to Google 'hostess jobs near me' ever again.
In this guide:
A hostess CV example to land you that job in no time.
How to make the perfect hostess job description for CVs.
How to write a hostess CV that gets interviews.
Why listing the right hostess CV skills and duties is the key to landing this job.
Save hours of work and get a CV like this. Pick a template, fill it in. Quick and easy. Choose from 21 CV templates and download your CV now.
What users say about ResumeLab:
I had an interview yesterday and the first thing they said on the phone was: "Wow! I love your CV."
Patrick

I love the variety of templates. Good job guys, keep up the good work!
Dylan

My previous CV was really weak and I used to spend hours adjusting it in Word. Now, I can introduce any changes within minutes. Absolutely wonderful!
George
These CV guides and examples may be helpful in creating your CV as a hostess:
Haven't found what you're looking for? Check all our Professional CV Examples.
Hostess CV Example You Can Copy and Use
Kelly Conway
Hostess
Personal Info
88 High St, London, SE20 7HB
Phone: 07825 852 835
Email: kellyconway@gmail.com
linkedin.com/in/kellyconway
Summary
Energetic and efficient hostess, and a Certified Customer Service Professional with 4+ years of experience. Seeking to provide excellent customer service at Middle Eight. A fast learner, scored 100% for menu knowledge and wine pairings at Eataly. Rated at 97% by manager in quarterly reviews for speed, friendliness, and professionalism. A History university student, always ready to engage customers in meaningful conversations.
Experience
Hostess
Eataly
2017–2019
On average, greeted 400 guests per day and managed their table allocation according to their needs and wishes.
Scheduled and managed 30+ reservations a day, on the phone and online.
Organised special events and private parties.
Assisted in preparing the dining area each evening.
Ensured dining services ran without interruption by checking on tables and informing waitstaff of any issues.
Key Achievements
Rated at 97% by manager in quarterly reviews for speed, friendliness, and professionalism.
Scored 100% for menu knowledge and wine pairings.
Waitress
Eataly
2015–2017
Scored 100% for menu knowledge and wine pairings, which allowed me to easily recommend and upsell to customers. Twice received bonus for best performing waitstaff.
Used POS to process an average of 120 transactions per day and £12,500 in sales.
Commended 7x by waitstaff managers for excellent customer service.
Education
King's College London, BA History
Expected graduation date: July 2020
Clubs & Activities:
Active member of the debating society
Member of the student council
Key Skills:
Greeting & Seating Guests
Reservation Management
Dining Room Monitoring and Management
Stock and Supply Management
Cash Management
Menu Knowledge
Additional Information
Certified Customer Service Professional (CCSP)
Fluent in French
A keen traveller with rich experiences of other cultures: Spain, France, Mexico, Canada and the USA
Regularly training at gym for mental clarity and physical fitness
Fundraiser and volunteer for The British Red Cross
Participate in Zumba and Circuit Training classes 2x a week each
Now here's how to write a hostess CV like this:
1. Choose the Best Format for a Hostess CV
Would you trust someone who can't organise their CV with organising 50 reservations a night?
Neither would the waitstaff manager.
A restaurant hostess CV has to reflect your attention to detail from top to bottom.
To make a great first impression, follow the recommended CV formatting rules below:
Hostess CV Format
Use the common reverse-chronological format. It brings the most recent, relevant things to the top, and makes your hostess CV easy to read.
Choose elegant CV fonts like Calibri, Georgia, or Verdana in a 10–12 size. Most people are used to those typefaces and can read them quickly.
Keep things clean by using 1-inch margins for your CV.
Limit your CV lengthto one page.
Structure your CV sectionsthe following way:Contact Information, Summary, Experience, Education, Skills, and "Additional."
Save your CV as a PDF. This way your document formatting will always stay in tact.
Expert Tip: Bureau of Labour Statistics data shows that out of all 417 thousand hosts and hostesses, 368 thousand work in the restaurant business. Focus your job search accordingly.
2. Write an Effective Hostess CV Objective Or Summary
Now that your hostess CV looks professional at first glance, make it feel inviting.
Otherwise the hiring manager won't care to read it.
Here's how to grab their attention:
At the top of your hosting CV, just below the contact information, include a CV profile.
It's a short-and-sweet paragraph that outlines your career and shows why you're perfect for this job.
If you don't have much relevant experience, opt to write a hostess CV objective.
It is a more aspirational paragraph that describes your relevant, translatable skills and your ambition to achieve.
If you are already used to juggling 50 reservations with one hand, and correcting things after the new waiter with the other, write a hostess CV summary.
It summarises your career, listing ther best achievements on your CV and most relevant qualifications.
Let's see what it looks like in practise.
Hostess CV Summary Examples
The bad example wastes space by singling out the two separate positions in the same industry. When jobs are similar and part of the same career path, feel free to summarise them when listing your years experience.
Also skip listing the basic responsibilities of a server, because they don't bring anything special or new to the table.
Hostess CV Objective Samples
See the good example? The candidate doesn't have a wealth of experience, but she still manages to set out the key hostess skills that promise to deliver value.
The bad example? Filled with empty adjectives that anyone can use.
Avoid that on your CV for hostess jobs. Think of how you can make your experiences and characteristics relevant.
If you don't have much of related experience, highlight your accomplishments from other jobs—or as a student.
Hostesses must talk to clients all day. Show the hiring manager you have things to talk about. Even if you're only starting out.
Expert Hint: To save you rewriting, write your hostess CV profile at the very end, once you have thought about and written out all your relevant experience and hostess skills.
3. Follow Up with an Appetising Hostess Job Description
Meeting, greeting, seating.
Boring.
That's how most candidates write their hostess descriptions for CVs..
And they don't get the job.
Here's how to make you CV work experience section meaningful:
Hostess CV Description Step by Step
List your work experience in reverse-chronological order (most recent first)
Add between 3 and 5 bullet points under each job you've had.
Now, reverse engineer the job posting you are applying for andrite down the key responsibilities and skills that they are looking for.
Think of the way you have shown in the past that you can handle those.
In each bullet point under your past jobs, describe quantifiable achievements that correspond to the key responsibilities and skills from the job ad.
Use CV action verbs and avoid passiveness: You were not responsible for greeting and seating customers. You greeted and seated 200+ customers a night.
This all is called targeting your CV. And it works miracles.
Let's say the job posting describes the following responsibilities: seating, greeting, managing tables and reservations, and general dining area preparation tasks.
Take a look at these two examples:
Hostess Job Description—CV Sample
It's clear to see who will get that interview invite.
And what if you're writing a CV with no experience for hostess jobs?
Think about your achievements and transferable skills that you can use in fulfilling the typical duties of a hostess.
Here's what to do:
What are the hostess duties? Spin your non-hosting jobs—highlight customer service and customer contact experience you had.
Highlight any volunteer experience on your CV or list other activities that required interpersonal and organisational skills.
Expand your education section to include more achievements.
Whether or not you have the work experience, it will help to make a quick list of the CV skills you have that are relevant to the position.
Hostess CV Skills
Hard Skills:
Greeting & Seating Guests
Reservation Management
Dining Room Monitoring and Management
Stock and Supply Management
Cash Management
Menu Knowledge
POS
Basic Math
Soft Skills:
Interpersonal Skills
Time Management
Communication
Customer Service
Training Others
Teamwork
Dispute Resolution
Depending on the space you have left on your hostess CV, you can opt for a quick list such as above, or you can take a few of these and expand them, incorporating your relevant achievements.
But remember—
Don't just cram your CV skills section with whatever's expected of you. Only list the hostess skills you actually have. (Yes, that's my roundabout way of saying "don't lie on a CV!")
Now time for something easy—
Listing your education on a CV for hostess jobs.
The ResumeLab builder is more than looks. Get specific content to boost your chances of getting the job. Add job descriptions, bullet points, and skills. Easy. Improve your CV in our CV builder now.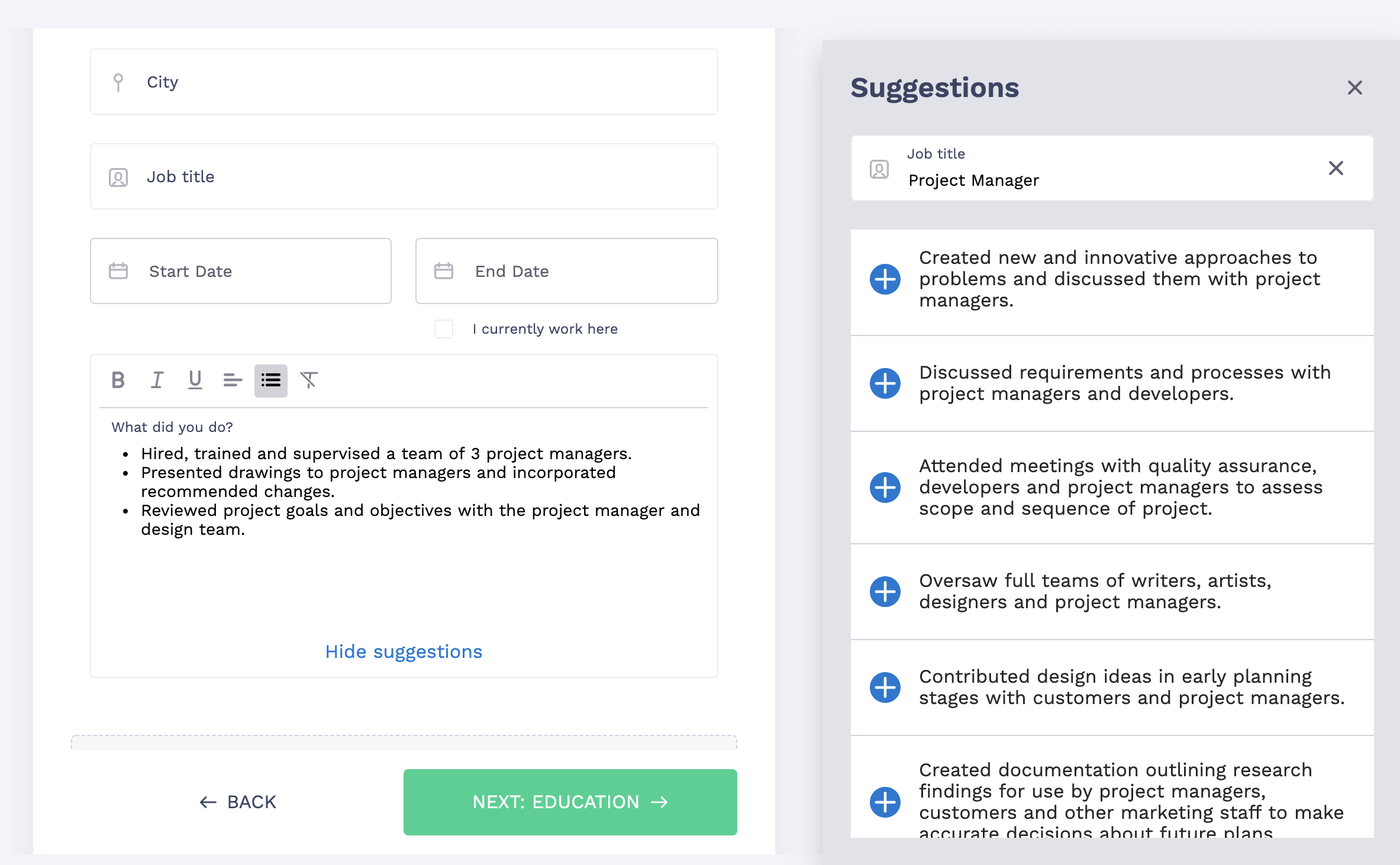 Nail it all with a splash of colour, choose a clean font, highlight your skills in just a few clicks. You're the perfect candidate and we'll prove it. Use the ResumeLab builder now.
4. Turn Boring Education into a Reason to Hire You
"But a hostess job description never asked for a Master's degree."
Yeah but it doesn't mean you can't use it to your advantage.
Consider this:
One of the responsibilities of a hostess is to converse with customers.
A customer must feel that she is being served by a knowledgeable, intelligent person.
And the more upscale the restaurant or event, the more important your education is.
But don't go overboard. In your CV education section, limit yourself to the highest degree of education you have.
Include:
Your degree
School name
Graduation date
GPA—if it's high enough (generally around 3.5 or above)
Optionally, club memberships and extracurricular activities if they're relevant to the hostess job
See these examples:
Hostess CV Example—Education
What makes the good example so good? The debating team membership shows that they can hold a conversation on the level.
The bad example adds no value to the CV—it shows what and where you study, but not how or why.
5. Upsell Your Hostess CV With Other Sections
You're nearly there.
You've got the basics down.
Now it's time to turn it up to 11.
Including extra CV sections can help to boost your chances of landing that hostess job.
Here are our suggestions:
Hostess CV Additional Section Examples
Languages
Courses, Certifications
Volunteering
Relevant Interests
Or—
A strategic combination of the above in the form of Additional Information:
Hostess CV Sample—Additional Information Section
These are all things that will help you secure that hostess station for yourself.
Expert Hint: Attaching a suitable cover letter to your hostess CV will seriously boost your chances of getting the job. A cover letter is the place where you can really sell yourself and provide more details about your background and motivation.
Double your impact with a matching CV and cover letter combo. Use our cover letter builder and make your application documents pop out.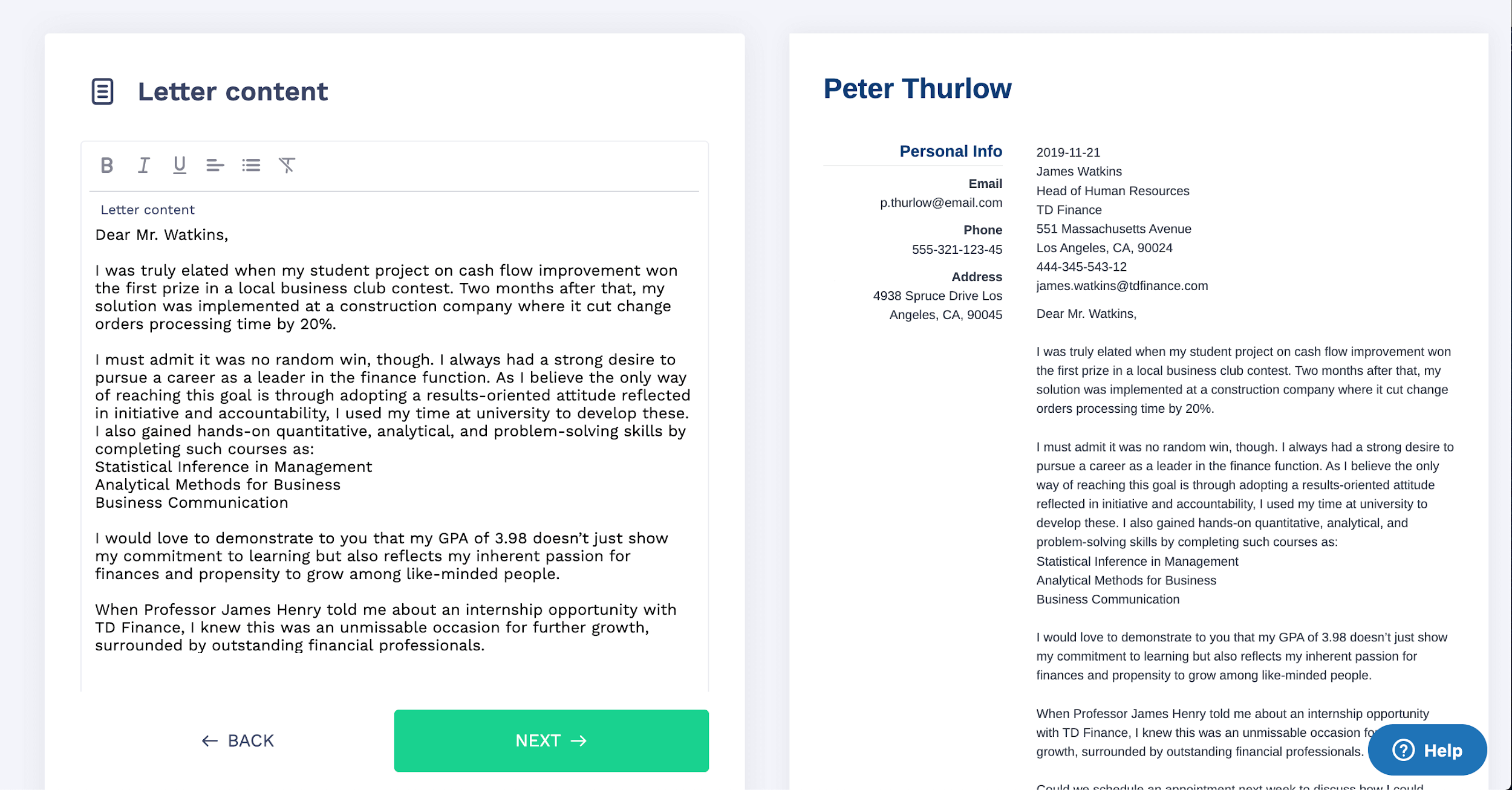 Want to try a different look? There's 18 more. A single click will give your document a total makeover. Pick a cover letter template here.
Key Points
Keep these key points in mind to make sure your hostess CV gets that interview:
Use the hostess CV example up top as your template and follow the recommended CV formatting rules.
Write about your achievements, not tasks in your hostess CV profile, job descriptions, and education section.
List your skills. Reverse engineer the job posting to know exactly what they are looking for, and be able to match that 100%.
Write a dazzling hostess cover letter. Let your personality beam through those three paragraphs and boost your chances of getting hired.
Do you think we have got it all covered? Do you have any specific questions about your hostess CV? Did we help you get a hostess job? Leave a comment! We want to hear from you.