Construction CV—Examples and 25+ Writing Tips
You pull your weight on job sites and get the work done fast. You know your way around a tool belt, but employers don't know that. Show them with this construction CV sample.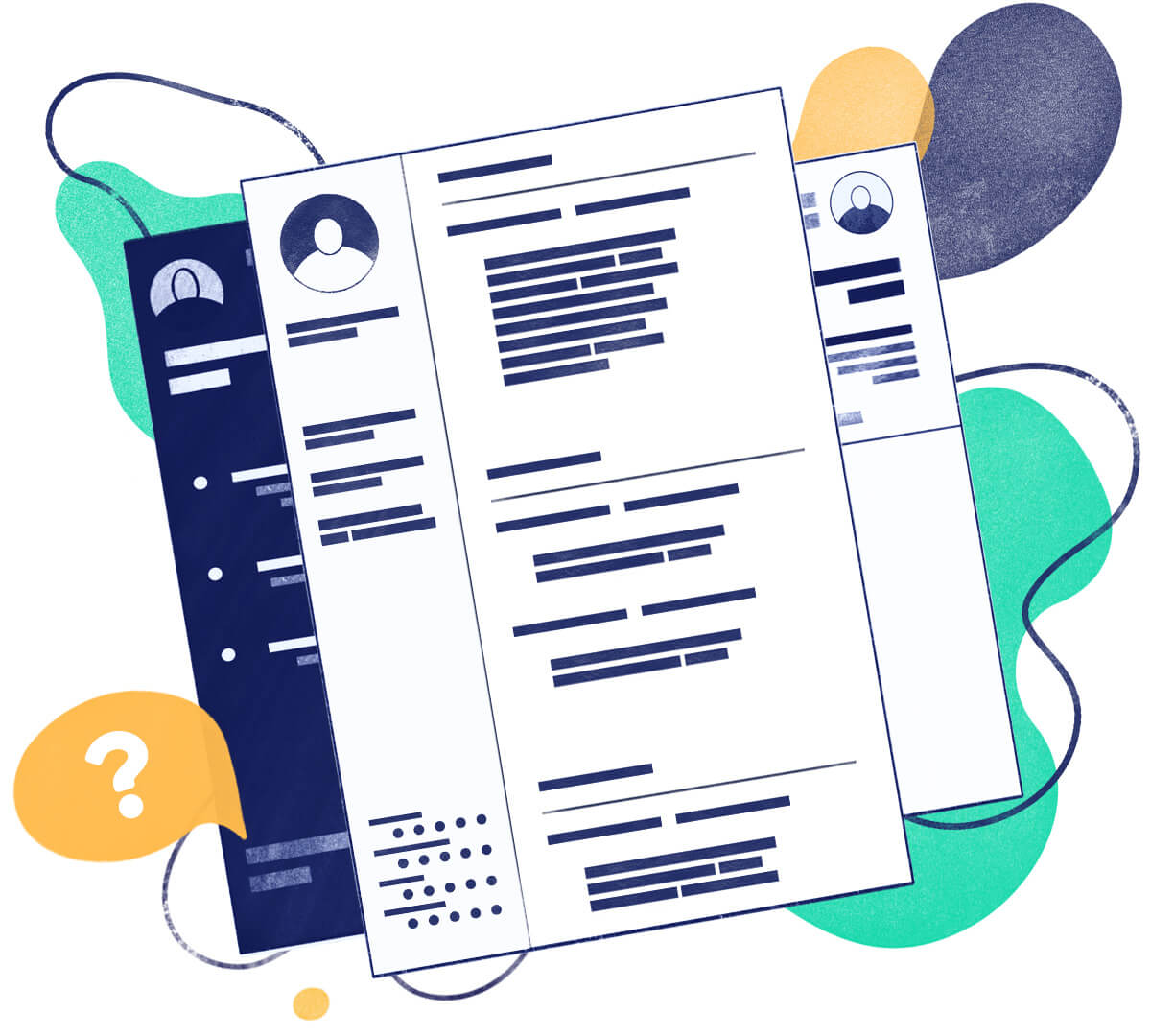 It's hard.
You apply to 60 jobs, but—
Nobody calls back.
The trouble? A poorly-written CV.
But that's not hard to fix.
You just need the right format and the right materials.
In this guide:
A construction CV sample better than most.
How to make a good construction job description for CVs.
How to write a CV for construction jobs that puts you on the A-list.
Why you can't just list construction skills (and what to do instead).
Save hours of work and get a CV like this. Pick a template, fill it in. Quick and easy. Choose from 21 CV templates and download your CV now.
Create a job-winning CV with little effort. Hack your way through ATS software with our 18 beautiful templates—give our builder a try!
What users say about Resumelab:
I had an interview yesterday and the first thing they said on the phone was: "Wow! I love your CV."
Patrick

I love the variety of templates. Good job guys, keep up the good work!
Dylan

My previous CV was really weak and I used to spend hours adjusting it in Word. Now, I can introduce any changes within minutes. Absolutely wonderful!
George
Writing a first CV for construction jobs? See our guide: How to Write an Entry-Level CV with No Experience
Haven't found what you're looking for? Check all our CV Examples for Over 200 Jobs.
Construction CV Sample You Can Copy and Use
Harvey Molina
Construction Worker
Personal Info
Phone: 773-230-7261
E-mail: harveyzmolina@gmail.com
linkedin.com/in/harveyzmolina
twitter.com/harveyzmolina
Summary
Dependable construction worker with 4+ years of experience. Seeking to deliver to construction targets at Toll Brothers. Worked on 3 job sites per month at Letourneau Brothers Construction. Ensured jobs finished early and 10% under budget. Received two Employee of the Month awards for efficiency. Skilled in power tool and hand tool use.
Experience
Construction Worker
Letourneau Brothers Construction
2015–2109
Supervised construction on 3 job sites per month, ensuring completion 10% under budget and before deadline.
Used and distributed construction equipment and materials in a team of 10–20 labourers. Commended 4x by manager for work ethic.
Named employee of the month 2x for efficiency and attention to detail.
Assembled concrete forms for 120+ structures of 3,000+ sq ft.
Assisted with construction of metal structural framework meeting or exceeding company standards in 100% of jobs.
General Labourer
Pierson Industries
2013–2015
Performed construction and maintenance work in a 200,000 sq ft manufacturing business. Promoted for efficiency and teamwork skills.
Operated Skid Steer an average of 15 hours per month.
Assisted with metal structural framework construction for 20,000 sq ft outbuilding. Helped ensure completion 3 days before target.
Completed company OSHA construction training with score of 99%.
Education
A.A. Construction, McHenry County University
2011–2013
Excelled in power tool and equipment operation.
Maintained 4.0 GPA in all OSHA Safety classes.
High School Diploma, Mercer County High School, 2011
Certifications
Skid Steer Certification, Caterpillar Inc.
First Aid & CPR, American Red Cross
Courses
OSHA Education Centre 15-hour Construction Safety Training Class
Additional Activities
Habitat for Humanity construction volunteer, 2x per month.
Fixed leakage in local home with extensive French drain instal.
Hard Skills: power tools and hand tools, light equipment operation, OSHA safety compliance, ability to lift 100 lbs
Soft Skills: time management, interpersonal skills, teamwork, communication
Now here's how to write a construction CV that gets it done:
1. Choose the Right Construction CV Format
They'll judge you at first sight.
Control what they see.
Format for your CV for construction with these tips:
Construction CV Format
Use the reverse-chronological CV format.
Select a single CV font like Georgia or Arial, 10–12pt.
Make 1-inch margins and add white space.
Use a 1-page CV length for construction jobs.
Build these CV sections: Header, Objective, Experience, Education, Skills, and "other."
Expert Hint:Save CVs as PDF files. PDFs shape up well on laptops, PCs, and mobile devices. Plus, hiring software can read them easily.
2. Break Ground with a Construction CV Objective or Summary
Employers won't spend much time with your skilled labourer CV.
So—
Put your best material in the first thing they see.
That's a professional objective or professional summary. It's a short paragraph with your best accomplishments you put at the top of your CV.
A Construction CV Objective Needs:
An adjective (dependable or hard-working)
The words "construction worker"
Years of experience (4+, 6+)
How you'll help (deliver to construction targets at Toll Brothers)
Best 1–2 construction achievements (...Employee of the Month...)
Some skills from the posting (power tools, hand tools)
Here's a CV summary (for experienced applicants).
Construction CV Summary
The point?
The first of those construction CV examples bolts onto the job. It has the company name, and evidence of the construction skills they need.
The second example? Can't see it from my house.
What about an entry-level construction CV?
This applicant has never had a construction job before:
Construction Labour CV Objective
Expert Hint: What's the best way to write a summary for a CV for construction workers? Make your CV, then write the summary last.
The ResumeLab builder is more than looks. Get specific content to boost your chances of getting the job. Add job descriptions, bullet points, and skills. Easy. Improve your CV in our CV builder now.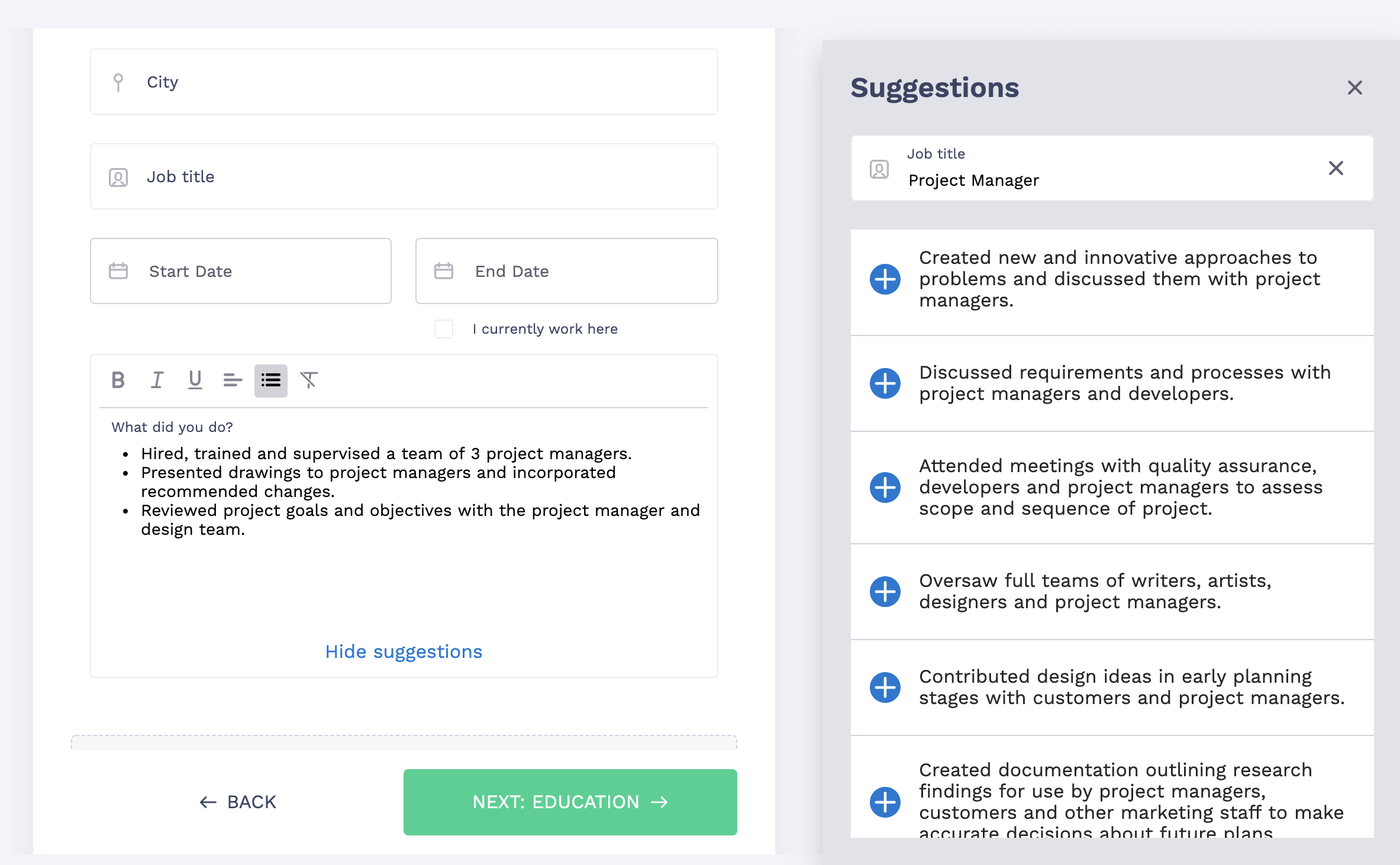 3. Write a Solid Construction Job Description and Skills Section
"Let's hire him."
How can you get employers to say those magic words?
By showing them you fit like tongue-in-groove.
That doesn't happen by accident.
You've got to show the right bits of experience.
So—
Select the right skills from the job posting.
Then prove them like the first of these general construction CV examples:
Construction Job Description for CV
Major difference.
If you prove the right skills, they'll notice you.
But—
What if you lack experience? Write a job description for an entry-level CV.
Entry-Level Construction CV Job Description [Sample]
The first skilled labourer CV example arc-welds you to the employer's needs.
What CV skills work best on a construction CV? See this list of soft skills and hard skills.
Construction CV Skills
| | |
| --- | --- |
| Hard Skills | Soft Skills |
| OSHA Compliance | Teamwork |
| Framing | Communication |
| Power Tools and Hand Tools | Organisation |
| Concrete Work | Efficiency |
| Framing | Problem Solving |
| Flooring | Attention to Detail |
| Equipment Operation | Physically Fit |
| Managing Worksites | Interpersonal Skills |
| Record Keeping | Attention to Detail |
| Carpentry | Prioritisation |
Expert Tip: The numbers in your CV for construction jobs are vital. They'll convince the hiring manager you've used those skills you listed.
4. Turn Boring Education to a Reason to Hire You
Does a construction worker need a CV education section?
Yes.
And it can be the thing that gets you hired.
If—
You construct it with the right accomplishments.
Here's how:
Construction Education—Example
See that? You put CV keywords in your education section.
Expert Hint: Don't put just any school accomplishments in your construction CV. Custom-fit them to the job opening by looking in the ad online.
5. Include Construction CV "Bonus" Sections
"We love that you've done French drains."
Experience and education aren't enough.
To turn heads, drop in some CV sections like:
Classes
Additional activities
Workplace awards
Languages
Groups
Projects
Fitness
These construction CV examples show how:
Construction CV—Added Sections
That first construction CV example is somebody they'll want to work with.
Expert Hint: Write a construction cover letter. Most hiring teams read cover letters. If the letter shows you really understand the job, they'll read your CV more carefully.
Double your impact with a matching CV and cover letter combo. Use our cover letter builder and make your application documents pop out.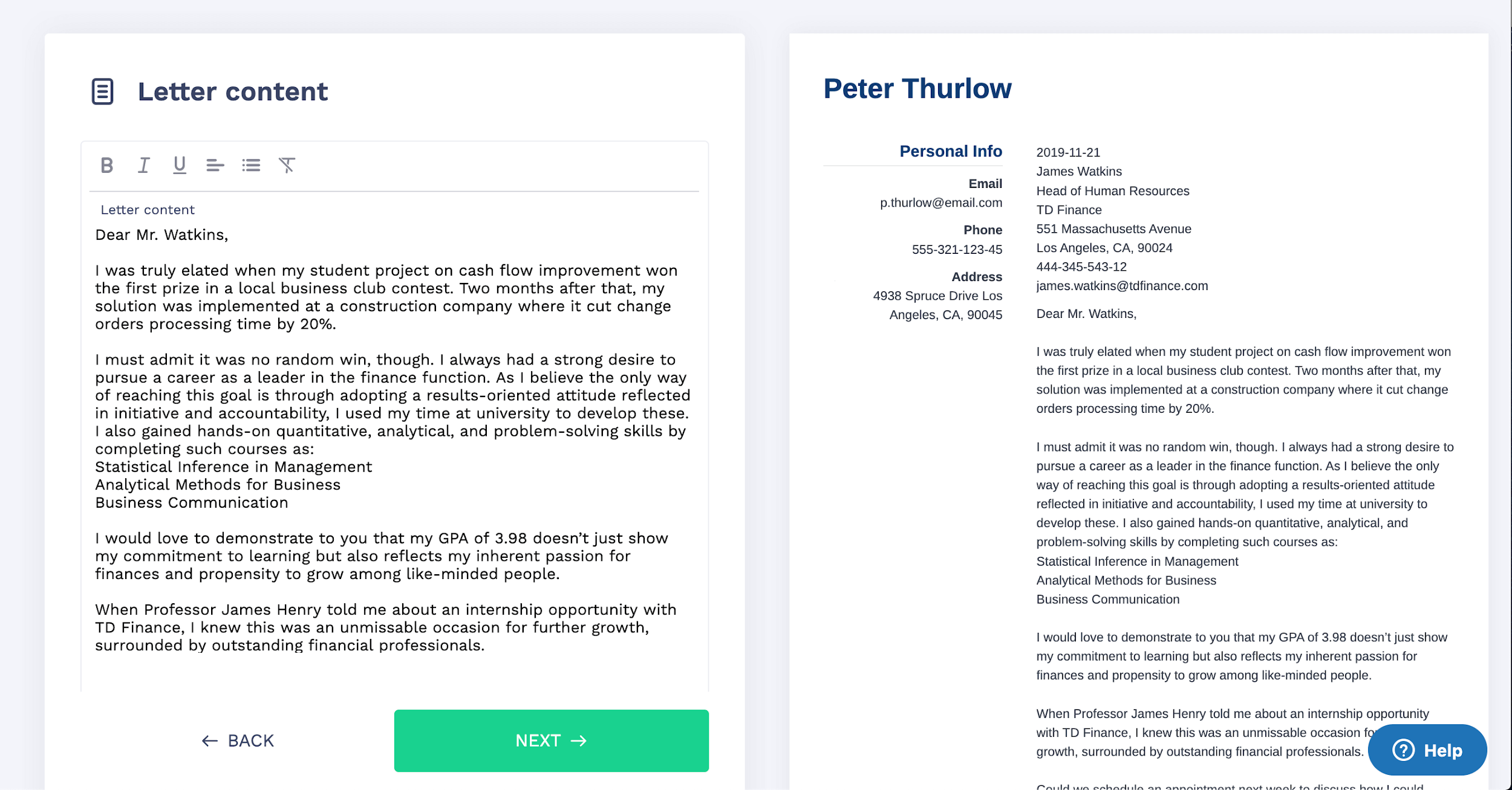 Key Points
For a construction CV that works:
Use the construction CV template up top. It puts the right materials in the proper order.
Add construction achievements to every part of your CV. They'll convince the manager you're solid.
List construction skills from the job ad. Then—prove them with accomplishments.
Write a construction cover letter. Use it to show you know the construction skills they're looking for.
Got questions on how to write great CVs for construction jobs? Not sure how to show construction on a CV? Leave a comment. We'll be happy to reply!